We at Talking Hawks want to give Hawthorn fans an experience. Subscribe to Talking Hawks for exclusive fan experiences and get involved in livestreams with Hawthorn players
The Hawks kick the new Sam Mitchell era off in style with a 20 point win over the Roos, but how did each individual performer from the Hawks go? 
Harry Morrison
Got zero love from the Fox commentators as they talked about Jason Horne-Francis and nothing else, but he was one of the Hawks best. 
22 disposals at 73%, kept his composure under pressure always and ranked sixth for the Hawks in metres gained. Big tick.
Mitch Lewis
What a difference a full pre-season makes! Lewy looked like a premier centre half forward with his first seven touches producing six marks, two goals and five score involvements. 
Whilst he went quieter on the score sheet later on, he didn't concede a contested mark, made himself a target all day and with a depleted Port defence coming, he could go large. 
Tom Mitchell
The only midfielder in the competition who cops criticism for having huge disposals showed his damage on Sunday. 
Should've finished his good work with a set shot goal. At just under 15 metres per disposal Tom was fantastic and in the second half, Titch grew into his role to finish with 29 touches, six clearances and 22 pressure acts! 
James Worpel
Wasn't the opening to the season that the Worpedo would've wanted it's fair to say. 
Just a dozen disposals and the fend off wasn't his friend, but four score involvements and 92% disposal meant he didn't waste his limited opportunities.
James Sicily
How good was it to see the Sic Dawg back in action in the brown and gold?! 
27 touches, led the Hawks in metres gained, seven intercepts, five rebounds and double digit pressure acts. 
What costs him the BOG were the seven turnovers, including three out on the full. 
Sam Frost
Can find himself maligned, the Snowman legitimately dominated every one on one contest he was in. 
Add in 82% disposal efficiency from 17 touches, a dozen intercepts and four tackles on the stat sheet and it was very good.
Also made Tristan Xerri, Callum Coleman-Jones and Nick Larkey look invisible at times so another tick.
Changkuoth Jiath
The Hawks have been blessed with some ripping jumper number transitions (14 with Birch/Scrim and 15 with Hodge/Hardwick) but Burgoyne to CJ could be one of the best. 
Whilst vastly different players, CJ's class, poise and foot skills were firmly on show, especially with getting a desperate defensive touch to interrupt North's attacking chains. 
Add in 24 touches (just nine kicks), nine intercepts, five marks, four rebounds and three rebounds and he's unlucky to not receive the best on ground, but what a welcome back! 
Jaeger O'Meara
The Jaegerbomb wasn't at his best with just the four touches in the first half but had his moments in the second half.
15 disposals from 15 centre bounce attendances wasn't the start he'd have wanted, but 14 pressure acts are encouraging and we are tipping him to bounce back strongly. 
Conor Nash
The Irishman wasn't as prolific as he was finishing the year in 2021 and his pre-season games.  When you can't find the footy, you need to impact elsewhere and he did. 
Only the ten touches however he laid seven tackles, 23 pressure acts and 100% disposal efficiency. Really mature performance. 
Dylan Moore
Moorey had some moments he'd rather forget (backing back into an empty pack for example) but he epitomised the team's performance; slow start to finishing very well. 
He tallied 19 touches, a goal, ten marks, six tackles (top five in forward 50 tackles last year in the competition), eight score involvements and a dozen pressure acts. A barometer for the forward half. 
Jack Scrimshaw
Still doesn't get the respect he deserves the Scrim, but my goodness he did his job and then some. 
Third for the Hawks in metres gained, had 21 disposals, was a metre off a brilliant wrong footed goal, had eight intercepts, five rebounds and five score involvements.
Can anyone commentating give him some love please? 
Blake Hardwick
I was convinced North played with 21 as Cameron Zurhaar looked genuinely invisible and that was thanks to Dimma. 
Looking at Dimma's stats, the rating may surprise but Zurhaar had eight touches and 38% efficiency. Four star shutdown performance.
Max Lynch
Won't be getting a star rating as he was concussed but he covered the ground beautifully in his time and hope he's back soon. 
Jack Gunston
The best on ground. Made Aiden Corr, Lachie Young and Jack Ziebell look like witches hats and if he had've finished his work in the first half (1.3 at half time), he'd be almost entitled to four Brownlow votes. 
18 disposals for the 2020 best and fairest winner, nine score involvements, eight marks, 3.4 and 299 metres gained for the star 30 year old. 
Whilst the Hawks' defensive structures were solid, we had to kick the Roos out of the game and he did it. 
Chad Wingard
For three quarters, the new king of the long sleeve forget them and put on an invisibility cloak, as a two disposal first half and multiple dropped marks were threatening to make this a horrific opening to the year. 
Cometh the moment, cometh the class, as Chad launched a bomb from 52 metres out after a free kick and then a snap to give the Hawks a break they never relinquished. Didn't count many moments but he made his moments count.
Tom Phillips 
Came on as the sub so a star rating would be unfair but did his job quite well. 
Attacked contests, laid his tackles and covered the ground as well as he has since his arrival in 2021. 
17 touches, eight marks, five tackles, 76% efficiency and four score involvements was an extremely good day out for Flip. 
Denver Grainger-Barras
Our man didn't need to touch the footy early as he shut down Callum Coleman-Jones really well in the first half. 
Did a couple of really nice things in the last quarter but was outbodied by Todd Goldstein on a couple of occasions. Will be better for the run. 
Josh Ward
A highly touted debut for the No.7 draft pick and whilst a leg injury soured the end of his day, he worked tirelessly hard, and every senior game Wardy racks up is closer to him being a top midfielder in the competition. 
His endurance was an absolute standout (43-57 defensive forward split) with his 13 touches and would love to see the development as the year goes on.
Liam Shiels
In the off season, the many  who believed it's Shiels' last year at the Hawks, may listen in as Sam Mitchell described his veteran experience 'outstanding for the youth'. 
It shows the new guy might know his troops, as Shiels had 25 disposals, 320 metres gained, six score involvements and ten pressure acts. 
Seven turnovers and 64% disposal efficiency costs him a star on the rating. Played his part.
Connor MacDonald
Was a chief cog in the chain of midfield to forward in the second quarter as the Hawks looked to wrestle back momentum. 
Looked so clean with his 16 disposals and 75% efficiency showed that. CMac's six contested possessions and five score involvements showed how balanced he was all day and we can't wait to see him next week.
Finn Maginness
Was great to see him kick his first goal in footy, the celebration was fantastic and it was the nail in the coffin for the Roos, who were gone. 
However, Finn's ball use in the back half wasn't what he would have wanted, with going at 57%. Eight turnovers hurt at times but five tackles was encouraging.
Ned Reeves
With Lynch getting concussed and no McEvoy to split time with, Reeves became the best ruckman on the park. 
His ruck work was exemplory, he stood up down the line and his composure by hand was fantastic. 
26 hitouts from 55 ruck contests was outstanding and he was outstanding. 
Former Hawks legend Jason Dunstall has famously stated ruckmen should never use the footy. 
I trust Ned.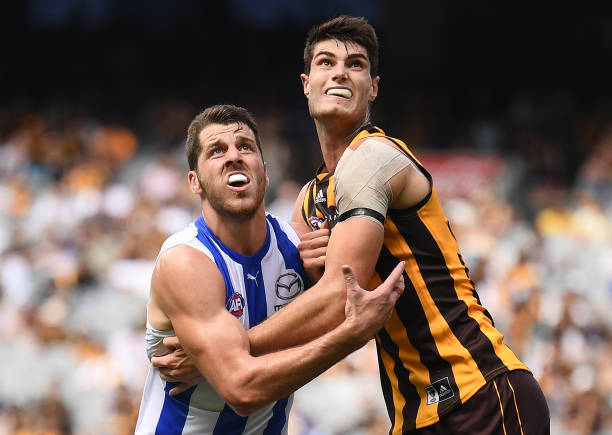 Jai Newcombe
The Duke had an amazing start to the game delivering one a lace out to Jack Gunston with his first entry, and then his next two touches were shockers. 
However, his last 15 were golden as he had 14 forward half touches, kicked a goal, crumbed packs magnificently and showed he is much more than a 'tackler'. 
Finished second for the Hawks for metres gained and can absolutely be a half forward alongside Dylan Moore.