Hawks fans are all still on cloud nine after the Easter Monday victory, so let's keep the good vibes going and take a walk down memory lane.
The 21st century has seen the Hawks beat the Cats 17 times so let's countdown the top 5 best wins the Hawks have had over the Cats in that time.
Disclaimer; as being a younger member of the TH team, I didn't get to see many of the gladiatorial battle of the infamous 1989 Grand Final (or the Round 6 clash of the same year). 
#5: Round 3 2006 
Skilled Stadium
Hawthorn 15.11.101 def Geelong 6.13.49
Disposals: Brent Guerra 30, Luke Hodge 28, Chance Bateman, Sam Mitchell 27
Goals: Campbell Brown, Mark Williams 3, Rick Ladson, Luke Hodge 2
This game is one of those from childhood that just sticks out.
It stands out as the game that signified the Clarkson era was going to be great, going down to Geelong and comfortably beating them.
Trent Croad was taking hangers, Luke Hodge was at his dominant best, and we showed that the core was there for success, which I'm sure we will discuss later in the piece…
The Cats also used this game as an example of how they can improve in their infamous Leading Teams sessions, so this game was the fire-setter for the best rivalry in a decade and a half. 
#4: Round 2 2018
MCG
Hawthorn 17.16.118 def Geelong 18.9.117
Disposals: Tom Mitchell 40, Jaeger O'Meara 21, Isaac Smith 20
Goals: Jack Gunston, Ricky Henderson, Jarman Impey, Tom Mitchell, Jarryd Roughead, Isaac Smith 2
What a cracking match this one was! 
After an impressive Round 1 win against Collingwood, the Hawks backed it up with a nail-biting win on Easter Monday.
A Jarryd Roughead behind with a minute to play secured the Hawks victory, even if it took 90 seconds of scoreless anxiety to end the contest. 
Tom Mitchell played one of his best games for Hawthorn with 40 disposals and 2 goals, with the next highest disposal getter being Jaeger O'Meara with 21. 
The performance was highlighted by the team effort and the 2018 Hawks went on to play finals based on these types of performances, even if it didn't end the way any Hawks fans would've liked in September.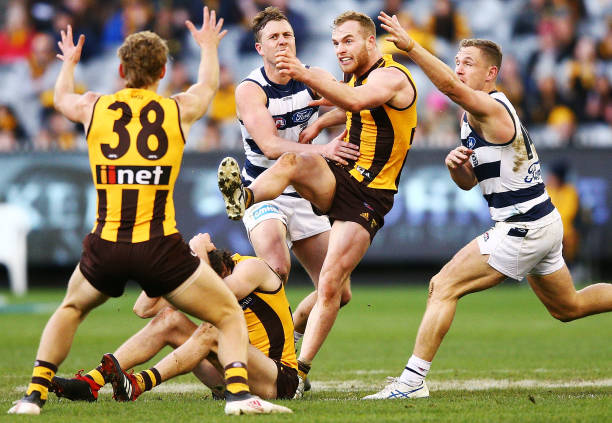 #3: Round 5 2022
MCG
Hawthorn 14.8.92 def Geelong 11.14.80
Disposals: Tom Mitchell 33, Jai Newcombe 31, James Sicily 26
Goals: Dylan Moore 4, Mitch Lewis, Jack Gunston 3, Luke Breust 2
It may have only happened a couple of days ago but my goodness what a win!
Without stealing thunder and reviewing the game expertly like the boys on livestream, this was a brilliant performance all around.
From Jai Newcombe's intensity to James Sicily's kicking off half back, Dylan Moore's goal sense and Mitch Lewis' presence, it was an amazing watch.
With the drama around the umpiring and the Ned Reeves injury (best of luck in recovery Noodle) it made the win even sweeter and something for the current crop to build on for future success.
#2: Preliminary Final 2013
MCG
Hawthorn 14.18.102 def Geelong 14.6.97
Disposals: Sam Mitchell 38, Grant Birchall 27, Brent Guerra 25
Goals: Jack Gunston 4, Shaun Burgoyne 3, David Hale, Brad Hill 2
I cannot believe that I must put this game as the second best but I am sure fans will understand.
This game was an emotional rollercoaster, from the Buddy elbow injury to that Shaun Burgoyne goal, the Ben Stratton marks and everything in between.
There were some heroic efforts, and the fact that the Kennett curse died on this night will forever make fans happy. I think I could write a thesis on why the love for this game will resonate forever, but it's not number one.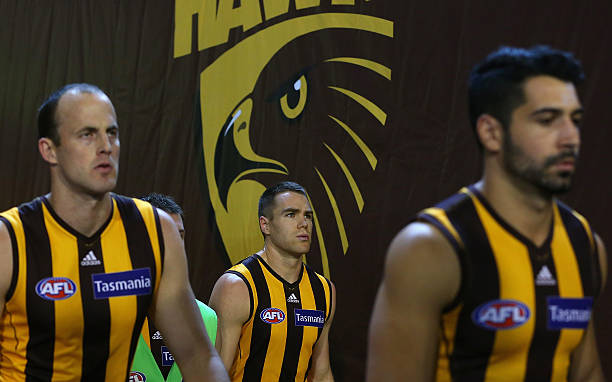 #1: Grand Final 2008
MCG
Hawthorn 18.7.115 def Geelong 11.23.89
Disposals: Xavier Ellis 28, Brad Sewell 27, Luke Hodge, Michael Osborne 26
Goals: Mark Williams 3, Jarryd Roughead, Cyril Rioli, Lance Franklin, Stuart Dew 2
I haven't even written the statistics for this game and it's put a massive smile on my face!
It is the epitome of David beating Goliath, the all-conquering Geelong facing the young underdog Hawks and the underdog gets it done.
The Cats were the biggest favourites in history, had lost just one game for the home and away season, and no one gave the Hawks a chance.
The moments everyone remembers are Stuey Dew taking over the third quarter, but the Cyril Rioli tackle on the members wing stands out to me. 
For a rookie to do that on the biggest stage was unbelievable and one of the many reasons Cyril was adored by Hawks fans.
It was also the birth of Mr September, Luke Hodge. 
Everyone knew his ribs were cooked, but he embraced the heat and dominated especially in the first quarter.
I have watched this game more times than I can even remember and will enjoy it even more as I get older.
Well, there it is, they are my five favourite wins over Geelong in the 21st century. 
I think we can all agree in modern times that nothing is sweeter than beating Geelong and anytime they can reflected upon, it is a good time!
Let us know on social media what your favourite wins over Geelong are!