By Liam McAlary 
On June 15th, Hawthorn announced the signing of Akec Makur Chuot as a delisted free agent, with the then 29-year-old coming to the Hawks after the Tigers delisted her. 
Whilst the Tigers have got a lot right this year, Akec's performances in brown and gold suggest they may have got that decision wrong, with Makur Chuot holding down the wing with distinction week after week.
Known primarily as an intercept defender before coming to the club, Makur Chuot has thrived in the more advanced wing role this season, with her elite work rate up and down the field, ensuring that she has also rolled behind the ball to create an extra number and provide defensive support. 
The 30-year-old has had a career-best season, averaging a career-high in disposals per game, marks per game (also a team-high for the season), and is not far short of career highs in both tackles (2.1 per game) and inside 50's (1.7 per game), showing that when allowed to do more, she can, will and does.
She also averages two rebound 50's per game (equal fourth at the club), and ranks fifth for the Hawks in metres gained per game (218).
Her season has been defined as much by moments as by stats, with one of the most memorable moments for Hawthorn fans this season has been Akec's goal against the Giants, her second goal in the AFLW (and first for the Hawks).
After showing a remarkable work rate on a scorching hot day to be where she was in the forward line, Makur Chuot made the most of her exquisite sidestep, making her opponent look foolish in the process, before threading the needle with a pinpoint drop punt that was never missing.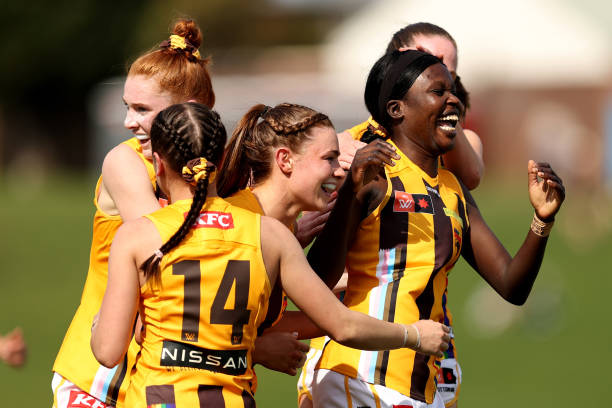 Her on-field dance moves, with repeatedly sidestepping opponents with ease, have been a great source of joy to Hawks fans this season, as she adds a unique kind of flair and dash to our young side. 
Whilst Akec has been a consistent performer this season, some of her performances have been especially noteworthy. 
On a miserable day in Round 4, she recorded 16 disposals, three marks, three clearances and two tackles to be among Hawthorn's best players.
The next week, in the Hawks' historic first win against the Swans at Punt Road Oval, Akec amazed again, playing an instrumental role in getting the Hawks over the line.
She led all Hawks for marks (five) and metres gained (411), as well as recording 13 disposals, two tackles, and a clearance in a performance bettered by few of her teammates, as our heroines recorded the club's first-ever win in the AFLW. 
Beyond her stat line, her work in the defensive goal square was especially important, even though she lined up on the wing when she sprinted 100m to force a behind in the third quarter, getting a touch on the ball only centimetres before it went through.
Makur Chuot has also stood up in more adverse circumstances, being one of the outstanding Hawks in the Round 9 defeat to the Lions. 
Despite a rather poor result against the high-flying Lions, Makur Chuot shone to be one of the brown and gold's best performers in a team that gave their all against a stronger, more experienced, and more mature opposition.
Although she missed a significant portion of the last quarter due to a head injury assessment (which she passed and played on afterwards), Akec recorded 17 disposals (her 15 kicks led all Hawthorn players for kicks), four clearances, two marks and a team-high 361 metres gained, helping the Hawks to put up a fight. 
Beyond her on-field production, Makur Chuot also seems to be a real culture setter for our fledgling side.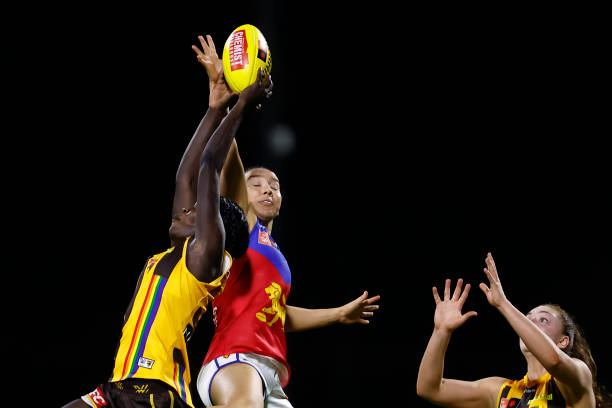 In her press conference after the Round 9 game, Bec Goddard confirmed that Akec is indeed the player who livens up the room when the chips are down, and who helps keep the spirits up in the locker room. 
Whether it be dancing to proudly represent her culture at the season launch, or always being one of the more vocal players out the front of a warm-up, Makur Chuot plays, trains, and interacts with a smile on her face and her infectious personality and enthusiasm has helped Bec Goddard to create a culture that is already the envy of the competition. 
Her character extends beyond being the culture setter among players, taking a lot of time to interact with fans, especially the generation of young girls she is inspiring.
She seems to have a special fondness for fellow Talking Hawks writer (and a co-host of the Soaring to New Heights podcast, which is on Spotify) Tim's two daughters (which is certainly reciprocated).
On the back of youthful exuberance, talent, coaching, and culture, the Hawks have exceeded expectations in their inaugural season; and our number 34 is a significant reason.