With an AFL-leading 25 listed players coming out of contract at the end of 2023, the pressure will be on throughout the playing group to earn another couple of years in the brown and gold. 
Today, we are looking at these players and what they have done so far, as well as what they need to do in season 2023 to earn a new contract (in jumper number order). 
#4 Jarman Impey: 
After an injury plagued last few seasons, Impey is one of the more interesting players to watch in 2023. 
In order to earn another contract, Impey needs to cement a position, either as a dashing defender or sneaky small forward. 
With depth in the position, he and the club need to know throughout 2023
#5 James Worpel:
The 2019 Peter Crimmins Medallist hasn't been able to find the same scintillating form in recent times through injury and form. 
With the vacancies created in the Hawks midfield, everyone would love to see the Worpedo stamp his spot in the Hawks best centre bounce mix. 
#7 Ned Reeves:
Arguably the most improved player on the Hawthorn list, Reeves has the number 1 ruck position on lock coming into 2023. 
It is hard to see the big Noodle not earning a contract extension, but with the shoulder injury last year, a healthy season would be ideal!
#12 Will Day:
Daisy has been the great tease for Hawks fans since his debut in 2020, with his best footy mouth wateringly good.
However, the injury bug has plagued Day with ankle, knee, jaw and concussion injuries. 
Like Reeves, it is very hard to see Day not earning another contract but some continuity with his body is a must. 
#13 Dylan Moore: 
The man who is arguing the most improved Hawk tag away from Ned Reeves and rightly so. 
The rise of Dylan Moore has been astounding; from delisted to one of the first picked every week, sign this man to an extension ASAP as his delisted free agent status will be mouth-watering to other clubs.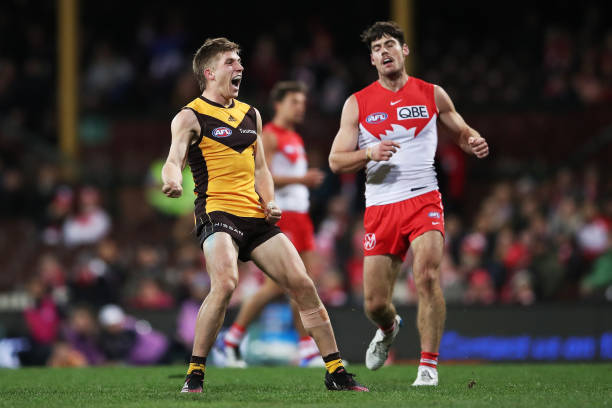 #16 Lachie Bramble:
After suffering a stress fracture in his back, Bramble only managed nine AFL games in 2022. 
His dash and speed with the ball has endeared him to Hawks fans, but in 2023 he needs to secure a position. 
Playing mainly as a half back flanker which is arguably the strongest position on the list, what can Bramble produce?
Kade Simpson and Sam Mitchell are big fans so expect him to get involved early. 
#17 Lloyd Meek:
When you factor in the fact that he wanted to be a Hawk and the club was willing to part ways with Jaeger O'Meara to secure him (and a future second), there is no reason Meek isn't in brown and gold post-2023  
Can he be a reliable forward option when not rucking is the big question and how can he gel with a new-age Hawthorn midfielders are the big points with the big man. 
#18 Max Lynch:
Maybe had the unluckiest first season at a club we have seen, with a comical sense of ridiculousness not seen since the parody movies of the 2000's. 
From concussions to anaphylactic reactions to a bee sting, Lynch couldn't catch a break. 
Coming into his second season, things become very interesting in the ruck department with the inclusion of the aforementioned Meek. 
The No.2 ruck spot is well and truly up for grabs and with four ruckman on the list and three ready for Round 1, it's over to Max. 
#20 Chad Wingard:
Probably the biggest name on this list. Wingard's best has been awesome and profiles as the game changer Sam Mitchell wants. 
However, injuries and poor form led to a career worst 2022 campaign and regardless of raw talent, improvements need to be made. 
2023 looms to be Wingard's most important season ever so can he recapture some vintage brilliance, or will this be the end of the Chad at the Hawks?
#21 Cooper Stephens:
Similarly, to Meek, Stephens nominated the Hawks during the trade period and was able to find his way to Waverly via Geelong. 
With his 22nd birthday coming up and only seven games of AFL, Stephens is a multi-year prospect and will be extended.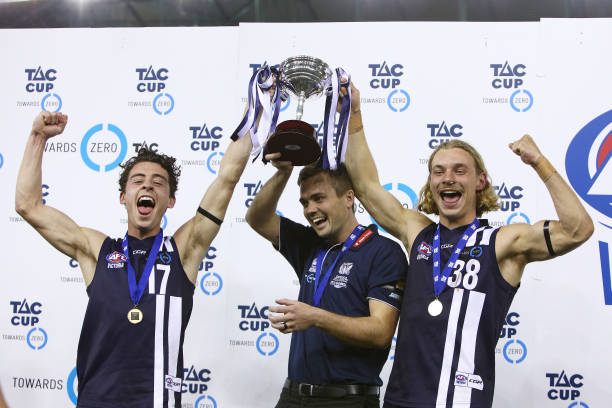 #23 Jacob Koschitzke:
With only 18 goals from 16 games in 2022 and some omissions based on form, this is a make-or-break year for Kosi. 
With the emergence of Mitch Lewis, the Hawks are desperate for a Robin to his Batman and if it's going to be Koschitzke, he needs to prove it in 2023. 
With a good key forward draft coming up, the pressure is on. 
#25 Josh Ward:
One of the biggest no brainers on this list, Ward is guaranteed to gain another contract for the Hawks. 
With an impressive rookie season in the books, the lifetime Hawk fan will be looking to increase his midfield minutes in a more open centre bounce mix. 
Whilst it won't be a Jason Horne-Francis six year type deal, Ward will be a long-term Hawk. 
#26 Fergus Greene:
Bought in to the mix late in the 2022 off-season, the Box Hill star gets his second chance at the AFL after a stint with the Western Bulldogs. 
A goal kicking medium-sized forward, Greene will look to impact and help fill the void of the departed Jack Gunston.
#27 Ned Long:
Made his debut late in 2022 and was one of the buzz names from track watchers during the Pre-Christmas training block. 
Given he was recovering from a broken leg during his rookie pre-season and the strides he made to debut, it is hard to see him not gaining a new contract and maybe a smokey for Round 1.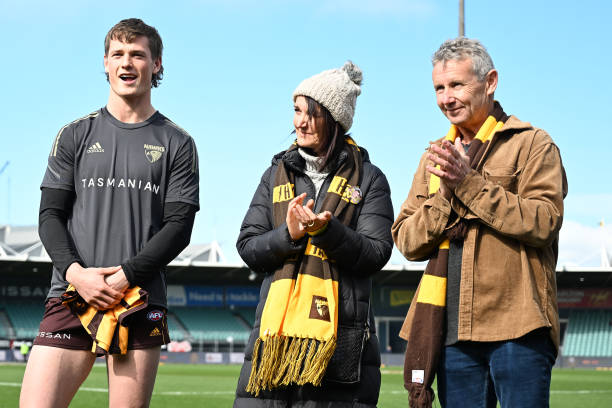 #29 Jai Serong:
Another of the 2021 draft crop, Serong impressed with his raw athleticism during his limited time at AFL level last year. 
Like Greene, Serong will be aiming to help fill the medium sized forward role vacated by Gunston and should impact in 2023 alongside Fergus Greene. 
#30 Sam Butler:
Butler impressed during his rookie season, adding pressure and goal sense as a small forward. 
Learning from the best in Luke Breust, Butler should be striving for a Round One spot and getting better as the season progresses. 
#31 Connor MacDonald: 
Playing 20 games in your rookie season is an unbelievable accomplishment and as good a sign as any that someone is going to be a very good player. 
Another no brainer, Connor MacDonald is a must-sign and it will be a multi-year 
#32 Finn Maginness:
Carved out a specific and effective role for himself in 2022 which led to 16 games. 
As much as he excelled, there are still clear holes in Finn's game such as ball use and decision making. 
With the tagger coming back in 2022, Maginness may still need to improve on his game and his contract status will be a hotly debated topic throughout 2023. 
#33 Tyler Brockman:
Essentially a new recruit, Brockman missed all of 2022 with two separate injury concerns.
Has showed extremely exciting flashes in his rookie year and will be hoping to do the same. 
Homesickness is the big concern for a contract extension but we at Talking Hawks are wishing a healthy 2023 for Brocky!
#34 Fionn O'Hara:
The Irishman hasn't been able to crack the AFL starting 22 yet and hasn't set the VFL on fire either. 
Will be exciting to watch for development during 2023 but may be an uphill climb. 
#35 Josh Morris:
Looked really good going back to defence last season before a shoulder injury ruined his season. 
With a gluttony of small to medium defenders, it is going to be interesting to see how much Morris' form before the injury aids his claim for Round 1. 
Needs to cement a defensive role to gain a new contract.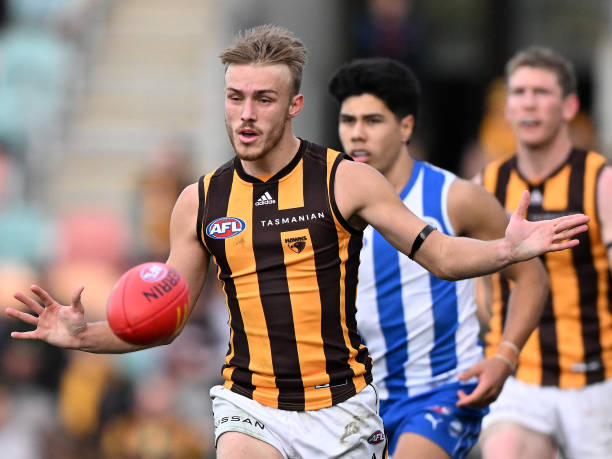 #36: James Blanck:
Another mid-season draft sensation, Blanck came in and took down some of the game's best forwards in his first taste of AFL footy. 
With a full AFL pre-season under his belt, the possibilities are endless with Blanck, and I expect big things in 2023 and beyond.
#38 Max Ramsden:
Another mid-season draft pick and a genuine project player, Ramsden is a raw ruck prospect who put up some ridiculous games late in the season with Box Hill. 
Still would be surprised if he featured at AFL level in 2023 but someone to work with and should be around for longer than 2023. 
#39 Emerson Jeka:
Looked to be a struggling forward with not much of a path at the Hawks; however, he played some nice football down back in 2022. 
In order for him to earn a new contract, he needs to define himself as either a forward or defender, instead of lingering in football purgatory.
#40 Seamus Mitchell:  
Hasn't really had a chance due to injury but has some of the raw athletic abilities teams look for. 
Would need to start well in the VFL and at least be challenging for an AFL debut by seasons end to earn a new deal.