All fans were hoping for a more competitive Hawks outfit when travelling up to Sydney to take on the 2022 Grand Final absentees.
While it was always going to be a tough task, the 81 point defeat was nothing short of unacceptable, with a lot of players nowhere near the standard required.
While I personally accept the fact we are going through a rebuild and the losses will be more frequent than wins, I can not accept being made to look like percentage boosters. 
So while some of these reviews aren't going to read well for some players, it is the nature of reviewing each player in each game, some results will be ugly.
So, how did each Hawk go?
#3 Jai Newcombe
Maybe didn't stand out early like we hoped he would have, but Newcombe was consistent throughout the game and fought until the very end.
He finished the contest with 25 disposals, five marks, five clearances and four tackles as well as four inside 50's. 
In what was a tough day, the midfield was the one part of the grounds the Hawks won with Newcombe being one of the key parts of that.
#4 Jarman Impey
Was one of the Hawks major disposal getters on the ground, but did it really feel that way when watching live? I don't think so
He ended the day with 23 disposals and six marks which is all well and good, but his role is bouncing the ball off the back flank with speed.
Impey only had 305 metres gained from his 12 kicks, averaging 25 metres per kick. He also only had 14 pressure acts which is well below average. 
#5 James Worpel
Now while it seems all doom and gloom for us Hawks fans at the moment, believe it or not there are some positives.
The consistent form of James Worpel is one of them with the midfield bull collecting 22 disposals with three tackles and three marks with a late goal to top it off.
He was by no means perfect with some poor skill errors standing out, but having someone who was considered the future back to good form is nice.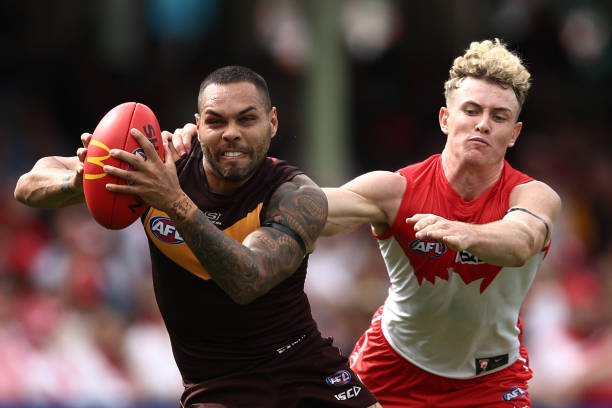 #6 James Sicily
The skipper was my best on ground last week and I was super impressed with the way he stood up against the heat. 
Unfortunately, he could not replicate this at the SCG. 
I understand he had another 25 disposals and seven marks, but he made some bad mistakes by foot with five turnovers and six of his 14 kicks were from kick ins. 
#7 Ned Reeves 
He received a star last week for some really nice hitouts to advantage last week that led to centre clearances but I can't offer the same treatment this week.
When playing ruck in 2023, you have to have a few strings to your bow that aren't height and unfortunately, at this stage, Reeves doesn't have any. 
Four disposals, one mark and only 14 hitouts before being subbed out as a "tactical" substitution due to lack of impact, it was a day to forget.
#8 Sam Frost
Two weeks, zero stars.
It has been a horror start to the year for a Hawthorn leadership group member who set the tone of the day, allowing 15 metres of separation for Joel Amarty 20 seconds into the game. 
His defensive presence didn't improve with Amarty bagging four in the first half before being subbed out of the game, Frost has had a negative impact in both games so far and with Denver having 18 touches and ten marks in the VFL, questions will be asked.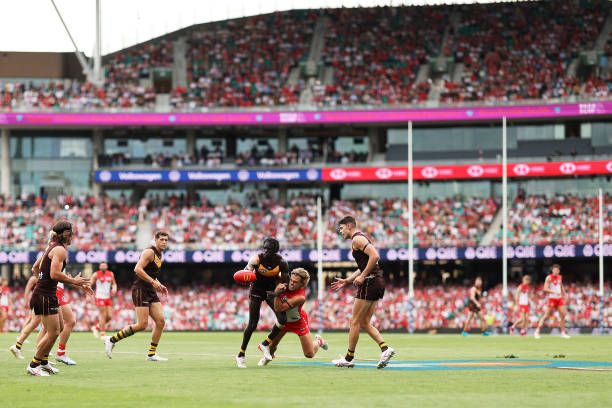 #9 Changkuoth Jiath
Similar to Impey, Jiath is supposed to be one of the rebounding weapons deployed off the half back line to allow quick entries forward. 
CJ could only manage 208 metres gained in his 17 disposal effort and did not seem to have any system when moving the ball forward apart from getting rid of the footy.
He is still showing those athletic bursts of genius when intercept marking, but at some point the footy IQ needs to catch up to the athleticism to take Jiath to the next level.
#10 Karl Amon
One of the few Hawks on the day who was actually able to pinpoint a target down the field and execute the skill, highlighted by a 55 metre bullet that led to Luke Breust's second quarter goal. 
Amon is clearly the player Sam Mitchell wants the ball in the hands of and he gets himself into good positions to receive, having 23 disposals. 
However, when things are going rough, Amon needs to get more involved defensively, with him only having one tackle, one rebound 50 and 13 pressure acts.
#11 Conor Nash
It was a really up and down day for Nash, showcasing some really good and pretty poor things throughout the course of the afternoon.
Starting with the poor, he made some awful skill errors that shouldn't be made by AFL standard players and his decision making can be rough.
What I really did like was his physicality and want for the contest. He threw his weight around and showed that the result was really hurting him which is what you want in senior players.
#12 Will Day
Our most consistent and hard working player over the duration of the belting in Sydney was this man and midfield Will has been activated.
His disposal splits from quarter one to four was six, seven, six and seven.
Finishing with 26 disposals in an unbelievably consistent manner was a massive tick, as well as having four tackles, seven clearances and showing flashes of midfield brilliance. 
There were three genuine contenders for the BOG title (the other two feature soon with four star performances) but the consistency of Day wins out for me.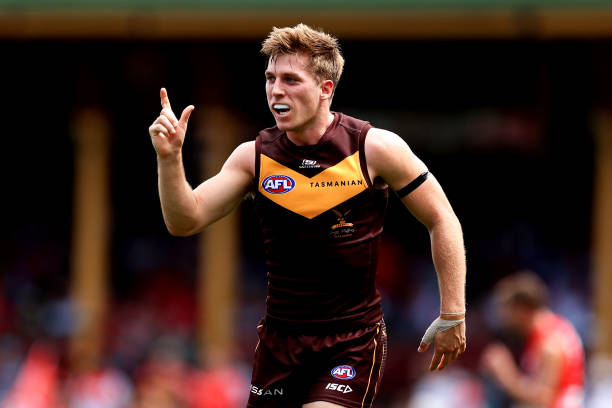 #13 Dylan Moore
It is impossible not to love Dylan Moore and what he does for this football club.
Another ultra impressive day from Moore in a very close second for BOG, he had 23 disposals, took eight marks and was involved in eight of our 17 scores.
His statistics should have looked a lot better with the umpires turning a blind eye whenever he was infringed, but his effort never wavered and that's why Hawks fans love him. 
#15 Blake Hardwick
A really tough player to grade in this match and someone I had to think about.
He did a pretty good job down back in the first half keeping Tom Papley goalless but losing some contests uncharacteristically to other forwards.
Like last week he was swung forward at half time but this week he had no impact with only two disposals in the second half.
Sam Mitchell needs to make a decision about Hardwick because unfortunately we don't have two of him, is he a backman or a forward? Whichever one is the answer needs to be sorted.
#16 Lachie Bramble
Probably going to be a controversial call after seeing some of the fan noise on social media in the last 24 hours, but I didn't think Bramble played poorly.
Yes, he does make some really poor mistakes by foot that stand out live and cause frustration, I can 100% agree with that.
But he had 22 disposals at 73% efficiency overall with five marks, three tackles and seven rebound 50's while also gaining 518 metres. 
#17 Lloyd Meek
This is one of the cases where the eye test outweighs the final statistics because I was so impressed with Meek's game.
Yes, he may have only had nine disposals and one mark, but let's have a look at the other things he did.
He led the match with eight tackles as our ruckman!
That is a massive effort from the big man who showed a constant want for defensive pressure and a never say die attitude.
I was so glad Meek was the one who broke out of the massive goal drought in the last quarter because it was a genuine reward for effort.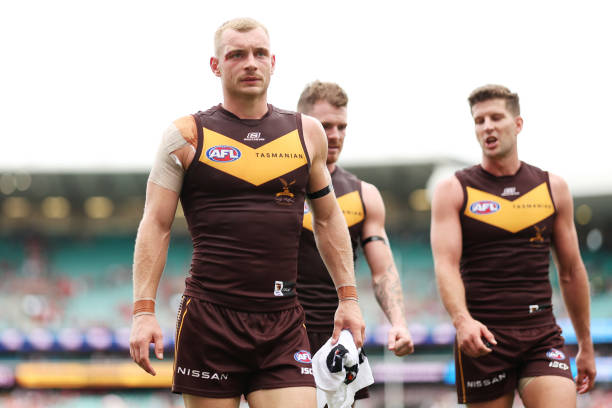 #22 Luke Breust
It was always going to be a tough day for the veteran small forward with Dane Rampe locking onto him from go to woe. 
Breust still managed to hit the score board and kick a second quarter goal and provided his trademark forward pressure with four tackles.
Unfortunately when there is no tall forward presence bringing the ball to ground, things become significantly more difficult for Breust and we saw this today.
#23 Jacob Koschitzke 
There is absolutely no presence in the Hawthorn forward line, proven in the fact Hawthorn won centre and stoppage clearances but still lost by 81 points.
Kosi managed to take a few marks and gather some disposals late when Sydney had essentially gone home, but when the game was up for grabs he was invisible again.
Even when he was gifted a shot at goal late, his wayward kicking shone through, barely registering a behind.
With only seven goals in his last 13 games, the Hawks are going to struggle to kick a winning score with Koschitzke as the number one target.
#25 Josh Ward
Probably took a little bit of a backwards step compared to last week but was in no way one of Hawthorn's worst.
19 disposals, three marks, three tackles and only one turnover for the game he proved that his class is permanent.
When it comes to losses like this, we need to remember players like Ward are still 19 years old and may go through ups and downs, it is all a part of the process.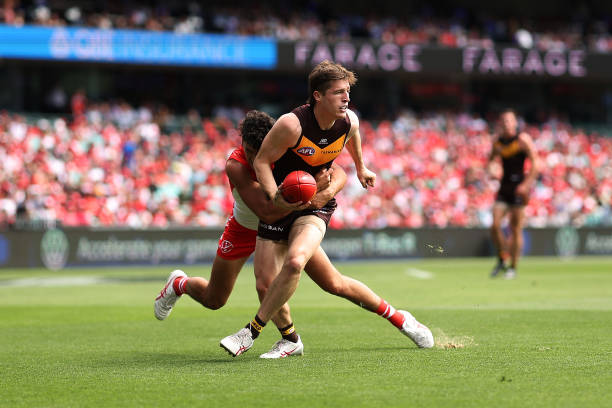 #26 Fergus Greene
The Ferg looked like the Hawks most dangerous forward from the outset and if only he kicked straight could have been a genuine diamond from the rough.
Whilst only registering 10 disposals, four of them were scoring shots and one was a direct goal assist to Luke Bruest, showing he knows where to be forward of the ball.
Sam Mitchell has to persist with Greene as when the ball use going forward becomes a bit better, he will be the type of player to benefit.
#28 Cam Mackenzie
The young man was a source of hope and optimism last week after strutting his stuff on the MCG, but the pressure of one of the AFL's elite teams caught up this week.
This is no way a shot at Mackenzie, it is something all young players have to find out in terms of the speed of the game when playing against the games best.
He still managed to have 12 disposals and lay four tackles while looking comfortable in the middle towards the end of the game.
#30 Sam Butler
I don't think there will be much point looking at stats when talking about the sub this year because compared to others on the ground they will always look poor due to time on ground.
Instead, it will be all about impact and the defensive impact Butler had when he came on was evident.
When Swans players had been walking through tackles all day, Butler came on and laid some big tackles that actually stuck which was good to see. 
#31 Connor MacDonald
It has been a pretty disappointing start to the year for C-Mac considering the pre-season he had and the hype amongst the fans about him.
He had only 15 disposals and five marks while making some reckless decisions going forward resulting in bad turnovers.
While this particular review isn't great, the last sentence for Josh Ward applies here, MacDonald is just a kid and these tough times will mould him as a player.
#32 Finn Maginness 
The same concern that was presented last week in the player review has to be spoken about again this week.
When Finn isn't tagging well or at all, what role can he actually perform?
He went to Nick Blakey early who had five kicks at 100% efficiency in the first quarter, so it wasn't working. 
He then replaced Hardwick on Papley who had four of his five scoring shots when playing on Maginness. 
#36 James Blanck
I feel a little bit sorry for Blanck and handing out this review because of the quality of delivery going forward for the Swans.
But when watching the Fox Footy coverage live, a lot of the replays uncovered some poor defensive technique by Blanck that had him caught out. 
With McDonald and Amarty kicking nine combined and only six disposals and two marks to his name, it is fair to say Blancks impact was negative.