We at Talking Hawks want to give Hawthorn fans an experience. Subscribe to Talking Hawks for exclusive fan experiences and get involved in livestreams with Hawthorn players
Not even the most optimistic of us saw this coming! A 64 point win against a depleted Power side was a result that has made the week of every Hawthorn fan.
The ability to break Port from out the back of the front half, cut off their forward thrusts and expose them by playing on an incredible amount of times, was extraordinary.
Hawks fans are incredibly proud, but how did each of them do over the course of Saturday night?
Harry Morrison 
Harry really showed his ability to play multiple roles as he played on Dan Houston early and also went back when CJ went down in the first quarter and played in his traditional outside role. 
In a role like his, ball use is key and 77% efficiency is fantastic for his 17 disposals. Would be extremely unlucky to miss when Will Day, Jarman Impey and Lachie Bramble come back. 
Mitch Lewis 
A handful of stars, a handful of goals and the three Brownlow votes (if the umpires do oblige) incoming for Mitch as he kicked five in a career best performance. 
Lewis now has eight goals, eight contested marks (both equal first in the league) and still racked up 200 metres. 
A fine performance from a fine man in fine form. 
Tom Mitchell
It wasn't the most polished 28 disposal game from Titch but in key moments in the third quarter, he shone. 
He collected a couple of clearances, got an arm in on an important handball and helped block on many occasions. 
Got poleaxed in the opening 15 seconds but got up for five clearances, top five in metres gained, but he loses a star based on being 40 out, no pressure and spraying a goal.
Worked hard all night, got his hands dirty and was a good contributor. 
James Worpel 
The Worpedo needed to bounce back from a quiet Round 1 and he mostly did, covering the ground magnificently, epitomised by six inside 50's and four rebound 50's. 
Finished with 22 disposals, 511 metres gained and three clearances but if he keeps going for the ball post hitout with just one hand, he's in serious trouble.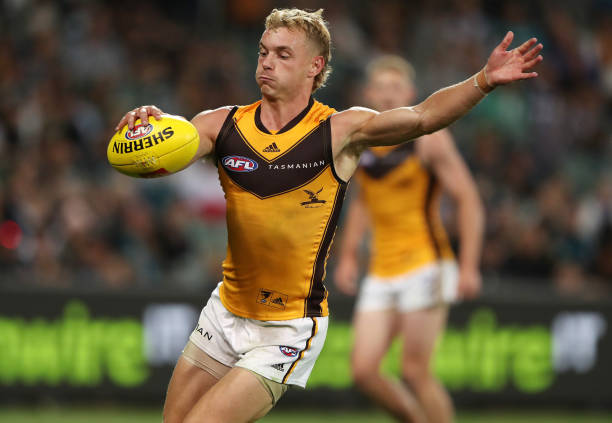 James Sicily 
Our big No.6 was kicking them everywhere in Round 1; teammates, opposition and the crowd but not on Saturday night. 
His 20 disposals went at 90% efficiency, including seven marks, nine intercepts and eight rebounds. 
More impressive, he was part of a trip that kept Jeremy Finlayson, Todd Marshall and Mitch Georgiades to five behinds and just eleven marks. Huge tick. 
Ben McEvoy 
Scott Lycett, barring breaking the goal-kicking drought for the Power, had very little influence on the game and whilst McEvoy was the secondary ruck, he gets secondary credit for it. 
14 disposals were had by the former Saint, with 16 hit-outs, eight score involvements and four marks. He also broke up many contests in the air at centre half back and forward and played a part you can't read on a stat sheet.  
Sam Frost 
Equal highest intercept possessions with James Sicily (9) and dealt in three's (three marks, tackles and rebounds). 
Also was part of the trip that made Finlayson, Marshall and Georgiades genuinely invisible for the biggest and most important parts of the contest. 
Changkuoth Jiath 
In such a quiet game, it's almost more exciting that one of the two or three best Hawks on the ground was pretty quiet with eleven disposals and yet, still won by the aforementioned 64 points. 
Five intercept possessions also helps CJ's cause and he laid a couple of important tackles. 
If he gets up (copped a knock) next week, we expect a big performance. 
Jaeger O'Meara 
Had an equal second team high clearances (four) and really did outdo himself compared to a slow Round 1. 
Jaeger had just the 68% disposal efficiency in his 22 touches but seven score involvements, six tackles and 17 pressure acts capped off a good night.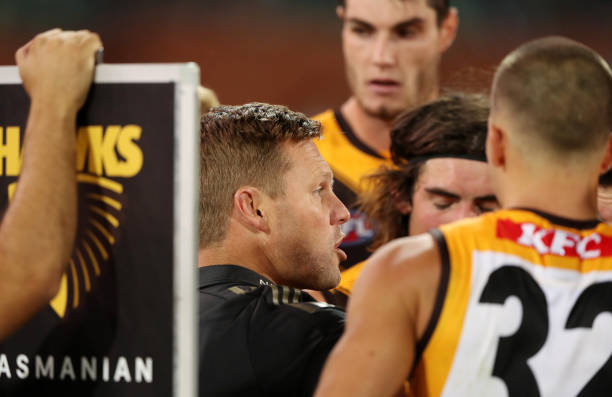 Conor Nash 
Stood next to Ollie Wines at a few centre bounces but played a genuine utility role. 
Covered the wings, half back and even half forward at some stoppages. His crafty roving goal was an underrated highlight as he burned two Port defenders to kick an easy goal. 
Did get burned by Sam Powell-Pepper and Karl Amon at times but the Irishman held his own in big moments and should take some confidence out of his game. 
Dylan Moore 
It's still so hard to believe he was on the brink of being delisted in 2020 before becoming one of the best half forwards in the competition period. 
We gave him the nickname '18 and 1' halfway through 2021 but he out-did us last night and then some. 
Finished with 17 touches, 2.2, 76% efficiency and took Ryan Burton to the cleaners on many occasions; all the more incredible considering Burton blanketed Charlie Cameron last week.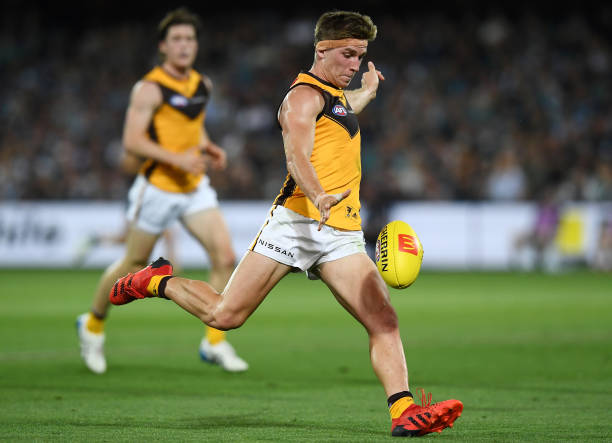 Jack Scrimshaw 
Speaking of underrated; how good is this bloke? Kicked the ball 17 times for 86% efficiency, took six marks and had seven intercepts. 
We got Scrim for basically nothing and what he's producing is genuinely outstanding. Led the Hawks for metres gained with 627 and a very important cog in the league's current best defence. 
Blake Hardwick
Lined up on Connor Rozee early and had Steven Motlop once he was activated as the sub and blanketed them both magnificently. 
Finished with 17 touches (14 kicks at 82%) but if you rewatch this game, watch his positioning in space behind the ball and his body work playing back shoulder. Elite. 
Jack Gunston
The debate on whether it was the goals, leadership, size, leading patterns or one on one target that was missed the most, but it's the footy IQ that we argue was the biggest loss. 
On Saturday night, all of the above qualities were shown as Sam Skinner, Trent McKenzie and Tom Jonas were made to look silly on many occasions as he finished on the left twice, right once and won every contest he was involved with. 
The Hawks forward line looks infinitely more dangerous with one-on-one contests and no one is craftier than the 2020 best and fairest winner. 
Chad Wingard Stars N/A 
Kicked two good goals but went off with hamstring tightness and got subsequently subbed out of the game. 
With how briskly he walked after the game and an eight day break, he should be okay to go to face the Blues on Sunday. 
Tom Phillips
The sub has been really good twice in a row now, with his hard running a feature, his around the ground sweeper role at the stoppage is a good one and he found the ball. 
Eleven pressure acts in just a half is a huge tick and he laid four tackles, two in the third quarter extra important as that aforementioned sweeper. Found the ball 11 times as well.
Luke Breust 
Played a lot more up the ground than we've seen from Punky in the past but was very solid all over the park.
Had seven score involvements, kicked three goals and was in the right spot every single time. Over 200 metres gained for a small forward is fantastic and had 19 pressure acts. 
Denver Grainger-Barras
The last of the trio that shut down Georgiades, Marshall and Finlayson, Denver's body positioning and reading of the ball is improving with each week. 
Five intercepts, five rebounds, four marks, three tackles, three score involvements and ten pressure acts added up to a very handy night for the rising key back.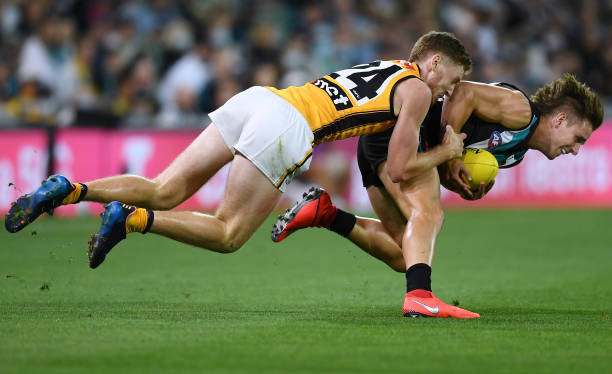 Josh Ward
Had an equal second team high four clearances, kicked his first goal in footy, had twenty disposals, five marks, four score involvements, 26 pressure acts and 385 metres gained. 
So why only three stars? 40% disposal efficiency. On the positive note, he'll get his composure with confidence and continuity. Hasn't played a lot of footy in the last two years. We've got a beauty. 
Connor MacDonald 
Speaking of having a beauty, this kid is frighteningly good. His set shot goal from the 'bad' pocket of Adelaide was a thing of beauty and he used his feet more, having nine kicks amongst 18 disposals. 
Like Ward, his 56% disposal efficiency will increase with longer playing time but 413 metres gained, 17 pressure acts and five inside 50's was a very good night. This draft haul looks incredible. 
Finn Maginness 
Finn's defensive work was stronger than Round 1 and he wasn't exposed out the back at all which was encouraging. 
With ball in hand, on a few occasions he looked paralysed by choice and struggled with his decision making at times. 16 pressure acts is a very good sign, but looks the most likely to drop out if Will Day is deemed fit for the Carlton clash. 
Ned Reeves 
34 hitouts from 57 contests (59.6% efficiency) is an outstanding result, but the question needs to be ask how the Hawks lose the clearances by 24. 
Ned did have a nightmare kicking moment after saying we trust him but the big fella is proving a handful in the contest. 
Jai Newcombe 
Watching on the night, you'd be forgiven for thinking Jai was ultra quiet but his work around the ground went largely unnoticed as he made space on many occasions. 
However, a classy snap in the last quarter, five intercepts, five score involvements, four tackles, 311 metres gained and 17 pressure acts was a very tidy outing for the young gun.