We at Talking Hawks want to give Hawthorn fans an experience. Subscribe to Talking Hawks for exclusive fan experiences and get involved in livestreams with Hawthorn players
For a rebuilding side, Hawks fans saw three of the four things you want from a side in that position: 100% effort, a clear game plan and exciting youngsters. 
The only thing missing was a win, with the Demons getting up by ten points, but here is how every Hawk went: 
Tom Mitchell
Leigh Matthews famously quoted when Brisbane took on Essendon in 2001; 'if it bleeds, we can kill it'. 
When Mitchell went off for the blood rule, he'd had ten disposals, two marks and three tackles, being one of the Hawks' best at the time. 
It wasn't as if Mitchell was killed (to further the analogy), but he went more to a half forward role and was out of the contest for big periods. 
It does show how good he is to have 22 touches, seven tackles, six marks, six clearances, five score involvements, 29 pressure acts and a really impressive set shot goal but this could have been a large performance.
Jarman Impey
Jars took 3:29 to outdo his possessional output from last week but he made all of his 21 disposals count, going at 90%. 
Jars took six marks, had four rebounds, a dozen pressure acts, three score involvements and intercepts. 
Thought he had some good moments on Bayley Fritsch as well, which was huge. 
James Worpel
On paper, Jimmy should be a walk up four star performer and if you didn't watch the game, you'll read his stats and wonder why. 
Those stats are; 26 disposals, seven score involvements, six inside 50's, four intercepts, four clearances, 468 metres gained and 20 pressure acts. 
So why not four I hear you cry? 
50% disposal efficiency and ten turnovers. 
Look after the ball Jimmy. 
 James Sicily
The number one player in the competition for marks showed off his love for taking a grab, by taking 13 of them! 
Add in another 26 disposals, ten intercepts, nine rebounds and 631 metres gained and the probable leader of the Peter Crimmins Medal made an amazing impact in his debut captaincy game.
Sam Frost
Frosty took eight marks, applied himself and was under the pump, however the Demons three talls kicked seven between them to take the cake.
Frost also struggled with playing Tom McDonald back shoulder at times as whenever he got the footy, weird things happened. 
He had six clangers, gave away five free kicks and wasn't at his best. 
Jaeger O'Meara
If Jaeger had've converted his chances, he would've been in the running for even Brownlow votes. He was still really good for big parts of this contest.
24 disposals (70% of them in the forward half), 13 contested, six score involvements, five inside 50's, four clearances and 18 pressure acts read his day. 
We also saw the rebirth of Jaeger's fend off, with him laying one on Christian Petracca, Jack Viney and James Harmes throughout the day. 
Conor Nash
After Clayton Oliver's dominant 18 disposal first half, Nash was sent to shut him down and Oliver had just the five touches in the third term. 
For the first half of the last quarter, Nash went to Petracca and kept him to four touches before coming off and being subbed out late in the game. 
Will Day
Poor Daysy had an absolute stinker of a disposal in the last term that was so unlike the rest of his day yet the idea of switching late was the correct one; it was just an absolute shank. 
Amongst his 20 disposals, he had seven contested possessions, seven intercepts, 80% efficiency, five marks, four score involvements and 15 pressure acts. 
This young man is going to play many games for the Hawks and we are going to love every single one of them. 
Dylan Moore
Jaw dropping performance. 
The man we christened '19 and 1' was on track with eight disposals and a goal in the first half before genuinely exploding in the second half. 
25 disposals came in the last two quarters, with 76% efficiency, nine marks, 384 metres gained, 11 pressure acts and for the game, he had eleven marks, seven score involvements and five intercepts.
The best on the ground by an absolute mile. 
Jack Scrimshaw
Without the ball, Scrim had to play on Ben Brown and Sam Weideman and he applied himself really well at key stages and no more could've been asked of him. 
With the ball in hand, he had 20 disposals at 80%, seven intercepts, seven rebounds, five marks, 348 metres gained and ten pressure acts. 
Oozes class and even more composure.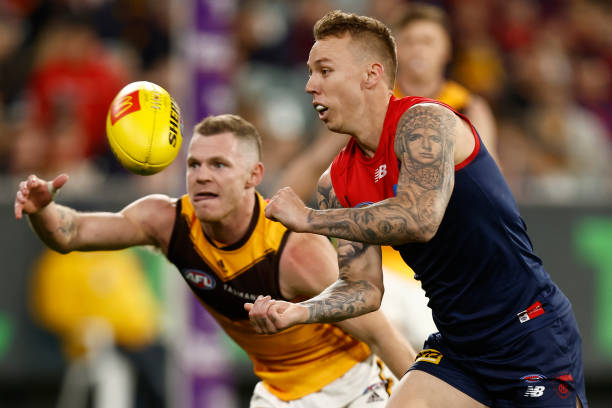 Blake Hardwick ⭐️⭐️⭐️
Dimma looked ultra dangerous with the ball in hand on Saturday, continuously repelling Melbourne attacks. 
Finished with 17 touches, eight intercepts, six marks, four score involvements, four rebounds and 88% efficiency. 
Not his best performance but was far from his worse or the Hawks worst on the day. 
Lachie Bramble
Looked more comfortable out on the ground the longer the game went on however he struggled to make a real impact. 
Three score involvements with nearly 25 metres per disposal are really encouraging signs, and that is what Hawks fans can look forward to in the future. 
Dan Howe N/A 
Played just half a quarter for a couple of disposals but those got 99 metres gained and he had a bonkers 7 pressure acts!
Max Lynch
For his sixth game, to go up against the best ruckman we've seen since Dean Cox was always going to be insanely difficult and although Gawn was insanely good, we can't be unhappy at Lynch. 
His endeavour, spirit, 19 hitouts, three tackles, 14 pressure acts and three score involvements were all important and his tandem partnership with Ned Reeves is going to be a special one. 
Jack Gunston
Looked the most dangerous for large parts of the contest. 
Had 18 disposals, nine score involvements, five inside 50's, three goal assists and 282 metres gained for the night but kicked three points. 
All gettable too. Heartbreaking. 
Chad Wingard
The Chad isn't being played in the middle of the ground but his decision making forward of centre was poor at times. 
47% disposal efficiency wasn't his usual output but he had seven score involvements, 306 metres gained and three inside 50's, but when the game was on the line and he had a shot at goal, not only did he shank it, Wingward ignored a teammate 25 out from goal, directly in front. 
Luke Breust
Punky had seven score involvements which for a small forward is outstanding but his finishing skills were really poor. Two regulation set shots went missing went astray and what should have been a regulation snap around the corner went begging. 
Add in a 30% disposal efficiency and a real lack of spark in the second half and a player as good as Punky is, should've gotten it done. 
Jacob Koschitzke
I truly believe not playing in the first month of football was the rocket required for Kosi to figure out where he stands, and where he stands is the second best tall at the Hawks. 
Kicked four on Steven May and Joel Smith which is all you need to know, plus six score involvements, eleven pressure acts with an 80% disposal efficiency. 
Kicked a goal in every quarter so didn't fade out of the game at any stage. 
Liam Shiels
Didn't get a whole lot of the ball so his place in the side might come under scrutiny, but the frustration was everything he did was right; he just didn't do it enough times.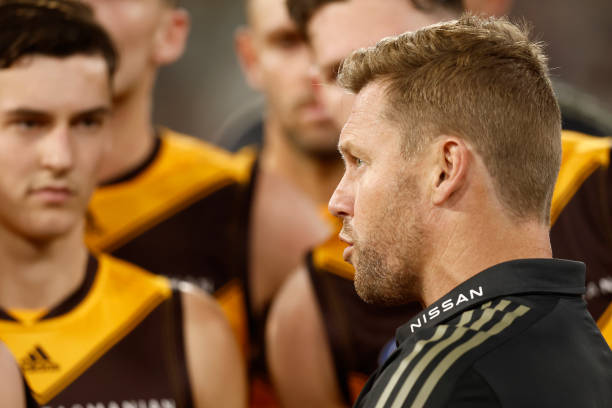 Seven marks (including a couple of ripper contested marks on the members wing) and a 100% disposal efficiency cries of a veteran who is showing a way of quality. 
Is quantity a problem? Potentially but he made it count. 
Connor MacDonald
If Josh Ward got a rest last week, 'C-Mac' could potentially get one this week but what he's shown time and time again is just how clean he is. 
A 91% disposal efficiency across a handful of contested possessions is elite, but faded out of the contest. 
CMac's growth is going to be enormous and a break this week could be the best thing for him. 
Finn Maginness
If Conor Nash was a top three tagging performance for the year on Clayton Oliver, Finn is competing with Callum Mills on Patrick Dangerfield for the best tagging performance. 
Ed Langdon had 30 disposals and 700 metres gained against Richmond the week before and Finn kept him to nine touches. Nine! 
Would've given him the five stars if he used the ball better. He is an A Grader without the ball on display in this role with his defensive running. 
Only had one effective disposal in his first six but five of his last six were effective, which is encouraging. 
Jai Newcombe
The Rising Star judges snubbed Cyril Rioli in 2008 for the award and knowing them, they'll do it again but Jai's last fortnight was jaw dropping and this performance was another high quality outing. 
21 disposals, seven marks, five score involvements, 487 metres gained, 25 pressure acts, four inside 50's and three rebounds read his day. 
Looked to go forward with every disposal which is what the game is turning to as a whole but what every Hawk midfielder needs to do. 
Jackson Callow
Showed some spark and some spunk in certain moments did big Buckets. 
Took a good clunk early, showed some candy in the last quarter and used the ball at 83% efficiency. 
Had three hitouts in 14 contests, and six centre bounce attendances.