Well, that didn't go to plan. 
A 67 point loss at Darwin against the Gold Coast was not the continuation of events Hawks fans were looking for when they knocked off Brisbane at Tassie. 
When everything goes wrong, it's a lot easier to reconstruct what's happened and wipe the slate clean. 
So, how did every Hawk go? 
Harry Morrison
Statistically, he was in the running for BOG or at least a four star game but hear it out. 
Morrison had 24 touches (20 kicks), nine marks, five clearances, four score involvements, three inside 50's, 16 pressure acts and 605 metres gained. 
That's an extremely impressive performance but he had seven turnovers and only a 62% disposal efficiency, leading to three Gold Coast goals. 
Another star knocked off due to Brandon Ellis and Lachie Weller expected to poll Brownlow votes and they were his opponents throughout the night. 
Can still hold his head up high. 
Mitch Lewis
Should've made his shots count by drilling all three but left it at 1.2 but thought he did well in poor conditions and on a quality opponent in Sam Collins. 
Had seven score involvements, four inside 50's, four marks, 383 metres gained and even had three intercept possessions. 
Worked himself to the bone did the full forward of the future. 
Tom Mitchell
Another really mature performance by Titch, who has been really impressive since he had a week off. 
Had 29 disposals at 72% DE, eight contested possessions, seven marks, 17 pressure acts, 409 metres gained, six tackles and four clearances. 
Wasn't the Hawks night and Titch certainly had some moments that weren't his best but he was one of the picks of the lot. 
Jarman Impey
Wasn't the most disciplined outing for Jars, who found himself in some MRO hot water but is cleared to play. 
Had only a dozen disposals, eight pressure acts, 204 metres gained, and four intercept possessions but didn't make his presence known throughout the contest. 
James Sicily
If this man isn't in the All-Australian team so far, the selectors are kidding themselves and need new employment. 
The man ranked number one in marks and number one for the Hawks in intercept possessions was insane again. 
Had 21 disposals (19 kicks), nine intercept possessions, nine rebounds, eight marks, 623 metres gained and three score involvements. 
Was the best Hawk by a mile and has been the best Hawk on the park by a fair distance across the 2022 season. 
Sam Frost
Has a week off to think about what he's done but the frustration was understandable (albeit still an absolute incorrect decision) but kept Levi Casboult to one goal and just three marks. 
Add in seven intercept possessions, five rebounds, over 300 metres gained and eight pressure acts and you get a decent performance. 
Will be missed next week and loses a rating for the silliness. 
Changkuoth Jiath
Wasn't his best performance with the ball in hand (just the four kicks) but was one of, if not the best games he's played without the ball. 
Continuously got himself in between Gold Coast forward movement, laid six tackles, had 16 pressure acts and six intercept possessions. 
Needs the ball more but was pleased with his defensive acts.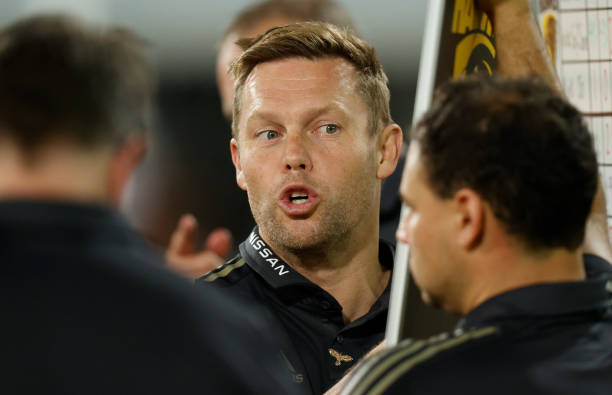 Conor Nash
We as fans should never complain about a midfielder having five tackles and we aren't but Nashy didn't have a great influence on the game. 
Gave away four free kicks and only used his big frame to drag down two marks but 18 pressure acts, five intercepts and attended eight ruck contests. 
Will Day
After being under an injury cloud for the week, thought Will competed really hard. 
Finished with 19 touches at 79% efficiency, five intercepts, four marks, 392 metres gained, four inside 50's and attended seven centre bounces. 
A few teammates can look at Day's efforts and hope to recreate them. 
Dylan Moore
Was five off being another 19 and 1 performance but for the majority of the contest, Dyl didn't have a huge influence. 
His last quarter was good, with seven touches, three intercepts and three inside 50's but for the first three quarters, was very quiet. 
Can bounce back and will. 
Jack Scrimshaw
Got concussed and didn't play more than 50% of the game, which would normally bring about a "N/A" but his game was that good, it needs to be talked about. 
16 disposals at 81% efficiency, had nine (yes, nine) rebounds and was arguably the best Hawk before he went off the ground. 
Get better soon Jack. 
Blake Hardwick
We've given some stick to Jimmy Worpel for some performances very much unlike himself but does it now apply to Dimma? 
Nine disposals on the weekend, with three tackles, five intercept possessions and 14 pressure acts read his day but there was a severe lack of presence felt by Dimma on Saturday night. 
Lachie Bramble
A bit like CJ, wasn't the greatest performance with the footy but was very solid without it. 
330 metres gained, 13 pressure acts and three tackles read his day but five turnovers brings him down a peg. 
One of many who need to turn it around next week. 
Dan Howe
Doesn't matter what his stats say, this is a man who has made a career of playing on the outer of the centre square (wing, flanks) and had to compete against Jarrod Witts. 
An unenviable task at its best and add in 15 touches, five marks, three tackles and twelve pressure acts and that's more than a pass mark. 
Chad Wingard
Kicked another two goals from ten disposals but needs to get the flopping for free kicks out of his game, real quick. 
Oleg Markov hurt him on the rebound at times but four inside 50's were handy by the Chad.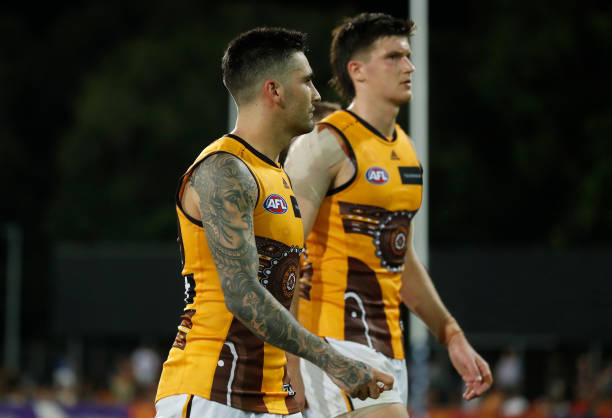 Whilst fans understandably want Chad spending more time in the midfield, it's all about the development and he provides spacing for the forwards. 
Luke Breust
Only had the three kicks and two of them were scores (1.1). 
Had five score involvements but in conditions that should've suited small forwards, he didn't get the job done. 
Jacob Koschitzke
Could've had a huge game with his 1.3 but competed in 33 ruck contests (for six hitouts), had his four score involvements, 13 pressure acts and competed really hard. 
Has been played out of position and has stood up, this man is gonna be a frightening force once he's gotten another year as the centre half forward and centre half forward only. 
Denver Grainger-Barras
Wasn't the performance befitting Denver's talent it's fair to say. 
Had seven intercept possessions and took three marks but gave away seven free kicks, all within 60 metres of Gold Coast's goal, which is obviously not what he would've wanted. 
Not sure why he was on Chol instead of Casboult but no excuses. 
Liam Shiels
Went to Touk Miller early around the ground but Touk's two way running burned Pup at times, having 13 disposals in the first half. 
Pup found it 16 times on the day, laid three tackles, had four score involvements, 16 pressure acts and 288 metres gained. 
Does he stay in the side next week or do the Hawks bring Josh Ward or James Worpel back? 
Only time will tell. 
Sam Butler
Kicked a nice goal and used the ball well but didn't have a great impact on the contest. 
Young players will be inconsistent and we won't be bashing a third gamer but he's had a taste of the big time and looks comfortable at the level. 
His defensive work without getting the stats is good too and he's got a good base to work on. 
Connor MacDonald
The question of 'MacDonald or Sonsie' will be in the forefront of Hawks' fans minds for a while but C-Mac is clean at the contest and has a good footy IQ. 
Had 14 disposals, five intercepts, a dozen pressure acts, three clearances and had a couple of inside 50's, in which both led to scores. 
Love this kid and once he fills out, will be a key cog in the midfield. 
Finn Maginness N/A 
Spent a third of the game on the park and laid three tackles amongst nine pressure acts but didn't have a kick from six centre bounces. 
Jai Newcombe
Jai's probably been looked after a touch here but when a youngster has a down game, they can't be irrelevant and Jai certainly wasn't. 
Laid seven tackles amongst 17 pressure acts, had 269 metres gained from 12 disposals and used it at 83% and had three score involvements. 
Had a lot of senior teammates who didn't show up and he wasn't disgraced.