It was a brave display that didn't quite go our way on a cold and wet Sunday afternoon.
The Hawks threw everything they had at a good Collingwood side, coming up short in a 4-point loss in a game that was full of ebbs, flows and a host of controversial free kicks and non-calls. 
Alas, here we are, to the answer of the weekly question: 
How did the Hawks go? 
Harry Morrison
I really liked Harry's game this weekend, he's looking better and better every week, gaining more confidence. 
Was in the running for best on at half time but loses a star for his quieter second half performance.  
It was a solid effort all day with 24 disposals, six marks, two tackles, 75% DE and seven Intercepts. 
Mitch Lewis
Wow! How exciting is it watching this bloke play every week? 
Seems to grow more and more confident with every game he plays.
On paper, his stats aren't anything phenomenal but his impact on the game cannot be understated.
He kicked 4.0 from 14 disposals (10 Kicks), three marks, eight contested possessions and seven score involvements.
He has a real presence up forward now and Hawks fans are no doubt excited about what we are seeing.
If he can stay on the park (and at the Hawks) and continue this trend, he will be one of the best forwards in the game within a few years. 
He is a lovely contested mark and an even better kick of the footy.
Tom Mitchell
Another very impressive performance from Titch. 
Was again the leading disposal winner and was close to a 5-star performance. 
He had 32 disposals, seven tackles, fourteen contested possessions and 464 metres gained,
but he didn't use the ball anywhere near good enough for me. 
Went at 59 percent disposal efficiency with nine turnovers and that habit of getting the ball and just slamming it on his boot is back. 
If Titch wants extra stars, I would love to see him take the extra second and make a decision to better dispose of the ball.
Jarman Impey
It was a 50/50 sort of day for Jars. 
Had some really strong moments and was instrumental in getting us on the board for our first of the day. 
However, he had some forgettable moments as well though, turning the ball over 6 times from his 20 disposals. 
He is slowly getting back to his best and this was a step in the right direction, even if his game seems to be two steps forward and ons step back for the first half of the season.
James Sicily
There is no limit to the number of positive things I can say about our current skipper. 
He is as consistent of a performer as there is, evidenced by another very solid game. 
That entailed 24 disposals, six contested possessions, eleven intercept possessions, had a team high 631 metres gained and took seven marks. 
He did turn the ball over seven times and gave away a few free kicks but considering Collingwood had 25 more inside 50's then the Hawks, the defence did a really good job to keep us in the game. 
The momentum was all lead by this man and you would have to think he has all but locked up a place in the All Australian team, at this point of the season. 
Changkuoth Jiath
How fun is it to watch this kid play footy? 
He is such an exciting young talent and no doubt a fan favourite for many years to come. 
Just loves running with the footy and at the G, he is good at it. 
Certainly wasn't his best game, but you can't fault his effort. 
CJ had 17 disposals (71 percent DE), five Intercept possessions and kicked his first goal in AFL footy with an absolute ripper from the 50! 
Did have to wait for a score review to confirm it and the delight on his face when the score came up was a cool moment. 
More than a solid performance.
Jaegar O'Meara
Another player who had a mixed bag out on the park.
Nearly received two stars purely based on expectations going into the game, especially the good wet weather reputation he has. 
Did a good job contesting all day with ten contested possessions, ten tackles, 18 disposals and seven clearances but one can't help but wonder if he was a player who could've been a match winner. 
Connor Nash
Continues to prove many Hawk's fans wrong, myself especially included.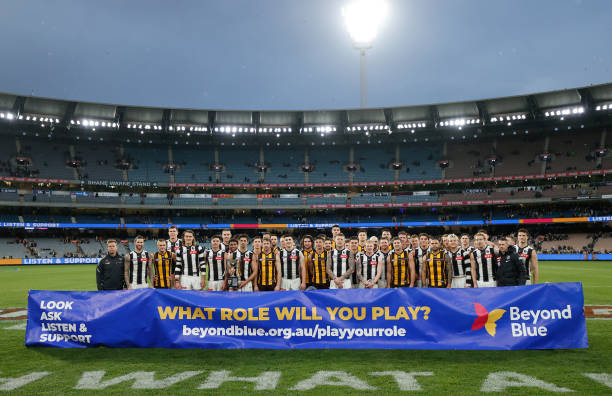 Tried his heart out all afternoon and had a fair game with 18 disposals, three clearances, 475 metres gained, five Inside 50's and five score involvements. 
Hard to pick on disposal efficiency in those conditions, as someone has to scrap and fight in the midfield.
Will Day
I thought Will was pretty close to best on ground at halftime. 
He reads the play beautifully down back and really led the way early but had a much quieter second half.  
Had 17 disposals (11 of them in the first half), eight marks, 82% DE, seven Intercept possessions and 428 metres gained. 
Very pleasing to see him get a consistent run of footy in the last few weeks and will only continue to get better and let's hope he stays fit!
Dylan Moore
Our man Moorey failed to have any real impact on a day that suited small forwards. 
He did spend a fair bit of time in the back half to be fair, with 69% of his disposals coming in that half of the ground. 
Didn't kick a goal this week so Daz will no doubt disappointed that it's not another "20 and 1" performance. 
He wasn't horrible by any means, with 16 disposals (88% DE), foir clearances, a couple of Inside 50's and tackles. 
Wasn't his best day but not his worst.
Blake Hardwick
I'm not sure how this one is going to go down with the fans but facts are facts; his first half was immense, and his second half was poor. 
Looked like he had returned to form very nicely in the first half, with 12 disposals but only finished with 14 for the game.
Still did the little things right and was better than he has been in recent weeks and there's no doubt that he will be disappointed with his second half. 
Was listed in the Hawks best which seems a little generous, but it was a step in the right direction based on his recent form.
Lachie Bramble
For me, this was Brambles best game of his young career. 
Thought he was outstanding in the first half but he did drop off in the second. 
He wasn't the only Hawk to do so but none finished with many better stats; finished the day with 24 disposals, five marks, 83% DE, eifhf Intercept possessions and 466 metres gained.
Only turned the ball over once, which in a game where that stat was fairly high for most players, it was a good return. 
Will only improve from here.
Jack Gunston
Was a forgettable day for Gunners, which was frustrating as he started the game okay and was moved behind the ball early. 
However, he tweaked his ankle again and from there, he was quite literally the walking wounded. 
The question could've been asked on why he stayed out there when we had Daniel Howe fresh on the bench, hoping he didn't damage his ankle further than it already was. 
Only touched the ball eight times and failed to hit the scoreboard. 
Hopefully he hasn't done too much damage.
Chad Wingard
An okay day for the Chad in which he looked dangerous inside 50, but failed to get the return he would've liked on the scoreboard. 
His day read 17 disposals, ten contested possessions, 1.2, four tackles and six score involvements were the features of his day. 
Daz touched on this last week; he needs to get rid of his tendency to exaggerate free kicks. 
It's not a great look when you're playing for free kicks as much as he is and it's a hot topic in the league at the moment and one that players need to address, Chad included.
Luke Breust
Not the performance he, or any hawks fan would've liked in game 250! 
Couldn't fault his effort all afternoon and he really tried to create opportunities in the front half, none more important than his final act of the game, quickly gathering the ball and attempting to put us deep inside 50, only to be run down by a good tackle and get caught holding the ball, sealing the game for Collingwood. 
That play seemed to summarise his day, he tried hard but lacked the polish that we are accustomed to seeing over his illustrious career. 
Nevertheless, congratulations on game 250 Punky, it's always a pleasure watching you play. 
Jacob Koschitzke
On paper, this was probably closer to a one-star performance, and whilst his stats aren't amazing, I thought he had a decent enough day. 
Mitch Lewis was obviously the standout up forward, but I really like Kosi's ability to compete. 
Even if he doesn't win his matchup, he is always able to halve the contest and he rarely gets beaten one-on-one and as a result, he brings other players into the game. 
That is all you can ask from a key forward and he is getting valuable experience every week and is standing up more often than not. 
Hawks fans have a lot to be excited about, with Kosi and Lewis being the two pillars up forward for what's hopefully a long and successful future.
Liam Shiels
Also playing in game 250, Shiels had a good performance with 22 disposals, seven tackles and a couple of inside 50's. 
Was a big reason we got back into the game by just doing the little things right and showed why he has been such a staple of our side over the past decade. 
Congratulations on game 250 Pup! 
Kyle Hartigan
Not the best of days for the big man down back, with only managing multiple touches in one quarter, with 7 touches overall including 2 turnovers.
I always like watching the big unit play but I can't see him retaining his spot. 
Failed to have any sort of impact down back and was a clear weak link in the back six.
Sam Butler
Another Hawk who had a decent first half but fell away the later the game went on.
Had 13 disposals, including a goal, a couple of marks, seven contested possessions and a clearance. 
He turned the ball over six times, including three free kicks against him but he'll clean that up with more experience. 
He's had a taste of the big time now and he is showing that he is capable at the level and Hawks fans are hoping he can have a breakout performance in the latter half of the year to give him a boost of confidence going forward.
Connor MacDonald
Kicked the hawks first of the game  but after that he failed to have a huge impact. 
Had 10 disposals but went at just 30% and turned the ball over on four occasions. 
Another young Hawk who will be better for the experience but it wouldn't have been the game he was after.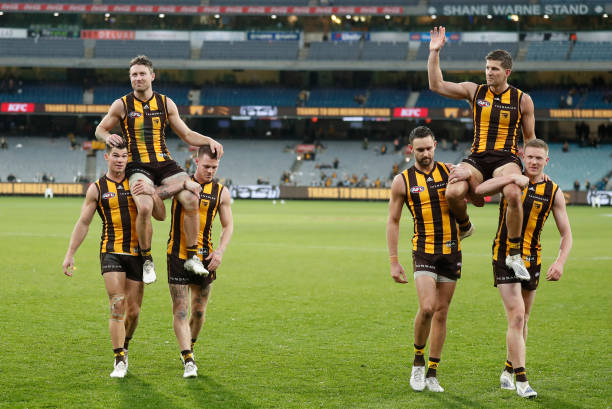 Ned Reeves
It was great to see the big man back out on the park and certainly helped the Hawks through the middle of the ground, seeing as he is an actual ruckman. 
Let's be honest though, aside from his ruck work, this wasn't the best conditions for a player of his size.  
Had just the seven possessions but more importantly, he won the ruck battle for the day and was no doubt an important factor in our ability to win the clearance battle for just the third time of the season. 
Was close to giving him three stars for his 30 hitouts, but his opponent was just about the best player on the ground, so I have to drop one off. 
High standards produce high results. 
Jai Newcombe
Okay but seriously; 
HOW GOOD IS THIS KID GOING TO BE?
A second half for the ages from the man known by one name; DUKE!
Aside from Mitch Lewis, he was clearly the best Hawk on the ground and the main reason on why we were able to get back in the game. 
He is a tackling machine with a game dozen tackles and a game high eight clearances for the young gun too! 
Was an intriguing battle between two rising star standouts with him and Daicos but he is very clearly the best midfielder and has such an X Factor about him that all Hawks love. 
If he doesn't get a number change at season end, 44 is going to be on the back of many young Hawks fans for years to come, and rightfully so. 
Huge performance.