We at Talking Hawks want to give Hawthorn fans an experience. Subscribe to Talking Hawks for exclusive fan experiences and get involved in livestreams with Hawthorn players
So close, yet so far. 
The Hawks enter the bye at 4-9 but after wins against Geelong, Brisbane and Port Adelaide (away), and losses by four goals or less against Richmond, Fremantle (away), Melbourne and Carlton, there are encouraging signs around Waverley. 
Harry Morrison
Gave the Hawks 17 touches (13 kicks) at 88%. That's a tick. 
Also had 18 pressure acts and 384 metres gained but what Harry does that goes under the radar is his lateral positioning at the contest. 
In laymen's terms, when there's a stoppage around the ground, there's Jai Newcombe and Tom Mitchell at the ruckman's feet, there's usually a handball target (the sweeper) who can drive out of the contest (usually Jaeger) and a player who sits in the corridor to stop the opposition, if they do win the clearance. 
That player in the corridor is usually unrewarded, especially with Mitchell's tendency to throw the ball onto the boot but there were a couple of contests late that Harry was pivotal in disrupting the Dockers. 
Kicked a nice goal as well and had himself a very tidy afternoon. 
Tom Mitchell
Was one of those games where the stat sheet looks okay but the impact on the game wasn't large. 
Had 28 touches and fed the ball out a lot which was nice but when Fremantle score 48 points from stoppages, there won't be a lot of love dished out. 
Had six score involvements, five inside 50's and 22 pressure acts, but zero marks, two tackles, three clearances and less than 70% disposal efficiency when you've only had nine kicks, isn't worthy of a higher rating. 
James Sicily
Rory Lobb kicked the first of the game and the flashbacks to the game in Tasmania when the Hawks made him look like Plugger Lockett were prevalent, but he recovered well and put in another performance that has him firming for the Peter Crimmins Medal. 
Took another nine grabs for his 22 disposals, had nine rebounds,  eight intercepts, four score involvements and a mammoth 643 metres gained. 
The Hawks may have been stiff in the past with the Rising Star and these kinds of awards but if the All-Australian selectors are leaving him out, the riot begins at dawn. 
Sam Frost
Tried hard all day and played back, forward and ruck but didn't have an impact on the contest. 
Structurally? Huge tick. 
15 pressure acts? Bigger tick. 
However, just wasn't Frosty's day.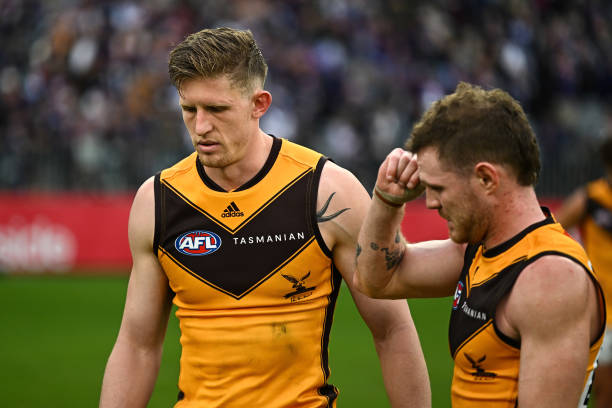 Changkuoth Jiath
Was the epitome of a "quality, not quantity" day for CJ. 
Hit every contest with vigour and covered the ground magnificently. 
Went on a long run but got caught for running too far and seemed to lose his confidence, which was a shame. 
Went at 80% and had seven intercepts, along with four score involvements. 
Jaeger O'Meara
I tried running it with the CEO but I'm not allowed to give him six stars. 
This was the best game Jaeger's arguably had at the Hawks, he was the best by a mile and whilst Andrew Brayshaw and Caleb Serong might be difficult fo the umpires to not acknowledge on Brownlow night, he should still feature. 
Let's start with the statistical breakdown; a team high 30 disposals, nine clearances, seven marks, seven tackles, 77% disposal efficiency, seven score involvements, 28 pressure acts, 476 metres gained and six inside 50's. 
Single-handedly was the midfielder who went toe to toe with Brayshaw, Serong, Mundy and Co. as well, and continually pushed the ball forward. 
Looks as strong as ever in the hips and is more and more difficult to tackle, which is outstanding to see. 
Conor Nash
We've spoken about his size in the contest and he laid five tackles, had five score involvements, 31 pressure acts and six inside 50's. 
Had nine clearances on the day as well (with a team high six centre clearances) and was a very big Docker headache all day. 
Missed a key set shot from point blank range late in the game but he'll learn from it. 
Will Day
This hurts but when half of your disposals are turnovers and you didn't crack double digit disposals, Daz is left with no choice. 
17 pressure acts were very handy, don't get us wrong but it just wasn't his…. (I am sorry) day. 
Dylan Moore
19 and 1 became 18 and 2 for another All-Australian contender. 
Had seven score involvements, 300 metres gained, 26 pressure acts, laid five tackles, took four marks, went at 83% efficiency and had four inside 50's. 
Moore's ability to cover the ground is extraordinary and he is blossoming into not just a fan favourite, but one of the best pure half forwards in the league.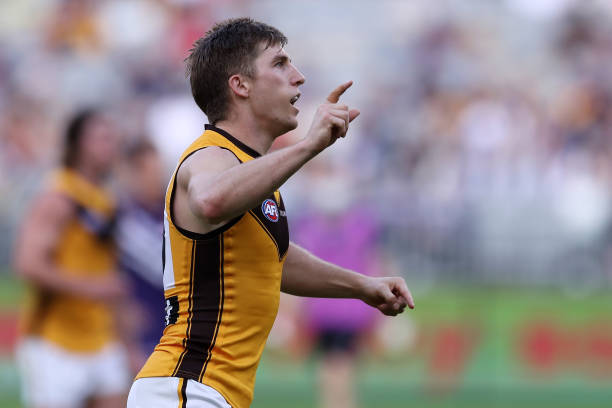 Jack Scrimshaw
Was a tale of so high and so low at once. 
For a 15 disposal, 87% disposal efficiency, eight intercepts, six score involvement and ten pressure act performance, you'd be forgiven for thinking that's a decent outing. 
However, Michael Walters, Bailey Banfield and Lachie Schultz had 46 touches between them and kicked six goals. 
Both of his turnovers also resulted in goals to the Dockers so it wasn't a fantastic outing but wasn't the Hawks' worst. 
Blake Hardwick
Serious questions need to be raised about Dimma's form. 
Like I said about Scrim, Walters, Banfield and Schultz had 46 and six between them, but with the ball, Hardwick didn't have a great impact. 
Had just the ten touches and although he took five marks and had four rebounds, for a man with an outstanding reputation, he's been out of whack for a while now. 
Lachie Bramble
Looks to be going from strength to strength off half back. 
Gained 24.5 metres per possession which is an elite statistic, went at 71% efficiency, had six intercepts and 14 pressure acts. 
His contested ball work has been a huge improvement and showed it by having seven contested possessions. 
This kid is going places. 
Dan Howe
Thought this was one of his best performances in a long time for the Hawks. 
Had 20 disposals, took seven marks, had six score involvements, intercepts, 329 metres gained and covered the ground really well. 
Is a really frustrating player because he's a good size, can be a really good kick and clearly has footy IQ, but the Hawks haven't seen the consistent form required. 
If another club comes knocking, can't knock him for trying his luck, for a third round pick. 
Chad Wingard
Can't really knock a player who's kicked two because he's taken his chances but this was not a Chad-like performance. 
46% disposal efficiency and five turnovers are not numbers normally associated with the No.20 and his best form is going to be needed after the bye. 
Whether that's for the long term position at the Hawks or somewhere else, who knows? 
But for 2022, bring it on Chad. 
Luke Breust
Laid six tackles which is the stat that is unreal from Punky, especially the four inside 50. 
Had seven score involvements and had 21 pressure acts throughout the day and he kicked two really classy, "Luke Breust" style goals.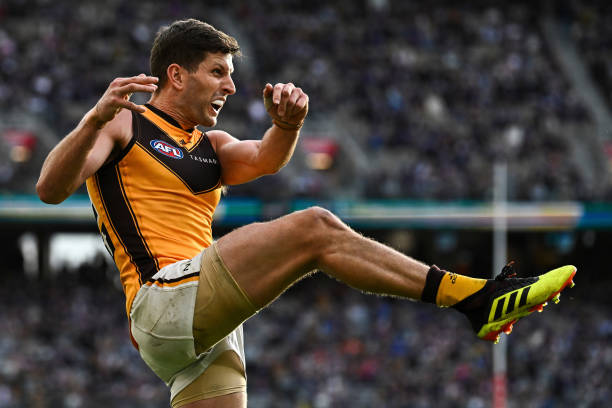 Jacob Koschitzke
Half of his disposals came from marks and the set shot he took from 50 to get the Hawks on the board was an absolute thing of beauty. 
Five turnovers and just a 27% disposal efficiency did read the rest of his day, which were not ideal but given he's playing half out of position( this seems harsh. 
Liam Shiels
Of his 16 disposals, nine of them were turnovers. 
Nine. 
The result of those turnovers?
Five scoring chains. 
Long story short, that's a disaster. 
That should be a one star performance but 32 pressure acts, 408 metres gained and five tackles will add a star to anyone. 
Take care of the ball Lia
Kyle Hartigan
All six of his disposals were intercepts, so that's something. 
He dropped a couple of uncontested marks to the dismay of fans but only lost one contest for the entire game, according to Champion Data. 
Isn't a key position player that will do great things with the ball but in the last fortnight, he's done really well against his direct opponent. 
Sam Butler
Had 13 disposals, 17 pressure acts and six score involvements, all of which are some of the best numbers he's had. 
Only went at 54% but anyone with half a brain can see he's growing into his role nicely. 
With a bye coming up, maybe he doesn't need the rest like a Connor MacDonald got but I'm liking what I'm seeing. 
Josh Morris N/A 
Came on for Frosty late in the last quarter and didn't get enough time to rate properly. 
Will get his chance later in the year to prove himself but this does seem like he's playing for his career. 
Ned Reeves
Up against a really good ruckman in Sean Darcy  Reeves had 21 hit-outs in 66 contests and held his own.
Had 13 pressure acts and four tackles, along with four score involvements, but the concerning part of his game was just the one mark and just had a 40% efficiency.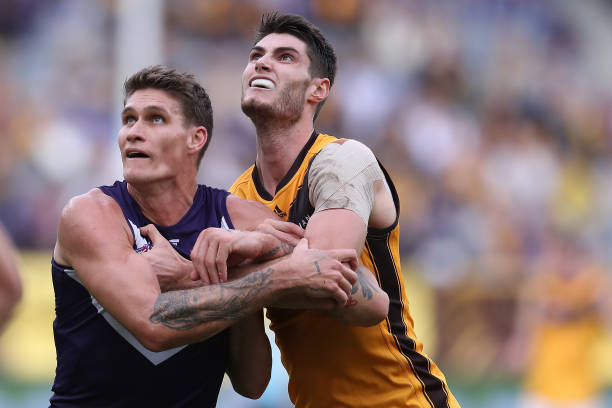 Is getting back into the AFL groove so it's hard to be full of praise or full of criticism; we just take it as it comes. 
Jai Newcombe
Had the 19 disposals but once again, it was the third quarter that stood out, with seven touches and five of his six inside 50's. 
Had 34 pressure acts, seven tackles, 325 metres gained and the balance of contested and uncontested ball was really positive. 
Wasn't our best midfielder on the day but is our best overall. 
However, there's a feeling the Rising Star judges are going to go with the wrong choice once again. 
Jackson Callow
Just wasn't a big day for Buckets. 
Had the eight disposals but his impact in the contest was minimal. 
Looks a touch off the pace which is a shame but what it means for the long term? Hard to say.