We at Talking Hawks want to give Hawthorn fans an experience. Subscribe to Talking Hawks for exclusive fan experiences and get involved in livestreams with Hawthorn players.
I don't think I am alone on the footy opinion hill, that the father/son rule is one of the best traditions in AFL football. 
There is nothing better than seeing a young kid carry on their families' legacy at a club, and the fan excitement that comes with that.
So naturally, like most Hawthorn fans, I was extremely excited following a young Finn Maginness, son of 1989 premiership player Scott, running around for Sandy Dragons in 2019. 
As the hype grew, with some draft experts grading him as a first round pick, the excitement in Hawks fan circles was borderline palpable. 
The prophecy was completed at the 2019 AFL draft, with the Hawks matching the bid for Finn at pick 29, bringing another father/son prospect home to Waverley. 
In the first two seasons, it wasn't as smooth sailing as first thought, with Finn only managing three games in his first two seasons in brown and gold. 
However, under new coach Sam Mitchell, Maginness has not only found his role but is flourishing. 
Maginness has completed four hard tagging roles this season, all to great effect and for the first time in his short career, has cemented a role within the side.
Let's go back to Round 7 against the reigning premier, Melbourne. 
Coming off a 30 disposal and one goal game, Ed Langdon found himself living in Finn's pocket for the next two hours. 
Langdon is one of Melbourne's most important players and drives their offence, given he averages 25 touches in Demons wins since 2021. 
Finn held him to nine disposals (9!) and the role he played was one of the main reasons our Hawks kept pace with the then conquering Demons.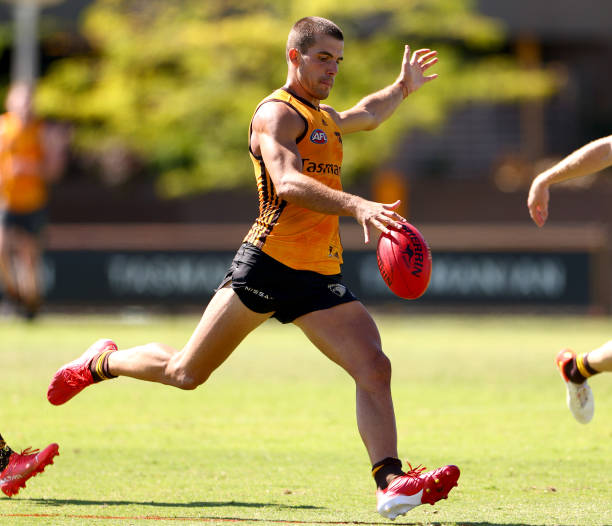 After some time out of the side, Finn came back to shut down Adelaide's Jordan Dawson who is an All-Australian candidate at half back. 
Dawson, like Langdon, had 30 disposals and a goal the week before. However Dawson was held to 15 disposals by Maginness, stopping the drive Adelaide generate from half-back to suffocate their ball movement. 
Next, was Round 18 against West Coast at the MCG, where Tim Kelly was the assignment.
Despite having 21 disposals and falling just shy of his season average, Kelly had limited impact on the game, unable to use his strength of pace and drive from stoppage thanks to Finn's company, and if it wasn't for an illegal block by Luke Shuey, Kelly wouldn't have scored. 
On top of this, Maginness actually matched Kelly's disposal count and had a game high 12 score involvements in the best statistical game of his career!
Finally, last week's game against North Melbourne, Finn wore Jy Simpkin like a glove. 
After being North's best player in their win against Richmond the week prior, with 34 disposals and a key goal, Simpkin was held to 14 disposals against the Hawks and Simpkin was lighter in the pockets and involved in multiple melee's thanks to Maginness lock down role.
Looking forward, Maginness next logical target looms to be St Kilda captain Jack Steele, coming off 40 disposals last week, which will be his toughest task of the season. 
Throw in Touk Miller and Jack Macrae, the last month is going to seriously test young Finn, but he has earned the opportunity to showcase his craft against the best of the best. 
However, is this career arc sustainable?
Personally, I am of the opinion that the tagger holds a place in the AFL and it baffles me coaches don't use it more often, considering the impact some stars can have on the game.
However, they aren't every week propositions and when looking at the likes of Cameron Ling and Ryan Crowley, they could impact the game offensively when not tagging.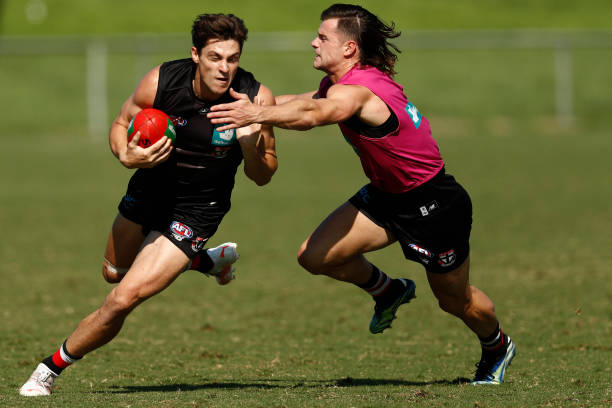 This needs to be Finn's progression; to find the footy without a task. 
He showed against West Coast that he is able to get involved in the game and contribute to scoring with his dozen score involvements.
If he can improve his kicking and decision making over the off-season, I am confident that there is an every week position in this side for Finn Maginness and he will be a player to watch once pre-season 2023 kicks off. 
This is after all, a 21 year old kid who stands at 6'3. 
A true weapon.