We at Talking Hawks want to give Hawthorn fans an experience.
Subscribe to Talking Hawks for exclusive fan experiences and get involved in livestreams with Hawthorn players.
Already in 2022, Mitch Lewis signed a contract extension that keeps him at the club until 2026 and since, has only solidified himself as the pillar of the future Hawthorn forward line.
With Lewis the cornerstone of our forward line for the foreseeable future, it is now the process of finding the Goose to his Maverick.
For you see, since my time of watching the Hawks from the late 80's, there is nothing Hawthorn appreciate more than a dynamic couple of powerful key forwards.
While we have been spoilt with great key forwards like those already mentioned, since 2016 we have been searching for our key pillars without being able to settle on the right combination.
The Hawks have tried guys like Timmy O'Brien, Jonathon Patton and Ryan Schoenmakers but unfortunately none were able to cement their spot as the key centre half forward we needed.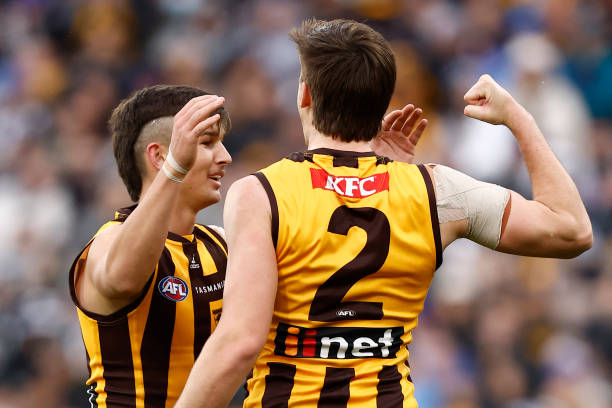 This year, we have tried young players like Jacob Koschitzke and Jackson Callow alongside Lewis, while last year we saw Emerson Jeka get his opportunity.
Who is the perfect partner for Mitchell Lewis in the forward, that will build a combination with him and work in tandem to tear defences apart, just like Buddy and Roughy used to?
If the Hawks are going to compete in the upper echelons of a football season, Lewis' partner needs to be known quickly to build that chemistry.
Let's take a look at the contenders.
Jacob Koschitzke
Kosi had a breakout season in 2021, kicking 30 goals as our key forward and has so far kicked 12 goals this season. The 22 year old has now played 32 games in the Brown and Gold for a return of 8.25 touches, 3.25 marks and 1.34 goals. Fans are very quick to discuss his marking ability as a tall target, however his aggressive nature and combativeness around the contest means he is very rarely beaten or out of a contest.
Young Kosi is tracking along nicely as our number 2 key forward, especially when you consider he is still honing his forward craft after being an under 18 defender for Vic Country.
His stats currently stack up with where a young Rough and Buddy were at the same age.
In 05/06, Roughead's first two seasons at Hawthorn, he kicked 18 out of Hawthorn's 551 goals, meaning he kicked 3% of those goals.
Franklin in 05/06 kicked 52 goals, which was just over 10% of total goals.
In comparison, Kosi has kicked 42 of 463 goals, giving him 9%.
With these young key forwards, they are often a slow burn before hitting their straps and making a real dent.
Lance Franklin 
The man affectionately known as Buddy was once the Prince of Waverley Park and a homecoming may be on the cards. 
He has won 4 Coleman medals, was the last player to kick 100 goals in a season in 2008 and this year kicked his 1000th goal in AFL football. 
A prodigious talent with X-factor that can't be matched, he broke Hawthorn hearts after the 2013 Grand Final when he departed Hawthorn to leave for the Swans on a 9 year, $10 million contract.
In his time at the Swans, has been unable to replicate the premiership glory that he had in 2008 and 2013 at Hawthorn.
However, with news that he is still a fair way away in contract negotiations with the Swans, could this be the fairytale ending to the Buddy story?
Wouldn't come cheaply, as even though he is 35 years old, he is looking at a deal of approximately $750,000 a season, but imagine him helping to tutor Lewis, Kosi, Callow and Jeka. 
At the same time, in a rebuilding team that won't be challenging for finals next year, could he be stunting the development and growth of our young key forwards or be exactly what the Hawks need? 
Emersen Jeka
The man dubbed by fans as "The Jeka Express" had an unusually quiet start to the season and was finally starting to hit his straps, kicking seven goals in the VFL against the Bombers, before injuring his hamstring and being sidelined. 
The soon to be 21 year old is currently getting some fitness and form back for Box Hill and in his four senior games last year, the 197 cm forward averaged 6.5 disposals a game, 1.75 marks and half a goal a game. 
In the last two or three weeks at Box Hill, Jeka looks to have been thrown down back to good effect, having 20 disposals and six marks against Werribee and eight marks with 19 disposals against Northern Bullants last week.
The output at AFL level wasn't perhaps what fans and Jeka were expecting but Jarryd Roughead was put behind the ball early in his career and that worked out pretty well.
Currently out of contract at season's end but the Hawks will likely give him another chance to show his talent on the big stage to try and secure an extension to stay at Waverley Park.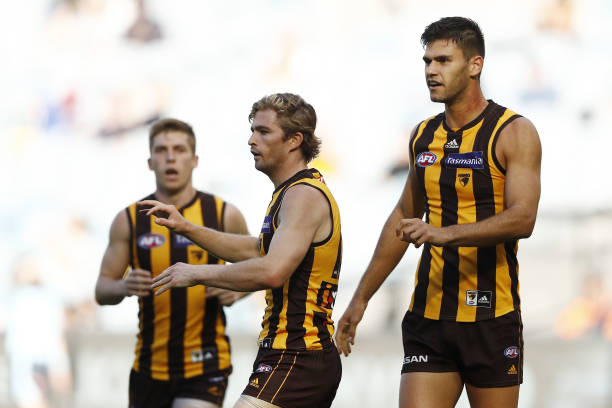 Jackson Callow 
Standing at 194 cm, the 20 year old nicknamed "Buckets" made debut this season and has played three games. 
He was mostly used as a back up ruckman to assist Ned Reeves, which has meant that he was unable to show his true colours as a key forward for a whole game. 
In his senior games to date he has averaged eight touches, 2.66 marks a game and has yet to register a goal. 
He is under contract at Hawthorn until the end of 2023 and as stated by Andy Otten during his mid-season review, we will likely see Jackson get another opportunity this year.
Jerome Lawrence 
The son of Stephen is turning heads in the back end of the year, with eight games under his belt at Oakleigh. 
He's been named in the best players at the Chargers three times, kicked five in the Young Guns game of Vic Country and Metro and reportedly impressed at the Hawks father-son academy. 
The Hawks have had the second lowest father-son selections from a Victorian club so it adds a nice cherry on top. 
2022 Draft Pick 
Could the answer be a kid we haven't seen yet? 
Whilst it's highly unlikely that the Hawks take a tall forward in the first round, there's still depth in this draft. 
GWV Rebels' Aaron Cadman, Oakleigh Chargers' Matthew Jefferson, North Adelaide's Isaac Keelor, West Adelaide's Harry Lemmey and Tom Scully are all prospects that can be at Hawthorn's second pick. 
Scully is a mark and set shot goal type of forward, Lemmey is an aerobic athlete who wears down his opponent, Keelor is a versatile and athletic prospect, Jefferson needs some size but is so dangerous in the air and Cadman is elite on the lead. 
It's impossible to go out on a limb and say one of these boys is the answer but everything is depending on how the Hawks attack the off-season, pre draft. 
Lewis has proven to be a number one forward so if Koschitzke is a future defender or not the answer, another may be mentored and moulded into the Robin to Lewis' Bruce Wayne. 
With Mitchell Lewis tearing apart defences with performances like Sunday's 5 goal haul, do we have faith in our other young key forwards or keep trying to build that dynamic duo that can deliver the club it's 14th premiership? 
That is the question that makes the footy department earn every cent.