We at Talking Hawks want to give Hawthorn fans an experience. Subscribe to Talking Hawks for exclusive fan experiences and get involved in livestreams with Hawthorn players
Three in a row, seven for the year and 11 and a half in the last 24 games.
How good is winning when you're rebuilding?
Jack's back, the midfield showed up and an unheralded Hawk was simply delightful but that's just three players; how did every Hawk go?
Harry Morrison
When you're a wingman and kick two goals, it's an automatic tick. 
Had four inside 50's but overall, made his disposals count rather than a large count of disposals. 
His contract situation is really polarising Hawks fans at the moment but he isn't putting a foot wrong. 
Mitch Lewis
In such an emotional week for fellow forward Jack Gunston, Lewy has some cause to wonder why the service to him on a lot of occasions was so poor. 
Ben McKay's game needs to be respected, with a dozen intercepts and ten marks, with now Lewis conceding 28 marks to his opponents in the last two weeks. 
Took five marks on the day and delivered the ball nicely to his forwards and had 14 pressure acts, which would be rated "elite" amongst tall forwards.
Tom Mitchell
Thought this was probably Titch's best game of the season, given his damage, ball use and composure. 
Allowing Josh Ward to play an outside mid role, Mitchell went at 91% efficiency for his team high 32 disposals, he also had ten score involvements, 25 pressure acts, 397 metres gained, seven marks, five clearances, four tackles and inside 50's. 
Also kicked a goal and even had four intercepts so it really was a well rounded performance by a very good footballer. 
Jarman Impey
Did everything right Jars bar finish his good work. 
Finished the day with 1.2 but used the ball at 73%, had eight score involvements, 19 pressure acts, 262 metres gained in the forward half and five inside 50's. 
Am loving this role for Impey and hope not only it continues in 2022, but 2023 as well. 
James Sicily
Five turnovers is a lot for someone of Sis' talent but as per usual, he kept kicking the ball and claiming plenty of territory. 
583 metres gained, eight rebounds, five marks and five intercepts read the rest of his day and although Jack Ziebell kicked three goals, Sicily wasn't his opponent for two of them, even though he played on him for most of the day.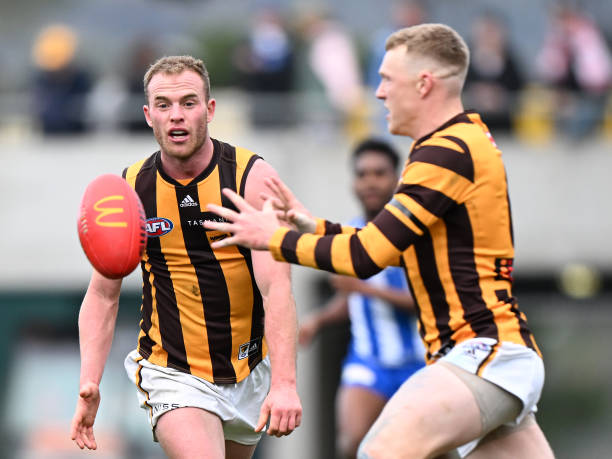 Ben McEvoy
A ruckman used the ball 17 times…… at 88%. 
It truly is, an incredible time to be alive. 
Had 14 hit-outs, nine pressure acts, four intercepts, three clearances and eleven contested contested possessions.
The Hawks play so much better with the skipper too. 
Jaeger O'Meara
This man is quality. 
Full of exquisite quality. 
20 disposals, 14 contested possessions, seven score involvements, 26 pressure acts, 328 metres gained, seven inside 50's, five clearances and two goals was what the "Jaeger-bomb" gave us. 
Hit every contest hard and was a point of difference in every stoppage. 
Conor Nash
Nash's form has been okay for the last five or so weeks and whilst he wasn't overly spectacular, he did really nice things. 
Had 18 disposals, with six inside 50's, five score involvements, four clearances, three tackles, 15 pressure acts and 289 metres gained. 
Would be good enough for a three star performance given he was good for long periods but three free kicks against and five turnovers have cost him a touch. 
Will Day
Where is Day's best position? 
Drafted as a half back, has played on a wing, had some centre bounce attendances over the last month and last week against West Coast, went forward and kicked two goals. 
Played a little everywhere except the goal squares on Saturday and averaged over 20 metres gained per disposal but he only had it ten times. 
To answer the aforementioned question, it's too hard to say since it's unconvincing on whether the Hawks know where he belongs either.
Dylan Moore
Must've known he had a fantastic article coming about him so he had to perform and oh boy did he! 
Moore had 25 touches, eight score involvements, seven tackles, five inside 50's, five marks and four clearances. 
Is forever proving his inside and outside presence on the contest, with 11 contested possessions and 29 pressure acts, yet had an 88% disposal efficiency, including a ripping "hesitation handball" that set up Finn Maginness beautifully. 
This man is a star, period. 
Jack Scrimshaw
This is going to be controversial as fans post game have given Scrim a bucket of praise after the game. 
Is the bar set for him extremely high, given his level of improvement? Yes. 
However, all four of his turnovers turned into scores for the opposition and if you've read the reviews before, you know how that's felt around here.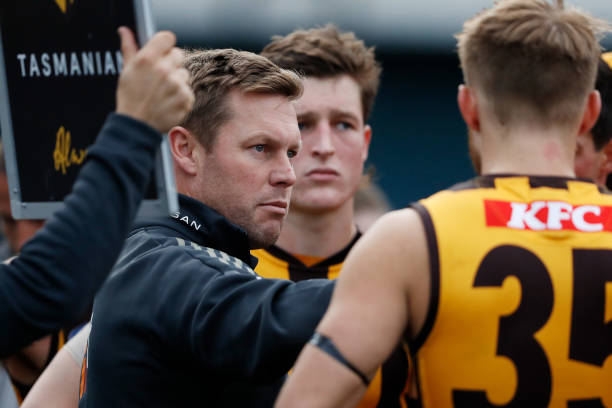 Did take nine marks (three contested), had six intercepts, four inside 50's and four score involvements. 
Blake Hardwick
The back half of the year from Dimma is simply taking the mickey at this point and it was on show again. 
Cam Zurhaar kicked one goal for the game (hate to say I told you so) and Dimma had 23 touches. 
Not only that, he used the ball at 91%, had 458 metres gained, had 13 pressure acts, nine intercepts, seven marks and five rebounds. 
I'm really intrigued to see where Dimma finishes in the Peter Crimmins Medal. 
Jack Gunston
When you kick 5.4 in an incredibly emotional week, deliver one of the best post game interviews of all time, take seven marks, have 17 disposals and have 410 metres gained (!), you're getting best on ground. 
The more difficult the set shot, the harder it seemed by Jack, epitomised by the fact his fifth goal was kicked from the carpark! 
Congratulations on such a fantastic return Jack, it's a pleasure to have you back in the brown and gold. 
Luke Breust
Four tackles and two goals from a small forward? 
Tick. 
Also had four inside 50's on the day and made Aiden Corr look silly on a couple of occasions. 
Corr is 195cm and Breust out-marked him, twice! 
The man is a freak. 
Denver Grainger-Barras
Lost one contest all day. 
Automatic tick. 
Don't need Denver to win the ball 20+ times when he's stopping his opponent getting the ball. 
Between he and James Blanck, there is plenty to work with and when Blake Hardwick and Jack Scrimshaw are allowed do their thing with ball in hand, he only has the aim of shutting down his opponent. 
For large parts of the game, Callum Coleman-Jones was invisible, thanks to Denver. 
And to think, Richmond will get Pick 19 out of that deal (20 if North get a priority pick out of the first round). 
Good grief. 
Josh Ward
Backing up a 34 disposal performance was always going to be difficult but playing a pure wing role, he did better than okay. 
25 pressure acts is elite for a midfielder and although Ward did his work between the arcs (only one inside and rebound 50 each), he continually put his teammates into space and looks ultra composed. 
Had 22 disposals and was happy to see him have ten centre bounce attendances as well.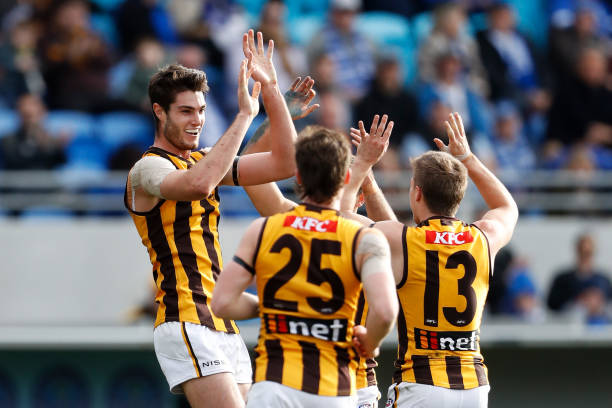 Connor MacDonald
The cleanliness of this kid continues to amaze me. 
16 disposals on a half forward flank at 81%, with 356 metres gained. Yep. 
Also had two centre clearances without a centre bounce attendance (came in off the square), five tackles, five score involvements and ten pressure acts. 
At Pick 26, there was some talent left on the draft board but MacDonald is proving by the week, the recruiting department truly know what they're doing. 
Finn Maginness
At the 24th minute mark of the first quarter, Jy Simpkin had had five disposals but only one of them was effective. 
For the rest of the game (102 minutes), Finn kept him to nine more disposals! 
Finn had nine himself and kicked a nice goal but as the AFL website reported (about a week too late), he's found his niche. 
It was surprising to see him not go to Luke Davies-Uniacke but he did extraordinarily well. 
Jack Steele next week? 
Josh Morris
North sent Jaidyn Stephenson forward after having 700 metres gained last week when Aaron Hall came into the side, hoping he would have a performance befitting why he won a Rising Star at Collingwood.
Morris competed really well, with Stephenson kicking just a goal and had 14 touches himself. 
43% disposal efficiency is a huge concern and when CJ is back, he'll come out of the side but seven intercepts, four score involvements and over 17 metres gained per disposal is a tick.
James Blanck
Have we seen a more fearless key defender after playing just a handful of games?
Blanck attacks the contest magnificently, doesn't get outworked in the air and has some deceptive pace, which allows him to give an opponent a bit of space before closing them down.
There's a lot of Dylan Grimes about this guy, except he doesn't dive.
Win-win.
Ned Reeves
For the record, if I could do 2.5 stars, I would as he had a strange day as a ruckman.
Kicked two goals in the first quarter pile-on but he only had 17 ruck contests for the day, winning 11 hit-outs.
I'd love to go back and just watch him for the 91 minutes of game time he had as apart from those goals, there were times where Noodle was seemingly everywhere and nowhere at the same time.
He pushed back defensively a lot and stood in front of Coleman-Jones and broke up some contests, but only took one mark for the game, which resulted in a 52 metre bomb.
Jai Newcombe
Two players kicked two goals and 30 disposals in the same game, which is extraordinary.
What's more extraordinary, is one was a Pick 4 (Luke Davies-Uniacke) and the other is a mid-season draftee!
There hasn't been a game that sums up Jai better as a footballer I don't think.
Kicked a goal from 50, took a courageous mark and "posterised" Jack Ziebell, proved his handballing is the best since the coach, had 15 contested possessions, nine clearances, seven score involvements, 580 metres gained, 17 pressure acts and seven inside 50's.
I don't blame anyone who gives him the five stars over Jack, at all.
What we can all agree on however, is this man's ceiling is frightening.