We at Talking Hawks want to give Hawthorn fans an experience. Subscribe to Talking Hawks for exclusive fan experiences and get involved in livestreams with Hawthorn players.
At the beginning of the year, everyone's favourite statistical company – Champion Data – released their list of elite players and Dylan Moore's name appeared, to some chagrin.
Supporters from other clubs scoffed at the suggestion, while some of our own supporters were not convinced he was anything more than a serviceable player in a rebuilding team.
Media "experts" like Kane Cornes said that the data was incorrect and that Hawthorn had no elite talent on the list.
Through his performances in his 18 games this year to date, Dylan has gone about proving the naysayers wrong and it is clear to see why the word "elite" is the definition of his standing in the AFL competition.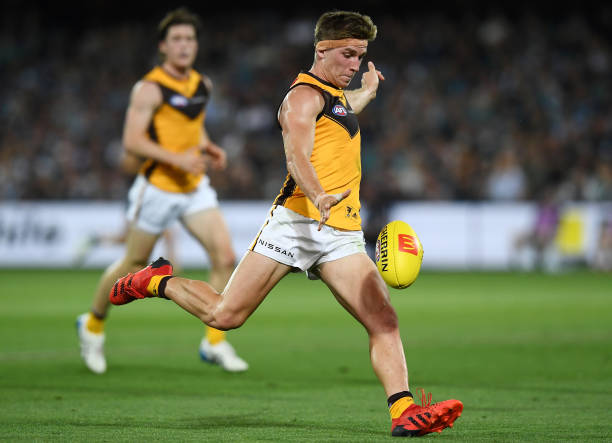 It's easy to forget that at one stage before Dylan's meteoric rise at Hawthorn, he was almost lost to the system.
Cast your mind back 37 games ago and he was almost on the scrap heap, holding on grimly for the opportunity to continue plying his trade at the club he barracked for as a child.
This is a man who was playing scratch matches in 2020 at fullback at times (!) while the Hawthorn team was in the Covid hub.
His last game of 2020, in Adelaide against the Gold Coast Suns would prove to be his lifeline, with a 25 disposal performance, playing as a high half forward who ran up and down the wings, while also snaring a goal and a Brownlow Medal vote.
Season's end came and Moore, the 67th pick in the 2017 draft was waiting patiently to see if he would be re-rookied.
Luckily for Hawthorn fans and the club itself, the decision to give the in form star the last spot on the list going forward for 2021 has birthed a rich fruit and even better form.
Since becoming a regular starter in the seniors across 2021, Moore has continued to take his game to a new level on a weekly basis, impressing with his professionalism and tenacity.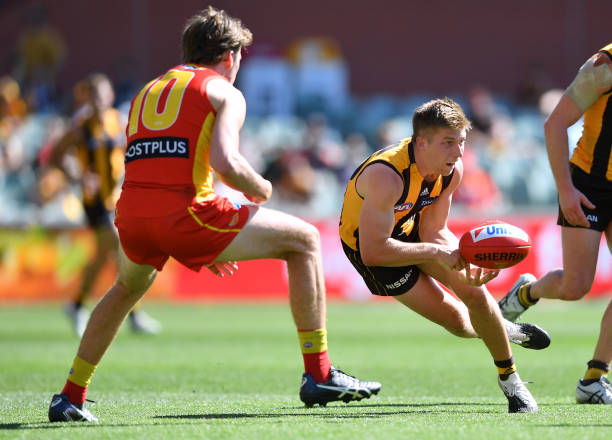 He has continued to hone his forward craft and his work rate and elite running capacity has enabled him to shine, especially in a midfield role in the last month.
In 2021, he averaged 15.4 disposals and he has increased that to 19.4 disposals, which is considered elite for AFL general forwards.
His tackling has increased from 2.9 a game to 3.9 (also elite), while his marking has risen from 3.8 to 5.5 a game (you guessed it, elite).
In fact, based on eight statistics used for general forwards by the AFL, Dylan Moore is ranked elite in seven categories, with his goal kicking the only one that is considered not elite, yet still above average at a rate of 1.33 goals per game.
At the beginning of the year Dylan was ranked the 243 player in the competition by AFL Player Ratings and fast forward to the eve of Round 19 and Dylan Moore is currently ranked 42nd!
Hawthorn fans are already used to players going under the radar but these numbers truly do not lie and the Hawks have got an absolute gun on their hands.
Moore's Midfield Month of Madness:
Round 7 vs Melbourne: 33 disposals, 11 marks, three tackles, three inside 50's
Round 17 vs Adelaide: 29 disposals, eight inside 50's, seven tackles, seven marks, five clearances
Round 18 vs West Coast: 25 disposals, seven clearances, seven marks, six tackles, five inside 50's
Round 19 vs North Melbourne: 25 disposals, 88% efficiency, eight score involvements, seven tackles, five marks, five inside 50's, four clearances
Moore is yet another shrewd selection by the Hawks, who went at Pick 67 when Champion Data had him ranked the 12th best player pre-draft.
The boy from Caulfield Grammar who used to dominate summer athletics just so he could "get fit for footy in the winter", is beginning to dominate on the park as well.
Like Charlie Bucket with his golden ticket, Dylan Moore is making the most of his golden chance on his elite journey at the Hawthorn Football Club.