We at Talking Hawks want to give Hawthorn fans an experience. Subscribe to Talking Hawks for exclusive fan experiences and get involved in livestreams with Hawthorn players
For the first time since Round 1 and 2 this season, the Hawks have won back to back games and have a chance to win three games in a row for the first time since Round 20-22, 2021. 
North have lost three recruiters and a head coach in the recent past but the sugar hit that usually comes with the "game after" was taken out of the equation with a four point win over Richmond and for the Hawks sake, hopefully referring back to the struggling bottom side they've been for the last year and 18 rounds. 
Last Time We Played
Round 1, 2022, MCG 
Hawks – 11.12.78 
Roos – 8.10.58 
Goals – Jack Gunston (3.4), Mitch Lewis (3.1), Chad Wingard (2.0) 
Disposals – Tom Mitchell (29), James Sicily (27), Liam Shiels (25), Changkuoth Jiath (24), Harry Morrison (21), Jack Scrimshaw (20) 
Team News 
In's – Jack Gunston 
Out's – Changkuoth Jiath (knee) 
CJ's got some bone bruising which the Hawks will insist only keeps him away from the seniors for a week so he should return against St.Kilda.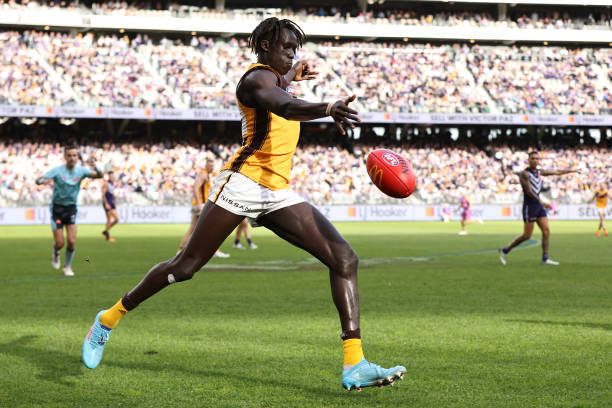 The Hawks welcome back Jack Gunston after a two week break following the passing of his father and in such sensitive times, it seems inappropriate to say anything positive. 
However, it's a pleasure watching the great No.19 and we hope he can turn it on against the Roos, a team that he's kicked 22 goals in 13 games against. 
How the Hawks win
Everyone knows North have had a good fortnight but this is the bottom side after all. 
They've scored the least amount of points and conceded the most so the Hawks will have plenty of chances to score, which they've done in their last two wins, shown by the 188 points the Hawks have scored. 
The Hawks have got some depth in the midfield that can trouble the Roos, who are so reliant on one midfielder (more on him later). 
Josh Ward (34 touches and over 600 metres gained), Tom Mitchell (33 touches and six score involvements), Jai Newcombe (28 touches and five clearances) and Dylan Moore (25 touches, seven marks and six tackles) were all fantastic last week.
That's not taking into consideration Jaeger O'Meara or Conor Nash, who will both be in the guts throughout the afternoon.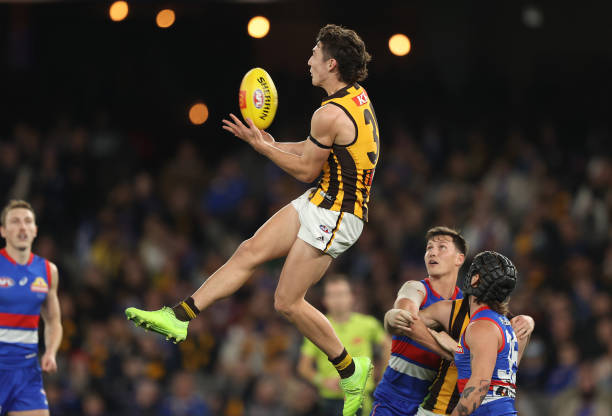 Then up forward, Mitch Lewis is in some dominating form, Connor MacDonald kicked two goals last week, Ben McEvoy is moving better and better and if Will Day stays forward, he showed his ability to be an offensive threat with two goals against the Eagles. 
Down back, the Hawks may be gifted with North's six goal hero against Richmond – Nick Larkey – who's under an injury cloud with the fat cap of his heel giving him some issues. 
If he plays, he won't be at 100% so James Blanck has a really good chance to lock him down and Denver Grainger-Barras is likely to take the resting ruckman, being Callum Coleman-Jones or Todd Goldstein. 
North have zero depth in their forward line, with Nick Larkey (31), Cameron Zurhaar (25), Todd Goldstein (14) and Jack Ziebell (12) the only players who have kicked double figure goals. 
Why this works for the Hawks I hear you cry? 
Jack Scrimshaw, Harry Morrison, James Sicily and Josh Morris down back aren't going to be exposed so they can create attacking plays throughout the day. 
Concerns
One man; Luke Davies Uniacke.
"LDU" became a football meme when former Essendon champion Matthew Lloyd labelled him as "Judd-like" back in 2019 and he's had to deal with some monumental pressure since.
This season however, he's been terrific.
He's had eleven games of 20+ disposals but his last three weeks have been some of his best, with a 36 disposal, seven mark, seven clearance and six mark performance against Geelong, a 33 disposal, 14 inside 50, 12 clearance, 11 tackle and five mark game against Collingwood and a 28 disposal, seven mark, six inside 50 and five tackle game last week against Richmond.
He looks the perfect target for Finn Maginness to take down, as Finn did so last week against Tim Kelly.
Finn's done extraordinarily well against Ed Langdon and Tim Kelly and the Hawks should allow their other two midfielders at the stoppage go against Jy Simpkin and either Tom Powell or Jason Horne-Francis.
Cameron Zurhaar did kick six last week so it's understandable to have him as a threat but he is wildly inconsistent and Blake Hardwick is a great stopper so we will be backing Dimma in.
Jaidyn Stephenson has also been trying to have a mini revival of his career but whether it's a permanent thing or a sugar hit, we are yet to see.
However, last week he had 23 touches (21 kicks) at 86% efficiency, with a dozen rebounds and a goal, so he and Aaron Hall with no pressure on them, can create some damage if the smalls for the Hawks let them go.
TH Spotlight – Mitch Lewis
In his 50th game, Lewis comes up against a rejuvenated Ben McKay.
Last week, he had more two-on-one contests than anyone has this year but with the Ben McEvoy and Jack Gunston tandem, he should have some created space in front of him, where he should shine.
After averaging 3.2 goals at Round 15 (with 11 games under his belt), he's gone goalless twice in the last three weeks.