We at Talking Hawks want to give Hawthorn fans an experience. Subscribe to Talking Hawks for exclusive fan experiences and get involved in livestreams with Hawthorn players
It was a vintage six goal performance by Luke Breust on the weekend against the Eagles that helped the Hawks secure their sixth win of 2022. 
Thanks to the aforementioned bag, Breust equalled John Peck and moved to 7th on Hawthorn's all-time leading goalkicking list with 475 to his name. 
If Breust plays for the next two years and averages a goal and a half a game, he'll finish on 550 exactly, sitting him 48th, compared to his current 66th placing. 
When it comes to the best of all time, we don't need to look very far as Hawthorn fans, with club great Leigh Matthews sitting 9th all time with 915 goals.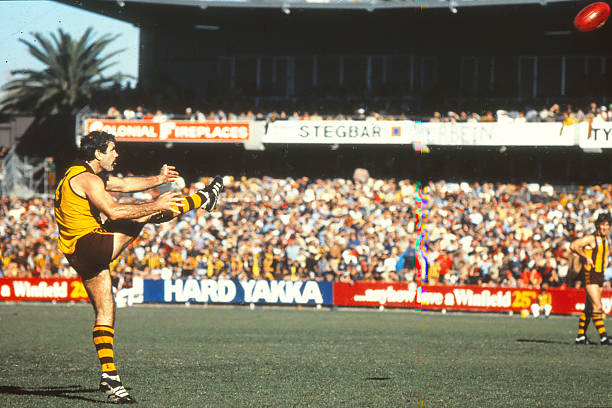 Also, considering Lethal spent the first half of his career as a midfielder, it makes this record even more unbelievable and to even suggest any small forward in his class is borderline insulting. 
There is also Kevin Bartlett who may have an argument, who played over 400 games and kicked 778 goals who form the clear top two but as to the crop of modern great smalls, the debate becomes less clear cut. 
The three star small forwards in the conversation are Eddie Betts, Stephen Milne and our man Punky.
All of these stars of the AFL have lit up stadiums around the country during the last 20 years, but who can lay claim to being the best of the 21st century? 
Eddie Betts' name sits comfortably in the conversation, wjth the Carlton and Adelaide great kicking 640 goals in 350 games at an average of 1.8 goals per game at 65% efficiency. 
He also averaged 0.9 goal assists and three tackles per game over his career. 
His best individual season was in 2016 for Adelaide, where he kicked an incredible 75 goals in 24 games. 
Eddie was a showman and his legacy will forever lie in his four goal of the year awards, delighting crowds everywhere.
He is also a six time club leading goal kicker and three time All-Australian.
The next contender is Stephen Milne, the Saint who kicked 574 goals in his 275 games for an average of 2.09 per game at 64% efficiency. 
He averaged 0.6 goal assists and 1.7 tackles per game and his best individual season was in 2005, where he kicked 61 goals in 24 goals next to Nick Riewoldt and Fraser Gehrig. 
Milne led the Saints goal kicking four times and made two All-Australian teams during his illustrious career.
The man Triple M christened 'Tip-Rat' had a crazy consistency to the end of his career too, going goalless just four times in his last 87 games!
The Saints had a terrific run from 2008-2011 and he was lost in the shuffle of a Lenny Hayes, Nick Dal Santo, Brendan Goddard, Leigh Montagna and Nick Riewoldt but he sat comfortablt in that side and routinely brought people to games to show off his flair.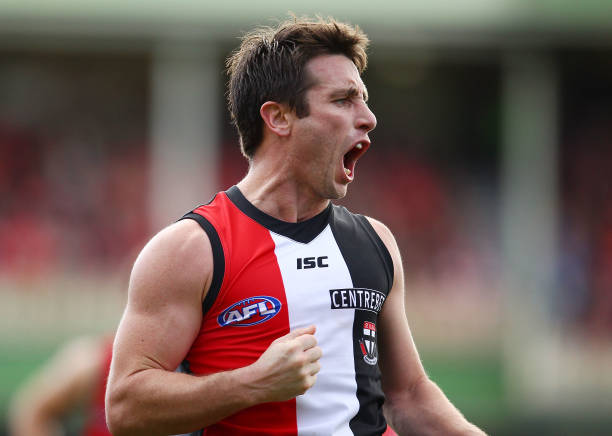 Lastly, Punky! 
Punky is in his 12th season at the Hawks and has kicked 475 goals in his 255 games for an average of 1.9 per game at 69% efficiency. 
He averages 0.9 goal assists and 3.8 tackles per game and his best individual season was 2014, kicking 57.12 on the way to back-to-back premierships.
The champion is a three time premiership player, 2-time All Australian, three time leading goal kicker and is second in Hawthorn's leading goal kicking this season. 
The great man has provided Hawthorn with plenty of highlights, including the 2013 Grand Final sealing goal, the 2015 Semi-Final against Adelaide when he kicked four in the first half and beginning the 2014 and 2015 campaigns with five goal hauls against Brisbane and Geelong respectively.
Breust puts himself amongst small forwards in his ability to deliver the ball inside 50 as well as anyone else (on both feet too) and finishing on both feet, regardless of distance and angle.
No mess, no fuss, just a supremely professional athlete who does his job every day and every game.
It is difficult to separate these three stars of the competition but we can't deny how spoiled we have been as Hawthorn fans. 
Betts has the most total goals; Milne has the most goals per game and Breust has the best overall resume, as well as equal best goal assists and most tackles. 
Neutral fans have pointed to a lack of highlight reel compared to Milne and Betts but for success and consistency, there mightn't be any better. 
Congratulations Punky on equally John Peck on Hawthorns all-time goal kicking list and we are excited to see many more great games of football in the near future!