We at Talking Hawks want to give Hawthorn fans an experience. Subscribe to Talking Hawks for exclusive fan experiences and get involved in livestreams with Hawthorn players.
With three top 30 picks in last year's NAB AFL National Draft, the Hawks have shown a lot of progress with Josh Ward, Connor MacDonald and Sam Butler in 2022. 
With another Draft ahead of us in November 2022 for the 2023 season, the narrative around Hawks fan circles is wanting the best draft pick possible so wins mightn't be as good as they seem. 
Is that really the case though? 
When it comes to number one picks, only two of them have been comfortably the best picks in their draft, that being Nick Riewoldt in 2000 (although 300+ gamers Shaun Burgoyne, Kane Cornes and Drew Petrie also featured) and Sam Walsh in 2018 (with some room for a Bailey Smith, Connor Rozee or a King brother to catch him). 
There's no proof that high draft picks equate to great play at all, showed by a mix of Ollie Wines and Dustin Martin being high draft picks and winning Brownlow's, whereas Nat Fyfe (20), Tom Mitchell (21) and Lachie Neale (58) were later picks. 
The mix of early and later draft picks tells us that the need to grow players is ever more important. 
The Hawks themselves have had some later nuggets, with James Sicily (pick 56), Dylan Moore (67), Harry Morrison (74), Mitch Lewis (76), Changkuoth Jiath (rookie draft), Luke Breust (rookie draft), Jai Newcombe (2021 mid-season draft) and James Blanck (2022 mid-season draft) all unconventional talents so the proof of elite Hawthorn development is for all to see. 
Even in the powerhouse years of 2011-16, players like Brad Hill (pick 33), Sam Mitchell (36) Ben Stratton (48), Paul Puopolo (66) and Brad Sewell (rookie draft) were all massive contributors without the early draft selection.
Hawthorn's draft class of last year is also blossoming, even though the Hawks didn't have a top five pick.
Of the 2021 draftees, only Nick Daicos has had more than the 34 disposals had last week by Josh Ward in a game and Connor MacDonald is going from strength to strength, having seven tackles and kicking two goals on the weekend in a really classy performance and has played more games than Ward and Sam Butler.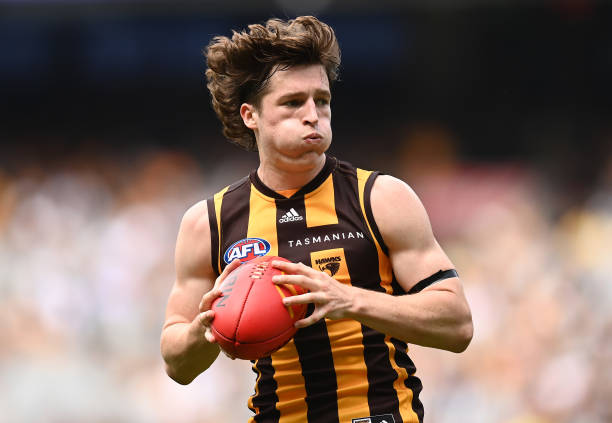 The upcoming draft is going to have depth in it too and just like Nick Daicos, the Hawks aren't going to get access to the best kid in the country no matter where they finish, with Will Ashcroft likely to nominate for Brisbane. 
If the Hawks do want an outside midfielder, one of South Australia's Matteas Phillipou, Vic Metro Elijah Tsatas and Western Australian Elijah Hewett will be there and all fill that void.
Tsatas has struggled with injury throughout this year but looks an unbelievable talent, whereas Hewett is cutting his teeth as a leader for WA and even though it was a big loss at GMHBA Stadium last week in the Under 18's, he was one of WA's best.
Phillipou has the elite size at 192cm and is still a really raw talent (a bit Will Day-like in terms of height, weight and footy smarts) but turns heads when he plays footy. 
Vic Country's Ollie Hollands would be a reach as a top five pick at time of writing but when you have 33 disposals, seven marks and four clearances on a wing and outside midfielder, notice shall be taken.
Jhye Clark is another to be looked at, with the Vic Country youngster having 24 disposals, eight marks and seven clearances, playing on the inside and the outside.
South Australia's Kobe Ryan is also a consideration, shown by a 22 disposal game without a full length of playing time.
Ryan's ball use has been elite at SANFL level, averaging a staggering 89% disposal efficiency across four games.
He also had 27 touches at 78% with seven marks, six tackles, five clearances, four inside 50's and 123 SuperCoach points at reserves level, whilst in his five reserves games, is averaging 29 touches at 90%, with seven clearances and six inside 50's.
What the Hawks do with their second pick is a bit of a mystery, with Sam Frost, Denver Grainger-Barras and James Blanck are filling up the depth chart and Emersen Jeka having 20 disposals and six marks for Box Hill last week down back. 
The half back and wing positions are already sorted, Ned Reeves, Max Lynch and Max Ramsden are the rucks in a post Ben McEvoy world and Sam Butler, Dylan Moore and Connor MacDonald are a nice contingent of smalls.
Don't forget about the leading goal-kicker for the Hawks in 2022 – Mitch Lewis – who is one half of the tall forward brigade for the foreseeable future.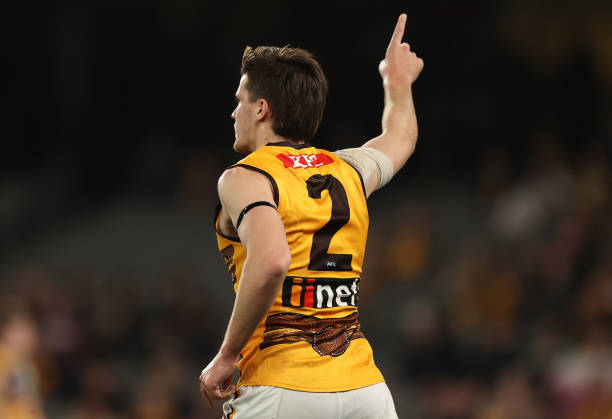 Is a second tall forward the way to go, with a lack of continuity for Jacob Koschitzke and Jackson Callow? 
Matthew Jefferson kicked seven in a game for Vic Metro, Harry Lemmey, Isaac Keelor and Tom Scully have shown promise in South Australia so there might be a player or two there to choose from or is there an excitement machine in the small forward department after Harry Sheezel and Brayden George? 
Olli Hotton has put his hand up as a draft bolter in the Championships, kicking three goals on the weekend and would've been four if teammate Matthew Jefferson let the ball roll through.
Scouts love his footy IQ and by sitting at 181cm, has shown a nous for contested marking and rarely goes to ground.
Whatever the case may be, the narrative that the Hawks' draft position is more important than winning is starting to become a silly one that needs to end really quickly amongst a pocket of Hawks fans who are calling on social media to stay near the bottom of the table.
Let the confidence grow now and for the rest of 2022 amongst the current group, trust in the development that will come later and there is no doubt that Sam Mitchell will continue to lead the way and take a new generation to a tilt for another premiership for the Hawthorn Football Club in the years to come.