We at Talking Hawks want to give Hawthorn fans an experience. Subscribe to Talking Hawks for exclusive fan experiences and get involved in livestreams with Hawthorn players.
Our second edition of Cashed In is going to look a little different. 
With the short lifespan of the Gold Coast Suns as a football club, instead of going through the decades, we are looking at the top five performances against the Suns. 
With premiership success for the Hawks at the start of the Suns' existence, we are sure to find some unbelievable performances here.
#5 Josh Gibson
Round 9, 2015
The Hawks were coming into this Round Nine game with a consecutive win/loss pattern for eight weeks straight.
Playing at their adopted home in Tasmania against a struggling Gold Coast side, the Hawks would ensure the streak stayed alive after a loss the previous week.
Josh Gibson had the toughest Gold Coast assignment of the day (Gary Ablett was injured), playing against in form big man Tom Lynch.
Not only did 'Gibbo' keep Lynch to only two goals, but he also amassed a casual 29 disposals and ten marks for himself.
Hawks fans were endeared to Gibbo for his ability to lock down key forwards, but the drive he provided from the backline was extraordinary.
#4 Sam Mitchell
Round 4, 2014
The 2014 Hawks were fresh off a premiership and hungry for more, continuing their hot start with a 99-point win over the Suns at Metricon
Our now coach Sam Mitchell delivered a trademark performance, dominating the young and developing Gold Coast midfielders.
Mitchell collected 36 disposals and had six clearances as well as adding a cherry on top with two goals.
Games like these became second nature for Sam and has perhaps cost him with these rankings, but we will never undervalue his overall legacy.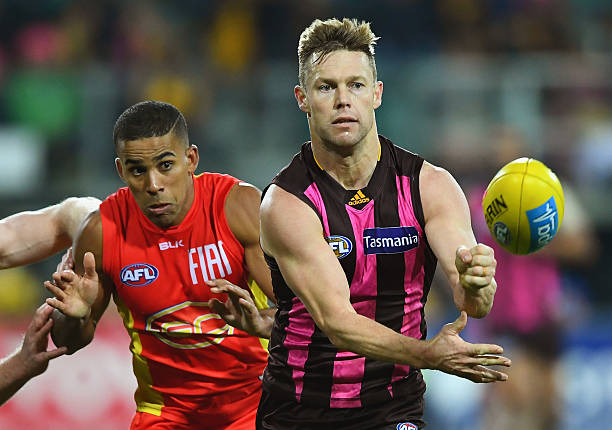 #3 Jarryd Roughead
Round 22, 2019
The sentimental value of this game is enormous, and this is mostly what this piece is about.
Our four-time flag hero, club captain and fan favourite announced that he was hanging up the boots and would play a farewell game against the Suns at Marvel.
Big Rough ensured that he went out in style, kicking six goals including a snap that nearly lifted the roof off the stadium in the last quarter.
For such a club legend, it was unbelievable to see him go into retirement in such a fine fashion, and will forever be one of the most loved Hawks of all time!
#2 Jack Gunston
Round 4, 2014
We circle back to this clash and somehow, Jack Gunston managed to outshine Sam Mitchell.
'Gunners' did what every good forward does in a 99-point win and cashed in on the scoreboard, kicking five goals.
But what made this game exceptional was the fact he racked up 25 disposals and took ten marks.
We have seen a lot of amazing games by this star of the club, but I can't recall one as dominant and well-rounded as this one.
Add in the goal off the ground near the point post in the second quarter, which was one of the best of his 399 (to date) and you've got yourself a game.
#1 Shane Savage
Round 13, 2011
In the Hawks first ever game against the Gold Coast Suns, it was Shane Savage who stole the show in Tasmania!
Savage bought his own footy on the flight across the Tasman, gathering 33 disposals, taking ten marks and kicking four goals!
While Savage wasn't the most decorated Hawks name, he played some fantastic footy in the brown and gold, with this performance the highlight!
Apart from his time with the Hawks, Savage was the main piece that bought current captain Ben McEvoy to the club via trade!
So, whenever you think of Shane Savage's legacy to the Hawks, refer to this piece as his career highlight.
Who's next?
Jack Scrimshaw
Gold Coast over the last month have conceded big numbers to running half-back flankers.
Against his old club and coming off a quietish week, I expect Jack Scrimshaw to have a big game.
Controlling the ball from the back half has been a huge part of the Sam Mitchell game plan and the Suns are happy to give that away.
I can see Scrimshaw having 25+ disposals and double digit marks, cashing in against a Suns side who need to win if they want a debut finals spot.