We at Talking Hawks want to give Hawthorn fans an experience. Subscribe to Talking Hawks for exclusive fan experiences and get involved in livestreams with Hawthorn players.
Over the weekend, Jon Ralph broke the news that Karl Amon is all but confirmed to be a Hawk for the 2023 season. 
The deal is reportedly a four or five-year contract worth north of $600,000 per season and it has divided Hawks fans. 
Some fans believe it is an overpay and the fact Amon will be 27 in Round One, 2023 is a concern, but I am here to extinguish your concerns.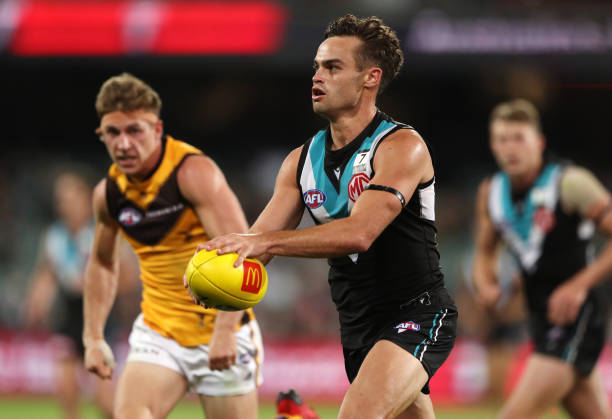 Admittedly, I have been the leader of the Karl Amon to Hawthorn bandwagon since the rumours emerged of a trade in 2018.
He stayed in Port Adelaide but is now destined to come to Waverley.
Even before the footy story comes out, his personal story is one of disbelief almost.
Diagnosed with Perthes disease at aged five, Amon underwent multiple surgeries and spent a year of his life in a wheelchair and is now a very good AFL footballer.
When looking at this season, Amon is considered elite around the competition in kicks and effective kicks per game, as well as metres gained.
His 23.6 disposal average is an equal career best (had the same in 2021), he's elite for marks for a wingman since 2020 with 5.8 and his 5.1 score involvements would make him the eighth Hawk this year to have 5+ and considering the Hawks are the 5th ranked team for scores per inside 50, that will only increase.
Hawthorn on the other hand, are below the league average in kicks, effective kicks and metres gained, so to merge the two, it would bring natural and mature improvement.
Amon's 493 metres gained per game would sit him second currently at Hawthorn (only behind James Sicily), second for effective kicks (behind Sicily again) and would be equal first for one-percenters amongst Hawthorn recognised midfielders (equal with Jaeger O'Meara).
Amon would provide a fantastic outside presence with smooth foot skills for the Hawks, the player they hoped Tom Phillips would be when he crossed from the Pies in 2020.
The Hawks are set to have a midfield blessed with toughness and grit with Jai Newcombe, Connor Nash and Jaeger O'Meara in great form to finish 2022.
Sprinkle in some Tom Mitchell, Josh Ward and James Worpel and we have six eerily similar midfielders.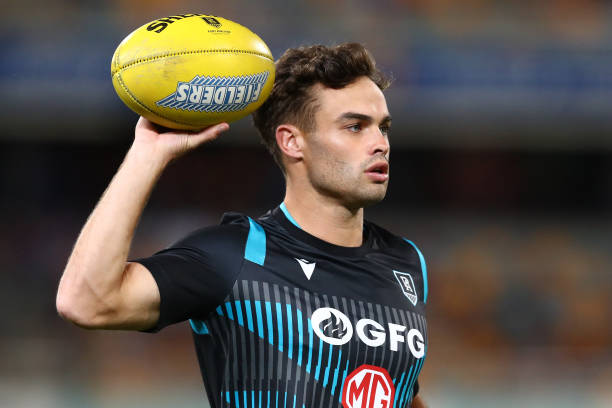 All of these players are solidly built, strong on the inside and thrive on the inside ball, with O'Meara and Newcombe having the ability to drive out of stoppage with their legs, and the last three weeks have seen Josh Ward flex his muscle on the outside of the contest.
As much as this can be seen as a positive, a great midfield needs balance, which Amon will significantly help establish.
His ability to play on the outside and kick the ball effectively will compliment our bulls magnificently and potentially lead to Amon's best football, especially given he's a top six efficient entrant inside 50.
Add in the fact, he's a wingman by trade, which are a dying breed in modern footy!
We have seen wingmen around the league such as Ed Langdon, Hugh McCluggage, Josh Daicos and James Aish contribute immensely to the success of finals bound sides.
Having an established wingman who knows and can effectively play his role will be a massive help for the Hawks in 2023.
Not only will his inside 50 numbers rise but he's already having an impact behind the ball, with his rebound 50 numbers equal to Jai Newcombe as what would be equal first for the Hawks
The number of 650,000 might be a deterrent for the detractors and as long as we know he is an extremely good piece but not the final piece of the puzzle, he'll be an elite part of the Hawthorn setup.