We at Talking Hawks want to give Hawthorn fans an experience. Subscribe to Talking Hawks for exclusive fan experiences and get involved in livestreams with Hawthorn players.
That was not a fun experience for anyone.
To concede the first ten inside 50's of the games but only went down by two but to be 61 points behind on the scoreboard was a deflating result for a team that was in good form over the last month.
In a humbling time, it's key to ask the age-old question, how did every Hawk go?
Harry Morrison ⭐️
The beautiful thing about doing this review is some fans can just watch the game and make their opinion. 
Some fans can look at stats and favour that when devising their opinion and here at TH, we get both. 
Harry wasn't up to the task on Sunday, at all. 
Yes, he didn't turn the ball over and had some good efforts at times but his good last quarter doesn't make up for when the game was on the line, Kamdyn McIntosh was really good and Harry wasn't. 
Credit where it's due though, six score involvements and five marks (four and two respectively in the last quarter) are good numbers. 
Tom Mitchell ⭐️⭐️⭐️
Stop
Kicking 
The 
Footy
Out 
Of 
Congestion 
Tom!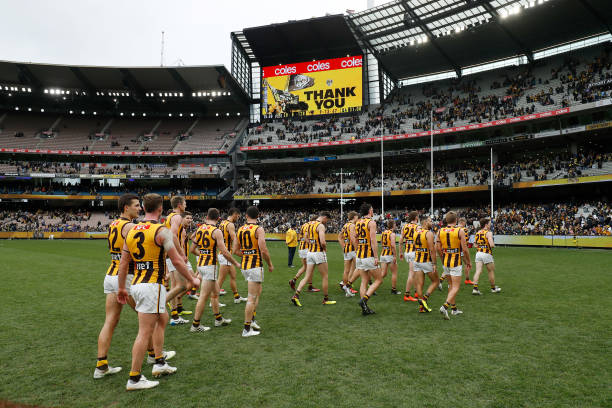 On two different occasions, he burned Dylan Moore in transition and threw the ball on his boot and turned it over. 
In the last quarter, he hit Moore on a flank when he lowered his eyes and hit one of the best kicks inside 50 for the day when he hit Gunston. 
Had 32 touches, nine score involvements, five tackles and five inside 50's, but six turnovers. 
Jarman Impey ⭐️
Tagged Daniel Rioli in the first quarter and Rioli had 10 disposals and 109 metres gained. 
After that quarter, it was 15-14 disposals in favour of Daniel but Jars didn't look threatening throughout the day. 
Again, the numbers don't look terrible (222 metres gained, 21 pressure acts, 79% efficiency and five tackles) but it wasn't his day. 
James Sicily ⭐️⭐️⭐️⭐️
Does anyone else have "Sicily in a long sleeve as an extra mid at the contest, winning two clearances and kicking a goal on their Sunday bingo card? 
Had an incredible 715 metres gained from his 30 disposals (23 kicks), nine marks, five inside 50's and five score involvements. 
Had six turnovers but this is an example of why watching games live and back again; he kept trying to make things happen! 
Needs to be our next captain. 
Ben McEvoy ⭐️⭐️⭐️
Led the Hawks for tackles. 
He's retiring in a week and is a 200cm ruckman!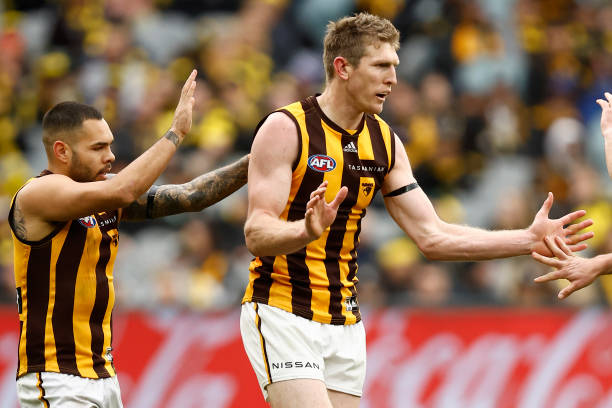 It's both a credit to him and an indictment on the rest of the boys as he laid eight tackles. 
Kicked a nice goal, had five score involvements, four intercept possessions and four clearances in his second last game and was solid while keeping Toby Nankervis (who was dominant last week) to a solid game. 
Jaeger O'Meara ⭐️
Was coming off a dominant three weeks and came back to earth in this one. 
Again, 15 touches and 14 pressure acts aren't terrible numbers but the name and talent don't match that output. 
Took four marks and went inside 50 three times but wasn't a typical Jaeger performance. 
Conor Nash ⭐️
Had a really good patch in the first quarter with seven touches but did not do much else after it. 
Only had three touches after it, finished with 61 metres gained and seven pressure acts. 
Will Day ⭐️⭐️
Looked good for patches but wasn't the most consistent day out for Will.
Used it at 79% for his 14 disposals, with four intercepts, four rebounds and 224 metres gained but needs to finish the year off well. 
Dylan Moore ⭐️⭐️⭐️
His 24 disposals snuck up on a lot of fans but his gut running was on display when he went into the midfield. 
16 of his touches were handballs and he still had over 200 metres gained on the day, with eight score involvements, five tackles and five inside 50's. 
The Peter Crimmins Medal podium will look complete with him on it. 
Jack Scrimshaw ⭐️⭐️⭐️
Looked like the only capable defender at times, and had 93% efficiency from 14 touches, with 11 intercepts, five marks and 229 metres gained. 
Did a nice job on Jack Graham before Graham was subbed out as well. 
 Blake Hardwick ⭐️⭐️⭐️
In the running to be the next captain, this bloke. 
Another 20 disposals for Dimma at 80%, with eight marks, six intercepts, five score involvements, five rebounds and 335 metres gained. 
Like all the defenders, got exposed at times on the defensive end. 
Not many more I trust with ball in hand, however. 
Jack Gunston ⭐️⭐️⭐️
Deserved to finish his good work off for a better result and his set shot technique isn't nearly as reliable as it was in the past but was the best forward by a mile. 
Some of the services were shambolic and when Noah Balta was able to engage in a wrestle, it was a neutral contest but on the lead, he is a superior Hawk. 
Kicked 2.3 from five marks and needs to be a Hawk in 2023. 
Luke Breust ⭐️⭐️
Kicked two goals which was a good result and had eight score involvements, but apart from the second quarter (1.2 from three marks), he didn't impact. 
Kicked a nice goal in the last, with a trademark dribble kick. 
Jacob Koschitzke ⭐️
Boy, do we miss Mitch Lewis. 
Kosi took three grabs, kicked a goal and had to play second ruck at times but not for the first time in 2022, he was a victim of circumstance and necessity of role but still, wasn't a huge impact.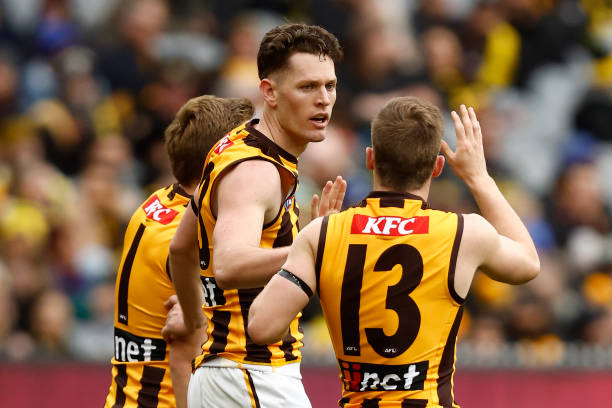 Denver Grainger-Barrass ⭐️
To put it in the most direct possible way; was not his day. 
He jumped over a footy, made some poor tackle attempts and was the closest defender to Tom Lynch for five of his goals. 
Had three kicks that led his teammates into danger as well and had three turnovers. 
Josh Ward ⭐️⭐️
Never stopped trying did Wardy and his second and third quarters were very nice, with 13 touches.
Had 18 pressure acts, five score involvements, four marks and three inside 50's but he had some senior players be a lot less impactful. 
Liam Shiels ⭐️⭐️
In his last (probable) game at the MCG, he kicked a nice set shot goal but didn't do a whole lot else. 
Had six score involvements and 235 metres gained which are good enough numbers but wasn't a big contributor on the day. 
Jai Serong ⭐️⭐️
Congratulations on kicking your first goal young man and his taste of the big time have seen some okay signs. 
Should've kicked another with an inability to deliver from 45 out but his leap and set shot technique look sharp. 
Hope to see more of him in 2023.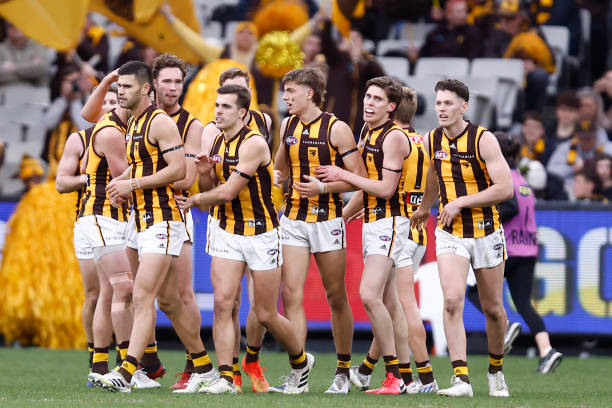 Finn Maginness ⭐️⭐️⭐️⭐️
Shai Bolton came into this game with 39.39 and an average of 18.5 disposals in 2023, with eight goals in the last three weeks. 
He came away from the Finn tag with one goal and 13 disposals. 
Massive tick from the best tagger in the game. 
Still needs to work on his ball use but if you can blanket an opposition player that talented, you can deal with a turnover (or four) but four tackles is another encouraging sign. 
James Blanck ⭐️
Got a bit of a footy lesson off Tom Lynch in this one but he'll be better for the run. 
Had one or two moments that the whistleblowers could've helped him with but his ball use was also not great. 
Needs a full pre-season under his belt and he has the footy IQ to be a fantastic defender for the future. 
Emerson Jeka ⭐️⭐️⭐️⭐️
Beat Jack Riewoldt. That's four stars. 
Richmond had 55 inside 50's and 28 scoring shots. 
Jack had zero scoring shots. 0! 
Jeka had six intercepts and used the ball at 90% and five one-per-cent acts. 
Looks to have a future in this caper. 
Jai Newcombe ⭐️⭐️⭐️⭐️⭐️
The only midfielder who took the midfield dominance of the Tigers personally. 
Had 29 touches (10 contested), six score involvements, 25 pressure acts, six tackles, 400 metres gained, four clearances and three marks. 
Played with aggression all afternoon and has every right to ask his fellow midfielders why they weren't in the trenches with him.