For Hawks fans, who goes as the first-round pick is a very interesting point of conversation. 
It's even happened here, as the pitch by this author to get Matteas Phillipou has been a passionate one. 
However, with Pick 53 last year, the Hawks snagged Jai Serong, who's shown in his two games that he's got something to offer as a third tall with a leap and nice kick. 
Late drafting has proved fruitful for the Hawks' current group, with James Sicily (56), Dylan Moore (67), Harry Morrison (74) and Mitch Lewis (76) all terrific late selections. 
Even back in the 2011/16 era, Ben Stratton (Pick 46),  Paul Puopolo (Pick 66), Brad Sewell (Pick 7 in a rookie draft) Matt Suckling (Pick 22 in a rookie draft) and Luke Breust (Pick 47 in a rookie draft!) were all extraordinary picks. 
With the Hawks' draft haul at the end of Round 23 being 6, 24, 50, 61 and 78, those last three picks are being lost in calculations. 
It is likely Hawthorn match a bid or use Pick 49 or 61 on Jerome Lawrence (son of Stephen) but who are some young guns who could be on the radar for the Hawks? 
Here are a few: 
Kobe Ryan 
Perhaps the most unlikely to reach Pick 49, Ryan didn't make Callum Twomey's Phantom Draft rankings, which was a shock. 
The West Adelaide product is a ball hunting machine that is a precise user of the ball. 
Adelaide drafted Zac Taylor at Pick 42 last year for his ball use and footy IQ and Ryan is that player for the Hawks. 
Can play midfield or a wing and his stats read magnificently as an Under 18's player; 30.7 disposals at 87% efficiency with 20 kicks, 7.3 clearances, 5.6 inside 50's, five tackles, five marks and 124 SuperCoach points are his averages. 
At 183cm, he is a similar size to a lot of Hawks midfielders but if one tall is guaranteed with Lawrence, letting a kid of this quality slip past our pick is ludicrous, even if it means we  trade up for him.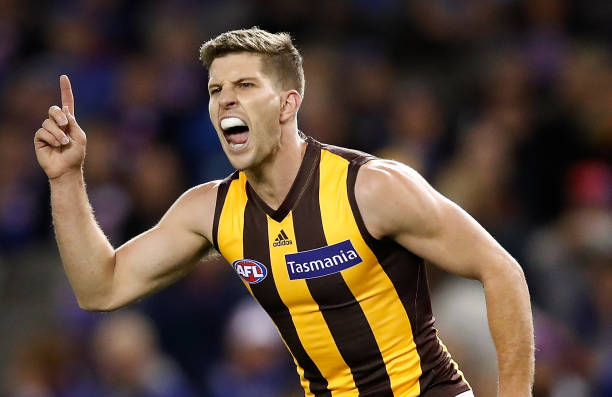 Yuyu Ashwin 
Another wingman (and the last) for consideration and more likely to be around the mark, although the Hawks will have to bid on him, considering he's a Collingwood Next Generation Academy player. 
At 185cm tall, he's a decent size for an outside player and for what he may lack in contested possession, he makes up for with dash, foot skills and ability to hit the scoreboard. 
Has had some limited minutes with Collingwood's VFL side and kicked a goal in all three games. 
Archie Lovelock 
With arguably one of the greatest names in human history, Lovelock is a small forward who is ultra crafty and a great worker. 
Any good small forward worth their salt needs to take a mark overhead, be crafty when the ball hits the ground, kick on both feet a decent distance and apply fantastic defensive pressure. 
The South Australian has played more midfield at U/18's for Glenelg than forward as he did at the Carnival, but he's averaging six tackles, on top of 24.3 disposals, five marks and 103 ranking points. 
At the National Championships, the combination of working up the ground, getting back to goal and finishing his good work was a standout. 
Imagine his role to be very similar to Connor MacDonald's in 2022 as that hard-working half-forward, while the Hawks figure out if he's a rotational mid (circa a Dylan Moore) or a burst mid who plays predominantly forward (Luke Breust).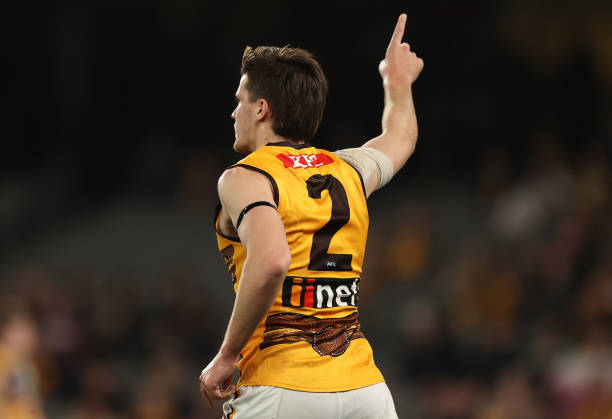 Taj Campbell-Farrell 
In the last week of May, "Hyphen" had 40 disposals in what was the first time a Stingrays player had hit 40 touches in over a decade. 
Has had some problems with his feet, which culminated in him having surgery for Compartment Syndrome. 
With the likes of Tom Mitchell and Jaeger O'Meara unlikely to be around in the next few seasons, Jai Newcombe is going to need some help and with Josh Ward and Connor MacDonald already drafted, Conor Nash and Dylan Moore already established and a likely midfielder taken with Pick 6, TCF might be the most unlikely, but the upside is enormous. 
Could be a Ned Long-style situation and he may slip to the rookie draft as he was not invited to the National Draft Combine but a 186cm midfielder who can rack it up and burst away from stoppage, is mighty tempting..