When we look at the 2022 Rising Star award, you would be convinced by the AFL media that it is a fait accompli that Nick Daicos from Collingwood will romp in and collect the award.
According to reputable journalists, Daicos is at the top of the Rising Star tree and he has no competition to win the award.
However, looking closer at the statistics and performances from the 2022 season, it is clear to see that there is one man breathing heavily down the favourite's neck, our own Jai "Duke" Newcombe
Newcombe in his first full season as an AFL footballer has had an incredible rise to become one of the most important players in the brown and gold rebuild.
Selected at Pick 2 in the 2021 Mid Season Draft, Jai went from playing at Box Hill one week to playing for Hawthorn in a Friday night showdown against the Sydney Swans, with his infamous record for most tackles by a player on debut, with 14 tackles and showed that he wasn't afraid of the tough stuff.
In season 2022, Newcombe's star has continued to rise and shine brightly in the 22 matches he played this season.
He received his Rising Star nomination in the Round 5 win against Geelong, where he had a season high 31 touches and showed how instrumental he will be in Hawthorn's rise from rebuilding to contending for a flag.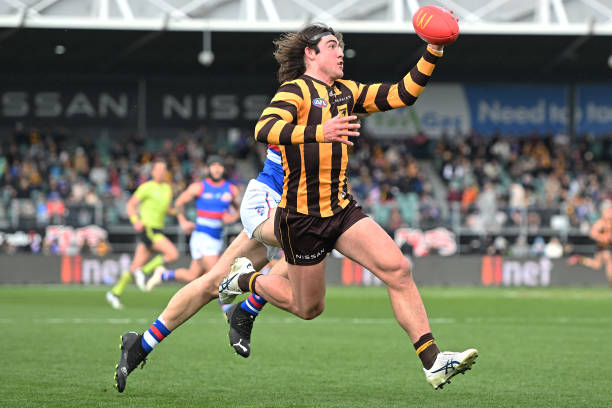 Jai averaged 22.5 disposals per game, taking an average of 4.3 marks, while still laying just under five tackles a match.
He is also ranked as above average for marks, tackles, pressure acts, score involvements and kicks, while being considered elite in his metres gained per week with an average of 436.
According to AFL Player ratings, the Prince of Poowong is ranked 55th in the AFL, based on his 22 games in 2022, with an average of 12.5 rating points per game, putting him in the company of Matt Rowell, Sam Walsh, Hugh McCluggage and Andrew Brayshaw.
When looking at the impact of a player throughout a game, the best place to look is the coaches' votes, in which his 44 (as of Round 21 as the last two weeks become confidential until AFL Awards night) leads all Rising Star nominees.
In fact, Jai has received 14 more than Daicos, which shows that coaches have taken notice of his ability to influence and impact a game in Hawthorn's favour.
While the media pundits might not see him as being a worthy winner of the Rising Star award, it is clear to see that Jai's body of work in 2022 has been incredible and that he is certainly in contention up to his neck.
If he is overlooked for the award, he would join a list of Hawthorn players who were robbed of the award which includes the likes of Cyril Rioi in 2008 and Ryan Burton in 2016.
Whilst it isn't the be all and end all if he doesn't win the award as it isn't an indicator of future performance (look at Lewis Taylor beating Marcus Bontempelli), there's talk that Jai might not finish second either, with pundits having Sam De Koning, Nic Martin and even Jamarra Ugle-hagan potentially ahead of him.
No matter what happens in the Rising Star award, we are salivating at the thought of where his future will end up. 
His ceiling is yet to be found and with more pre seasons to develop his craft under head coach Sam Mitchell and midfield coach Robert Harvey, the sky's the limit for the man lovably called "Duke".