We at Talking Hawks want to give Hawthorn fans an experience. Subscribe to Talking Hawks for exclusive fan experiences and get involved in livestreams with Hawthorn players
All done and dusted for 2022, are the Hawks, as are the player reviews as well after this. 
It's been a wild ride but Talking Hawks isn't over at all and if you haven't subscribed on YouTube, go do so and come back and enjoy! 
The question forever asked and whenever the Hawks play, always answered. 
How did every Hawk go? 
Harry Morrison ⭐️⭐️⭐️
16 kicks within his 17 disposals was encouraging for a wingman and plenty of other stats (424 metres gained, eight marks and 22 pressure acts) would support an elite performance. 
Six turnovers are not ideal and four of them led to scores. Out of contract as of October 1 so what happens with H-Mo is an exciting watch. 
Tom Mitchell ⭐️⭐️
His pressure was outstanding, with 28 pressure acts and seven tackles, of which two were resulting in holding the ball. 
With ball in hand, he went at 68% with just the seven kicks so it was a sloppy day and although he had six score involvements, 92 metres gained from a Brownlow Medallist leaves an empty feeling. 
92 metres gained, from five clearances. No damage. 
James Sicily ⭐️⭐️⭐️⭐️
Ah, controversy. Welcome back. 
Daz, he had 748 metres gained, took a career best 17 marks, nine intercept possessions and nine rebounds I can hear you cry but of all that, he had seven turnovers and just two score involvements. 
Sis had 28 kicks and two of them were in scoring chains. 
No Hawk conceded more goals to their direct opponent than Sis did either and so I can't give him the five stars. 
Ben McEvoy ⭐️⭐️⭐️
Can't knock a second ruckman for 21 hit-outs and two goals, under any circumstances. 
Enjoy retirement Big Boy and thank you for everything you've done for the Hawthorn family.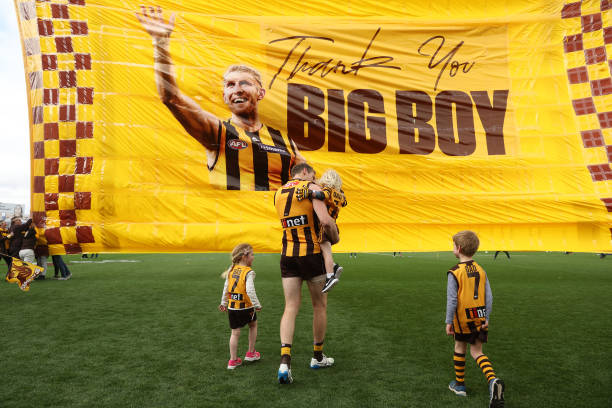 Jaeger O'Meara ⭐️⭐️
When a day reads 20 disposals, seven marks, five inside 50's, 431 metres gained and five score involvements, you'd be forgiven for thinking there's some harshness about this pick. 
However, five turnovers and a real lack of output in big periods (via the eye test) hurts Jaeger and although we've seen some of him at his best, his standing at the Hawks is under question and much speculation. 
Conor Nash ⭐️⭐️⭐️
Was a really nice and well rounded performance by the Irishman, who had 16 touches, six tackles, five marks, four intercepts and 22 pressure acts. 
He's not the type of player who will ever be best on ground but his role is a useful one and has been improved throughout the 2022 campaign. 
Will Day ⭐️⭐️⭐️⭐️
Was one of Will's best games in a Hawthorn jumper and his maturity down back was terrific. 
Had 25 disposals, seven rebounds, six intercepts, five marks and 466 metres gained on the day and didn't concede a score in the last three quarters. 
Wants to play midfield eventually and after seeing the quality of a Callum Mills from Sydney who started his career down back, the Hawks' big bodied midfielder issue could be solved by the No.12. 
Dylan Moore ⭐️⭐️⭐️
How does a guy who's under 180cm, take ten marks in a game? 
The quality of Dylan Moore will never go unappreciated in the land of Talking Hawks, we can promise. 
Had 19 touches, two goals and 17 pressure acts, while being everywhere and used it well, at 74%. 
Jack Scrimshaw ⭐️⭐️⭐️⭐️
Was a really good performance and outdid his stats. 
Had 20 disposals, eight intercepts, five rebounds and four score involvements, as well as 379 metres gained. 
Was in the right spot at the right time for a lot of Sunday afternoon and the 23 year old (24 at Round 1) has other levels to go to, which is ultra exciting. 
Blake Hardwick ⭐️⭐️⭐️⭐️⭐️
The combination of offensive power (26 disposals, 14 marks  88% efficiency, eight intercepts, 416 metres gained, six rebounds, four tackles and 15 pressure acts) and defensive prowess (only conceded two scores) gives Dimma the nod for me.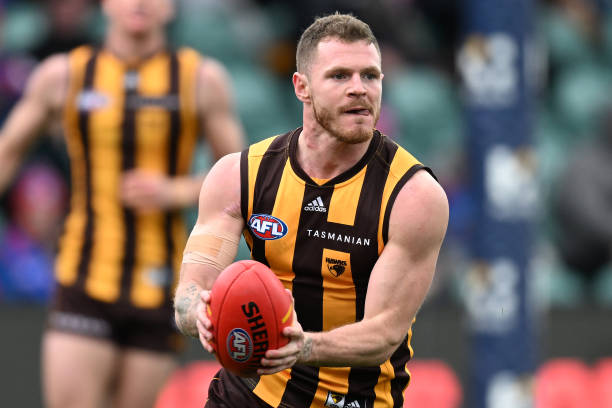 He and Sicily are not only fighting for best on ground for the Hawks, it could be them being tossed up as the top two in the next captaincy role. 
Needs to be in the All-Australian squad and arguably, team. 
Daniel Howe ⭐️⭐️⭐️
Was really impressed with Howey and even though he's probably put his hand up for another club rather than the Hawks, it was a mighty way to finish his season. 
Had 24 disposals at 71%, took seven marks and had four intercepts. 
His marks weren't easy either, with a couple of occasions being very challenging. 
Another one to watch in the off season. 
Max Lynch ⭐️⭐️⭐️
Won 50% of the hit-outs for the contests he was involved with, had 14 pressure acts and four score involvements. 
If there's one Hawk who deserves a big and complete pre-season, it's this guy, and he will be the ruck No.2 in the depth chart next year, behind Ned Reeves. 
Jack Gunston ⭐️⭐️⭐️⭐️
Have we seen a smarter forward in the competition in the last decade than this guy? 
His leading was immense, his hands were great and in ultra tricky conditions, kicked four goals straight. 
Took seven marks (elite for a forward) and had 291 metres gained (above average for a forward). 
If it's his last game in the brown and gold, it was a ripper. 
Luke Breust ⭐️
Was a dirty day for Punky, unfortunately. 
15 pressure acts are very good but of his ten disposals, five of them were turnovers. 
Had four inside 50's and it was a nice hand off to Harry Morrison to set him up but his impact was minimal. 
Denver Grainger-Barras ⭐️⭐️⭐️⭐️
Cody Weightman kicked one goal and Denver wasn't his opponent. 
Went at 100% and looked so calm with the ball and didn't try to do too much, while taking seven marks. 
Was his best game as a pure defender and did nothing wrong, but the umpires didn't help him either, who missed a few free kicks. 
Josh Ward ⭐️⭐️⭐️⭐️
Since coming back from concussion and having a game back, Ward's had 34, 22, 26, 20, 17 and now 24 disposals. 
The Pick 7 from last year belongs at the level and his 71% disposal efficiency was fantastic. 
Makes more good decisions than most his age and when you add 29 pressure acts, seven marks, five tackles and 325 metres gained are all massive ticks. 
Give him another pre-season and 22 more games and he'll be frighteningly good. 
Ned Long ⭐️⭐️⭐️
Didn't look out of place and took seven marks amongst his 11 disposals, which included ten kicks. 
Got caught with the footy a couple of times but all that says about a debutant is he was hunting the footy. 
Went at 82% and had 303 metres gained in his debut and showed a fair bit. 
Connor MacDonald ⭐️⭐️⭐️
Has had an interrupted back end to the year but finished it off in fine style, showing his class (80% efficiency), the ability to take territory (311 metres gained and five inside 50's) and pressure in the forward half (23 pressure acts). 
Is such a clean mover and with another pre-season under his belt, can't wait to see his development. 
Finn Maginness ⭐️⭐️⭐️⭐️
Kept Bailey Smith to 13 touches in three quarters and Tom Liberatore to three touches in the last. 
That's it, end of entry. 
James Blanck ⭐️⭐️
Has had a really good education into what it takes to be a good key defender for the future, with Tom Lynch and Aaron Naughton in his past fortnight. 
Lost a few one-on-ones but laid four tackles and had 11 one-percenters, which is an elite number. 
Jack Saunders ⭐️⭐️
His first half was a really exciting look, with a good grab, a handball to himself and a clever finish by nudging his opponent into the contest and kicking the goal. 
Didn't touch the footy in the last 42 minutes of game time but had a dozen pressure acts. 
Has he done enough to get another year? Who knows? 
Jai Newcombe ⭐️⭐️
Wasn't the day of the Duke or maybe expectations are exceedingly high on the Prince of Pooyong. 
Had 16 touches, 350 metres gained, 16 pressure acts, five tackles and five score involvements but just the 62% disposal efficiency. 
Had some periods in the second and last quarter that were very good but overall, wasn't his best performance.