As 2022 draws to a close, a reflection on some ridiculous performances is needed on a Friday night.
From memorable finals performances to big bags of regular season goals, this is going to be a cracker, as hopefully the game on Sunday is!
1970's
Leigh Matthews, Round 18 1977
This isn't the first time Lethal has featured in this series and going into next season I can guarantee it won't be the last!
In a comeback victory at Princes Park that the Hawks ended up winning by 14 points, the man widely regarded as the greatest of all time showed exactly why.
Matthews had a massive 37 disposals which for any player is a massive feat but imagine kicking seven goals on top of that!!!!
Looking back through the history books has convinced me Leigh Matthews was a video game character playing on rookie mode.
1980's
Chris Langford, QF 1985
When looking back it is easy to spotlight big bags of goals and high disposals, but it is time to give the defenders some love. 
Coming into the 1985 Qualifying final, the Dogs biggest weapon was 100 goal kicker Simon Beasley. 
In a massive 93 point win, Chris Langford not only kept Beasley to four disposals, two marks and two goals, but also had 20 disposals and nine marks himself.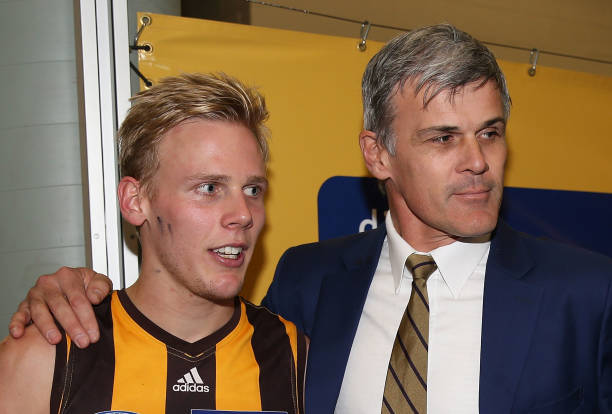 In modern times, the 1988 Grand Final against Melbourne and the 2015 Semi Final against Adelaide are the only comparables.
In an era where playing full back was a living nightmare, Langers is one of the all-time greats and perhaps isn't as loved by outside sources compared to some other 80's and 90's champions of the game.
1990's
Jason Dunstall, R19 1996
Similarly, to Leigh Matthews, this isn't the first time the Chief has featured and won't be the last. 
On a typical wet and windy night at Waverly, the Chief delivered one of his best ever performances. 
The legendary goal kicker finished with 14 goals on the night, to go along with 16 marks and more opponents than hot dinners!
What an absolute star of the club and the game and the 67 point win was a highlight for the club before finals.
2000's
Buddy Franklin, QF 2008
One of my favourite ever Hawthorn player performances and the story behind it is the stuff of legend.
In this build up to the game, Buddy overheard Dogs players talking about Dale Morris shutting him out of the game. 
Bud turned to his teammate in the café, said "watch me kick eight" and left the café. 
That night, the big fella kicked eight goals. It was an unbelievable finals performance including two of his greatest goals of his career with Bruce McAveney's eternal line of 'He's extraordinary!"
The definition of talking the talk and walking the walk! What a Rockstar.
2010's 
Luke Hodge, R3 2015
Having the champ as my last flashback of the 2022 season is just awesome and this could be his greatest game of his career.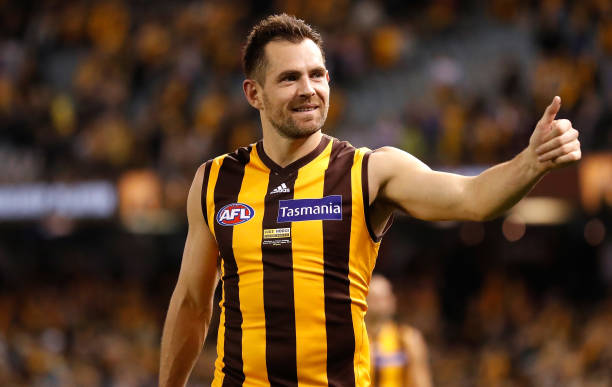 In a massive win down in our adopted Launceston home, Hodgey had 44 disposals and kicked two goals, including a smother that he held onto and then a 55 metre bomb that set Launceston into raptures.
Considering this was the third of the three peat seasons, the general set the tone very early in this season and will forever be a Hawthorn immortal.
Who's next?
Luke Breust 
The current day Dogs have had a defence with more holes than swiss cheese this season and I think Punky could cash in.
With smaller defenders designated for offensive dash (Bailey Dale, Caleb Daniel and Ed Richards) I can see lots of opportunity. 
Punky also has a fantastic record against the Dogs, contending for the 2010's title with a 24 disposal and six goal game!