We at Talking Hawks want to give Hawthorn fans an experience. Subscribe to Talking Hawks for exclusive fan experiences and get involved in livestreams with Hawthorn players.
To trade for a player and get 160 games and two premierships is a damn amazing thing for a recruiting department to pull off and that's what the Hawks got in a man that St.Kilda once described as Nick Riewoldt's successor as a captain. 
In 2013 for the Saints, McEvoy played every game and after sending Pick 17 (Luke Dunstan) and Shane Savage to the Saints, the Hawks got a future captain and a pillar in two premiership teams. 
Unbelievable! 
In order to properly describe just what the great man means to all of us, all of our writers sat down, wrote out the different parts of his career that made him great and thank him for his journey. 
Matthew Younan:
After making the move from St Kilda at the end of 2013, the 2-metre ruckman had a tumultuous 2014 season, being in and out of a side that had just won a premiership and was in pursuit of forming a dynasty. 
His first two games were sublime, demonstrating why Alastair Clarkson was keen to bring him across from St Kilda.
However, setbacks arose.
First, it was injuries that kept him out and then it was promising young ruckman Jonathan Ceglar, who was playing incredibly well.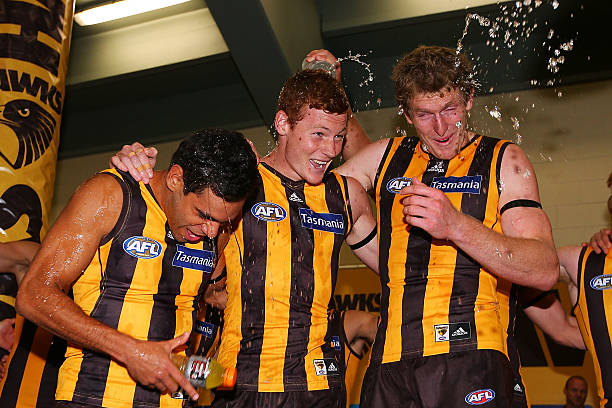 After struggling against Fremantle in the Round 21 loss, McEvoy was dropped but played superbly at VFL level in his final three games, so much so that he left Clarkson and the selection committee with no choice but to recall him for the Grand Final. 
They made the tough decision to replace Ceglar with McEvoy. 
And the boy from the country didn't disappoint, which was the common theme of his career. 
McEvoy proved his addition was worth it in the premiership decider as the dominant ruckman on the ground with 15 disposals, 14 hit outs and three tackles. 
His physical presence on Lewis Jetta was a strong factor in helping us secure the premiership and set the tone early on. 
McEvoy paired with David Hale again throughout the 2015 campaign and in that year's Grand Final, he would face West Coast giant Nic Natanui. 
McEvoy played a huge role all day, combating against his athletic opposition. 
He got behind the "Weagles Web", kicking a great goal after an impressive mark in a one-on-one contest with Dom Sheed. 
From that point, the Hawks were never headed and were on their way to a historic third consecutive premiership. 
Got his success on-field, has helped develop Ned Reeves and Max Lynch this season off-field, and no one has a bad word to say about the great man. 
Thanks for the memories 'Big Boy'!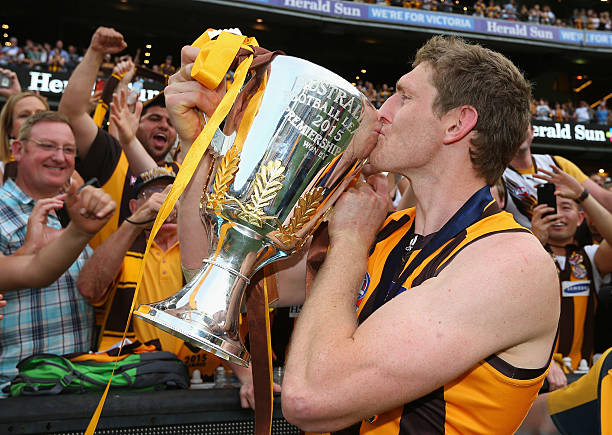 Timmy Newman:
If you were to think of a word to sum up the nine years of service that Ben McEvoy gave us at Hawthorn, the word that would be used fittingly is; selflessness. 
A team first player who would do whatever he needed to do to allow the team to function and work to its full potential. 
He was synonymous with getting back during games to be able to help out our defenders when they were under the pump and he could always be called upon to clunk a big mark when we needed it most, and kick a goal. 
For a ruckman, his 104.42 conversion rate is extraordinary. 
The 2020 season for Hawthorn wasn't an overly positive experience due to the COVID hubs. 
In a time where leadership was required, McEvoy showed that he was willing to do whatever he could to benefit the team, even if it meant that he wouldn't be able to play in his favoured position, and proved that he was a bona fide leader at the club.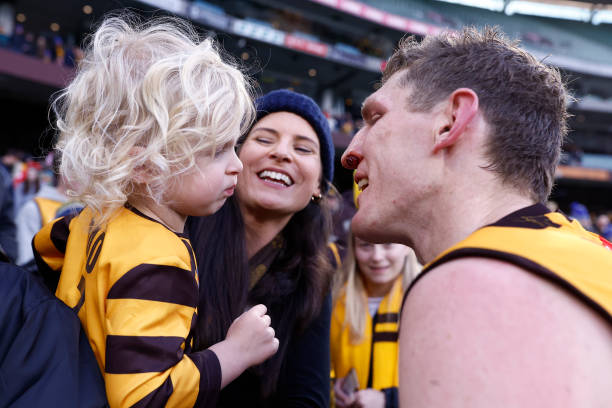 He was the number one ruckman for our squad from his arrival from St Kilda in 2014, but he willingly stepped into an unfamiliar and difficult role of playing as a tall defender, in order to allow Jonathon Ceglar to be able to play as our number one ruck.
He sacrificed his game in 2020 to allow others in the team the opportunity to reach their potential and to play in their favoured position. 
This selflessness to me is the hallmark of not only a great leader, but a great person, and shows that for Ben, the club was, and still is, at the heart of the decisions he has made while wearing the Brown and Gold.
Every club deserves a Ben McEvoy and I cannot explain how grateful we all are that we got the original. 
Jake Smith: 
When I think back and look at the career of Big Boy, one thing springs to mind; Elastoplast!
It has turned into his trademark and although it has become a meme around the club and with the fans, it is symbolic of the man's courage. 
The number of times that you see McEvoy backing into a pack or putting his body on the line is remarkable. 
Not only has he shown amazing courage on the field, but off the field this season as well.
There is no bigger form of courage than admitting struggle and Big Boy was very open with his struggles while recovering from his broken neck.
The fact that he got back from this injury is remarkable and I am so glad Hawks fans are able to send him off the way he deserves. 
It has been an awesome career for the man we love, and I wish him nothing but the best in retirement. 
While he will be sorely missed at the club, the accounting staff are thrilled to reduce the tape budget by 75%! 
Finally, on behalf of 80,000 members, hundreds and thousands of supporters and all that experienced 1 or 161 games of Ben McEvoy in the brown and goal, we say a massive thank you. 
Our best ruckman since Paul Salmon departs with a wonderful family to take care of, after taking care of his Hawthorn for nine seasons. 
Enjoy retirement Big Boy and good luck with what happens next.