Hawthorn has had a storied history of picking excellent captains who lead by example and play the Hawthorn way. Be it Graham Arthur, Michael Tuck, Chane Crawford, Sam Mitchell or Luke Hodge, the captain sets the tone for the rest of the team to follow.
Selecting the first captain for the Hawthorn AFLW team was always going to be important to help instil belief in the young players who had been drafted, while also assisting the coaching group in being able to make sure that their game style could be transitioned from training to game day.
 If the first three weeks of the 7th season of AFLW have shown us anything, it is that Bec Goddard has picked a phenomenal leader to captain the inaugural Hawthorn team in Tilly Lucas-Rodd. 
Captaining a team in its infancy is not an easy task, and with the team trying to gel and form bonds, the leader must be someone who not only can talk the talk but walk the walk. Lucas-Rodd is proving to very much be that person.
Tilly has been a fantastic player in the AFLW to date, having played 43 AFLW games for both Carlton and St Kilda before crossing over to the Hawthorn AFLW team in their debut season in 2022. 
In the three AFLW games to date in season seven, Tilly has led from the front with an action speaks louder than words mentality. In these games, she has averaged 18.3 disposals, 2.0 marks and a staggering 9.7 tackles per game, which is up from 0.7 tackles per game that she recorded in 10 matches playing for St Kilda in season six. 
Tilly has found herself playing the majority of game time in the midfield and her attitude and effort to not let the team down can be shown through the way that she throws her body at every contest, making sure that she either wins possession for the team or stifles the opposition from collecting easy possessions that could set up an attack.
On Sunday against Richmond at the Swinburne Centre, the 26-year-old amassed 17 touches, seven clearances and eight tackles in a real captain's effort against a midfield consisting of Monique Conti and Sarah Hosking who are star midfielders of the competition. 
In the first three weeks of the AFLW season, Lucas-Rodd is averaging 94.3 AFLW fantasy points. These numbers are incredible when we remember that the AFLW play shorter quarters of fifteen minutes plus time on.
However, while her numbers in attack are phenomenal, it is her efforts without the ball that shows the effort and determination that Tilly has. 
Her continual chasing, harassing and pressuring of opposition players when they have the ball in attack to disrupt forward 50 entries and her work to get from contest to contest shows her desire to help set a never give up culture for the team.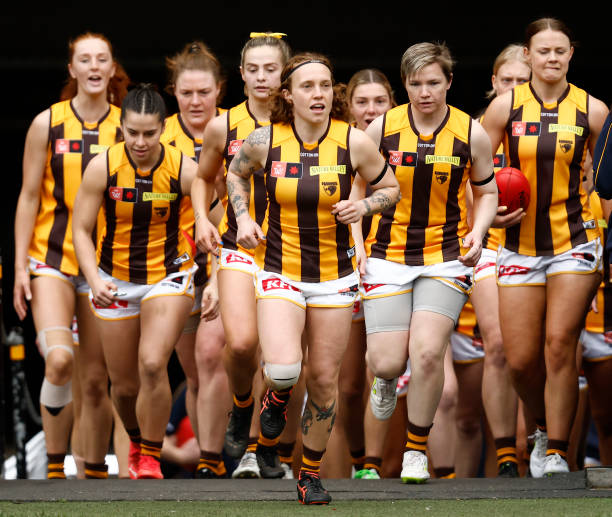 With a midfield boasting young players like Jasmine Fleming, Charlotte Baskaran, Bridget Deed and Tamara Smith who are all inexperienced at the highest level, having never played AFLW until this season, Lucas-Rodd has been given the honourable task of helping to build the future generation of players at Hawthorn and is leading by example, both at training and on game day.
Bec Goddard has been quoting that this season is all about "laying the foundations" and if Tilly's performances are anything to go by, the foundations for future Hawthorn AFLW sides are going to be built solidly, with a never say die attitude and a willingness to show the future generation of players the "Hawthorn" way of playing at the highest level.