by Liam McAlary
After coming to the Hawks with the 22nd pick of the 2022 AFLW draft (pick 11 of the Victorian Draft), the 19-year-old former basketballer has made quite the impression in her first season of footy at the highest level.
The Casey Demons product had a relatively soft introduction (in comparison to her role now) in Round 1 against Essendon, with contests against her twin sister and a role primarily away from the cut and thrust of the middle. 
It seems like a lifetime ago but her experienced mentor and leadership group member Tamara Luke shouldered much of the rucking burden at Marvel Stadium. 
However, on a cold and windy day at Box Hill City Oval in Round Two, it all changed within ten seconds, and Wales was thrown to the sharks.
Tamara Luke had torn her ACL, and the "new girl" was now left to fly solo against two former All-Australians.
On a bleak day for the Hawks, Wales stood tall (both literally and figuratively), attending all remaining centre bounces (13) for the game and giving a strong account of herself against more mature and experienced opponents.
In the next two weeks, Wales stood up and fought gallantly again, for her resilience is remarkable for a woman of such tender years (again, she is 19 playing in the ruck), and took on Richmond, the Dogs and Sydney.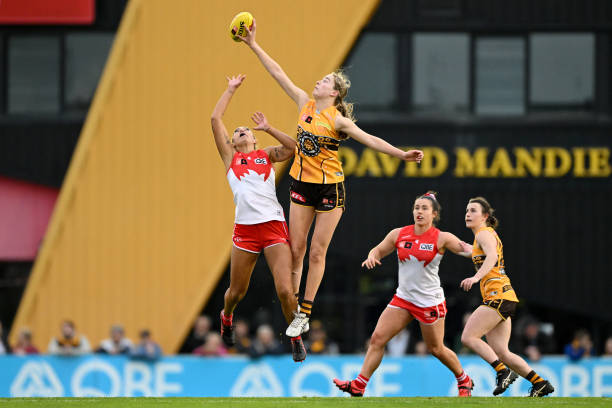 Against the Tigers, Wales impressed again, tackling like the tiny, tough, tenacious, tackling T's (Tilly Lucas-Rodd and Tamara Smith) and playing a lone hand in the ruck, despite rather miserable conditions.
Round 4 was more suited to ducks than the rucks at Box Hill City Oval, playing in some of the worst weather Melbourne has to offer.
Unfortunately, Wales, who impressed around the ground, struggled against two bigger, stronger, and more experienced opponents.
Round Five however, saw the true birth of the star that Lucy Wales is, and will be.
The Hawks and Swans were winless and desperate to change that fact, with the brown and goal girls making history.
In a best-on-ground performance, Wales recorded more hitouts than every other player on the ground combined and recorded 11 disposals, four marks, and four tackles.
Those marks included a Leo Barry-style mark at the end of the first quarter, to prevent the Swans from getting another chance at goal, despite almost being crunched by a bigger opponent, and a game sealing mark in the final minute.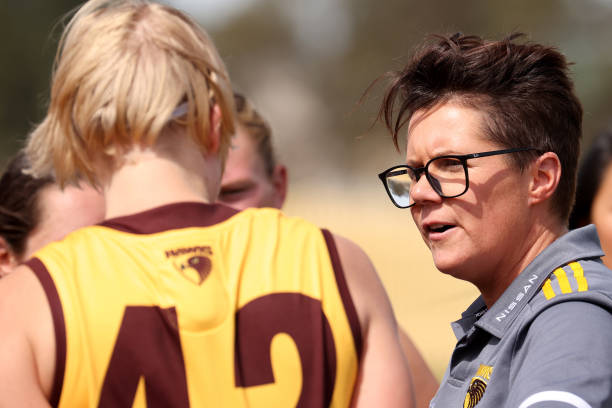 She would have a moment in the last quarter that made even the rustiest of Hawks fans take note of the stardom on offer.
That was, of course, her chase-down tackle in the last three minutes of the game to prevent the Swans from getting out on the break, after she had rucked all day.
After truly breaking out, Wales has since continued to outperform what one would expect of a young ruck.
In Round Six against the Eagles and their young ruck star Sarah Lakay, Wales held her own and limited Lakay's influence, whilst also dominating the battle against rotation rucks, which proved instrumental in the Hawks' second straight win in a Friday night thriller.
She also laid seven tackles that night, showing that she is more than just a tap ruck, but is a true asset at ground level.
Wales is a star of the future, and with her attending 59/63 centre bounces since her Tamara Luke's devastating injury, the fact that Wales is going to be (and already is) a remarkable player is not all we have seen.
We have seen a young woman show extraordinary resilience and courage in the face of adversity, and watching Wales is something that all Hawks fans should be very excited about for a long, long time. 
The men have got Ned Reeves, Max Lynch and potentially Lloyd Meek. The girls lost Tamara Luke and gained Lucy Wales. 
We're lucky to have them all.