In their 2nd Friday night game in a row, the Friday night specialists were able to overcome an 18-point deficit at quarter time to record an epic three-point win to record back-to-back victories In front of a hearty crowd. 
Kicking into a strong breeze, the girls showed excellent perseverance to try and attack but were only able to record the solitary goal for the quarter.
In the second quarter, Hawthorn kicked four goals in the blustery conditions, with Jess Duffin turning back the clock and booting three goals in front of a picturesque sunset backdrop after a 1,323-day goal-kicking drought.
The last half of the game was a tight and torrid affair, with both teams throwing everything at each other to try and snatch the four points.
Aine McDonagh's first-ever goal in the AFLW saw Hawthorn out to an eight-point lead before West Coast kicked a remarkable goal into the breeze with only a few minutes to go.
With not much time left on the clock, West Coast made one last-ditch effort to score but was thwarted by a tackle from Hawthorn's 18th AFLW debutant in Jenna Richardson.
The final siren sounded and the joy on the fans' faces told the story, as the Hawks banked their second victory in their inaugural season.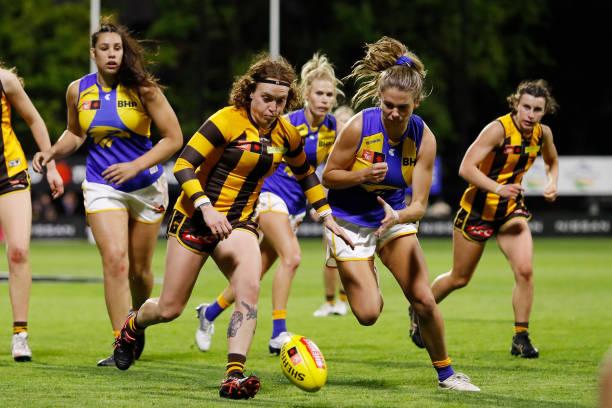 Hawthorn won the tackle count for a sixth week running, this time by a mammoth 30, one of the biggest differentials in an AFLW game in the last couple of seasons. 
Aileen Gilroy and Tamara Smith hit anything in blue and gold that moved, topping the tackle count with ten each, creating a brown and gold impenetrable barrier.
In fact, this week saw 19 out of the 21 players who took the field make at least one tackle, while 11 players made four or more tackles.
Backline Coach Brady Gray had Jenna Richardson (who was named in the VFLW team of the year, debuting for Hawthorn) while experienced Ainslie Kemp returned from illness.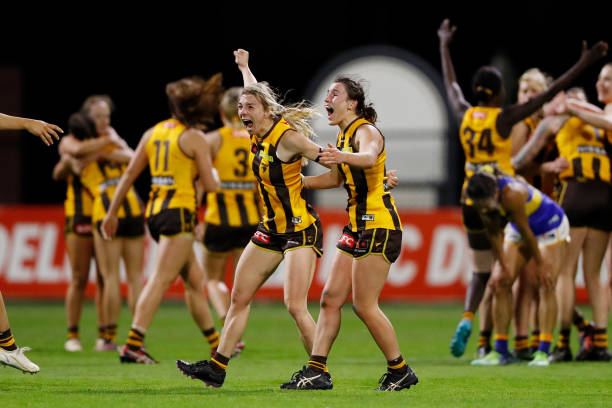 The backline was able to counter the breeze and limit the West Coast team to just 21 inside 50's, with Mackenzie Eardley and Akec Makur-Chuot setting up well behind the play.
In the forward line, Dominique Carbone was back in the team this week, while Tahlia Fellows continues to grow on a weekly basis. 
Big Boy was named in the VFLW team of the year and is starting to replicate that form, including scoring the first goal for the team for the second week running. 
The midfield saw a tight battle, with David Mackay using familiar combinations throughout the game.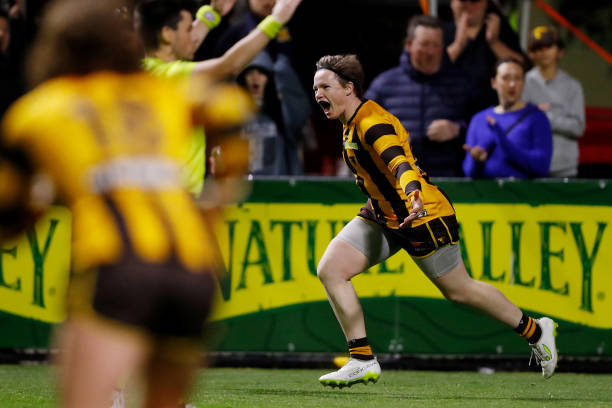 The combination of Lucy Wales, Tully Lucas-Rodd, Jasmine Fleming and Aileen Gilroy attended ten out of the 14 centre bounces for a total of three clearances, with two draws.
The Hawks won 26 clearances for the game, with Jasmine Fleming, Aileen Gilroy and Lucy Wales recording four a piece.
The Hawks' Best
Aileen Gilroy
Continues to show what an asset she is to the fledgling Hawthorn team. Gilroy was deployed through the midfield this week and used her speed and aggression to great effect, collecting 15 disposals, and ten tackles, while being pivotal in many forward 50 entries.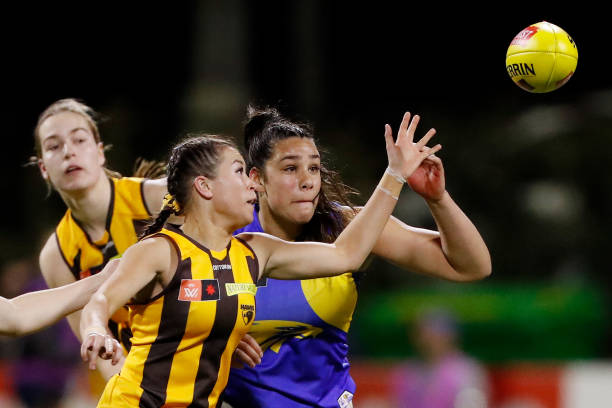 Jess Duffin
Last week Jess was pivotal in defence taking some huge contested marks. This week Duff was swung forward in the second quarter and was able to use her experience excellently, getting into position to take advantage of repeated Hawthorn forward 50 entries.
Duff recorded 12 touches, five marks, three tackles and three important goals that were crucial in the victory.
Tamara Smith
One half of the tough, tackling T's continues to put her body on the line and show her tenacity around the contest. 
Smith made some telling tackles in the last quarter, helping to stop West Coast's attacking opportunities. Smithy recorded ten touches, ten tackles and three clearances as she continues to show her Phar Lap-sized heart each week.
Tilly Lucas-Rodd 
Captain Courageous and the second half of the tough, tackling T's, Tilly played another important game for the club.
Her invaluable leadership around the contest meant that she was able to help set up our attacking forays into the forward 50.
She recorded 14 touches, seven tackles and two clearances, while also kicking an important captain's goal in our second quarter fightback.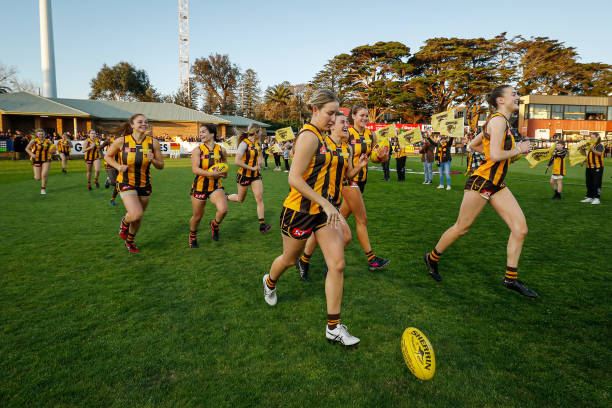 Jasmine Fleming 
Our Round 5 NAB Rising Star nominee showed tonight why she is touted as one of the future champions of the NAB AFLW.
Composed in tight and cramped spaces, Flem was able to use her vision and immense skills to help clear congestion and take the best option available.
Recorded 14 disposals, seven tackles and four clearances, continuing to show why she was the #2 pick at the 2022 NAB AFLW draft.
Aine McDonagh
In only her third game of AFLW, Aine showed how quickly she is adapting her Gaelic skills to our native game.
In the famous third quarter, Aine had two moments in which she was able to use her strength and determination to break tackles and help make chances for the team to score while kicking into a stiff breeze.
In the last quarter, Aine kicked her maiden goal, which was telling, as it helped keep the Eagles at bay and after two epic comeback victories in the past fortnight, the team is continuing to grow in confidence and belief in the game plan that Bec Goddard is implementing.
Next week sees Hawthorn taking on Port Adelaide, coming off a thumping in the Showdown, on Saturday night at Skybus Stadium in a game where we look forward to seeing our inaugural Hawks coming of age and soaring to new heights.