2022 has seen the real emergence of Conor Nash in the Hawthorn men's team, although it has also seen two Irish women help the club soar to new heights (yes, that is a shameless plug for the new podcast 'Soaring to New Heights' that Tim and I co-host, find it on Spotify) in our inaugural AFLW season.
On Saturday night against the Power, we saw two different players who took different routes to the club, play vital roles in getting the Hawks their biggest ever (to date) AFLW win.
Aileen Gilroy and Aine McDonagh are both looking right at home in the brown and gold, despite being a world away from the Emerald Isle they call home. 
Late in the third quarter, the combination of Aileen Gilroy's long right foot snaps and Aine McDonagh's size and athleticism proved its value, as Gilroy launched the ball into the 50 from the wing, with McDonagh then proceeding to out body her opponent then win the footrace into the open goal, slotting the Hawks' third for the night. 
Aileen Gilroy, the 'Mayo Marvel', shocked the AFLW world by signing for the Hawks from North Melbourne on the last day of the expansion signing period, and what a signing the 29-year-old (who previously excelled in both Gaelic and Association Football) has proven to be.
Gilroy has taken her game to a new level since changing her stripes, looking right at home in brown and gold, averaging career highs in disposals and tackles.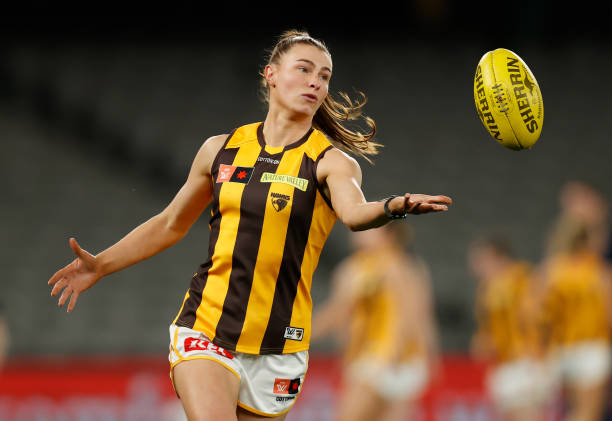 Her 5.1 tackles per game leave her trailing only the two Tiny Ts (Tilly Lucas-Rodd and Tamara Smith) and Kaitlyn Ashmore among Hawthorn players. 
In only her third year of playing Australian Football, she has transformed herself from an athletic defender to Bec Goddard's Ms Fix It player, being used all over the ground and playing almost every position. 
With Bec Goddard throwing her around like a tennis ball, it's just as well that the 'Mayo Marvel' covers ground as if there are two of her out there, and not unlike her compatriot in Nash, her combination of size (174cm) and athleticism make her a vital and unique asset. 
Given that the women's game is very much a territory battle, Gilroy's relentlessness in driving the ball forward (leading the Hawks for metres gained with 317 per game, placing her 9th in the AFLW)  and with her size and athleticism, makes her one of the Hawks' most important players, along with a favourite of Talking Hawks, given she doesn't handball much and wants to continually put opposition defensive structures to the test (kick to handball ratio of over 9:1).
She does all this with a near-unique Gaelic flair, and although she has left the tip kicks back home, her fondness for snapping the ball and unorthodox bouncing technique has helped make her both a fan-favourite, and one of the favourites to claim the inaugural best and fairest for the Hawthorn AFLW team. 
With the second goal of her AFLW career, Gilroy showed the value of these skills when she took an unorthodox bounce and snapped through a goal to finish a now iconic passage of play against the Swans in Round 5 (and she celebrated accordingly). 
It may look unconventional at times, but Gilroy has truly mastered the oval ball, which according to an interview with Irish media, she had only handled a couple of times before coming and using it at the highest level.
Against the Power, her ability to run and launch the ball forward was shown by not only her assist for McDonagh, but also her long drop punt on the run for Hipwell's goal earlier in the third term, showing her true mastery of the oval ball as she helped put the finishing touch on a wonderful break.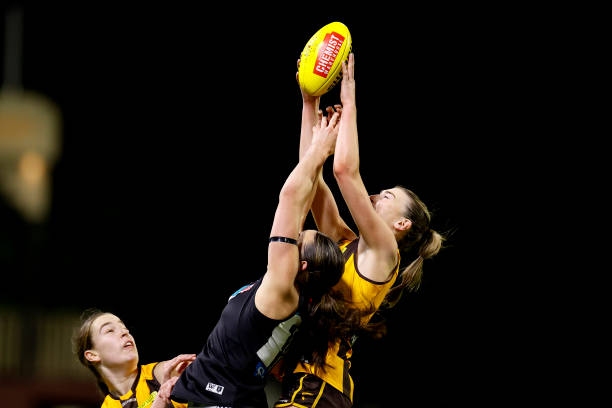 Gilroy's season has been nothing short of extraordinary and we marvel at the Mayo native's speed and skill, as well as admire her work rate and will to win each contest.
Whilst Gilroy's consistent excellence over 7 weeks has deservedly received many plaudits, the performances of her compatriot, our Galway Girl, Aine McDonagh, have quietly impressed, culminating in a career game (so far) against the Eagles. 
McDonagh is another Gaelic Football star who previously excelled in a third sport (basketball), and has shown remarkable development since she was announced as a rookie signing by the Hawks in late June.
Debuting in Round 4 against the Bulldogs and playing in conditions that would have reminded her of home (cold, wet, windy, and downright miserable), our Galway Girl immediately utilised her size as a 182cm tall forward, combined with her sublime athleticism to work up the ground lay 3 bone-jarring tackles that would have made Conor Nash proud, immediately showing her value as a long term player, as much as the conditions allowed. 
Although the numbers in her first three competitive games of footy didn't necessarily show it, McDonagh has used her mobility and size to create space for teammates like Tahlia Fellows, as well as creating contests and providing a focal point in Hawthorn's improving forward line. 
Against the Eagles in her third game, after using her size to draw an admittedly questionable free kick, she slotted her first AFLW goal with a majestic set shot that surprised many, showing how quickly a young woman from Galway has progressed, and the value she can add to our star-studded young side. 
As Tim discussed in his recap of the Eagles game, McDonagh was also able to pin the ball in the Hawks forward line by breaking tackles and forcing the ball deep into the forward 50, preventing the Eagles from using the gale force wind they had behind them in the third quarter. 
However, it was her fourth competitive game of footy against the Power where McDonagh showed her ability to stamp her authority on a game.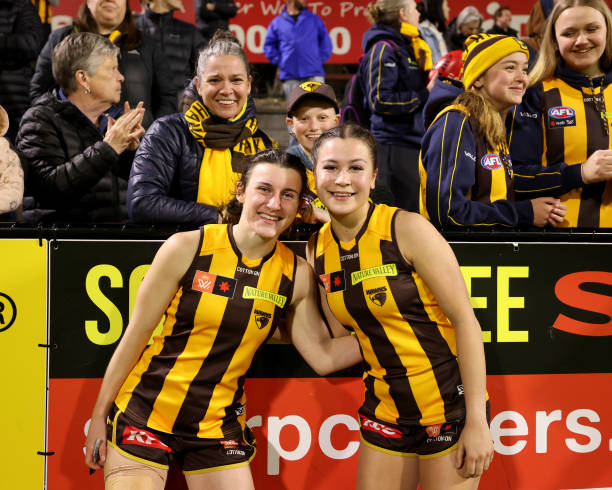 Whilst quietly impressing and being a valuable role player in her first three games, McDonagh truly announced herself to the competition against the Power, having been thrust into a more prominent role (due to Tegan Cunningham's late withdrawal).
Our Galway Girl stood up to the task and delivered in spades. 
McDonagh used her size, strength, and speed to slot her second goal in successive games, as well as laying another three tackles (again, she's a key forward playing shortened games), and took more marks (five, of which three were contested) than anyone else on the ground, including some crucial, contested clunks.
Rightly, Aileen Gilroy has been roundly praised this season, although it is not a stretch to say that we probably don't beat West Coast or Port Adelaide without the work of Aine McDonagh. 
Like Conor Nash in our men's team, Aileen and Aine may be a world away from home, but on the field, they look right at home.