By Liam McAlary
Hawthorn's most experienced AFLW player in Kaitlyn Ashmore has been vital for Bec Goddard's young side this season, holding down one wing with distinction, week in and week out. . 
Ashmore offers more than performance, however, with her character and leadership being arguably as important as her consistent performances.
Having had the good fortune of meeting her, she is a person of the highest character and is clearly a player you want alongside you every week, given the leadership she provides to our young, developing side.  
Season seven isn't Ashmore's first season playing for an expansion side; the first of her four seasons at North Melbourne were their inaugural seasons, having crossed from Brisbane after playing for the Lions for the first two AFLW seasons.  
However, it was Hawthorn where Ashmore achieved the remarkable milestone of playing her 50th game, doing so in the herstoric Round One game at Marvel Stadium. 
Her consistent performances are a more tangible embodiment (for us fans) of why she is such a vital asset to Bec Goddard's side, especially with the latest news of vice-captain Jess Duffin's retirement.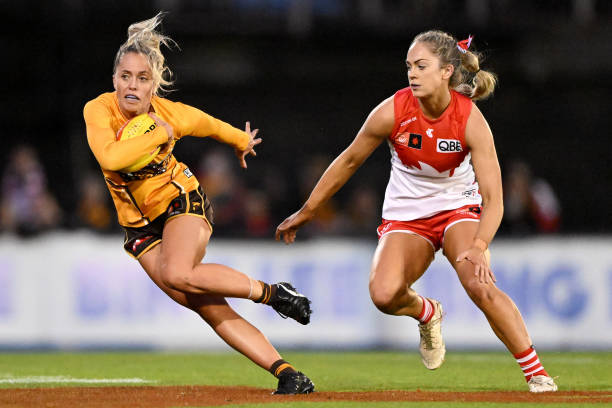 Ashmore uses her toughness, experience and relentless run to churn out consistently excellent performances, in the most thankless role on any football oval.
The flying winger known as "Kashy" is the human embodiment of the Duracell Bunny, seemingly incapable of fatiguing, no matter how much ground she covers or how quickly she covers it, and she covers A LOT of ground each game, perplexing fans and convincing some of us that there's two of her on the field. 
This season, despite now being on the "wrong side of 30," Ashmore has been Soaring to New Heights this season (another shameless podcast plug), proving to be one of Bec Goddard's most consistent, reliable, and valuable players, showing herself to be more than just a flying winger. 
Ashmore's 186 metres gained (per game) sees her rate 6th at the club, but it is her career high average of 5.7 tackles per game that has really stood out.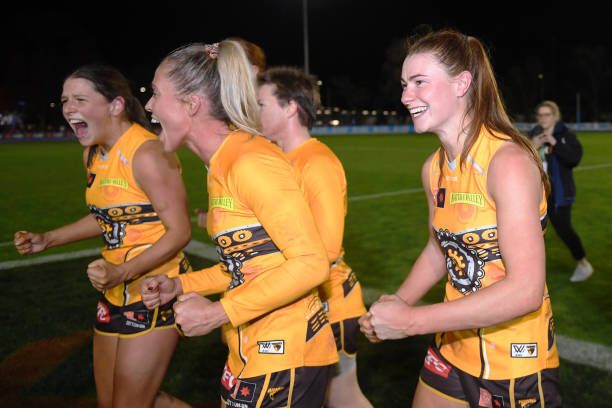 In a side that has never lost a tackle count and ranks second in the AFLW for tackles, Ashmore only trails the Tiny Ts (Tilly Lucas-Rodd and Tamara Smith) for tackles per game among Hawks, which is pretty impressive for a player more known for her outside running than her tackling (at least when she arrived).
This season, Kashy has never laid less than three tackles in a game, and only once has she laid less than five, showing the remarkable consistency of her effort and performance this season. 
Even against the Giants, where the stats sheet may say Ashmore was quiet, she still found a way to influence the game, stifling several GWS attacks with her six tackles, as well as providing her trademark work-rate and run.
A friend of mine who was at the game told me that in what felt like the blink of an eye, she had gone from one end of the ground to the other.
She does this time after time and week after week, showing that she never lets her effort slip, and this consistency of effort has translated into consistency of performance.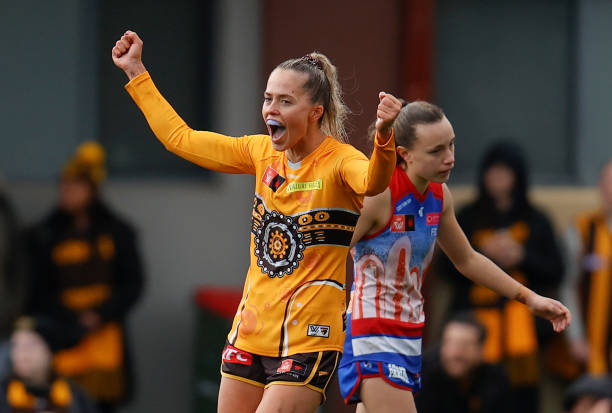 Be it in miserable conditions against the Saints, Tigers, and Bulldogs, or in picture perfect conditions against the Power, consistent Kaitlyn has seldom failed to deliver for the Hawks, no matter how much the conditions appear to suit her game or not. 
In Round Four against the Bulldogs, Ashmore was the best Hawk not named Jasmine Fleming, recording 16 disposals, seven tackles, and a goal in a game where she continually drove the Hawks forward in utterly miserable conditions. 
For someone who never stops running, her performance in these conditions, on the back of a similarly stellar performance in the wet against Richmond, was a true delight to watch, and well worth getting absolutely drenched watching. 
The other game we need to discuss was her nine coaches' vote performance against the Power in Round Seven, where the Hawks recorded their biggest ever AFLW win (to date).
Returning from a hamstring injury, Ashmore thrived on a ground not stereotypically suited to outside runners, given that I could spread my arms and come close to grabbing the fence on each wing.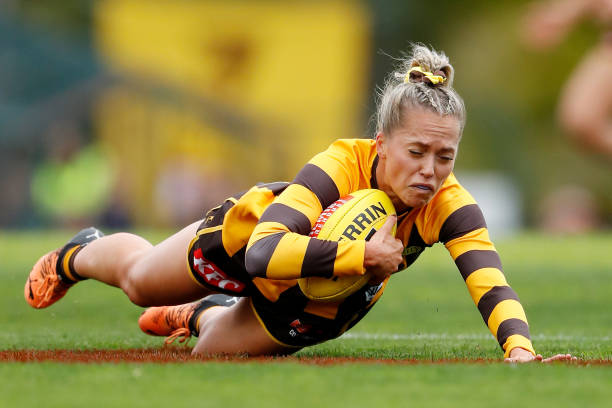 However, we have seen time and time again that seemingly unfavourable conditions can't prevent Kashy from lighting up the game. 
Sacrificing some of her trademark run to play more behind the ball, Ashmore recorded 16 disposals, 206 metres gained, and six tackles, stifling Port Adelaide's ability to drive the ball into quality shooting positions, and proving that she is far from a one trick pony.
Her season has been one of commendable consistency, remarkable running, and tremendous tackling, showing just how lucky we are, as Hawks fans, that we gave up pick 51 in the 2022 AFLW draft to help Kashy change her stripes. 
This week, Ashmore and the Hawks return to Frankston to face an almighty challenge in the high-flying Lions, who are conquering all before them.
However, with consistent Kashy in the team, Hawks fans can dare to dream.