By Liam McAlary 
Disclosure: I know Jenna through community sport (the Donvale Football Club) and I had the pleasure of very briefly speaking to her for this piece. 
The 2019, 2020, and 2021 AFLW drafts all have at least one thing in common (outside of Hawthorn's absence). 
Shutdown defender Jenna Richardson, a product of Donvale, was inexplicably overlooked. 
With the expansion to a full 18-team competition, however, Richardson was finally signed by an AFLW club, linking up with the Hawks, for whom she had played in the VFLW.
AFLW clubs prior to the latest round of expansion weren't the only ones who had overlooked Richardson, though, with many experts leaving her out of Hawthorn's best 21 for the club's herstoric inaugural season.
Internally, however, Richardson was most certainly not being overlooked and through the pre-season and practice matches, she had received strong indications that she would be playing in Round One.
Richardson internally was touted as one of the team's main linchpins in defence, although injury would soon halt those plans, shown by the first training session after the practice match at the MCG against Richmond, Richardson went to training and "couldn't run without pain."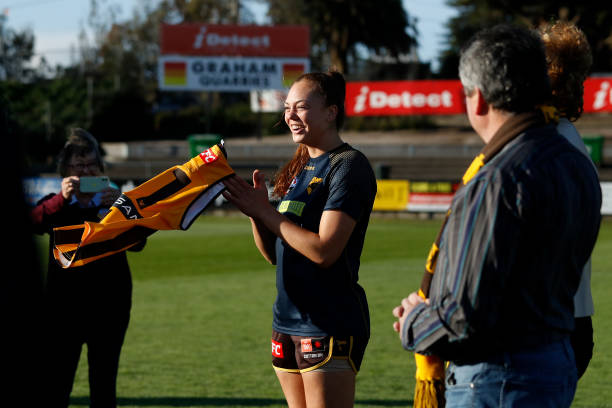 Alarm bells rang and an MRI followed, finding a stress reaction in her femur, which would rule her out indefinitely; missing the entirety of her first season was, at that point, a possibility.
Available in Round Six, she came into the side immediately on the back of just one full training session, making her long awaited AFLW debut against the Eagles, with a healthy contingent from the Donvale Football Club driving down Eastlink to Frankston to support both her and the Hawks.
Despite not feeling at her fittest (by her own admission), Richardson performed admirably in her first game at the highest level, with her five tackles being particularly impressive in the three- point thriller.
She was selected at half back in the VFLW Team of the Year in 2022 and was more than ready for the step up.
Having only returned from a stress injury the week before, the assignment she was given for her second match would be enough to cause an immeasurable amount of stress for most players; Erin Phillips.
Jenna Richardson, however, is not most players, even if she admitted to being slightly daunted when she found out initially.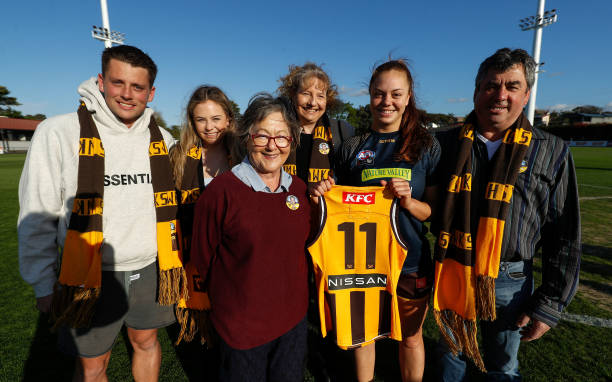 At Kinetic Stadium in cold conditions, it was Phillips who would prove no match for Richardson, with Phillips needing to move into the midfield and away from Jenna to have any real impact on the game.
Richo beat Phillips more often than not when going against her one-on-one, and forced Phillips to lead into pockets when she played forward.
Erin Phillips kicking 0.3 was not so much a stroke of luck for Richardson, as it was a tangible representation of the fact that she forced Phillips to take poor quality shots.
Her three marks and dozen disposals (including several clever handballs to feed our rebounding superboots in Mackenzie Eardley and Catherine Brown) saw her among the best Hawthorn players on the ground, in what was a very crowded field due to a number of stellar performances.
Stylistically, Staunton is a more traditional full forward than Richardson is used to playing on, although she adapted and amazed by completely taking Staunton out of the game, whilst simultaneously recording 10 disposals and a couple of crucial last quarter smothers herself. 
After being overlooked for three years, Jenna Richardson had, in three weeks, more than made up for lost time, and truly announced herself to the AFLW. 
She had forced the league and the AFLW community to stand up and take notice of her, because in three weeks, she had already shown herself to be among the best small defenders in the AFLW, reminding supporters of Blake Hardwick from the men's team, shutting don any opponent under a certain height out of the game .
In her remaining two games, she did nothing to lose any admirers, despite the challenges posed by the speed of Brisbane star Great Bodey, and the size of Fremantle's Áinge Tighe, who stands around half a foot taller than Richardson.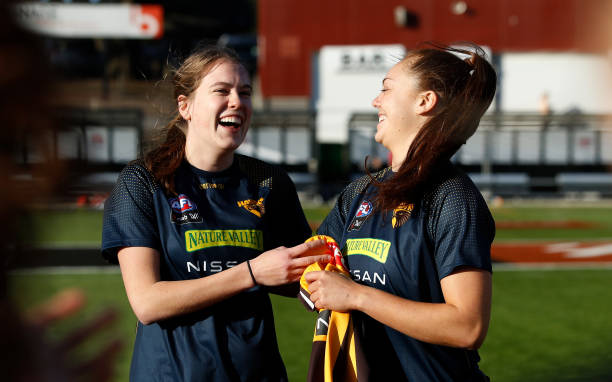 Across the season, her six intercepts per game was the highest at the Club (per game), and whilst the rest of her statline might read to a passer-by as unspectacular, I would be willing to bet (and I am not a gambler) that her one-on-one win rate would also be among the highest at the club.
Richarson's transition to the AFLW has been completely seamless, impressing at every turn and fitting in perfectly to the team, system, and culture that Bec Goddard has created. 
When discussing her long overdue transition and step up, she discussed how having previously played under Bec Goodard helped her adapt to playing with the Hawks, and how the time she spent in the VFLW allowed her to develop so that she was ready when she played initially at the level. 
Frankly, this sells her work ethic and talent short, although this kind of perspective  is reflective of her maturity, desire to improve, and the fact that she came to the sport of Australian Football relatively late, having initially played basketball as a junior. 
Whatever helped her adapt to the AFLW, the Hawks will be glad they got in early to express an interest in the now 21-year-old, as she took the highest level like a duck to water. 
With Richardson being hell bent on continuing to make up for lost time, Hawks fans should be super excited to watch Jenna in 2023, as her future is as bright as can be.