By Liam McAlary 
The Oxford Dictionary defines resilience as "the capacity to withstand or to recover quickly from difficulties" or "toughness."  
At Hawthorn, we have a better definition; Sophie Locke. 
As we commence 2023 and reflect on 2022, few of us will reflect on a bigger emotional rollercoaster than Hawthorn's "Seymour Sensation". 
For Sophie Locke, 2022 was a year that should have been filled with celebrating her 21st birthday, her AFLW debut (playing for the team she supported growing up), and so much more. 
Whilst she managed to celebrate these milestones, Locke's 2022 was also filled with unimaginable grief and difficulty, with her dealing with more adversity than any 21-year-old should have to, with the passing of her beloved mother, Sarah Locke (neé Gall), aged just 51, following a battle with cancer.
Just three months after turning 21, Locke was forced into a situation that no one deserves and the quality of character and human being that she is, but her resilience meant she continued to thrive on the field. 
Sophie's love of Hawthorn and footy primarily came from her mother, with Zac Standish writing for the Shepparton News about how Sarah passed on her love of the Hawks to Sophie.  
Thankfully, Locke was signed by the Hawks on March 31 which the Locks family could celebrate and then the wider Hawthorn footballing family could celebrate simultaneously at Marvel Stadium.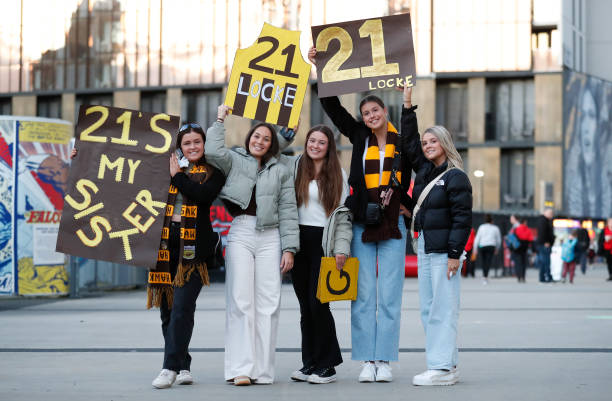 Just two days after her mother's untimely passing, Locke played in the practice match at the MCG against Richmond, a side containing a number of her VFLW teammates, with both teams wearing black armbands in support of Sophie, showing yet again that no matter how serious we take sport, some things are bigger than footy. 
A week and a half later, coach Bec Goddard told her that she would be playing in the historic Round One game against the old enemy of the Dons,, Locke (like a number of players) was overcome with emotion.
Locke's reaction, however, was especially emotional and special, as her father and sister travelled down from Seymour to celebrate the news with her, in a touching moment that would have warmed even the coldest of hearts.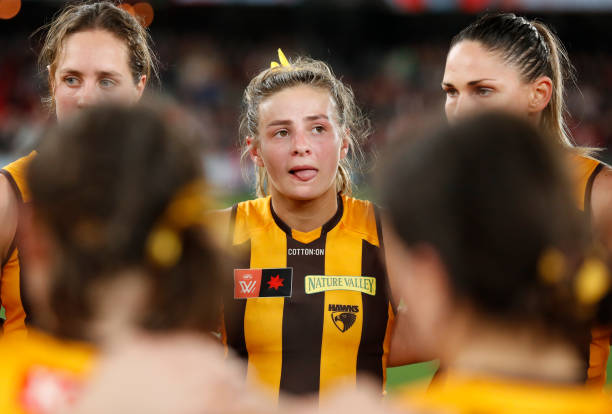 This moment, however, was just a taste of what was to come in terms of incredible Sophie Locke moments, as in that Round One game, Locke truly displayed the resilience for which she would become renowned, as with one kick, the childhood fan forever became a Hawthorn favourite and would produce one of the moments of the year. 
Locke earned a free kick in the first quarter, and with her mother clearly (and understandably) front of mind, she cooly stabbed through Hawthorn's first AFLW goal, forever etching both her name and her incredible resilience into Hawthorn folklore. 
Locke celebrated the iconic moment by kissing the black armband and pointing to the sky in honour of her mother, whilst teammates came from everywhere to embrace the visibly emotional 21-year-old. 
It was a moment to bring a tear to just about any eye and one not soon forgotten, with the footy gods looking after the situation nicely, because it had to be Sophie kicking that historic goal. 
Beyond that goal, Locke's quality as a footballer was on display throughout the evening, with the 21-year-old being among Hawthorn's best, recording three marks, five tackles, 10 disposals, and 215 metres gained (ranking fourth for Hawthorn in that metric).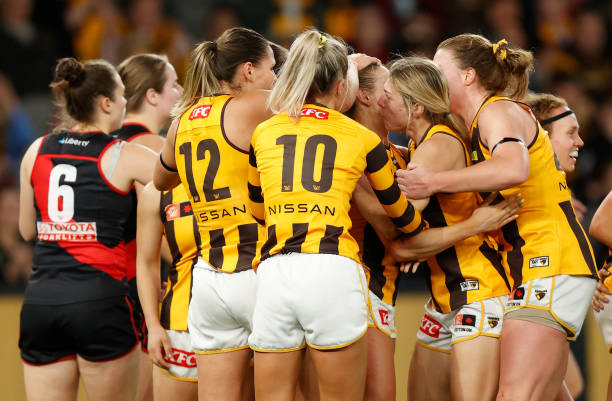 As if losing her beloved mother was not enough to deal with, 2022 had more adversity to throw at Sophie Locke, with the Victorian floods severely impacting her hometown of Seymour, where she still lives.
Prior to the Round 8 game against GWS, Locke received a text message on Wednesday night, advising her to evacuate her home. 
Deciding to reassess in the morning, she woke to see key landmarks in her beloved hometown underwater or close to it, which prevented Locke from getting to training that evening and threatened her ability to make it to the airport so she could play the game against the Giants.
She made the flight and performed serviceably against the Giants, with the firm belief growing that as long as she had her limbs, her footy would continue.
As if still processing the death of her mother and her hometown flooding weren't enough, that week, Locke (and all our players) also had to deal with the infamous Henson Health Hazard, using cockroach-infested change rooms that were simply not up to standard in any way, shape, or form.
Over the whole season, in the face of some of the most unimaginably difficult challenges a person (let alone a 21-year-old) will ever face, Locke impressed in the nine games she played in her debut season.
In Round Three against Richmond, Locke recorded her season highs for disposals (12) and metres gained (281), impressing and standing up in challenging circumstances.
Similarly, Locke's eight tackles in Round Six showed not only Locke's talent as a medium-sized pressure forward but also reflected her exemplary attitude and the fact that no matter the circumstances, Sophie Locke will always be "locked in" for her team. 
So, with 2022 in the rearview mirror, can we expect Sophie's resilience and talent to see her Soaring to New Heights in 2023, no matter what challenges life and footy throw her?  
Locke it in.