By Liam McAlary
Hawthorn men's team have been getting ready for season 2023 and with a bit of time on my hands, I thought I would venture out to La Trobe University to see how they were going.
Here are my main takeaways from the session on January 19.
There is Nothing Meek About Lloyd!
Let's get his size out of the way quickly; the man is a beast of a human!
At 6'8" and absolutely stacked, the man is not getting out-bodied by anyone not named Sean Darcy.
However, this imposing physique is combined with mobility and a game that more than justifies Sam Mitchell's aggressive pursuit of him.
 Meek's tapwork isn't quite at Ned Reeves' level (although is not far behind), but his follow-up work is sublime and he moves like a man of much smaller stature. 
Meek was frequently both picking it up at ground level after the ruck contest and even receiving handballs out of congestion to break away from the stoppage, which is remarkable for any ruck, let alone one built like Meek. 
We at Talking Hawks have loved seeing AFLW ruck Lucy Wales' ability to become a fourth midfielder once the ball hits the deck and for Lloyd, it is in a similar vein, with the likes of Brodie Grundy being an All-Australian with his follow-up work being a point of difference, and the athletic freakiness of Luke Jackson showing the future is of a uni-directional ruck and whilst Meek's ceiling is impossible to predict, it is also improbable to not be excited watching him. 
Meek averaged three clearances per game last year (around 5.5% of his stoppage attendances resulted in him winning the clearance according to Simon Morawetz via Hawks Insiders) and if he can translate this movement and follow-up work, expect it to rise.
One more skill that will serve Meek well around the ground is how quickly he gets the ball to boot for a big man.
Whether Meek or Reeves gets the number one mantle is unclear, but Reeves' reach and Meek's movement look set to make this a deadly duo, whether it's Reeves in either square (centre or goal) and Meek around the ground.
Bright Days Ahead (Hopefully)
Will Day was noticeably bigger and stronger than last year. 
Despite the extra size, Day has not lost any of his class; the man is still as classy as they come. 
Be it in handball games or kick-mark games, Day was one of the standouts, with his sharp decision-making and immaculate ball use real strengths.
He comfortably and cooly weaved through traffic before invariably hitting his teammate right where they wanted the ball.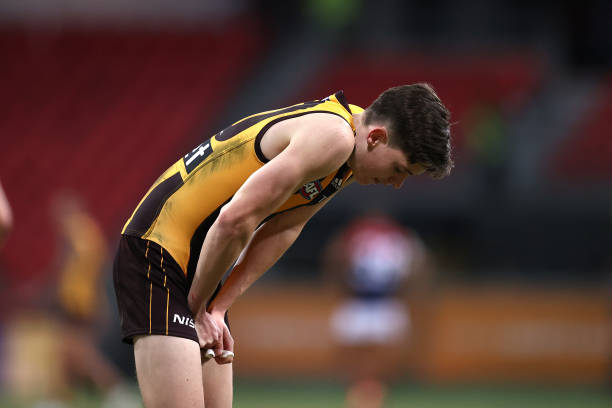 Similarly, in the brief match simulation, Day, worked through a lot of different centre-bounce combinations and consistently impressed as a tall outside midfielder. 
His stoppage craft was noted as a point of improvement following his brief midfield stints last year, has come on in leaps and bounds.
Day's size, sidestep, and sublime skill saw him as the biggest standout in my opinion, getting around opponents and bursting from the stoppage to deliver the ball lace out to the gleeful forward line, who couldn't believe how good their days look set to be with Will back in the side. 
There are few things we are more excited to see in 2023 than Will Day healthy and in full flight, watching him at training only served to whet the appetite. 
Bookmark this: If Will Day plays 20+ games, he's in the upper echelon in the Peter Crimmins Medal (top five at least, with huge potential to jump up).
C-Mac Squared Turning Heads
Connor MacDonald and Cameron Mackenzie looked more than ready to impress in 2023.
According to a couple of officials to whom I spoke, Connor MacDonald (who spent most of his time in the midfield and at half-forward), has been absolutely carving it up on the track so far.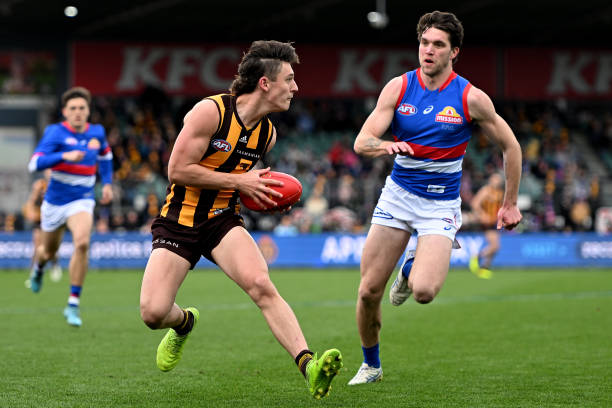 Looking slightly stronger physically but no less poised, the man who should have paid a visit to the police about his lack of a Rising Star nomination justified the hype, moving beautifully and barely missing a target as he was among the top few performers on the track. 
Whilst we know how good Connor can be (and he certainly looked like he will be even better in 2023), Mackenzie also looks set to play plenty of AFL footy in 2023. 
Training primarily with the midfield (rotating as a half-forward) and not looking out of place, Mackenzie's right boot was a real standout both on the run and when static, never missing targets and making his teammates' lives easy, because all they needed to do is tell him where they wanted it. 
What else was impressive was his ability to navigate traffic well and worked around opponents with consummate ease, before delivering one glorious kick after another. 
Cameron may not play Round One, but the smooth-moving midfielder they call Frenchy will not be in for a long Box Hill career.
He makes quick decisions and his high-quality ball use gives him a margin for error; giving him one of the highest floors I have seen for a young Hawthorn player in a long time (there is no way someone who moves that well and hits targets the way he does will not be at least a regular starter, especially if he can play as a half forward).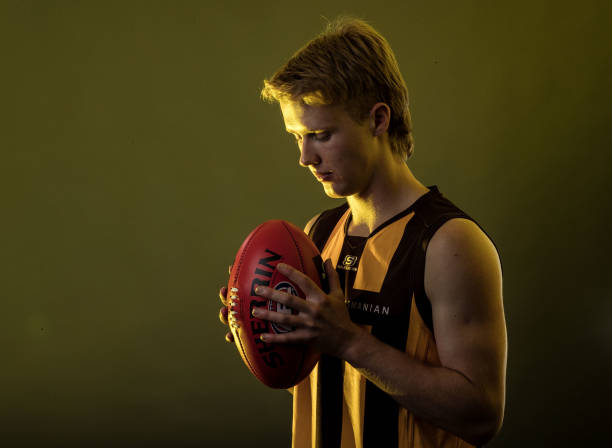 Expect both of these two to bring plenty of class to the midfield and half-forward line in 2023 and where MacDonald didn't get a nomination, MacKenzie should be in the running for the award.
Other quick observations:
Max Ramsden and Emerson Jeka have both put on a noticeable amount of size
Talking Hawks' own Denver Grainger-Barrass is really developing as a one-on-one defender, frequently out-marking bigger opponents, although still needs to put on more size. 
Dylan Moore played primarily forward but rotated on the ball to provide class and athleticism. 
Jarman Impey played down back (what is our back 6 going to look like?)
Josh Weddle is incredible but we'll have a full dissection at a later date
It's easy to get sucked into pre-season hype but knowing the media are against us this year and we are a young group so why not have some excitement in January?
However, even I, probably the dourest, most boring, and pragmatic person at Talking Hawks (Tim prefers just to call me pessimistic), am struggling to contain my excitement about some of our young players ahead of this AFL season, because the talent is certainly there.