By Liam McAlary
As the Hawks prepare to head off to Morwell for their crucial pre-season camp, they have been tearing up the track both at Monash University and on the immaculate surface at La Trobe University.
On Monday and Thursday last week, I ventured out to La Trobe (with Daz on Thursday) to watch the boys and what was observed will be salivating Hawks fans. 
We get it, everyone always looks good in pre-season, but some of our younger boys have been especially impressive. 
Not at 100%
Josh Morris, Tyler Brockman, Ned Long, and Bailey MacDonald have all been in the rehab group, although they seem to be progressing and moving well, with most indications being that they should be fit for Round One. 
Josh Ward and Conor Nash have been pushing their running loads and have more or less done everything other than match simulation (they did a small amount of match simulation on Thursday).
Both are aiming to do more match simulations on the camp this coming week, with Josh Ward telling us personally while walking a lap after a big burst on the carpark side of the ground.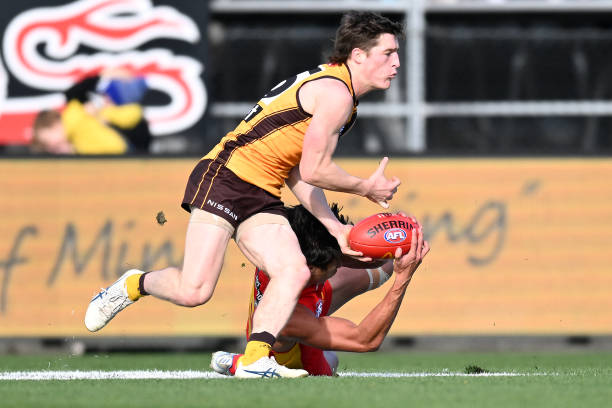 The only player we know will be missing Round One is Mitch Lewis, whose injury has set a sense of dread across the fanbase, but there are still ripping positives from across the club.
Sacré Blue, the Kid Can Play
In these track summations, we have written about Cam Mackenzie already but I need to talk about our Pick 7 again.
In our Monday session, Mackenzie did not look like a first-year player, but a 10-year veteran with poise, skill, and class, as well as the inability to misplace a kick. 
Playing primarily on ball, as well as occasionally rolling behind the stoppage off a wing, Mackenzie seemingly had his own ball out there as he racked up countless possessions (most of which were effective kicks) during the 40 minutes of match simulation. 
In addition to accumulation and ball use, "Frenchy" was never rushed with the ball and seemed to have time like his childhood idol and coach Sam Mitchell always seemed to (Mackenzie is a bit quicker than Mitch, though).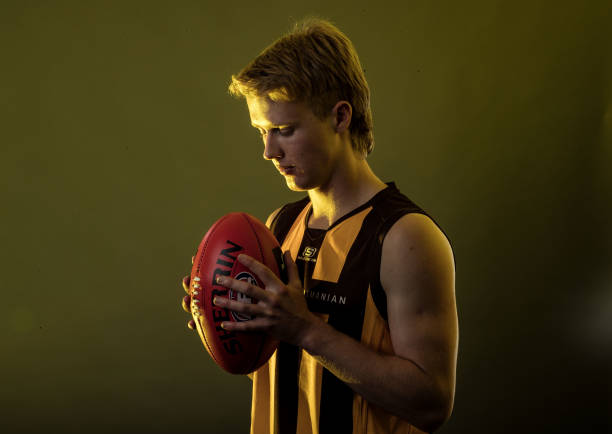 If Mackenzie keeps this up, we can expect a very early debut for our prized recruit (perhaps even Round One). 
Butler Set to Serve Up Quality
One player who caught the eye on both Monday and Thursday (especially Monday) was Sam Butler. 
Butler was working high up the ground to his team's defensive 50, before absolutely burning his opponents back to goal with his blistering speed, as he seeks to cement himself as one of our starting small forwards in 2023, even though competition for those spots looks set to be stiff. 
Butler was marking, tackling, and finding the footy beautifully, being seemingly everywhere as his side looked to both stop the opposition's transition and then get out into their own transition play.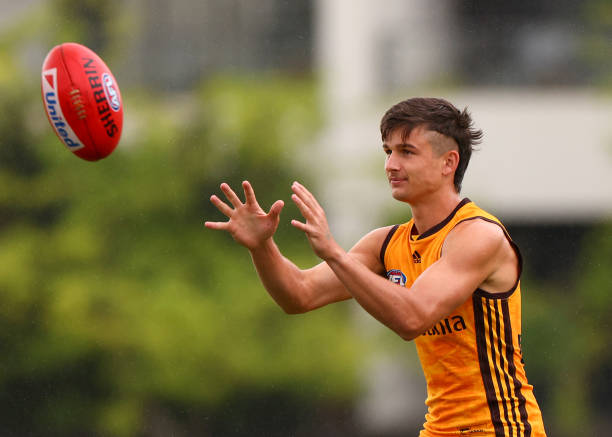 He also showed the ability to use the ball well, finishing beautifully in forward craft drills and hitting targets in a match simulation, showing that he looks set to take his game to another level in 2023 and to serve up some real quality football as a high half forward. 
If Butler keeps up the performances we saw this week (especially on Monday), then we can expect him to build on a solid first season where he played nine games and kicked six goals, averaging 1.4 inside 50's, 1.7 tackles and 8.4 disposals.
Based on what I saw Monday and Thursday this week, all of these numbers will rapidly improve.
Jai Looking Lethal
In a new number, Talking Hawks' own Jai Newcombe is looking no less like the player who came runner-up in the Peter Crimmins Medal last year.
Looking lean, fit, and ready to go, Newcombe was as good as ever in traffic on both Monday and Thursday, excelling in tight spaces to either burst away from the stoppage himself, lay a ferocious tackle, or feed one of his teammates of the outside and allowing them to break away from the contest with relative ease. 
One thing that stood out to both Daz and I on Thursday was Newcombe's kicking. 
Whilst his longer-range kicking has always been strong, his ability to hit closer-range targets whilst going at full pace looks to have improved out of sight, seeming to add another string to his bow as he gets set to take the competition by storm in 2023 truly. 
If this week was anything to go by, then we have little to worry about with Jai Newcombe as he looks to become close to the complete package and a leader of Hawthorn's midfield. 
The 21-year-old looks set to only get better in 2023.
Quickfire Notes
Karl Amon has been a real standout on the track, setting the standard in terms of leadership and also being one of the top performers in match simulation.
Finn Maginness has noticeably improved his distribution by foot.
Cooper Stephens has a lot of ability in close and very effective overhead. Round 1 looks likely.
James Blanck and Sam Frost both look ready to go for Round One, with Emerson Jeka also breathing down their necks for the centre half-back role. Where he trains next week with the Lewis injury is so enthralling.
Keep a look out for little Jack O'Sullivan; he may be small but he is a real goer and will be fun to watch.