It was a fierce and fiery afternoon down at La Trobe University for the Hawks first official intraclub match, with the mantra of "unsociable Hawks" being resurfaced. 
While there were a few heated moments throughout, the match presented some more important sneak peaks regarding our Hawks in 2023.
Corridor Kings 
The tone was set from the first counterattack of the day through to the last and that is corridor will be king this season. 
Whenever play was pushed wide, the first instinct was to look in the middle of the ground and although risky at times, the style of play was electric. 
Players like Connor MacDonald and Josh Ward were prime examples of this mantra, going through the middle at every chance possible. 
With speed to burn along the half back flank, watch out for the Hawk Highway in 2023.
The Rucks are Locked 
With four exciting and unique ruck options on the list, the question on a lot of fans' lips is what dynamic will work best. 
From watching the game, we got the answer to this question.
Ned Reeves tap work around the ground was first class and even hit Blake Hardwick on the chest going forward in a bizarre role reversal. 
Pairing with him should almost certainly be the former Docker in Lloyd Meek. 
While not as dominant in ruck battles, his presence around the ground and more specifically forward should hold him in good stead for a Round 1 debut, with his body work, marking and a glorious tap to Dylan Moore when two opponents met him in the air a particular highlight.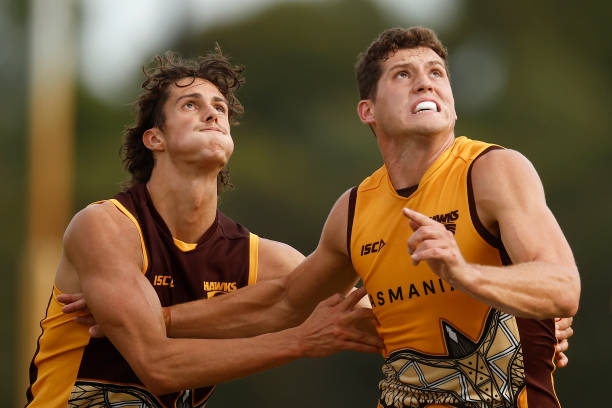 Karl is worth the cash
The first quarter of the first competitive game of the season is always a mad scramble, with the ball and players flying everywhere and this game was no exception. 
However, there was one figure in particular who made time slow down whenever he touched the ball. 
Karl Amon was my best on ground in the first half and it is clear what his role will be. 
Players went out of their way to get Amon the ball, and he shapes to be our designated kicker when possible. 
The way he used the footy on the day was unbelievable with numerous inside 50 entries finding the desired target.
Centre Bounce Cohesion
Now while it hasn't been confirmed by the club that it was a "ones against twos" type of situation, there was a distinct advantage in personnel for the gold team in the first half and some very exciting signs in the centre bounce mix.
The gold side started the match with Reeves, Jai Newcombe, James Worpel and Will Day as their starting four.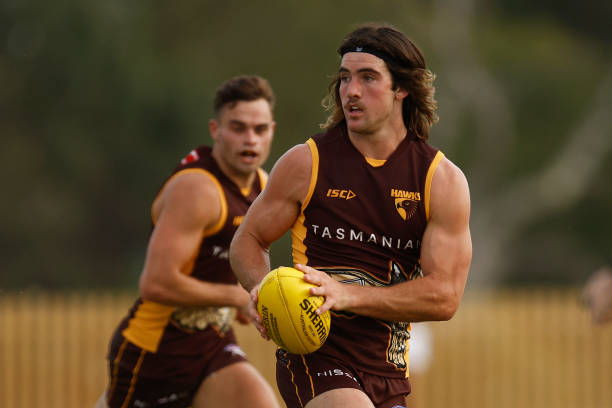 That combination played the majority of the first half in there. Jai was dominant and Day flashed while Worpel's foot skills left a little to be desired. 
Overall, though, if these three can build that chemistry, it will be an exciting mix, with potentially Dylan Moore, Karl Amon, Josh Ward, Connor MacDonald and others rotating through. 
A Tick For MacKenzie (the Mark variety) 
A massive positive from the day was the play of all five rookies taken in the national draft.
Mark MacKenzie has copped a lot of pre-draft criticism leading into the past two drafts but there's no denying that the award/MacDonald combination is a tick, while Sam Butler and Ned Long continue to develop well. 
In the 2022 crop however, Cam Mackenzie was the standout for his Brown team in the first half, before making the shift to the gold team and Josh Weddle got better as the day went on, showing his freakish aerobic and athletic prowess. 
But it wasn't just the first-round picks, with Jack O'Sullivan kicking two goals, Bailey MacDonald showcasing his lightning speed off half back and Henry Husthwaite cementing his status as cleanest handballer in the draft. 
There were a couple of occasions where "Double H" was hesitant to kick but he had two forward half deliveries that were lace out so unlocking that potential is key for one of Daz's big draft sliders. 
Early days but it's a big tick on the 2022 crop so far and a big eye will be kept on them throughout the Cats game in a week.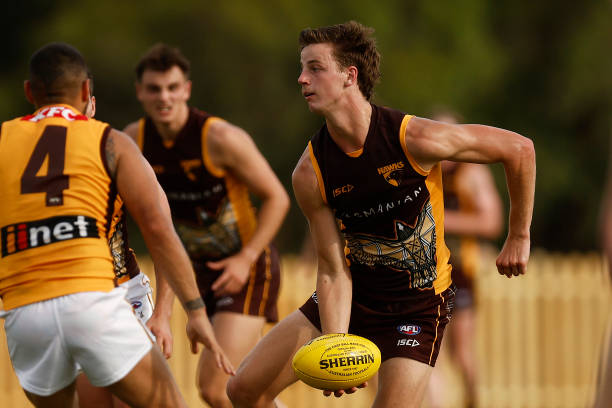 Jumping Jarman is back
Before suffering an ACL injury in 2019, Jarman Impey was on track for a top three finish in the Peter Crimmins Medal. 
Unfortunately, he has been unable to find the same scintillating form, seeming somewhat lost in terms of his role but 2023 already looks different.
If Amon was BOG at half time, Impey was a seriously close second! 
His ability to not only bounce off the half back line and counterattack but also wrap up numerous key tackles and defend had all Hawks fans at the ground buzzing. 
His ability to spring vertically off a few steps left jaws agape and whilst he had one of the worst turnovers of the night, it was a genuine shank, which is more forgivable. 
Hawks fans can sometimes forget what an unlocked Jar can look like but for a defensive group crying out for another two way threat (with Dimma), he's the answer. 
Round 1, lock him in, half back flank. 
Third tall or fourth small?
This shapes to be one of the more interesting selection conversations as we approach Round 1 against Essendon. 
With Koschitzke and Meek the talls and Moore, Wingard and Breust locks, who gets the last forward spot?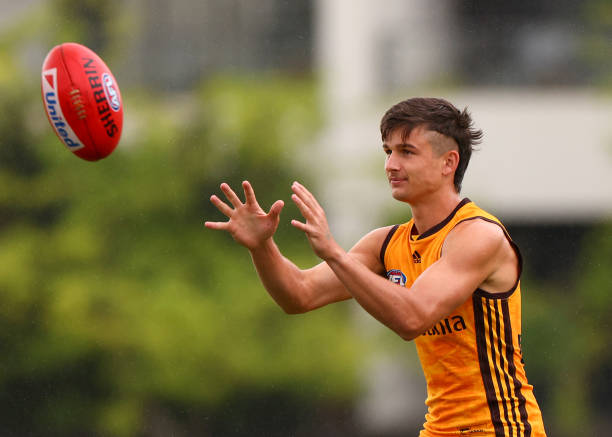 Greene started the game on the stronger team (gold jersey) and managed to get involved early with a goal thanks to some fantastic counterattack. 
He finished with two for the day while working up the ground (don't want to say Gunners-esque in 2013 but…), while Butler started on the opposing team but stood out. 
The 2021 second round pick impressed with his defensive pressure and burst from stoppage, whilst also finishing the day with two snags. 
Greene looks cleaner with ball in hand from a standing start (mark, free kick, set shot), while Butler at ground level showed enough for this to be a genuine headache. 
The Bombers play with the likes of Zach Reid, Brandon Zerk-Thatcher, Mason Redman and Jordan Ridley so Greene might be the option based on matchup but Butler could expose a couple of those boys' inability to impact at ground level. 
Good luck to the decision makers.  
The Blancket is back! 
After being picked up in the mid-season draft last year, Hawks fans only got a small sample size of what James Blanck can produce in the brown and gold. 
Well, if this match is anything to go by, get excited Hawks fans. 
Blanck was enormous in the first half, locking down any and all opposition attacks and with some fans on site to confirm, took EIGHT marks in the first half. 
His ability to win one-on-one contests is elite and has visibly put on size during his first full AFL pre-season. 
The sky is the limit for the Blancket and along with Sam Frost, have Peter Wright and Sam Weideman waiting for them in Round 1. 
Second Year Stars
I spoke earlier about the new crop of rookies impressing in their first official match practice, but my goodness the second-year boys stood out. 
Josh Ward was one of the best players on the field, collecting the footy at will and consistently making good decisions.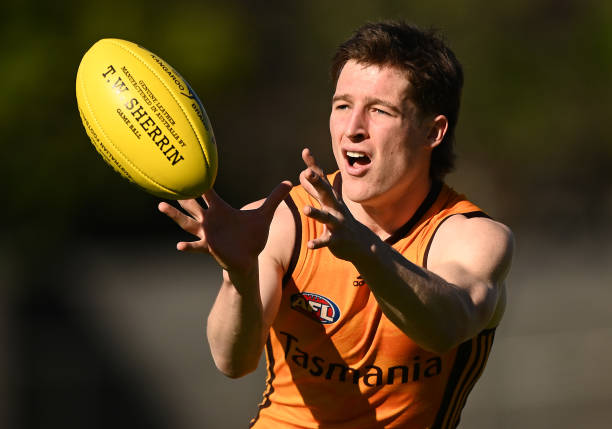 Connor MacDonald was dangerous around goals early before pushing up the ground and making a huge impact. 
He was one of the biggest exponents of the Hawk Highway, showing that whether he was at the attacking or defensive flank, he was not going up the line for ANYONE! 
We've already mentioned Sam Butler earlier but forward of centre, Ned Long looked stronger in the contest but his goalkicking left a little to be desired and probably isn't making the Round 1 side. 
Unsociable Hawks! 
As teased earlier, there was some spice in this game. 
Apart from the well-publicised half time skirmish, there were other examples throughout the day of teammates having a red hot go. 
It's a topic that divides opinion but Sam Mitchell has such a great control over this group, that he would never let anything spill over. 
Sam was unsociable himself on the field and we loved him for it, so maybe he is instilling that in his current group!
With such a young group, letting some steam is never a bad thing and there's no cheap shots involved so let's not let a footy media keen on dividing opinion tell you it's anything more than competitiveness.