Welcome to this episode of the Talking Hawks podcast, my name is Tim and while you are at it, feel free to give us a review as it helps listeners discover and engage with the Talking Hawks content.
Today we are joined by one of the mainstays in the Hawthorn defence, where he has flourished as one of the best small defenders in the competition and was arguably robbed of a spot in the 44 man All Australian squad last year.
He is the personification of the term courage, with his fearless exploits on the park standing out more than his 182cm frame.
He has played 124 games in the brown and gold and is the kryptonite to small forwards kicking bags of goals.
Add in he's gotten one of the best jumper transitions in Hawthorn history, with Luke Hodge passing over his No.15 to the man known as "Dimma", Blake Hardwick.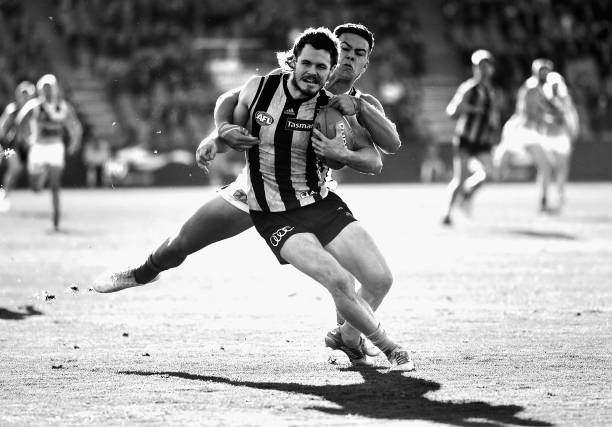 Some of the questions posed to the great man include:
You consider yourself the strongest pound for pound wrestler, one on one". Is there any truth to this?
How does it feel to have the self proclaimed biggest chest in the AFL?
Big training session this Saturday in preparation for next week's season opener. What will the training session look like?
What have been the big takeaways from the Collingwood clash?
How do you continue to develop your overall game?
Who do you generally look for when delivering up the ground?
In the intra club match, during the third quarter you lined up in the forward line. How nice was it to line up in the forward line again?
In your draft year, you were the leading goal kicker in the TAC kicking 56 goals. You have now become one of the best small defenders in the competition. Can you talk us through the transformation from forward to defender?
Throughout the chat, Sam Mitchell's coaching philosophies, the upcoming season and what Hawks fans can get excited about all come up as well.
Undoubtedly one of the best in the current Hawks group and an even better bloke, check out the chat below and leave a review!