I think I speak for all Hawks fans when I say this is not the result we were looking for against the arch nemesis in Round 1 of the 2023 season.
The 59 point defeat at the MCG proved that there was still a long way to go for this young Hawthorn list and particularly some of the players on said list.
So without further ado, here are all 23 players reviewed, rated and dissected. 
#3 Jai Newcombe
Could this be a case of pre-season expectation hindering a player's rating in a tough loss? Potentially
But it wasn't the start to 2023 that the Duke was hoping for.
19 disposals, four clearances and only three tackles while using the ball at just 58% efficiency.
Better days are coming for the new number three in brown and gold and he certainly wasn't our worst.
#4 Jarman Impey
Impey was someone who I had extremely high hopes for coming into the season and in the grand scheme of the match, he was pretty good.
He spent the equivalent of a quarter of game time on the bench (30 of a possible 120 minutes) and still managed 18 disposals, seven marks and 100% disposal efficiency.
While his metres gained was smack bang at AFL average, he still played well enough to get a pass mark for me.
#5 James Worpel
The Worpedo was in a neck and neck battle with the skipper for the five stars but just fell short (spoiler alert).
Worpel carried on his great form from the pre-season into this game with 29 disposals, seven clearances and seven inside 50's.
In his last eight quarters of footy, Worpel has given every reason for Hawks fans to believe he is back to his 2019 form and while there aren't many positives, that sure is one.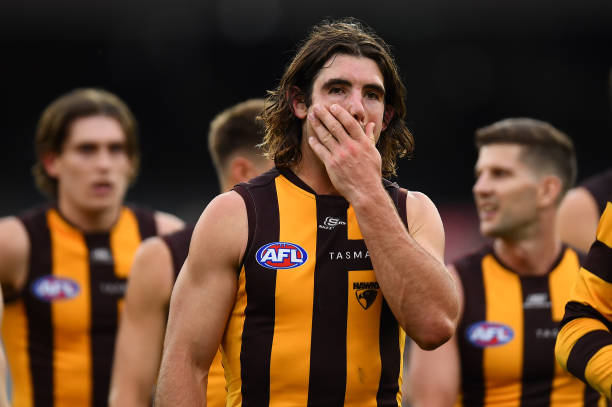 #6 James Sicily
I get this wild feeling that this may not be the last time I am handing out a five star rating to the Hawks newest captain.
Sicily was a rock down back trying to stop a flood, with a huge 30 disposals, 15 marks and 10 rebound 50's while only registering four turnovers.
This wasn't even Sicily at his best either, with multiple dropped chest marks and some sloppy free kicks against, but overall when things were tough the captain stood tall.
#7 Ned Reeves
The tallest man in the history of the Hawthorn Football Club did not stand anywhere near as tall as we needed him to in this one.
Yes, he had his moments in the centre bounce with some lovely hit-outs to advantage setting up clean clearances and that is expected.
But that cannot be his only trick and at the moment, it is.
Only one mark around the ground for the match and as a forward acted like a fifth post with no presence in the air or especially on the ground.
#8 Sam Frost
Now, I know what you might be thinking. Is this a typo or potentially an editing mistake? Nope
In my view in order to get at least one star you need to contribute more to the Brown and Gold than you do the opposition and in Frost's case I can't justify that.
14 disposals and seven marks doesn't read horribly, but if you watched the game he made some awful mistakes as well as feeling like every second Essendon goal was his direct opponent.
Add onto this some really disappointing efforts in the last quarter when the going was tough and considering he is a leader of this club, I was extremely disappointed.
#9 Changkuoth Jiath
I feel as though there has been some heat thrown CJ's way after this game and while it wasn't his best, I feel as though there were much bigger issues than his play.
He had 19 disposals with only two turnovers, one of his biggest issues throughout his career, had over 400 metres gained and kicked a goal from half back.
On top of this, he was one of the few who kept trying their guts out until the final siren which shows great character.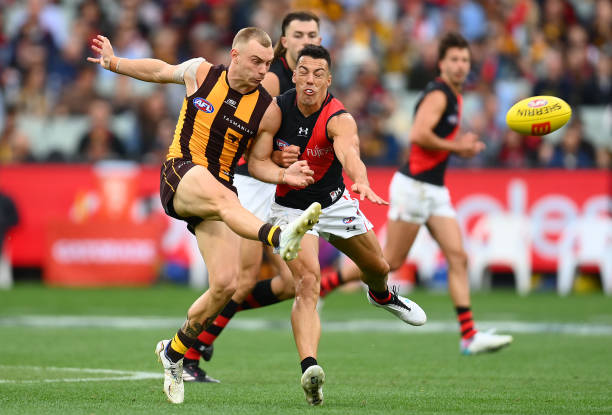 #10 Karl Amon
In his first game for the Brown and Gold it was not the result Amon was looking for but I thought he played well enough.
He had 20 disposals, four marks, kicked a beautiful goal and had only one turnover from his 20 touches.
I think the way the game played out didn't suit the way Amon plays and the role Hawthorn have created for him so it will be interesting to see him again next week.
#11 Conor Nash
I thought for the amount of time Nash spent on the field and the impact he was able to have on the game was really impressive.
As soon as he was activated into the game, he threw his weight around with some big tackles and bumps to try and light a spark within his teammates.
While his efforts fell on deaf ears, Nash still managed 12 disposals and two tackles in only 48 minutes of action, a more than handy effort as a sub.
#12 Will Day
A real rollercoaster afternoon for the number 12 and one of the harder rating's of the article in my opinion.
Day's statistics read more than okay with 22 disposals, eight marks and four tackles as well as seven inside 50's.
But the eye test kept him from a four star rating, with some glaring mistakes by foot and poor tackling standing out.
#13 Dylan Moore
Another player in the Jai Newcombe camp of pre-season expectations overshadowing round one performance.
While Moore was solid with 20 disposals and nine marks, he didn't have that same impact we are so used to seeing him have on games.
He did not trouble the scoreboard at all, as well as only having two inside 50 entries and two tackles.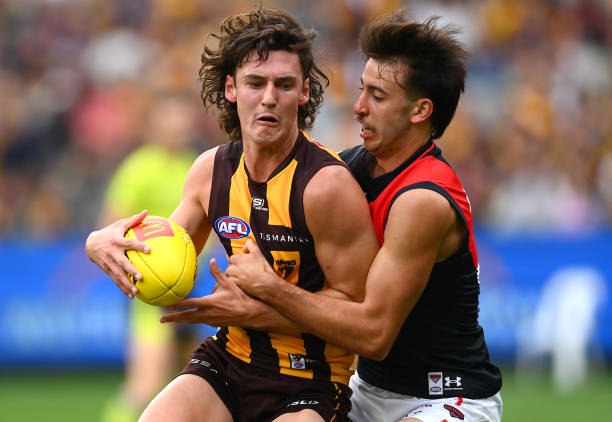 #15 Blake Hardwick
If I was some sort of scientific genius, there would naturally be so many things on my list of things to make, but a Blake Hardwick clone would be top priority.
He did his regular work down back in the first three quarters before being thrown forward for the last quarter and looking like our best marking target all day, kicking two goals.
He finished with 17 disposals, nine marks, five tackles and two goals and if only I could make the first sentence happen a forward Dimma and backline Dimma would dominate.
#16 Lachie Bramble
From the outside looking in, Bramble was probably the last picked in this side with Jack Scrimshaw fighting to prove fitness for this game.
I don't believe Bramble did all that much to cement his spot for the trip to Sydney next week.
Like Frost, his statistics don't look awful with 18 disposals and eight marks but he made some awful mistakes including pinpointing an Essendon defender in the middle of three Hawks forwards leading to another Bomber goal.
#17 Lloyd Meek
While it wasn't a great day for either Hawk ruckman, I am giving Meek the advantage between the two purely for his work around the ground.
He was nearly as effective compared to Reeves when we are talking about in the ruck contest and hit-out statistics.
But around the ground Meek managed to take six marks and acted as at least a strong target for the Hawks midfielders to kick at when moving forward.
#20 Chad Wingard
If the day was bad already, the news of a Chad Wingard calf injury only soured the day in the last quarter.
What makes it even more disheartening for Hawks fans is that we saw some flashes on vintage Chad Wingard at the MCG.
There was of course the goal of the year contender for the week, but he always looked dangerous around goals and caused the Bombers headaches not caused by any other forward.
We have our fingers crossed here at Talking Hawks that it is nothing major.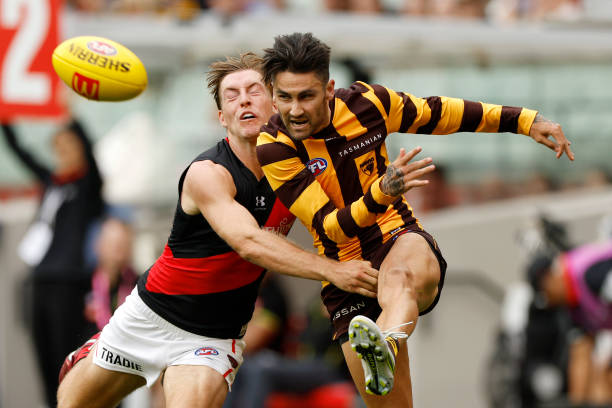 #22 Luke Breust
The last remaining member of the three peat (yes that makes me incredibly sad as well) showed he still has the goods.
While quiet overall, Punky made the most of his opportunities around goal, finishing with three majors for the day.
I can't think of many safer bets in modern day footy than Luke Breust converting a snap around the corner from anywhere inside 30 and he is aging like a fine wine.
#23 Jacob Koschitzke
When you are picked as the only genuine tall forward in the side and are subbed out half way through the third quarter, you know you have had zero impact on the game.
Koschitzke's only meaningful disposal was a behind in which he genuinely burnt a teammate streaming into a certain open goal early in the match.
The Hawks forward line had no presence and no structure in the first three quarters, with Essendon backs having a field day intercept marking the ball.
If this is his time to prove himself, he has made a pretty ordinary start.
#25 Josh Ward
I genuinely love this kid as a player and the fact that the further Essendon got in front, the harder he tried speaks volumes of him.
He finished the game with 26 disposals, eight marks and four tackles using the ball at a very clean 85% efficiency.
The most interesting stat of his is six rebound 50's, showing that he may be set to play wing in the absence of Harry Morrison.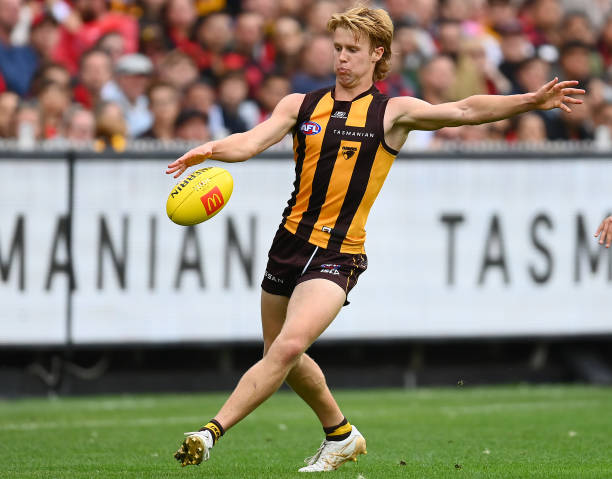 #26 Fergus Greene
The fairytale start had been granted for the Ferg when he launched home our first of the afternoon from outside 50 to a massive roar and celebration with teammates.
Unfortunately the fairytale quickly turned to a nightmare.
From that moment he only had five disposals, took two marks and made some poor mistakes, as well as allowing players like Ridley and Redman bully him.
#28 Cam Mackenzie
In what I think is the brightest takeaway from the loss, this kid absolutely looks the real deal.
A best on ground performance in the pre-season wet the appetite of Hawks fans and "Frenchie" did not disappoint.
18 disposals, four marks, three tackles, seven score involvements and three clearances, Mackenzie looked a spitting image of his now coach donning the 28.
I am ready to declare him the best kick in the side which is either awesome because it's his first game or an indictment on his teammates, but I am willing to roll with the former for now.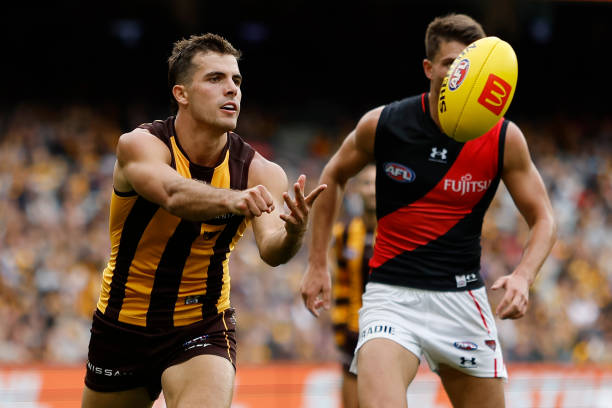 #31 Connor MacDonald
Speaking of youngsters we are excited about, I thought big things were coming for Connor MacDonald in 2023 but my expectations have been bought back down to earth.
His final statline reads fine with 20 disposals and 11 marks, but he was uncharacteristically poor with ball in hand, making some bad mistakes.
He is one of the biggest drivers of the Hawk Highway with his constant want of the corridor, but when it doesn't work it looks horrific and it backfired a fair bit in this one.
#32 Finn Maginness
This was a tough rating because I thought Finn did a pretty good job on Zach Merrett early.
He made a few mistakes with giving free kicks away and can sometimes completely ignore the ball to the point of running past it, but Merrett was quiet.
However, when the game was getting out of hand and a tag was counterproductive, what role can he actually play?
He isn't a good enough natural midfielder to play freely there, his kicking skills aren't good enough for a wing or flank and he isn't tall enough to play as a key!
#36 James Blanck
The Bombers kicked 19 goals and while the key forwards of Jones and Weideman only got three combined, the defence was still a rabble.
The difference between Blanck and the other defenders is that Blanck is a genuine lock down defender who does not contribute to counter attack at all.
So when the lock down defender is involved in a 10 goal loss, naturally it isn't going to read well for them.