With the unfortunate news during the week of a hamstring injury to Emerson Jeka and with Mitch Lewis still recovering from his strained ACL in his knee, there has never been a better time than the present for young key forward Jacob Koschitzke to stake his place as a crucial component of the future Hawthorn forward line in the first month.
With a clear runway ahead of him, Kosi has his chance to take off and hit his straps in the early part of the season and remind Hawthorn supporters of his ability to provide a target and hit the scoreboard, like he did in his debut season in 2021.
At the beginning of the 2021 season, Kosi was shifted from defence into the forward line by then Hawthorn forward line coach Craig Mcrae, who saw the ability to use Kosi's aggression and speed to help give another forward option.
In the 2021 pre-season game against North Melbourne, Kosi kicked six goals as a hard leading forward, who used his incredible pace for a big man to break free from his opponent and clunk marks on the lead.
This pre-season performance saw his confidence soar, which is a big factor in a young player finding their way at the top level, and allowed him to play in 20 games that season, slotting 27 goals and averaging 1.4 goals a game in a solid return for a first year forward.
His hard running up and down the ground provided a target for defenders who needed an option, his contest work meant that he rarely was beaten by an opponent and would at least half the contest, allowing our small forwards to flourish, while his ruthless aggression and take no prisoners attitude saw him throw his hulking 96 kilogram frame around to tackle and harass defenders.
Unfortunately for Kosi, in the last game of the 2021 season against the Western Bulldogs, he suffered a shoulder injury that required a reconstruction and put him behind the eight ball in season 2022.
In what should have been a year to see Kosi continue to develop his forward craft as a second year forward, ultimately saw him doing the team roll and being burdened with playing as a sole ruck in the Box Hill team early on in the season due to the fractured neck of Ben McEvoy and the multitude of bad luck that was incurred by Max Lynch .
During the 16 games that he played in 2022 for Hawthorn, it wasn't as a key forward in which he had made his name in 2021, but was as a forward-ruck, where he found himself battling some of the biggest and best ruckman in the comp, before resting forward.
What was meant to be a season to continue and hone his forward craft under then forward coach David Hale went out the window for the betterment of the team.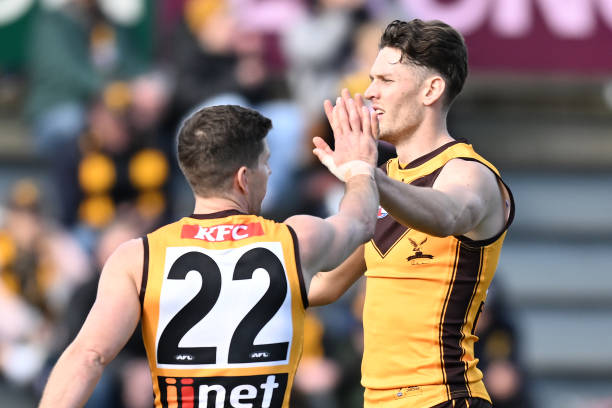 Without the solid fitness base of an uninterrupted pre-season under him, Kosi struggled to find the form of 2021, where he became a key part of our forward line up.
Before the 2023 pre-season started and before players were required to return to training, young Kosi could be seen down at Bunjil Bagora running laps and putting in the hard yards to build his fitness base and to give himself the best opportunity to make 2023 count.
He has a solid fitness base under him and has started to build the confidence in himself that he can recapture his best form and remind Hawthorn supporters of his bright future at the club.
In the last practice match against collingwood at his happy hunting ground of UTAS Stadium, where he kicked five goals against Adelaide in his debut season, Kosi lined up on new Pies skipper Darcy Moore, who is one of the best key defenders in the competition.
Not only did Kosi take five shots on goal for the game, he also took three contested marks against Moore and his confidence started to rise.
While his goal kicking boots were not on that day, he has been hard at work at training refining his goal kicking to make sure he can take advantage of every opportunity he gets to get the goals on the scoreboard for the Hawks.
With the midfielders having more of a focus in lowering their eyes and kicking to leading targets, the world is Kosi's oyster this year as it plays to his strengths of being able to push off his opponent and use his impressive speed for a big man (he is one of the fastest at the club over 20m) to break free from a target and take a chest mark.
With no Zach Reid or James Stewart playing, watch Kosi tear apart the Bombers backline at the G and be the forward line target and presence that we need going forward.