Well this is going to be a tricky one to navigate!
At half time, I was feeling awesome and unbelievably impressed with the intent and constant pressure from the Hawks, hunting Geelong around the ground and playing the game the way we wanted to.
The second half was nothing short of a disaster and that is putting it very kindly.
15 goals to one after half time in what was a genuine Cat attack, the kick start to their premiership defence but that isn't what we are here for.
This isn't going to be a positive review and with eight players having 10 or less disposals for the game, there are sure to be some low grades.
#1 Harry Morrison
Really difficult player to start with and probably the anomaly of the game for the Hawks as the only player to have a stronger second half compared to the first.
Overall Harry had 17 disposals, six of them being intercept which showed a great work ethic to help the defenders when no one else would and three marks.
I was not a massive fan of his game until the last quarter where he had eight disposals, when a lot of others had thrown in the towel he kept fighting which is a credit to him.
#3 Jai Newcombe
Man, this hurts so much!
But I have to be completely honest with myself and the Talking Hawks family when rating every player and Jai was nowhere near it on Easter Monday.
15 disposals is well down, three tackles, two clearances and one score involvement read his day, all numbers which don't read well for the teams best midfielder.
Unfortunately when the floodgates opened in the third quarter and we needed some footy, Newcombe had one handball for the quarter! 
He wasn't alone which will be evident but it was disappointing.
#4 Jarman Impey
One of our best players on the day and the only winner in a back six group that was humiliated after half time today.
Impey had 24 disposals, five marks, five rebound 50's and eight intercept possessions as well as having nearly 500 metres gained.
While the avalanche was hitting him in the face, he managed to keep his head above water and continue fighting for his club which is much appreciated.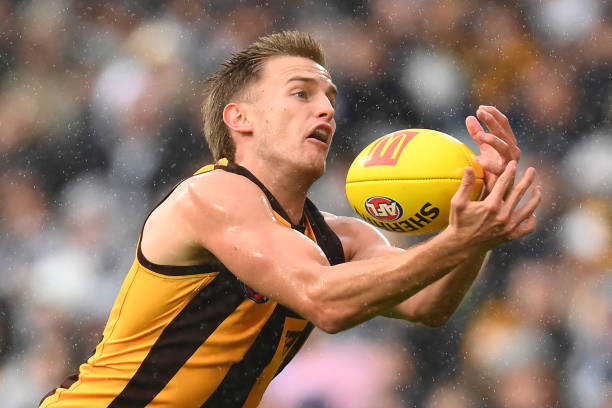 #5 James Worpel
Worpel is the first of many players who I am finding genuinely difficult to grade because of the discrepancy between the first and second halves.
The Worpedo was fierce in the first half, leading the Hawk dominance in contested ball with 11 contested disposals and six tackles.
The second half was disappointing though and while I don't think he threw in the towel, 44% disposal efficiency is a poor number and the big concern in his game crept back in today.
#6 James Sicily
Let's just call a spade a spade and admit that the skipper has had a mulligan here on Easter Monday.
He was given the job on Jeremy Cameron who kicked seven goals and was not even close to providing the offensive production we are accustomed to.
14 disposals and four marks with four turnovers, all I can say is that it was a dirty day for the new skipper.
#7 Ned Reeves
This may anger some Hawks fans because yes, Reeves had some beautiful hit outs today that led to clearance which is great.
But for someone standing 211cm this should be the expectation of him to deliver this a few times a game, but the rest of his game is non-existent.
I have spoken about this before in the player review, but as soon as the ball hits the ground, it is playing 17 on 18 because unlike the three other ruckmen in this game, he has no impact around the ground.
Yes it was wet, but three disposals and no marks in 100 minutes time on ground is just not acceptable at the level and with Max Lynch dominating the VFL I would like to see him given the chance.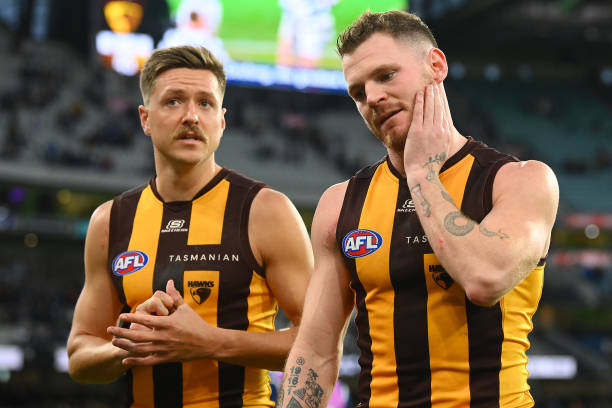 #8 Sam Frost
I thought he did a pretty good job early on in the game when the Hawks were on top and playing well, even bouncing out of defensive 50 one or two times.
However, he was monstered in the second half by Tom Hawkins on one leg, conceding 10 marks and two goals (should have been three but he gave a handball in the goal square).
I do feel sorry for Frosty because the sheer amount of ball coming at him was unheard of and I wish I could find another star for him, but 10 marks in the wet is a big number.
#9 Changkuoth Jiath
Another of the Hawks who had a complete opposite day and I am finding it extremely hard to grade him.
He ended with 16 disposals, four marks and eight intercept possessions, which reads okay but it is just flashes with CJ at the moment.
We saw the same last week with a big first half but a second half fadeout, we can't get four quarters of footy from him and eventually, we need more than flashes of brilliance.
#10 Karl Amon
The definition of consistent in terms of the player review, Karl puts up his fourth straight three star grade.
He had 18 disposals, 14 of them kicks, three marks and kicked a goal in the second quarter and while these numbers don't scream out good game the eye test does.
On a day where it seemed every Hawk was making simple errors by foot, Amon was a touch of class and when the opportunity rose used the ball beautifully.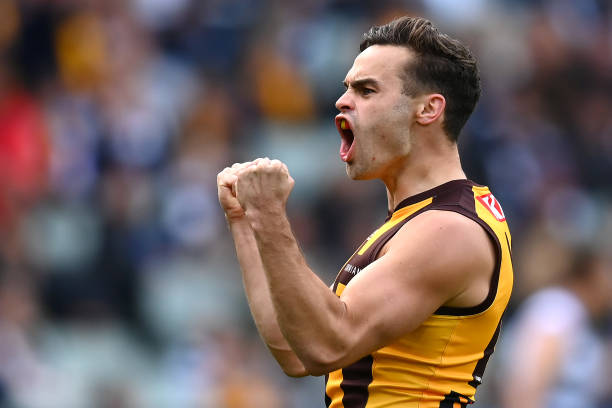 #11 Conor Nash
I can never discount the effort of the big Irishman and know that whenever he pulls on the jumper he will be giving his all.
This was personified in the second quarter when splitting his head open going in for a loose ball, as well as registering six tackles for the day.
But other than that, what does he offer this midfield?
#12 Will Day
Another best on ground performance by this man and although the performance hurt fans, knowing Daysy is around for four more years brings a smile to the face.
22 disposals, six score involvements, six clearances and a massive eight tackles, this guy not only looks classy and smooth with the ball but he hunts like a man possessed without it.
He was clearly the best player in Brown and Gold in my opinion and I have everything crossed the dangerous tackle in the third quarter doesn't draw a suspension.
#13 Dylan Moore
I genuinely think Dylan Moore is the barometer of this team and the term is corny I know, but when Dylan Moore is off you know it is going to be a bad day.
That is exactly what it turned out to be, with only six kicks and four marks for the most consistent Hawk on the list.
He will always give his all and that is something we know, but this just was not Moorey's day.
#14 Jack Scrimshaw
Now we all know that I have appointed myself the CEO of the Scrimma fan club, so this is the toughest call I have made in the series this season, but this wasn't pretty.
Scrimma had eight disposals for the game, four coming in the last three quarters and was unable to impact at all defensively when the Geelong wave hit.
For parts of the game it felt like Scrimshaw wasn't on the park and while he was not the only Hawk to have a bad day, it was a shocker for him.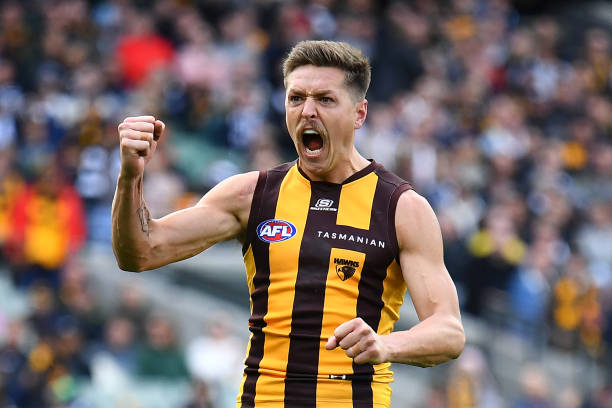 #15 Blake Hardwick
Back to back defenders who I have a massive amount of respect for as footballers who just did not show up to the MCG on Easter Monday.
Hardwick made mistakes I have never seen a player of his calibre make today, with turnovers out of the backline and that brain fade on the goaline that should have cost a goal.
When things are tough we need leaders to stand up and although he isn't officially in the leadership group, Dimma is an on field leader who we need badly right now.
#17 Lloyd Meek
This may be a bit of an unpopular opinion and the numbers alone probably don't suggest it was a three star performance, but there is something about this guy.
He gives 110% effort from the first siren to the last and while not being a dominant ruckman, does things other ruckmen can't do around the ground.
Little things like fending off a midfielder and kicking long or bullying his way out of a clearance show me he cares and gives his all, which I love.
#20 Chad Wingard
The sub is always a tough one to grade because of their limited time and the way stats compare to others but I thought this one was easy.
I don't think Wingard could have done much more after entering the game when he did, having eight kicks and taking six marks which was a team high despite the limited time on ground.
If he is healthy there is absolutely no way he should be the sub next week!
#22 Luke Breust
Here is another Hawk who I don't think could have done any more today and despite the result, deserves his due credit for the way he played.
16 disposals, six marks, five score involvements and three goals for the greatest small forward in Brown and Gold since Leigh Matthews.
It has been a pleasure to watch this man play and as he approaches the 500 goal tally, the appreciation of this man from supporters needs to be felt.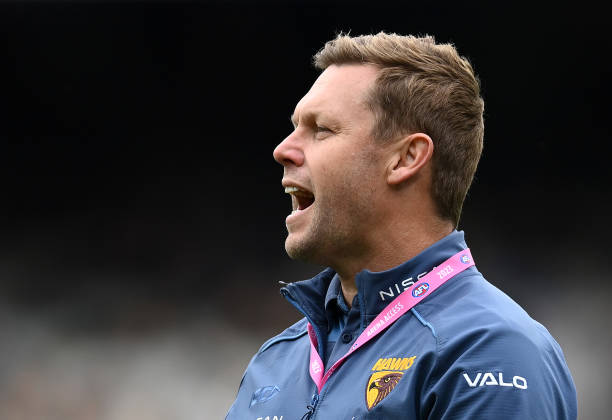 #25 Josh Ward
This was probably my hardest grade of the entire list because the stats say he was great but he made some glaring and blood boiling mistakes.
23 disposals at 78% efficiency with six tackles and six score involvements is very good reading and for a guy in his second season it makes it more impressive.
But simple things like the dropped mark from a kick in that led to a cat's goal, being chased down multiple times and the constant fumbling made it impossible to give him the fourth star his numbers may warrant.
#26 Fergus Greene
This is what I am going to call the CJ rating from last week, a five star first half mixed with a one star second half which makes a perfect three.
The Ferg was the word at half time with two goals, seven score involvements from seven disposals all at 100% efficiency, WHAT?!?
But unfortunately with the way the second half played out, Greene was all but invisible with one disposal after the break.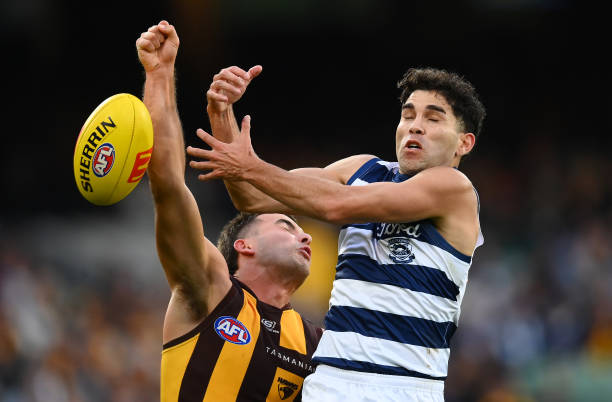 #28 Cam Mackenzie
It seems as though Sam wants to have Mackenzie in the team but is just a bit unsure of his best position as it sits right now.
His centre bounce attendances have consistently decreased since round one and he played in all three main areas of the ground today.
16 disposals, four tackles and three score involvements is still a decent day for a rookie, but I think for the sake of his own games he needs some consistency.
#31 Connor MacDonald
Extremely disappointing game for a young player that holds so much talent and looms as a key figure for the future of the club.
Just the 12 disposals at 58% efficiency, two marks and kicked three behinds without a goal in his half forward position.
When the game isn't going the team's way, it is hard for that position to get involved so is it worth tinkering with his role? It would be awful to see him rot away at half forward during big losses, dinting his confidence.
#32 Finn Maginness
I have said it before and I will say it again, we need to find a role for Maginness to settle into that isn't tagging because he looks lost when not following someone.
He started the game on Tyson Stengle and did an okay job, then went forward with no impact as well as going through the middle at times.
I can't see how the selection committee can justify selecting him next week, because the tag has been irrelevant in all three big losses this season.
#33 Tyler Brockman
We saw the really good side of the Tyler Brockman experience last week but unfortunately he could not replicate it at the MCG.
Only the five disposals and a behind before being subbed out in favour of Chad Wingard during the third quarter.
Does this one game mean Brockman isn't going to pan out? Absolutely not! It is merely a learning experience for a young player making his way in the game!
While this has not been the most pleasurable and positive review and the scars of the game will remain when reading through this, the Talking Hawks family need to stick together!
The plan is there and while we may have to endure some tough times in the short term, the long term will be worth it with success ingrained in the fabric of this football club