The festival of footy referred to as Gather Round was a raging success, but unfortunately it brought heartache to Hawks fans, with a two point loss to the Giants at Norwood.
The famous footy term "game of inches" was encapsulated at the end of this game, with Jarman Impey's flying shot falling just inches short of the goalline.
While this was a much more competitive and enjoyable game to watch, the end result stings and with every player rated there is some positives and negatives to be discussed.
So without further ado, here is every Hawk rated for the Gather Round clash with GWS.
#1 Harry Morrison
It was one of those almost days for H-Mo, who tried really hard as per usual, but just didn't have the touch of class required on the day. 
He had a respectable 18 disposals and four marks, but used the ball at just 56% and was one of a few Hawks who made poor decisions with ball in hand late in the game.
He is getting himself in the correct positions as a winger and playing the role well, but his disposal really let him down in this one.
#3 Jai Newcombe
This was the Duke game that we have all been waiting for after a fairly tame start to the 2023 season.
Newcombe was at his very best, with 31 disposals, six marks, five tackles, 10 score involvements and 10 clearances as well as a big third quarter goal. 
The new number three was powerful in the clinches, but showed his polish on the outside with clean kicking and THAT 35 metre handball to set up a Tyler Brockman goal!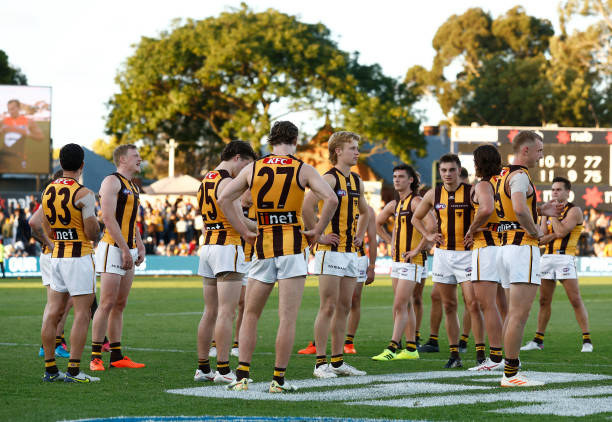 #4 Jarman Impey
It was far from Jarman's best game of the season, but he still played a role in the defensive group that is leading the fast paced style Sam Mitchell wants.
14 disposals, three marks and 323 metres gained is down on Impey's season averages so far, but when the ball gets in his hands good things happen.
He also could have been the hero of the game had there been another metre of power on that shot for goal in the last 30 seconds, but unfortunately it wasn't to be. 
#5 James Worpel
The Worpedo can consider himself brutally unlucky not to have an extra star next to his name, but Newcombes offensive impact got him the title of BOG, just!
Worpel was enormous as well in a midfield that dominated the game, having 35 disposals, seven tackles and eight clearances. 
The part of Worpel's game that has been critiqued in the past is his ball use and 13 turnovers and 54% disposal efficiency was the only issue with his performance.
#6 James Sicily
The captain had very much an up and down game in this one, with his best being crucial for his team but his worst; conceding goals. 
He had 20 disposals, six marks, six rebound 50's and kicked a goal in the third quarter thanks to some help from the umpires. 
Unfortunately he found himself in some situations that didn't suit his game at times and conceded some goals to key and small forwards throughout the game. 
According to Champion Data, Sicily is a top five rated defender in the competition, but is also top five for conceding goals to his direct opponents.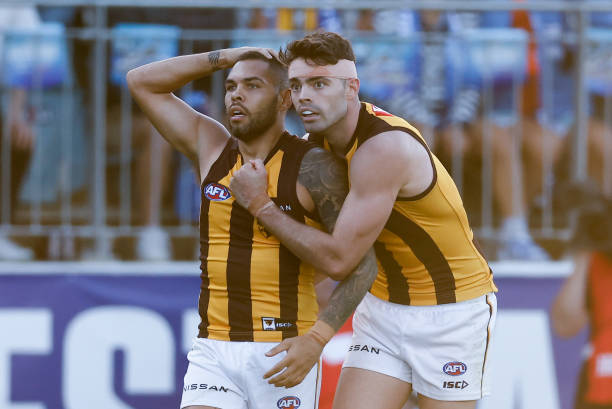 #7 Ned Reeves
This was definitely Reeves best performance of the season and it was fair to say he needed it with some external pressure around his place in the team.
He had the 32 hit-outs which is stock standard, but a lot of these were effective leading to clean breaks from stoppage.
On top of this, he doubled his mark total for the season by taking four, laid four tackles, had 10 disposals and created solid contests down the line all day. 
#8 Sam Frost
It has been the genuine Sam Frost experience early in 2023, with two zero star performances in Round One and Two, before somewhat bouncing back in Round Three and Four.
Unfortunately, we are back to the zero star side of things with the snowman and it was a tough watch for the entire day. 
The Giants took 12 marks inside 50, with Hogan and Himmelberg combining for six but it was the last quarter that made Hawks fans scratch their heads.
It seemed as though every time he touched the ball late in the game, Frost panicked and turned the ball over, an unacceptable performance from a leader of the club
#9 Changkuoth Jiath
I am not really sure where CJ's footy is at right now, but it isn't anywhere near where it was this time 12 months ago. 
Jiath's impact was minimal during the game, having only 11 disposals, two marks and two tackles as well as a measly 225 metres gained. 
For someone as athletically gifted as CJ is, who has shown in the past he can be a really good footballer, we aren't seeing it and Sam Mitchell needs to find a way to get him back to his best.
#10 Karl Amon
Outside of Will Day who unfortunately missed this match, I think Amon has been the Hawks most consistent player throughout the first five games of the season.
Amon played his wing role to perfection again, collecting 20 disposals, eight score involvements and kicking two goals himself. 
While the ball use by the boys in Brown and Gold has been inconsistent at best to start the season, Amon is as safe of a kick as you will find and continues to impress.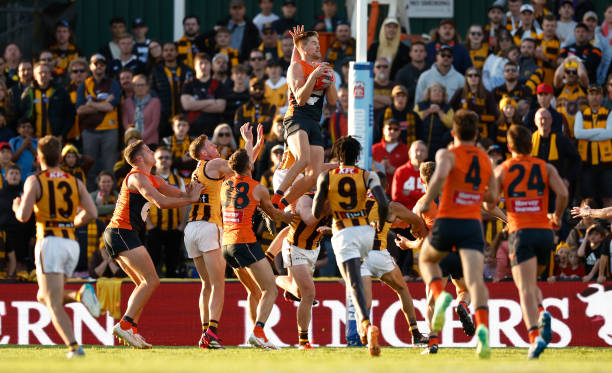 #11 Conor Nash
The Irishman has been impressive in patches this season, but this would have to be his best game as an AFL footballer to date.
Going into halftime with 14 disposals, he was given the job of slowing down on fire GWS midfielder Tom Green who was controlling the midfield battle. 
Nash went to another level in the second half, holding Green to 12 second half disposals, while having 17 himself on top of nine tackles. 
He is far from a finished project and can be rough around the edges with ball in hand, but my goodness this was an awesome effort.
#13 Dylan Moore
I think out of every Hawk to play this Gather Round game, the smaller dimensions of Norwood oval hurt Dylan Moore the most. 
By no means did he play a poor game with 23 disposals and a goal, but the small and narrow oval didn't allow Moore to be the link man going forward.
Only three marks, four score involvements and two inside 50's are well down on his usual production and I think the oval dimensions can be blamed. 
#15 Blake Hardwick
Was given the assignment of stopping Toby Greene, the main man for the Giants going forward and Greene ended up being one of the Giants best. 
Dimma had 18 disposals and 12 rebound 50's which are good numbers for sure, but Greene had 24 disposals and kicked 3 goals. 
Five years ago, the confidence in Hardwick to make Greene invisible would be strong, but has his role gone to a more offensive focus? 
#17 Lloyd Meek
Is Meek a prisoner of his role, playing as the main target up forward and having that as the main breaking down point in the Hawks game?
I will never be able to doubt his effort, with the big man again racking up six tackles and having 15 hit-outs, but he went without a mark for the entire game. 
He didn't come to the club to play as the only key forward, but unfortunately circumstances have forced him to be and it isn't working. 
#20 Chad Wingard
The Chad was looking like his usual dangerous self in the first half, with quality over quantity the name of his game. 
He had two scoring shots from his three disposals before coming off with a horrific injury, a lacerated tongue that required a trip to hospital. 
I don't really want to focus on the rating, as the sample size was small, but purely want to wish Chad all the best in his recovery courtesy of the Talking Hawks family!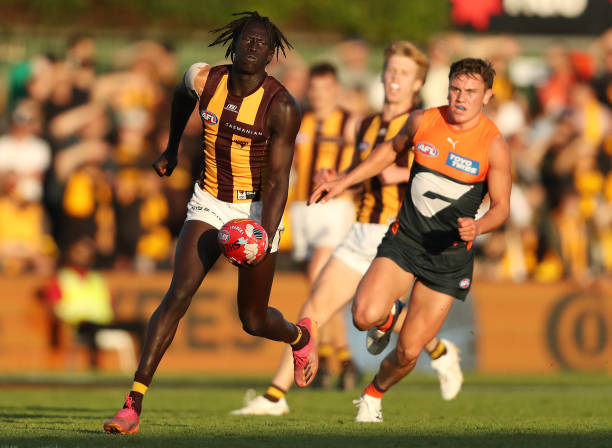 #22 Luke Breust
The most underrated small forward of the 21st century is always going to be dangerous and despite an early corky, Breust was just that. 
He had 14 disposals on the day, took four marks and had five score involvements while kicking a goal in the third quarter. 
Breust was uncharacteristically sloppy by foot, missing two targets in the scoring chain that was the Dylan Moore goal in the last quarter, but he is so important for this side.
#24 Denver Grainger-Barras
Coming in for his first game of the season, the Hawks fans were excited to see what the sixth overall pick in 2020 could produce. 
Whilst he showed flashes of the player worthy of a sixth overall pick, he is far from the finished product and struggled with the likes of Jesse Hogan and Harry Himmelberg.
He had nine disposals, two marks and statistically lost majority of his one on one contests.
The flashes were there and in this situation, that counts for something.
#25 Josh Ward
The definition of a three star performance by Josh Ward as he wasn't a standout amongst the very best, but played a really good role for the side. 
Spending a bit more of his time on the outside of the stoppage, Ward found space when there wasn't much, having 20 disposals and taking nine marks. 
The interesting stat with Ward when considering his stats, was he played only 85 of a possible 121 minutes of game time, spending more than a quarter on the bench.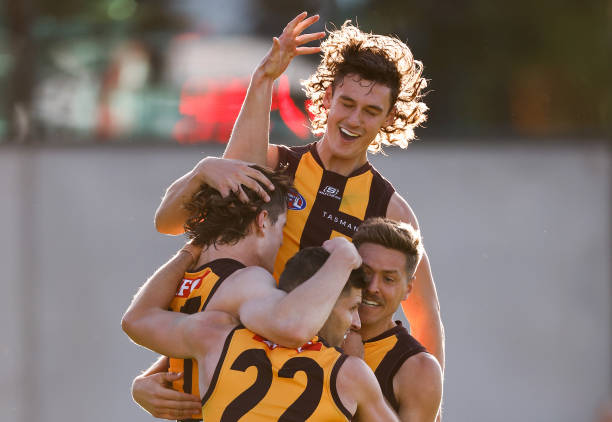 #26 Fergus Greene
I don't think I can speak higher of the job Fergus Greene did in this game, especially with the personnel group in the forward line.
Without a genuine key forward, Greene finds himself playing taller than his height and is doing a fantastic job of it, getting to dangerous positions on the ground.
He had nine disposals, seven marks, six score involvements and kicked three majors, but also got his hands dirty with three tackles.
#27 Ned Long
Long came in for his second game of AFL football, his first for the season and showed that he belongs at the level with the role he played.
He spent the majority of his time forward and created a fantastic contest in the air as well as laying six tackles which we knew he could do. 
He got the reward for his effort, kicking our first goal of the last quarter, but the one critique of Long is his ball use.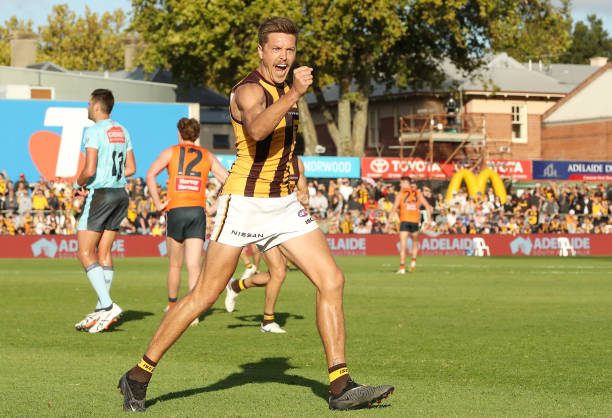 #28 Cam Mackenzie
It is always difficult to judge a player who came on halfway through a game as a sub, but for the amount of time spent on the ground Mackenzie was quiet.
Being activated into the game at halftime for the injured Chad Wingard, Mackenzie had just the five disposals, one mark and one tackle. 
Mackenzie is one of the many young Hawks who profile as future stars of the club and while this wasn't his best half of footy, we shouldn't expect it to be.
#31 Connor MacDonald
It was shaping to be another really poor rating for C-Mac going into the last quarter with only nine disposals and two marks while having no impact.
However, his last quarter showed Hawks fans exactly what he can do, having eight disposals, taking three marks, kicking a behind and directly assisting a goal. 
Playing the same role as Dylan Moore, I do think the dimensions of the ground didn't help Connor Mac either, but he did everything he could in the last quarter to get the Hawks home.
#33 Tyler Brockman
After being subbed out during the Easter Monday clash due to lack of impact on the game, Brockman would have been keen to perform better today.
He definitely had more of an impact in this game, having 16 disposals, five score involvements and kicking a fourth quarter goal. 
There is a sense of excitement when Brockman goes near the ball and while he isn't fully furnished yet, I hope Sam Mitchell persists with him moving forward.
#40 Seamus Mitchell
Finally making his AFL debut after a horror run with injury, I don't think Mitchell could have made a more positive impression with fans and coaches.
He had a few nervous moments early including a free kick against, but settled beautifully to finish with 17 disposals, four marks, three tackles and three rebounds.
But as i say, stats aren't everything and seeing Mitchell take the responsibility of kicking out late, hitting a risky target before getting it back and hitting another risky target, starting the chain leading to Tyler Brockman's goal was awesome!