The results haven't been the most flattering for the AFL side, with the lads sitting at 1-4 with a clash with Adelaide coming up tomorrow. 
However, the VFL side are currently 3-0 with an outstanding percentage and a clash with bottom placed side Coburg incoming and the VFLW side are 2-1-2 and sitting fifth, although this could drop with other results coming through over the weekend. 
So, how have the two teams from the lower comps gotten to be two of the best in the country? 
VFL 
Round 1 vs Sydney 
The Hawks ventured up before the Round 2 AFL game against the Swans to Tramway Oval across from the SCG and put in a clinical performance. 
A four goal opening term and five goal final quarter bookended a close game, with a one goal and two point lead at half and three-quarter time breaks respectively. 
Callum Brown (30 touches and five marks), Cal Porter (28 touches, 12 clearances and six tackles) and Ed Phillips (20 touches and 7 marks) led the way for the VFL boys. 
The goalkickers were non-AFL listed as well, with Jed Rule and Jaylon Thorpe kicking seven between them. 
The senior boys got in on the act as well, with Seamus Mitchell (30 touches and nine marks), Ned Long (29 touches, seven marks and six  tackles) and Cooper Stephens (23 touches) the better of the listed players. 
Round 2 – BYE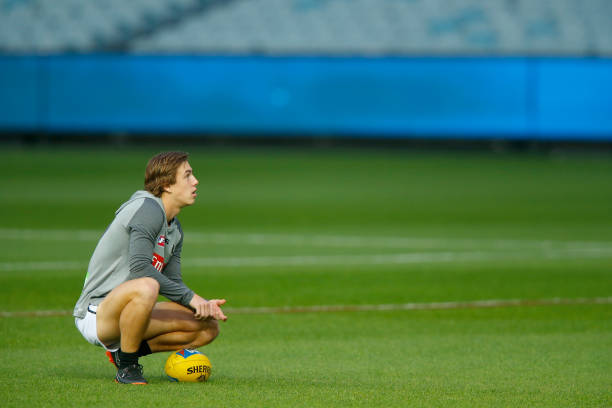 Round 3 vs Geelong 
The curtain raiser was the dream to the Easter Monday nightmare that took place in the seniors, with a nine goal win wiping the floor against the Cats VFL side. 
A seven goal third quarter broke the Cats back, with Jaylon Thorpe and Sam Butler (four each) the main catalysts for the scoreboard. 
Ed Phillips and Callum Brown were the best of the VFL lads, with a combined 61 disposals, 14 marks, 12 tackles and seven clearances. 
Lachie Bramble was the standout AFL listed player for the Hawks, with 30 disposals, four marks and four tackles in a dominant win.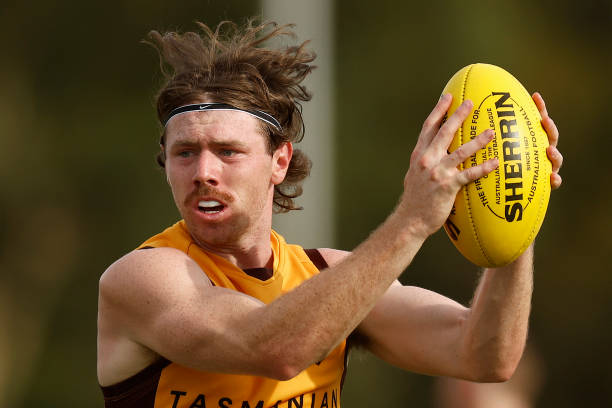 Round 4 vs Collingwood 
A dominant eight goal second quarter set up a Pies massacre, although it could have been even bigger if the lads kicked straight in the final quarter (1.6). 
Jaylon Thorpe was again the best goalkicker of the VFL listed players with three, with Cal Brown (38 touches, nine clearances and five tackles) and Cal Porter (33 touches, seven clearances and six tackles) the best. 
For the senior lads, Max Ramsden (four goals), Sam Butler (20 touches, three tackles), Lachie Bramble (23 touches, six tackles) and Josh Weddle (21 touches, four marks) were the standouts. 
Round 5 vs Coburg 
With a 29 point lead at three-quarter time, the game could've gone down a Brisbane Bears in the 90's path but the accelerator was well and truly pushed down on. 
7.3 to three behinds read the last quarter scoreline in a really even performance that saw a twelve goal win. 
For the VFL listed boys, Cal Brown (33 touches, 10 rebound 50's, eight marks and four inside 50's) and Damien Mascitti (23 touches, eight marks and seven rebound 50's) led the pack with the footy, along with Jaylon Thorpe kicking four more. 
For the AFL lads though, they had a feast.
Lachie Bramble | 37 disposals, 10 marks, six rebounds
Jack O'Sullivan | 27 disposals, seven marks, 1.3
Finn Maginness | 26 disposals, five tackles, five inside 50's
Josh Weddle | 25 disposals, 10 marks, six rebound 50's
Lloyd Meek | 16 disposals, five marks, 24 hitouts
Jacob Koschitzke | 14 touches, eight marks, 3.1
Sam Butler | 10 touches, three goals
Max Ramsden | 11 touches, 12 hitouts, six marks, 2.2
Summary
Sitting second on the ladder before Casey take on Richmond, coach Zane Littlejohn is doing an outstanding job balancing the senior listed players and the AFL listed boys.
Cal Brown and Cal Porter are leading the way with performance, Jaylon Thorpe is going beautifully up forward and Damien Mascitti is continuing his veteran leadership.
Box Hill's percentage of 192.2 is an outstanding start but the next challenge comes in a week's time, against Casey.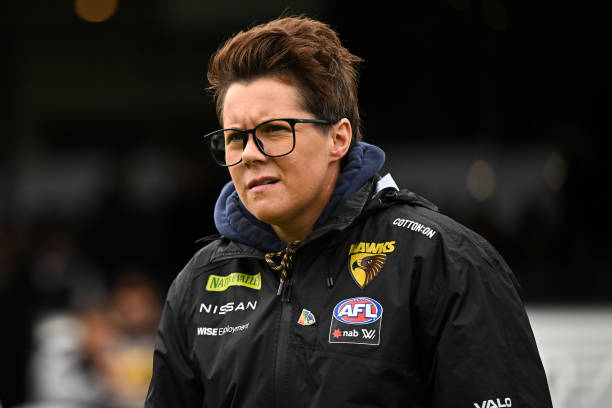 Liam's VFLW Wrap
Round 1 vs Essendon
A sense of unfinished business from last year's late season heartbreak was evident as a pretty new look Box Hill VFLW side, playing back under the Box Hill name with Hawthorn now in the AFLW, and the Hawks were fired up at the Hangar.
Despite dominating possession and territory, the Hawks were unable to create the big chances they needed to, and the game ended with the scores level (they were 4.3.27, we were 3.9.27).
Until she fractured her ribs late in the game, AFLW key forward Aine McDonagh was dangerous in the air and at ground level, with Sophie Locke also impressing up forward and pinch hitting in the middle.
From the VFLW list, Maddie Boyd was easily best on ground, clunking eight marks (most of which would have been contested) and kicking three goals.
The captain and two vice-captains were also superb, with the skipper, Nicole Garner, recording 23 disposals, as did one co-vice-captain Jordy Mifsud (who also laid 10 tackles), whilst the other co-vice-captain, Nadia von Bertouch, dominated defensively, intercepting everything.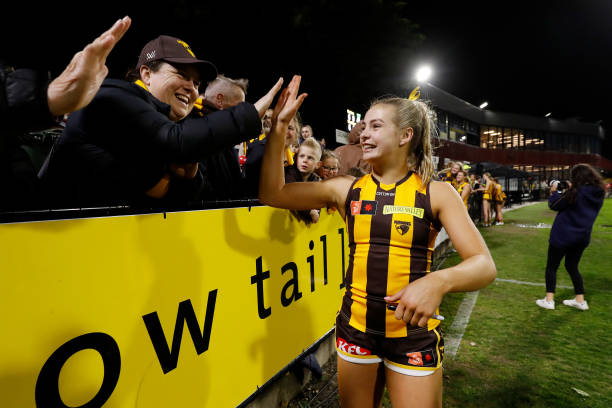 Round 2 vs Western Bulldogs
A hard fought and richly deserved one-point win at home against former Hawthorn AFLW players Dom Carbone (delisted) and Kate McCarthy (retired, now a playing assistant coach at the Dogs in the VFLW) followed a frustrating draw.
The Dogs came hard late but the Hawks held on, with AFLW young guns Zoe Barbakos (eight disposals, six tackles, and a goal), Charlotte Baskaran (23 disposals), and Sophie Locke (15 disposals, five tackles, and a goal) among the standouts.
Sarah Perkins also looked like she was playing with a different footy, the only player who could mark cleanly.
Of the VFLW players, the conditions didn't suit Maddie Boyd's marking but she nonetheless recorded 12 disposals, Jordy Mifsud dominated with 27 disposals, six tackles, and a goal, whilst Grace McRae recorded 22 disposals and six tackles.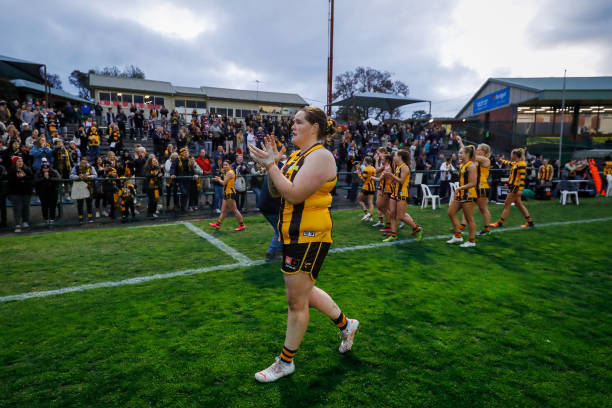 Round 3 vs Southern Saints
From one-point thrillers to Easter annihilations, the Hawks outclassed the Southern Saints at RSEA Park to run away with a 25-point win despite the absence of injured captain Nicole Garner, holding up well in the first and third terms into then wind, and dominating with the wind in the second and fourth quarters.
With 12 disposals and displaying an outstanding ability to read the play, Janet Baird was one of the best players on the ground, as was Sophie Locke, with our Seymour Sensation recording 14 disposals, 10 tackles, four marks, and two goals.
Fellow AFLW players Sarah Perkins (five tackles, three marks, two goals (including one from 75m)) and Tamara Smith (14 disposals and seven tackles) were also impressive.
From the VFLW crew, Maddie Boyd had 22 hitouts, 17 disposals, and nine marks, Grace Matser dominated the ruck and around the ground, whilst Nadia von Bertouch (17 disposals and nine marks), Grace McRae (18 disposals, eight tackles, and a goal), and Matilda Van Berkel in her first VFLW game (16 disposals and six tackles) also impressing).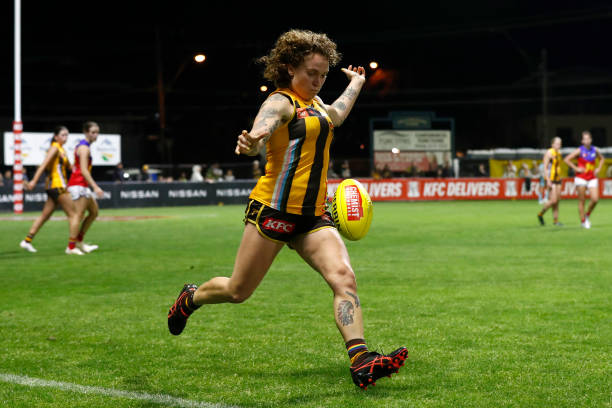 Round 4 vs Collingwood
What goes up must come down and the Hawks played pretty well against the Pies, although they were simply sharper and more clinical going forward, running away with a 24-point win as the VFLW headlined the double header at the City Oval.
In terms of AFLW players who impressed, Janet Baird had a strong first half, Tamara Smith recorded 10 disposals and 12 tackles, with Cath Brown recording 11 disposals and using her lethal left boot to take a lot of territory.
With Nicole Garner still unavailable and Maddie Boyd also injured, Jordy Mifsud stepped up with 13 tackles, 11 disposals, and a superb goal from a boundary line stoppage, Matilda Van Berkel recorded 13 disposals, and Nadia von Bertouch was again an intercepting and marking machine (business as usual for NvB).
Finally, a mention for the legend herself, Chantella Perera, the 2018 Lisa Hardeman medalist from Hawthorn's VFLW grand final win over the Cats, returned for her first VFLW game in two years, less than a year after giving birth.
Round 5 vs Port Melbourne
Last night, under the Friday night lights, the fourth placed Port Melbourne hosted the fifth placed Box Hill, with the two teams separated by just half a game heading into the clash.
Unfortunately, despite the return of skipper Nicole Garner, the Hawks suffered a 26-point defeat in a game where the difference between the sides was their efficiency going forward and the Borough's deadly transition game.
New AFLW draftee Kristy Stratton (14 disposals, five tackles, and a goal) shone, Lou Stephenson, Tam Smith, and Sophie Locke were more than solid, whilst Emily Everist returned to defence and never looked like losing a one-on-one contest.
From the VFLW crew, Jordy Mifsud again had her own ball with 20 disposals, although small defender Jess Trend with 15 disposals and a goal was probably our best player on the night, defending strongly as well as providing an attacking weapon on the counterattack.
Summary:
With several AFLW players making the most of the extra opportunity to grow, develop, and get games in, the Box Hill VFLW side has looked solid in 2023, with Cherie O'Neill having a talented squad playing exciting footy.
Some of our AFLW players have been exposed to different positions such as key defender Emily Everist (playing a lot on the wing), diminutive inside midfielder Tamara Smith (forward), and key forward Bridie Hipwell (midfield), as well as classy young midfielder Charlotte Baskaran playing a more inside role than she is used to. 
The VFLW is proving to be a great development opportunity for our young AFLW players, in preparation of their second season in the competition. 
With Janet Baird, Cath Brown, Sophie Locke, and Tamara Smith being particular standouts, the AFLW players have been great assets, although VFLW players like Maddie Boyd, Miz Kendall, Grace Matser, Grace McRae, Jordy Mifsud, and Nadia von Bertouch have been no less outstanding for the VFLW side.
Final Notes – Victorian Wheechair Football League 
The last club of the Hawks family, the wheelchair team kick start their season against Richmond on May 7. 
We at TH will be wishing them all of the best throughout their 2023 campaign and hoping the Hawks can bring in some silverware.