For the second week in a row, it is a genuine heartbreaker for the Hawks, with a three-point loss to the Adelaide Crows in Tasmania. 
The effort given by the Hawks from the first to the last siren can't be questioned, with a season-high 88 tackles highlighting that.
However, the late-game decision-making and execution left a bit to be desired and ended up costing Hawthorn a win we thoroughly deserved. 
While there have been some brutal reviews, this was a fantastic team effort and I can see this being one of the more positive reviews we have seen.
#1 Harry Morrison
A well-rounded and balanced wing performance by Harry Morrison in this one, playing the width of UTAS the way we know he can.
18 disposals, six marks, six tackles and four score involvements from the Hawks' number one, not standing out but playing a role.
He is one of those valuable role players who may not shine on the stat sheet, but he does the job that is required.
#3 Jai Newcombe
If there was half a star available, I would be giving it to Jai because this may be the closest BOG battle we will see this season. 
The Duke had 26 disposals, eight marks, 10 tackles and eight clearances in what was a fantastic display, his second big game in a row and find the form we were expecting. 
Newcombe came into the AFL as the tackle guy and while he has evolved his game, he still knows how to lay a big hit and we love it. 
#4 Jarman Impey
I genuinely loved this guy's game today and he is having the same sort of season we saw him have in 2019 before his ACL rupture against Geelong. 
Not only did he have 22 disposals and seven marks, but he was also brilliant defensively during one on one contests and showcased that signature bounce off halfback. 
He is somewhat maligned throughout the Hawthorn fanbase, but in my opinion, Impey has been one of our most influential players this season.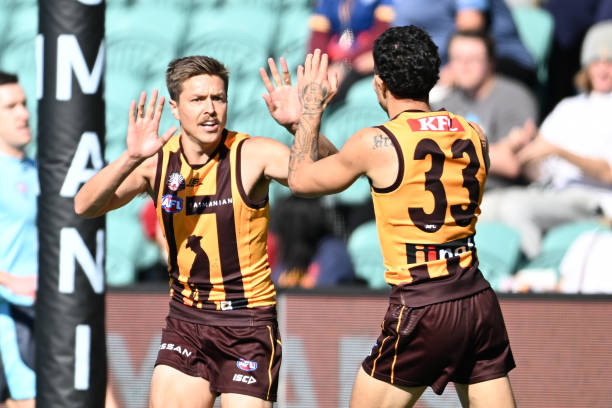 #5 James Worpel
The Worpedo was on track for a five-star game at halftime, looking like the dominant midfielder on the ground through two quarters, but somewhat fading out in the second half. 
Overall, he had 21 disposals, seven tackles, eight clearances and kicked a goal. They are good stats but 14 of those disposals, five of those tackles, seven of those clearances and that goal came in the first half. 
It was a good game and the connection with Reeves was evident throughout the game, but I just couldn't find that fourth star. 
#6 James Sicily
Now I know what you might be thinking, how can the stats that Sicily put up warrant a three-star rating? 
Despite having 27 disposals and 11 marks, he had 12 turnovers throughout the game and gave away crucial free kicks. 
He did have 10 rebound 50's and took some towering intercept marks, but he also made a poor judgment error, playing on late in the game, resulting in one of Adelaide's two late game-winning goals.
#7 Ned Reeves
While Reeves didn't light up the stat sheet, this was a really good game from him, showcasing his ruck craft. 
We know he is more likely to win the hit outs every week, but the way he put them to the advantage of his midfielders was a massive reason the game stayed as close as it did.
He also kicked a very clever goal out of the ruck and laid four tackles which we love, but still only one mark! That is the big question around his game. 
#8 Sam Frost
This one is the toughest grade I think I have done so far this season and one that I went back and forth on internally. 
Frost had 13 disposals and took seven marks, most of them being intercept marks which we know are valuable. 
However, his direct opponent Taylor Walker ended up being the difference with 20 disposals and four goals while Frost was also the one who lost the marking contest that led to the winning Adelaide goal.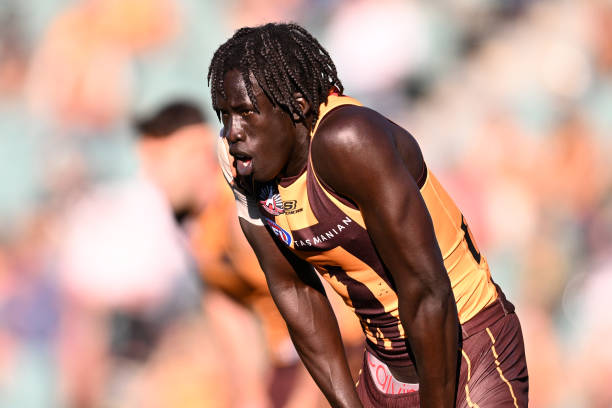 #9 Changkuoth Jiath
It was another day of ups and downs for the man in number nine, but I think the positive flashes outweighed the disappointing moments.
CJ had 21 disposals, six rebound 50's and a healthy seven one percenters, a sign that he is focusing on the defensive side first. 
The awesome offensive flare showed up at times in the last quarter and while sometimes it looks like his legs are moving faster than his brain, he makes things happen.
#10 Karl Amon
The big money man just keeps delivering in season 2023 and he showed why he is worthy of every dollar yet again today.
22 disposals, five marks, five tackles, four inside 50's, four rebound 50's, a goal, two direct goal assists and four other score involvements. 
I don't think you can play a more well-balanced game as a wingman than that and when a target needs to be hit, Karl is the man to do it. 
#11 Conor Nash
The first five-star effort from the big Irishman and what a game it was, arguably outdoing his career-best game from last week against the Giants. 
28 disposals, seven tackles, seven clearances, seven inside 50's, five score involvements, a goal and the greatest rib-breaking tackle we have seen since Jarryd Roughead in the 2014 grand final. 
Nash went head to head with Rory Laird, one of the best midfielders of the last two years and more than held his own, his mix of hardness and skill from a 198cm midfielder a true AFL "unicorn".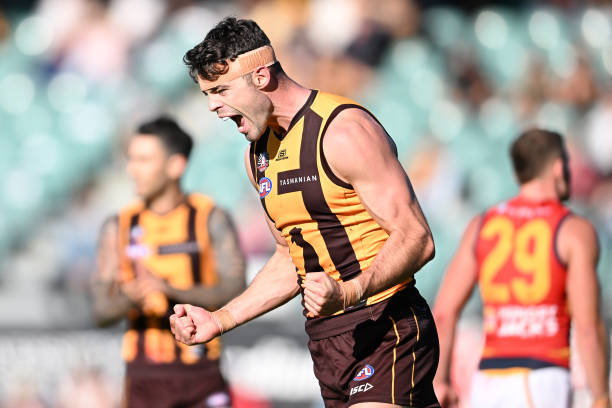 #13 Dylan Moore
This was the definition of an almost game for Dylan Moore, an afternoon that could have been so great but didn't work out that way.
He had 19 disposals, four marks, six tackles and six score involvements but only used the ball at 53% and missed both of his shots at goal ones that he would usually convert. 
The Crows put a lot of time into Moore, recognising his importance to the Hawthorn forward half, limiting his space and holding him to only five kicks on the day. 
#14 Jack Scrimshaw
Came on as the sub yesterday at half time due to an unfortunate concussion to Max Lynch and while not dominating the numbers, he made an impact straight away.
Lacking any tall target with the Lynch injury, Scrimshaw was thrown forward and from his first contest, let his intention be known by bringing the ball to the ground in a massive pack. 
He did this all day and was awesome in this foreign role, having seven disposals, taking two marks and kicking a goal.
#15 Blake Hardwick
This star rating represents the fact that it is not all about the stats when looking at each player and watching the game matters. 
Hardwick's numbers look more than fine, with 22 disposals and eight rebound 50's on the day, but six of his 16 kicks were from kicking in and he made some key mistakes.
I flagged last week that it looks like Hardwick has potentially lost the role as the stopper and it was confirmed today, with Seamus Mitchell getting the Izak Rankine assignment. 
#18 Max Lynch 
If you read the article last week for the GWS game, this rating is the same as the Chad Wingard rating last week.
Due to the early injury, it is nearly impossible for me to dissect and grade Lynch's performance and in light of the situation I don't want to.
What I do want to do is wish Max all the best in his recovery from another concussion, the whole Talking Hawks family is right behind you!
#20 Chad Wingard
Firstly, let me praise Chad's courage and toughness, playing just seven days after suffering a lacerated tongue!!!
His performance was pretty good as well, gathering 16 disposals and four score involvements, but it was the five tackles and 17 pressure acts that impressed me.
The defensive side of the game hasn't always been Chad's strength, but he showed up huge in spots today which displays a serious buy-in to what the club is doing.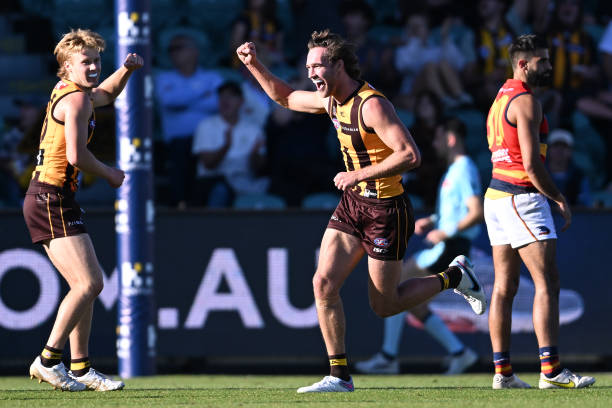 #22 Luke Breust 
Without delving deep into the stats and going through Punky's career numbers, I can't remember a game where things have gone worse for him. 
He was kept in check for the whole game, having only seven disposals throughout, but his two misses in front of goal hurt.
The first he took advantage of a Dylan Moore free kick and missed unpressured and the second was a snap from the pocket he would kick 99 times out of 100. 
#24 Denver Grainger-Barras
Nearly a star for every disposal he had for Denver, but it isn't always about the numbers when looking at the role each player was given.
Three disposals and one mark don't read well I understand, but when defending Darcy Fogarty and Riley Thilthorpe, DGB did a more than acceptable job. 
Yes, Fogarty kicked three goals but Frost and Sicily were his direct opponents at those times.
#26 Fergus Greene
The Ferg is well and truly the word at the moment because it seems like everything this man touches turns to genuine gold. 
He only had the 10 disposals again, not breaking Champion Data's systems anytime soon, but he took six marks, kicked three goals and had six other score involvements.
Nine of his ten disposals either resulted in his own goal or a score from one of his teammates, the definition of efficiency.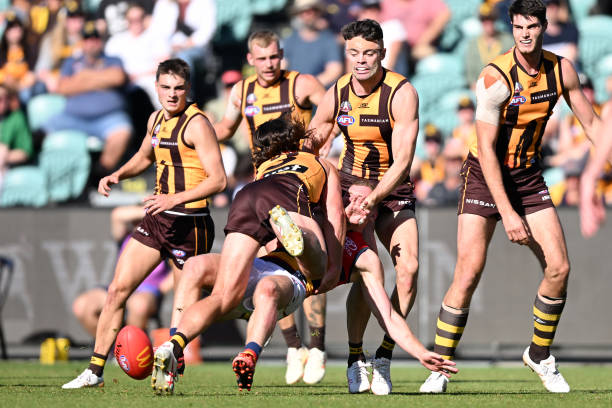 #27 Ned Long
Another case of the numbers can sometimes lie because Long's top statistics as seen on the AFL website don't represent his impact on the game.
He had nine disposals and only one kick, but his seven tackles and 21 pressure acts were huge and I haven't even mentioned his role yet.
After the Lynch injury, the backup ruck task was piled on the shoulders of the 194cm Ned Long, who not only created a contest against the Adelaide rucks, his defensive efforts assisted the midfielders around him. 
#28 Cam Mackenzie
After a half of rest as the medical sub last week, Mackenzie was thrust straight back into the fire this week, attending the first centre bounce of the game.
Whilst that midfield role didn't continue throughout the day, Mackenzie showed those flashes including an unbelievable forward-50 entry to his fellow C-Mac that resulted in a goal.
15 disposals, four tackles and five score involvements is a fine game for a young man, but the flashes are what stand out.
#31 Connor MacDonald
I thought this was MacDonald's best game of the season so far and while not getting the midfield minutes fellow Talking Hawks alum Timmy wants, he is getting involved.
15 disposals, six tackles, five score involvements and a goal for Connor in what was a well-balanced game for someone playing his role as the high half-forward.
We all know that he is going to be a very good player for the Hawks going forward and while he makes some frustrating mistakes, he is getting better by the week.
#33 Tyler Brockman
Similarly to what I said about Fergus Greene earlier, good things happen when this guy touches the ball and man is it exciting!
He only had 10 disposals, but as the main custodian of the number 33 proved, it doesn't matter!
With two goals, one direct goal assist at the start of the game and four other score involvements, Brockman is dangerous and reliable around the goals.
#40 Seamus Mitchell
Coming into this week, Izak Rankine has his name pencilled into the forward pocket spot opposite Charlie Cameron in the rolling All-Australian team. 
Enter the second gamer!
Getting the big job, Mitchell was awesome, holding Rankine to 14 disposals and one goal, while having 15 disposals, six marks and three tackles himself. 
He showed that he has what it takes offensively last week with THAT kick in play, but this week he showed he belongs in the AFL as a purely defensive player.