By Liam McAlary 
After the most unusual footy season in any of our memories (at all levels), the 2020 AFL Draft was unlike any other, with many of the top talents having been barely seen all season due to a variety of pandemic induced shutdowns across Australia, especially in Victoria.  
There were no National Championships and we went into the draft with less idea about players than any time in recent memory.
When the Hawks took Seamus Mitchell, an electric speedster from Bendigo who was viewed as a dangerous small forward with blinding speed, many experts were baffled by the selection, with the Hawks using Pick 29 on a player tipped by some to be a late pick or even a rookie if he were unlucky. 
However, we had a need for speed and he certainly ticked that box, leaving Hawks' fans intrigued. 
Arriving in a moon boot with a serious ankle injury, he faced a delayed start to his first elite pre-season and then more injuries to his ankle, shoulder, and hamstring hampered his ability to string meaningful footy together over the next two seasons. 
He hardly played in another disrupted 2021 season, playing just two VFL games.
Whilst he showed some flashes at Box Hill in a new role as a defender in 2022, injuries continued to plague the youngster and he couldn't build any real momentum, which threatened his career. 
Mitchell only played seven games in that 2022 season (some on a minutes restriction), none of which came after Round 10 and his career was at a crossroads. 
If he were delisted at the end of his first contract in 2022, most Hawks' fans would have lamented the use of Pick 29 on a prospect who may have been available much later but would not have batted an eyelid if he were to be added to the long list of young athletes drafted to the AFL but never playing a game.
Hawthorn, however, had other plans.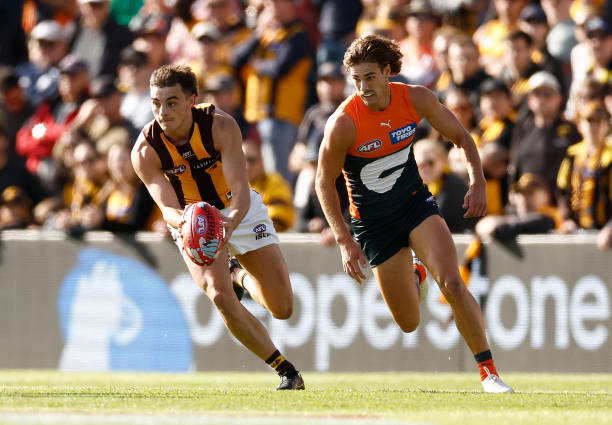 With list spots tight and the need to replenish, the club did delist the luckless Mitchell but committed to redrafting him as a rookie, offering him a lifeline that confused some. 
Coming into the season, it was clear Mitchell was playing for his career and with more pre-season injuries disrupting his preparation, some Hawthorn fans had probably given up on the youngster, with ambivalence probably being the most common feeling towards him among the fanbase. 
However, the club's faith is now paying off in a big, big way.  
In the first two VFL games of the season, Mitchell averaged 22 disposals and 6.5 marks off half back, as the Hawks recorded a pair of dominant wins. 
With the AFL side starting to show signs but needing more, the Hawks decided to hand Mitchell his long awaited debut in Gather Round, with Seamus debuting in the heartbreaking loss against the Giants.
With Jack Scrimshaw's body under an injury cloud and Changkuoth Jiath under a form cloud, it was the perfect time to indoctrinate the youngster and see what he really had. 
The 20-year-old was far from overwhelmed by the occasion, recording 17 disposals and four marks as he was afforded a degree of freedom to settle in and patrolled the right hand side of the field with great aplomb, earning a four star rating from Smithy.
Such is the faith he has already built at the club, he was charged with the responsibility of taking two kickouts in his first game, one of which was absolutely magnificent and started a glorious chain ending in a Tyler Brockman goal. 
Hawks' fans had gone from ambivalent about the youngster playing for his career to intrigued as to what they had just seen; we wanted to see more.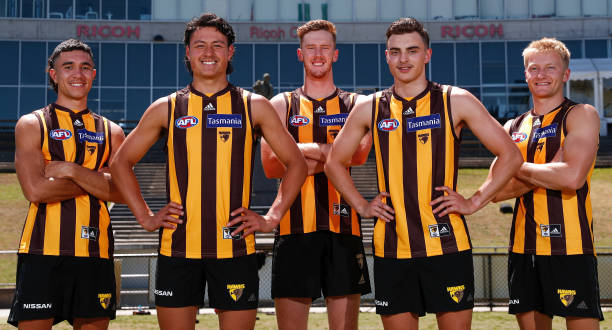 It's fair to say, more we did see.
In his second game, he got the better of superstar Izak Rankine (who kicked just the one goal from a shot you will live with conceding) defensively, whilst also recording 15 disposals at 87% (for 291 metres gained, mind you), six marks, and another four stars from Smithy. 
The next week, he received four more stars for his performance (from Daz this time), this time starting on Cody Weightman and up until Mitchell's bizarre substitution, Weightman had the same impact and statline that I recorded from the couch in Canberra. 
Mitchell also helped facilitate our offensive game with 11 disposals at 73%, despite only spending 47% of the game on the ground.
If the game ended at half time, Daz and I thought he was probably the player who would have got the five stars, so impressive was the third gamer. 
Three games in and the injury riddled small forward who we delisted after just nine games for Box Hill across two seasons was showing that he was a speedy small defender worth more than the spot on the rookie list he currently holds.
Mitchell was solid against the Dockers, breaking even with their star forward Michael Walters in an intriguing battle, playing a more than serviceable game recording 14 disposals at 86% and four marks, whilst keeping Walters to 14 disposals (six inside 50) and a goal. 
The best, however, was yet to come.
In a game against the 2021 premiers and one of the top contenders for the 2023 flag, and playing against one of the most dynamic and electric small forwards in the competition, Seamus Mitchell not only got the best of Kysaiah Pickett, but was the best Hawk on the ground, deservedly getting the five stars from Smithy.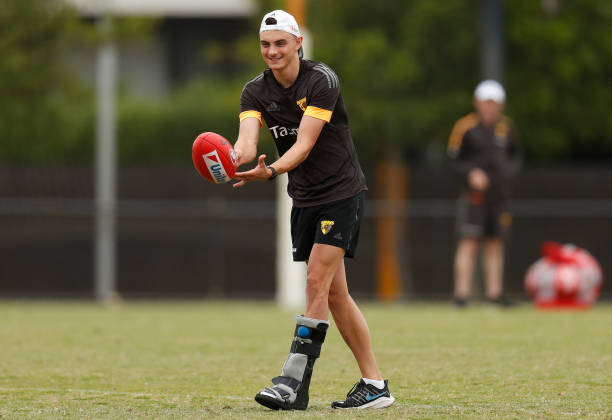 Mitchell kept Pickett to just five kicks (an equal season low and down from his season average of nine), 12 disposals (one inside 30 and four in his defensive half), and just one goal (where Mitchell was not even matched up with him at the time).
Pickett needed to attend seven centre bounces to try and get more involved in the game, as the pace he normally uses to break away from opponents was ineffective against a player who, despite a litany of injuries, at least matches him (and probably beats him) for pace.
Mitchell, however, did more than just keep Pickett from having much influence as a forward, with the 20-year-old speedstar offering a real offensive option, proving flash, spark, and dare off half back, which although didn't always work (see the turnover for the Pickett goal, ironically), surely sold Hawks fans that we have a real talent on our hands, now that his body looks right.
His 27 disposals was bettered only by Day, recording 15 kicks, nine rebounds, eight marks, seven intercepts, and a tackle, using the ball respectably at 63%. 
He also took 383 metres from his 27 disposals as he continually drove us forward from half back and earned Smithy's five stars for best on ground, as well as MVP from the Hawthorn social media team. 
Let's also not forget his intelligent rushing of a behind late in the third quarter, before immediately hitting a low 55m dart onto James Sicily's chest from the kickout.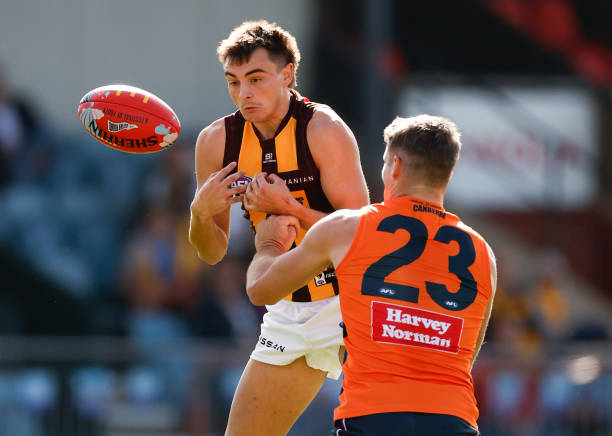 After four very good games, Mitchell announced himself to the footy world and Hawthorn fans aren't so ambivalent about Mitchell now, but are instead excited, thrilled, and eager to see more, but no longer out of curiosity.
Now, we want to see more because he is becoming a vital part of our backline and has been a real shining light in a season where we have been searching for things to be positive and optimistic about. 
Mitchell may be far from the finished product, especially in terms of pressure and tackling, don't forget that six months ago, he could've been delisted without Hawks fans really knowing he was there. 
In terms of his pressure, he has shown immense two way ability as a small defender only five games into his career at the highest level, shutting down elite small forwards defensively, whilst fast becoming a crucial link player coming out of defence with both his ball use and electric pace. 
So, come gather round, people, wherever you roam, because Seamus Mitchell has arrived and Hawthorn supporters are ready to annoint him as a player of the future and a bona fide best 22 player.