Another week has passed us with another disappointing performance by the Hawks, going down by 54 points at the MCG.
It wasn't all bad, with a promising third quarter giving us fans a glimpse of what is to come in the future. 
The result however, still reads poorly and a 1-8 start to the year isn't indicative of this football club's reputation, even in trying times. 
With Melbourne being one of the best teams in the AFL coming into the game, it was always going to be a tall task, but some players handled the occasion better than others.
So without further ado, it is time to rate every Hawk who played against the Demons.
#1 Harry Morrison
Was viewed by the Talking Hawks tribe as one of the more hard done by Hawks in my review last week, but unfortunately for H-Mo fans, it isn't improving here.
He had 16 disposals at 62% efficiency, took four marks and was unable to lay a tackle, whilst Melbourne wingers Ed Langdon and Lachie Hunter ran riot.
With players like Josh Ward and Connor MacDonald seemingly on the outer in terms of midfield minutes, I would prefer to see them given a chance in this role compared to Morrison.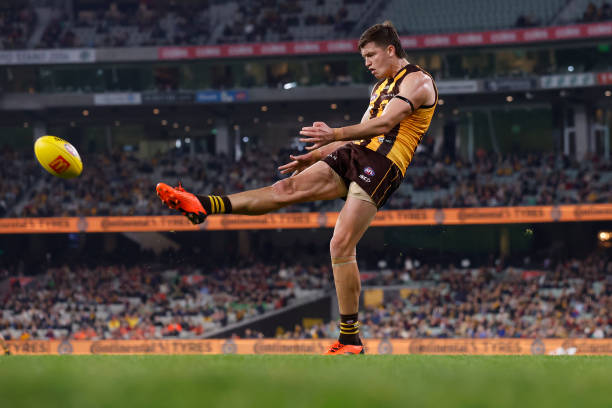 #2 Mitch Lewis
If there is one person I feel the most sympathy for in this team at the moment, it is this guy.
The quality and quantity of ball coming his way in the first half specifically was not AFL standard and his personal statistics suffered.
He only had six disposals, took three marks and kicked a goal, but he is the only forward at the moment who looks dangerous enough to kick a winning score.
#3 Jai Newcombe
Was one of two horses in the race for the five stars in my opinion and was pretty unlucky to miss out.
The Duke was awesome, having 26 disposals at 85% efficiency, with 12 of them contested, four marks, four tackles and kicked a fourth quarter goal.
While there are some glaring disappointments throughout the season so far, the way Newcombe is using the ball should be a massive tick.
#4 Jarman Impey
One of the more maligned players on the list at the moment, but I have always considered Impey a barometer and this game was a prime example of that.
During the first half when things were bleak, he was nowhere to be seen, with only three disposals and one tackle.
After half time when the team lifted, Impey lifted, having 14 second half disposals, two marks, three tackles and helped free up the ball movement.
#5 James Worpel ⭐ ⭐ ⭐
Another week that I have to mark down the Worpedo based off his ball use by foot.
Going head-to-head with the best midfield in the competition, he gave his all, having 26 disposals, five tackles and six clearances which are great numbers.
However, at one point in the second quarter he was kicking the ball at 17% efficiency and while his disposal efficiency number got up to 62% it remains the glaring hole in his game.
#6 James Sicily ⭐ ⭐ ⭐ ⭐
I was extremely strong with my disappointment in Sicily's performance last week against Fremantle, but he stood up and bounced back today.
The captain had 27 disposals at a ridiculous 96% disposal efficiency, as well as taking eight marks and nine rebound 50's.
When Sis kicks the footy out from a point, it enters the Hawks' forward 50 just under 51% of the time. 
The next highest at the Hawks are Blake Hardwick and Seamus Mitchell, at under 9%, 
Give him the ball. 
The heat was seriously on in the first half and Sicily stood tall throughout.
#8 Sam Frost ⭐
Congratulations to the Snowman on registering his 150th AFL game in this one, an achievement that deserves to be applauded.
Looking at his game though and it wasn't overly impressive, with only the 12 disposals and three marks, while dropping simple marks and missing simple targets.
I have been a harsh critic of Frost throughout the season, but considering where the team is at, I would prefer giving a younger defender the exposure to improve.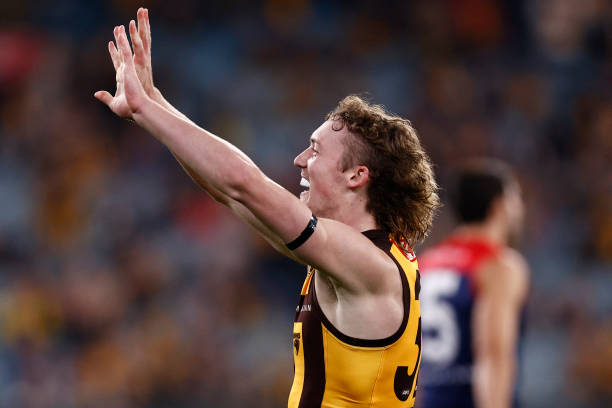 #9 Changkuoth Jiath ⭐
After coming back into the side this week, CJ was everywhere to start the game after starting on a wing.
But he never really seemed right to me and ended up leaving the game late with an injury, different to the one that kept him at home last week.
He had 16 disposals at 62% efficiency while playing in a new role but was very sloppy and poor with ball in hand.
#10 Karl Amon ⭐ ⭐
This was far from Amon's best performance for the year, being near on invisible for the first half of the game.
He ended the game with 19 disposals, three marks and two tackles which are numbers that don't rival his previous performances.
The thing with Amon is his ball use and with the lack of quality shown by teammates in this game, he stands out when he gets the ball because he is one of few who rarely wastes it.
#11 Conor Nash ⭐ ⭐
When talking with some of the fellow Talking Hawks contributors after the game, my jaw nearly hit the floor when someone said Nash had 27 disposals.
The leading star getter so far in 2023 had the quietest 27 disposal game you will see while going head to head with a best on ground Clayton Oliver.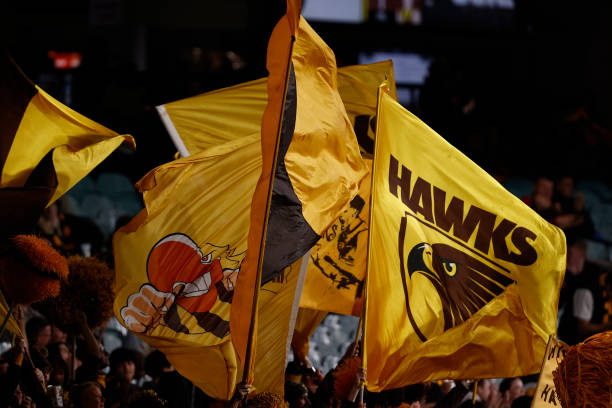 20 of his 27 disposals were handballs and he had no where near the production he has had this season, with only four tackles and four clearances.
#12 Will Day ⭐ ⭐ ⭐
When speaking earlier about the positives to find throughout the season, the most obvious of them is the emergence of Will Day.
While he isn't fighting for the five star rating in this game, he still had 29 disposals, three tackles and five clearances.
His ball use throughout stopped him from getting that fourth star and despite the forwards not helping him at times, he could have been better by foot.
#13 Dylan Moore ⭐
Confidence is such an important thing in football and when there is a player seriously lacking that confidence, it becomes obvious through their play.
Dylan Moore is a fantastic example of this, with another uncharacteristic performance from him today with 19 disposals at 63% and four tackles without a score.
A piece of play during the first quarter summed up his play at the moment, choosing not to move forward and take the game on but instead force contact and play for a high free kick.
Which didn't work and he was pinged.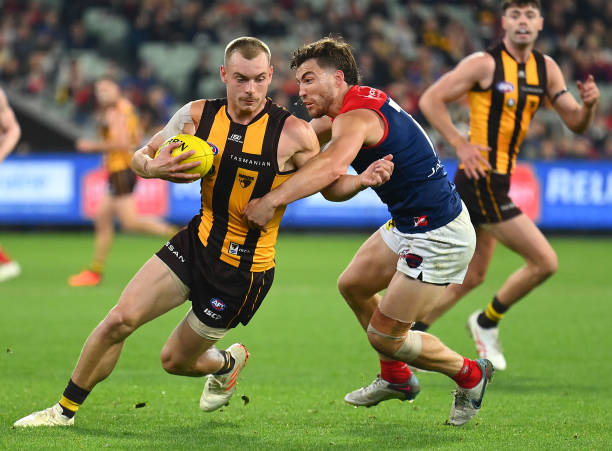 #15 Blake Hardwick ⭐ ⭐ ⭐
There seems to always be one player every week who I really struggle to evaluate and this week, Hardwick is the man.
He was one of two Hawks not to lose a one-on-one contest throughout the entire game and he did some fantastic defensive work.
While he had 24 disposals, his kicking is letting him down with multiple kick outs intercepted and some uncharacteristic mistakes.
#16 Lachie Bramble ⭐ ⭐ ⭐
Started as the sub for this game but with the unfortunate corked thigh suffered by James Blanck early in the game, Bramble got an extended run at it.
He made the most of his time on the G, having 14 disposals and four marks in his 60 minutes of game time, as well as having three inside 50's.
While he was active and involved in the game, Bramble is enrolled at the James Worpel School of Losing Stars for Poor Kicking, with making some poor errors by foot.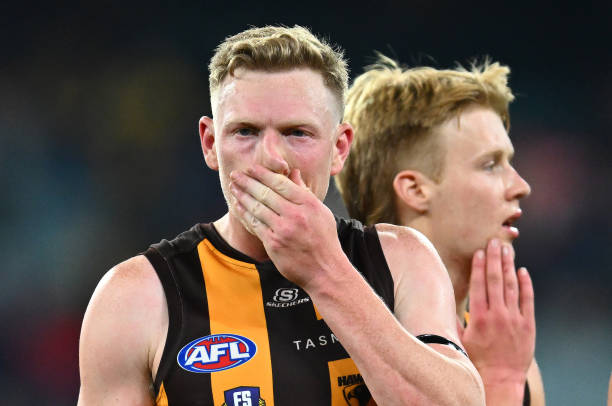 #17 Lloyd Meek ⭐ ⭐ ⭐ ⭐
With the news of Ned Reeves being a late withdrawal from this game, my heart sank for Lloyd Meek having to take on the Gawndy combination on his own.
Three hours later, I couldn't have been prouder of the guy, battling like a warrior all day and having more hitouts than both Gawn and Grundy on the day!
He also had 14 disposals, laid six tackles and kicked a goal while resting down forward in a game that could give him the confidence needed to be a consistent ruck in this league.
#20 Chad Wingard
The feeling is definitely going to shift going from Meek to Wingard because this was as disappointing as it gets from a senior player.
Wingard was a genuine non-factor in this game, drawing heavy criticism from commentators calling the game and Hawks fans from all across social media.
Only the eight disposals, four marks and one of the most egregious missed goals we will see, the club cannot afford to leave out a youngster to allow Tyler Brockman back into the side, it has to be Wingard.
#22 Luke Breust ⭐ ⭐
From one senior small forward who isn't performing anywhere near his best to another.
It looks as though Punky has lost a step or two and while I concede he hasn't been assisted by his teammates up the field and the umpires at times, I call it game-by- game.
What Punky did have going for him compared to Wingard is he hit the scoreboard and kicked a goal as well as applying some defensive pressure by having four tackles.
#23 Jacob Koschitzke ⭐
Koschitzke was the late inclusion to replace the aforementioned Ned Reeves and I think it was obvious that it was purely out of necessity that he was back at AFL level.
He battled away during his time in the ruck and considering the tall task that is taking on Gawn and Grundy, he deserves at least one star for his efforts.
But i think it is clear that Koschitzke is not an AFL standard forward, missing his only shot at goal horribly and taking only one mark for the entire game.
#28 Cam Mackenzie ⭐ ⭐
Like a few of his other teammates on the day, this was a tale of two halves for young Frenchie.
Only the three disposals in the first half and zero impact on the game but he came to life in the second half, showing the flashes needed to keep Hawks fans interested!
Getting more centre bounce appearances as the game went on, Mackenzie had 11 disposals in the second half and kicked his first AFL goal, a really cool moment on a dark day.
#30 Sam Butler ⭐ ⭐ ⭐
I am going to make this statement very clear right now; if Sam Butler is omitted before Chad Wingard I will be bitterly disappointed.
Butler looked lively in this game, having 14 disposals, taking four marks, five score involvements and kicked a goal while missing another.
Was he perfect?
Of course not, he is still rough around the edges but I would much prefer to see flashes from the youth while learning on the job than senior players contributing nothing.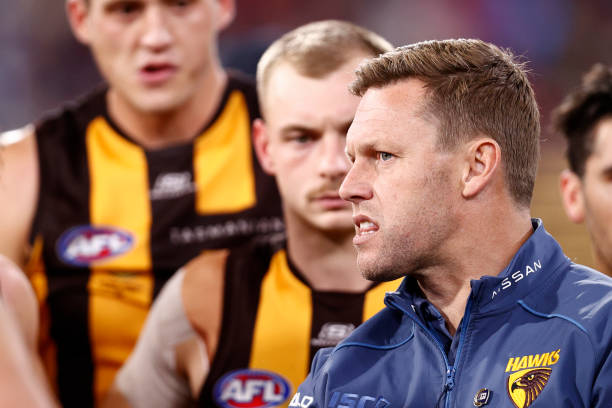 #36 James Blanck
It is really hard not to feel sorry for this guy at the moment because he just can't take a trick with his body.
Back into the AFL mix to play a specific role, he suffered a nasty corked thigh in the first quarter that he just couldn't shake before being subbed out in the second quarter.
He is still only 22 so he has got time, but it is tough to see someone battle with injury so much.
#37 Josh Weddle ⭐ ⭐ ⭐
Another young player who just got better as the game went on, these are the things we need to look for throughout the season.
With the injury to Blanck early, Weddle was forced to fill in as a key defender for the first half until Harry Petty was subbed out at half time.
This was when Weddle got freed up, standing out in the third quarter with six disposals, two marks and his first ever AFL goal!
He finished the game with 15 disposals, four marks and that goal and showed some great dash and run from the back half.
#40 Seamus Mitchell ⭐ ⭐ ⭐ ⭐ ⭐
The famous saying "you save your best to last" couldn't be more appropriate for this week!
What a performance by a man in his fifth game, having 27 disposals, eight marks and nine rebound 50's while making numerous impressive defensive efforts.
Like Butler earlier, he isn't perfect yet but we can't expect him to be in game five! 
What we need to appreciate is the willingness to take the game on, defend for his life and never give up, playing through to the final siren.
You have won a lot of fans over your first four games Seamus, but anyone who wasn't converted yet has to be after this performance.