Turns out, you can't play only one acceptable quarter of football in the AFL and get a good result!
It was an extremely disappointing day at the MCG, with the Hawks going down by an even ten goals to the Blues in front of 66 thousand fans.
After a flat performance in the sunshine state last week, optimism was high for a bounceback, but it never came.
With some poor performances on show, this will not be the most positive of reviews!
#1 Harry Morrison ⭐ ⭐ ⭐
With the late inclusion of the injured Jarman Impey, Morrison did a pretty decent job with his lifeline, playing in a busy back half.
24 disposals, six marks and five rebound 50's read his day, playing the same role Impey has excelled in over the last month.
I am still far from convinced Morrison is the best 22-calibre player in a finals quality team but all he can do is perform when the opportunity arises.
#2 Mitch Lewis ⭐
This is a tough one and I do feel bad for Mitch considering the circumstances of the game, but when push comes to shove, he was soundly beaten by Jacob Weitering.
Nine disposals, two marks and two goals for the Hawk spearhead on a day when many factors were against him.
A combination of wet weather, poor ball movement, an All-Australian opponent and a rolled ankle in the second quarter stopped Lewis from being anywhere close to his best.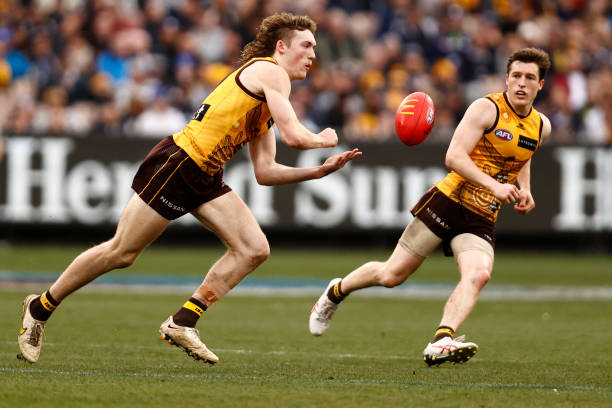 #3 Jai Newcombe ⭐ ⭐ ⭐ ⭐
Not the biggest day on the stat sheet for the man we call Duke, but the impact he had with the ball in hand was felt on the ground.
21 disposals and three marks aren't great numbers but the seven tackles, five score involvements and five clearances made for a well-rounded game.
While it would have been nicer to see some midfield domination considering the ruck situation (to be discussed), Newcombe still battled away.
#5 James Worpel ⭐ ⭐ ⭐ ⭐
Pretty unlucky not to be given the fifth star as I thought he had a fantastic day, but the Worpedo took flight again at the G.
He had 26 disposals, six tackles, five score involvements and four clearances while using the ball at 77% and being clean with the football in hand while others fumbled.
The Hawks only good quarter of the day was with big thanks to Worpel, with ten of his disposals and three of his clearances coming in that quarter.
#7 Ned Reeves
For a ruckman who is seriously struggling for form, a tandem of Lewis Young and Jack Silvagni should serve as the perfect opportunity to play themselves into form.
Reeves could not even do this.
He was tactically subbed out of the game for lack of impact, seemingly tapping it to Carlton midfielders whenever he got his hands on the ball in the contest.
It has been a long time since I have been so disappointed in an individual player's performance, I don't see a way Reeves can keep his spot for next week.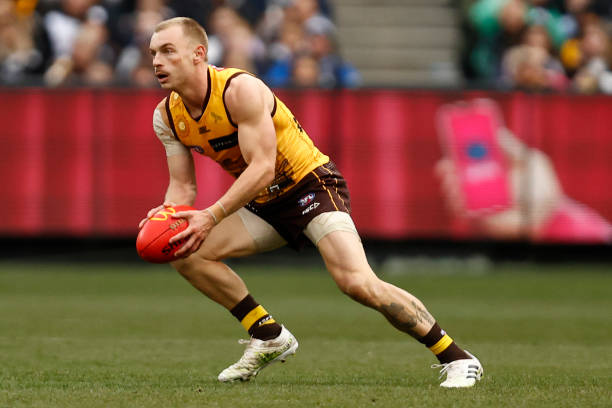 #8 Sam Frost
Speaking of someone who I can't see keeping their spot, this was another Frost disaster in a long list of them this season.
He wasn't trusted to play on either of the big two early and once moved onto Curnow, got routinely beaten while offering nothing on the offensive side of the ball.
He had nine disposals, and three free kicks against and his missed handball to Seamus Mitchell in the third quarter summarised his season; not even close to standard.
#10 Karl Amon ⭐ ⭐
For someone who has been so consistent throughout the year, Amon has had maybe his two worst weeks back-to-back post-bye.
He did have 19 disposals, six marks and five inside 50's but used the ball at just 63% and made some uncharacteristic mistakes by foot.
I have fully declared myself the CEO of his fan club and campaigned for him to be a Hawk since 2018, so here is your proof that this is an objective exercise!
#11 Conor Nash ⭐
For a player who was seriously challenging to win the Talking Hawks player review MVP, Nash's chances may have taken a hit today.
He was well down in all categories, having just 18 disposals, four tackles and one clearance while giving away three free kicks and disposing at just 56% efficiency.
On a day primed for him to go head to head with Cripps, it was a disappointing effort, with Cripps having 28 disposals, six tackles and ten score involvements.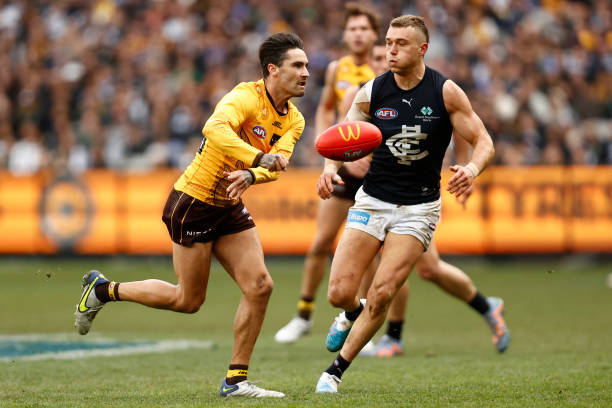 #12 Will Day ⭐ ⭐ ⭐
Coming off his five-star performance last week, it was a funny kind of day for the man named Day.
He was a non-factor early but worked into the game to finish with 26 disposals, five marks, seven inside 50's and five rebound 50's.
Day is the kind of player who stands out when you watch him, he is a classy player who makes the difficult look easy, but I don't think it was his best game.
#13 Dylan Moore ⭐ ⭐
Two starts as captain of the club and two disappointing losses are not the way Moore pictured things going without James Sicily.
It was a quiet day individually as well for the stand-in skipper with 15 disposals, six score involvements, five tackles and no score.
He isn't alone in terms of not meeting expectations post-bye, but it hasn't been fantastic from the usually productive forward.
#14 Jack Scrimshaw ⭐ ⭐ ⭐
On a day when not a lot of defenders are getting a glowing review, I thought Scrimshaw was just about the pick of the bunch.
It was a well-rounded performance with 18 disposals at 78%, five marks, five tackles, four rebound 50's and six one-percenters.
While on the back foot early, a lot of his disposals were sideways but once the game opened up, we saw Scrimshaw's ball use on show through the middle of the ground.
#15 Blake Hardwick ⭐
Talk about polar opposite weeks for a player, with Hardwick following up his career-best 38 disposal game on the Gold Coast with a flat one.
Just the 12 disposals at 67% and five tackles for Dimma while struggling to pin down an opponent, with out-of-form Carlton smalls finding ways to get on the scoreboard.
Hardwick spent an unusually large amount of time on the bench in this game so I am wondering whether he had a niggle, because this wasn't the usual Dimma.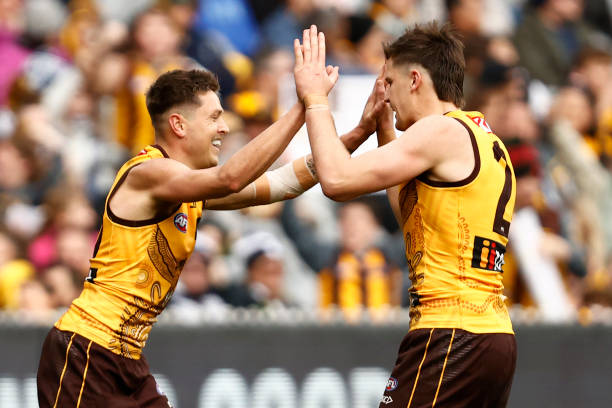 #17 Lloyd Meek ⭐
In the second half of a ruck duo that I could not be more disappointed in, Meek could not make the most of his size and struggled to stamp himself.
Just the seven disposals while winning just over half of his ruck contests (32 hit outs from 61 contests) against a combination of Silvagni and Young.
Meek gets a star purely because he led the Hawks with seven tackles, something that should be applauded as a ruckman, but my goodness, it wasn't a good day to be a Hawthorn ruck!
#20 Chad Wingard ⭐ ⭐
Chad received another chance at the senior level after some uninspiring VFL form, but he looked dangerous at times!
He had 18 disposals, five marks and six inside 50's but used the ball at just 56% and made some mistakes in key moments.
The brilliance he has always possessed was on show when setting up our first goal with a kick off the ground, but he will not be a part of our next premiership side so how many more games does he get?
#22 Luke Breust ⭐ ⭐
Another week and another star per-goal performance from Punky!
He was quiet again throughout the game, with Nic Newman doing a good job, limiting him to ten disposals, three marks and two goals.
The legendary small forward will always find a way to get on the scoreboard and we love him for it!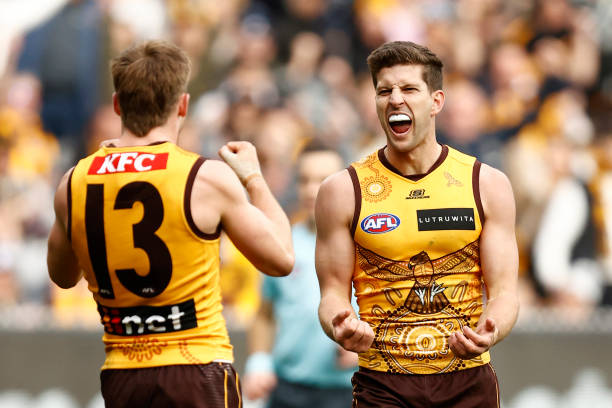 #25 Josh Ward ⭐ ⭐ ⭐ ⭐ ⭐
Playing his first senior game in almost two months, Ward made it look like he hadn't missed a beat, waltzing straight into a BOG performance.
Ward was our leading disposal getter with 28, to go along with six marks and four clearances while using the ball at 82% efficiency.
On a day where a lot of his teammates were inconsistent, Ward played four really good quarters of football and while not being the flashiest player on the ground, I valued him as our best for his class and consistency.
#26 Fergus Greene ⭐ ⭐ ⭐
From one player who performed in their first game back to another, Greene did as much as he could on what was a difficult day to be a forward.
He had 11 disposals, took six marks, kicked two goals and had seven score involvements including two direct goal assists.
Greene displayed his footy smarts and positioning, taking our first four marks inside 50 for the game and keeping the season-long theme of most things he touches turn to gold.
Can't help but think what was to come if he dobbed his first two shots.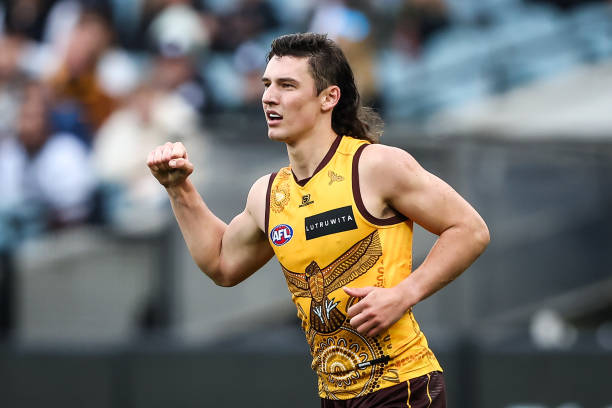 #30 Sam Butler
A tough one for me as I am a really big fan of Butler and think he has a big future, but this is a game-by-game article and this wasn't good.
He had only nine disposals at 56% efficiency, two score involvements and 66 metres gained, having essentially no impact on the game whatsoever.
The thing I like about Butler is his defensive pressure and he showed it by having four tackles, but you need to have more than one thing going in the AFL.
#31 Connor MacDonald ⭐ ⭐
Coming back to the site of his first five-star game, my hopes were high for another C-MAC masterclass.
Unfortunately, it wasn't a performance of that quality, but he was dangerous with his 15 disposals, six marks, four tackles and fourth-quarter goal.
If MacDonald could have converted his two first-quarter chances at goal, things may be different, but it is good to see him dangerous around the forward 50.
#32 Finn Maginness ⭐
Fair to say I was surprised to see his name in the senior side for this week, despite it being only as the sub.
Once brought into the game, Maginness was able to have the five disposals and three marks, however, two of the five disposals were turnovers. 
Similarly to Morrison early in the piece, I don't see Maginness as a best 22 player in a finals quality side, so where do we go from here?
#36 James Blanck
I was quite complimentary of Blanck last week and his ability to keep Ben King in check, but this week this does not apply.
He had the job on Harry McKay and was soundly beaten with McKay kicking 2 goals, three behinds and having 19 disposals and eight marks.
Blanck has never been a high disposal man, so his three disposals and one mark aren't a shock, but I expected a tighter contest between him and McKay.
#37 Josh Weddle ⭐ ⭐ ⭐️
The faith the coaching staff have in this kid was highlighted early, with Weddle going straight to Charlie Curnow, but that didn't quite go to plan.
Once he was freed up and allowed to play his natural game, Weddle had 23 disposals, five marks, and five score involvements and showed his dash.
He did use the ball at just 61%, had seven turnovers and was soundly beaten by Curnow early, but this kid has serious resilience.
#40 Seamus Mitchell ⭐ ⭐ ⭐ ⭐
I seriously love this kid and become more impressed with his development by the week, with this game being no exception.
He only had 17 disposals which isn't a massive number, but each one was class, showing his confidence in his ability with tough kicks on his wrong side deep in the defensive half.
Mitchell also took six marks, laid four tackles and was the most assured defender in the side, proving himself to be one of the best success stories out of season 2023.