We at Talking Hawks want to give Hawthorn fans an experience. Subscribe to Talking Hawks for exclusive fan experiences and get involved in livestreams with Hawthorn players
From 41 points down as the clock ticked over to eleven minutes into the second quarter, to hitting the lead with thirteen minutes left, the Hawks threw everything at Carlton after having the kitchen sink thrown at them and nearly got the job done. 
With a 2-1 record and a point differential of +83 to start the season, the Hawks are off to a great start in 2022 but the question always remains; how well did each player go on the day? 
Harry Morrison
In a contract year, Morrison's start to the season could not have started any better and he continued his form of composure in and out of the contest, along with deadly accurate football usage.
Finished with 19 touches at 84% efficiency, 16 pressure acts, 367 metres gained, four rebounds, three tackles and an incredible check-side goal that if it wasn't for Ed Langdon, might be GOTY at this point. 
Mitch Lewis
After an eight goal in a fortnight start to the season, Lewis was well held in big parts of the game by Lewis Young. 
Kicked a goal, took four marks from six touches but didn't have a huge influence on the game from 90% time on ground.
Tom Mitchell
Titch ran with Blues skipper Patrick Cripps for the first quarter and it didn't work, with the Blues skipper (and leader in the Brownlow at this point) amassing eight touches, three tackles and a goal. 
However, once he found the footy and got more into the contest, Mitchell was more than serviceable, having 23 touches at 70%, twelve contested possessions, 23 pressure acts and seven score involvements.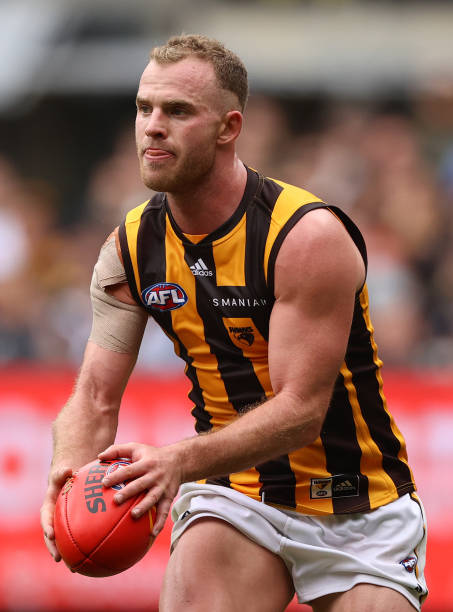 James Worpel
Was the best outing for the Worpedo in 2022, with some trademark 'don't argue's, a good split of midfield and forward ball and 420 metres gained from 23 disposals it's nothing to sneeze at. 
However, 52% disposal efficiency, seven turnovers and only centre clearance from 13 attendances knocks a star off. 
Also, stop going for the footy one handed please Jimmy! 
James Sicily
The midfield has as much to blame as anyone after the first quarter massacre as the Blues walked the ball from stoppage inside 50 and there wasn't a whole lot the back six could do, but three quarters later, any fan fear about this defensive group was dispelled over the last three quarters. 
Sicily himself collected 24 disposals (including 18 kicks), ten intercepts, nine marks, five rebounds and 74% disposal efficiency which is all fantastic, but a back six who conceded just four goals in the last  92 minutes of football? Priceless. 
Sam Frost
Kept the Coleman Medallist to eleven touches, five marks and two scoring shots. Ask any fan if they'd have taken that at the start and a resounding 'absolutely!' would've been the sweeping response. 
Had nine intercepts, took seven marks, went at 92% efficiency and six one-percenters. Frosty's start to the year has gone massively under the radar but not at Talking Hawks.
Changkuoth Jiath
This bloke is next level. With the poor start that began the game by all the Hawks, CJ had five touches at 100% efficiency in that first quarter and went to another level throughout the rest of the game. 
Finished with 27 touches, a dozen pressure acts, eleven rebounds, ten intercepts, eight contested touches, 82% efficiency and 588 metres gained. 
Was consistently the Hawks' best player all day.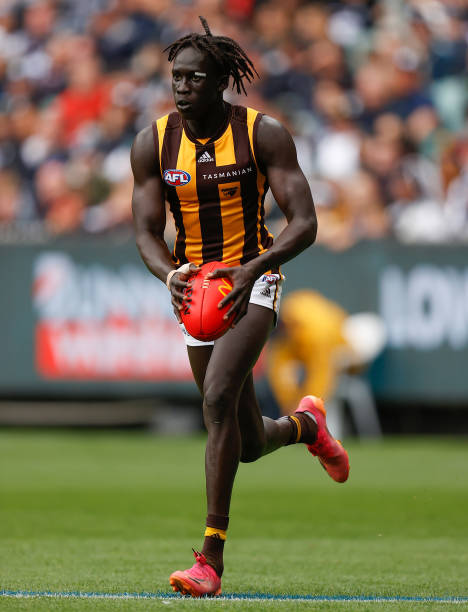 Jaeger O'Meara
With 17 touches, JOM had just 60 metres gained! 
Does the question need to be asked if he's hurt coming into the year, and why don't the Hawks have the depth to cover him? 
Twenty pressure acts is a huge tick, laid four tackles, had three clearances but went at 65% efficiency. Seems harsh in a one point loss but the midfield isn't the strong link in the Hawks chain and the senior players need to take that responsibility. 
Conor Nash
The Irishman is becoming a 'Mr Fix It' for the Hawks as he ran with Ollie Wines at times last week, played on a wing last week at times and he played three different roles on Sunday. 
Nash ran with Sam Walsh at a lot of early centre bounces, also went onto a wing in the second quarter and in the second half, played as the second ruckman winning eight hit-outs against Tom De Koning! 
Nash also picked up 328 metres gained, 18 pressure acts, five tackles, four inside 50's and even had three intercept possessions. 
Will Day
In his first game back for the Hawks, Day looked ultra comfortable and like he belongs, as every Hawk fan knew he would. 
Playing mostly in defence, Day had 22 disposals, nine intercepts, seven marks, six contested possessions, four rebounds, 18 pressure acts and three tackles. 
Looked like he went down with cramp late in the game but with a seven day break, should take his place against the Saints. 
Dylan Moore
There should be zero argument about Champion Data calling Moore 'elite' as a general forward as it's not out of the question to say Moore is the current All-Australian half forward flank. 
Add in his 21 disposal, 2.1, nine marks, eight contested possessions, a 50/50 exact split of his possessions, 71% efficiency, 11 pressure acts, six score involvements and five inside 50's. 
This guy isn't a future star. He's one now. 
Jack Scrimshaw N/A 
Looks like Scrimshaw's time on the sidelines with a scapula injury that crippled him in the first quarter could be shorter than first thought. 
Get better soon Jack and can't wait to see you out on the park again.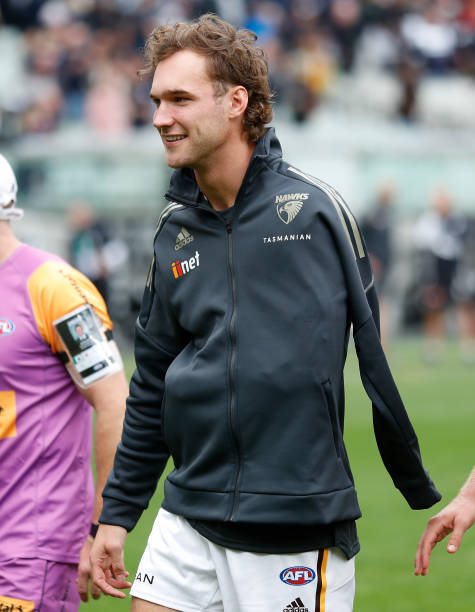 Blake Hardwick
Whilst an 18 disposal, 78% efficiency, seven rebound, six mark, 414 metres gained performance might be worthy of a lot of applause, Jack Silvagni was the Blues most dangerous opponent in the last quarter and Dimma was his opponent. 
Silvagni took four marks amongst six disposals and kicked the final goal of the game, amongst 3.1 and eleven marks. Whilst Dimma did good things with the ball, things didn't go his way without the ball. 
Daniel Howe
Came on as the sub and played nearly 65% game time and picked up 15 touches, including four marks, tackles, intercepts and score involvements. 
However, in the last six minutes, two missed handballs evolved into turnovers and when you're only one perfect piece of play away from arguably the best or second best comeback since the Waverley 1999 game (2008 vs North also in the chat), it needed to go right. 
Jack Gunston
Jack's last quarter was fantastic, don't get us wrong. 
Kicked two goals, including the one that gave the Hawks the lead in the last quarter but for three quarters before that, the 2020 best and fairest wasn't at his best. 
Outside of the last thirty minutes, Jack had four disposals and took one mark and barely went off the ground. Jacob Weitering got the better of him for long periods but he took his chances when he got them. 
Chad Wingard
Two games in the sleeves and two lesser showings in the longer garment from Chad. 
Laid four tackles which was pleasing and worked really hard to get on the end of a goal in a span of the Hawks getting back into the contest, but a man of his talents having twelve disposals in a big game isn't the production the Hawks are looking for. 
Luke Breust
Punky made Lachie Plowman look silly on a few occasions in the front half and he threatened to blow the game wide open at times.  He looked ultra dangerous on many occasions. 
Had 14 disposals, six score involvements, six inside 50's, took three marks, laid three tackles and kicked two goals in a good performance for the star forward pocket.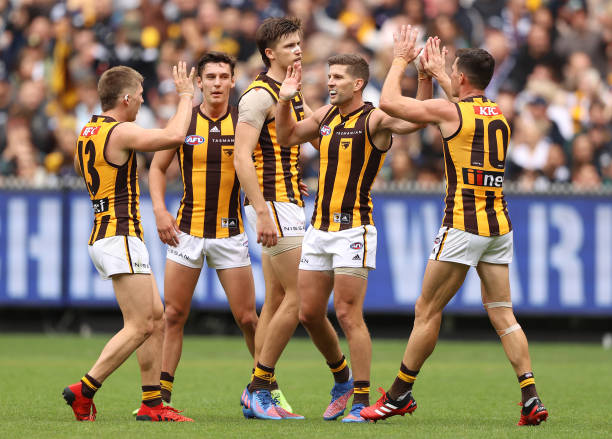 Denver Grainger-Barras
Was given a genuine bath in the first quarter and a half by Charlie Curnow, but part of the blame needs to go to the lack of midfield pressure. 
Denver conceded just two marks in the second half, one goal and zero stats in the last quarter to Curnow in a performance that when Denver becomes the star we know he will be, it's the last 60 minutes that will be remembered as the launching pad. 
Josh Ward
Another 20 disposal game from the endurance machine, finishing the game with five touches at 80% efficiency. 
However, his second quarter is what's needed to be talked about. After the one turnover in the first quarter, the No.7 Pick had twelve disposals at 75% efficiency, an even 50/50 split for his disposals and covered the ground magnificently. 
Watching Ward's development throughout the year is going to be ultra exciting.
Connor MacDonald
This kid's impact per possession can never go understated because everything he does is just the right decision. 
Sure, execution mightn't be the greatest strength yet (47% efficiency) but the footy IQ is outstanding and all reports are glowing about how good this kid is as a person too. 
Kicked 1.2 and could've been all three, is always in the right spot and had countless unrewarded runs before he kicked his goal and his finish was a testament to his effort. 
Finn Maginness
No one covered more ground than Finn on the ground so how does all that run equate to ten disposals, two tackles and two one-percenters? 
Now, twenty pressure acts is encouraging and it's likely that Jarman Impey comes back for Jack Scrimshaw but the opportunities of a breakout game are going to be dwindling. 
Ned Reeves
Former Hawk Marc Pittonet came into the game in ripping form and Tom De Koning is one of the flavours of the month, yet Reeves neither won or lost his position. 
The ruck contests weren't a massive factor and the midfield group were really poor early into the contest and 23 hitouts from 50 contests is solid, but hit-outs to advantage are low.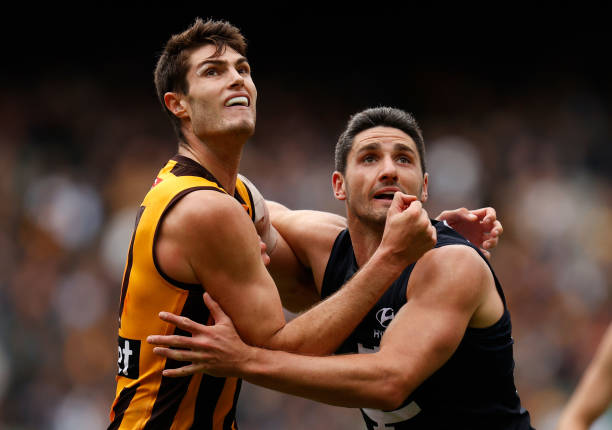 Jai Newcombe
Another well rounded performance by the Newk with six marks, six tackles, 22 pressure acts, 480 metres gained, five inside 50's, four clearances and plenty of gut busting runs. 
However, like the rest of the midfield group, a star is off due to a lack of midfield fight and the Newk had 11 CBA's and no centre clearances. Certainly wasn't the Hawks' worst and has had a strong start to 2022. 
Check the Game Review Round 3 Blues v Hawks