We at Talking Hawks want to give Hawthorn fans an experience. Subscribe to Talking Hawks for exclusive fan experiences and get involved in livestreams with Hawthorn players
After a gutsy performance and almost getting over the line in a great game with Carlton, the Hawks meet another team that many would see as a side close to them in terms of development of skill. 
The Saints are also 2-1 and in really good form at the moment with a 64-0 run late against Richmond, and young forward Max King ripped both of the Tigers and Dockers games apart, meaning the Hawks have got quite a challenge on their hands. 
Last Time We Played
Round 7, 2021 
Hawks – 9.5.59 
Saints – 19.14.128 
The Hawks found plenty of the footy at Marvel Stadium but couldn't stop the Saints from getting on top in the first quarter, with them kicking 5.4 to the Hawks' scoreless opening. 
Luke Breust and Jacob Koschitzke kicked two goals each, whilst Tom Mitchell had 38 possessions. James Worpel had 33 touches, eleven clearances and seven tackles in the 69 point loss.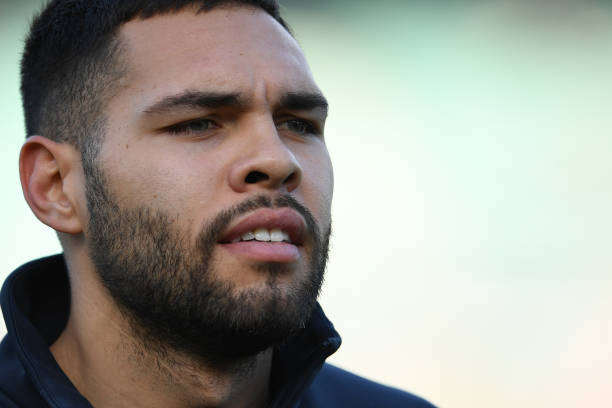 Team News
Squad announced on Thursday, 7th April, 2022 at 6:25pm
In – Jarman Impey, Daniel Howe 
Out – Chad Wingard (calf), Finn Maginess 
Reports emerged Wingard's calf was stepped on late in the Blues game and he's been not in the greatest form so he will sit out and after three games, the Hawks have sent Finn back to the VFL to get his form back.
From the four in's, Jarman Impey looks the most likely replacement, as his pace, finishing ability and pressure are going to be good to see on Sunday, after Impey got through two and a half quarters for Box Hill. 
Daniel Howe was the sub last week but has been named on a wing and can cover the ground pretty well. Can also rotate through the centre bounce as well if the Saints pace is getting on top.
How the Hawks win
As much credit as the Saints do deserve for their ability to go on a 64-0 run, they did trail by 25 points in the third quarter and there was a reason for that; pressure. 
The Saints off half back struggled throughout the first half in clearing the ball out of their defensive half and the Tigers pounced, with smalls Matthew Parker and Shai Bolton kicking three, Liam Baker, Jason Castagna and Hugo Ralphsmith kicking goals. 
The Hawks have got their own platoon of smalls, even without Chad Wingard, in Dylan Moore, Luke Breust, Jai Newcombe, Jarman Impey and Connor MacDonald. The Hawks have got plenty of options that can hurt the likes of Brad Hill, Ben Paton, Jimmy Webster and Callum Wilkie, who aren't strong defenders.
The Hawks defence should also be able to rebound really well, given the Saints only laid four tackles inside their forward 50 last week. Granted, a reason for that is they seemed to score every time they went in there in the last 50 minutes, but they weren't tackling when they were 25 points down either. 
The boys from Waverley Park are the No.1 rebound 50 team and given the saints average 50 inside 50's a game, 50 chances to score sounds like a happy result, even if it's a 1:2.5 conversion (20 scoring shots). Anything better is a bonus. 
The Saints are ninth in the league for tackles, so a Sam Mitchell led side who wants to take on gutsy disposals through the corridor, not doing it under a heap of pressure could see large scores in short bursts as we punish the Saints on the turnover. 
The Saints are a top eight team for conceding contested marks so Mitch Lewis and Jack Gunston should be licking their lips up forward, as should Denver Grainger-Barras, Sam Frost and James Sicily down back. Retention of the ball will be key. 
Concerns
The Hawks concession of key midfield numbers is always going to be a concern until we see a turnaround but here are what the Hawks sit in the competition in key stoppage stats: 
4th most contested possessions 
3rd most inside 50's
2nd most clearances
2nd most centre clearances 
2nd most tackles 
With a rising Saints midfield in Jack Steele (already a star), Jack Sinclair (underrated star), Jade Gresham and Brad Crouch, the Hawks' midfield group must even the contest and put pressure on every clearance, inside 50 and handball in traffic. 
The Hawks are fourth for tackles so the pressure factor will be delivered, but when seeing how easily Gresham and Sinclair were allowed to clear the front of the stoppage to deliver inside 50, the Hawks need to adopt a sweeper to make the Saints uncomfortable moving the ball. 
The elephant in the Saints forward line is truly Max King. The No.5 pick in the 2018 Draft has been the catalyst up forward to win their two games in 2022. 
Against Fremantle, in the third quarter he had six disposals, four marks and kicked 3.1 to create a lead the Dockers couldn't overcome that resulted in a ten point win.
Against Richmond, in the last quarter, he had seven disposals, six marks and 4.1 to destroy the Tigers. 
So how do the Hawks stop him? 
Well, with Dylan Grimes going down with injury, King was let off the chain last week and Joel Hamling was coming off an injury plagued two years in Round 2 so he can be stopped. 
Whilst I did call for Denver to go to King for his development, Sam Frost does seem the choice given his pace and spring can match up on King really well. As always though, it's all about the quality of delivery he gets from his midfield group.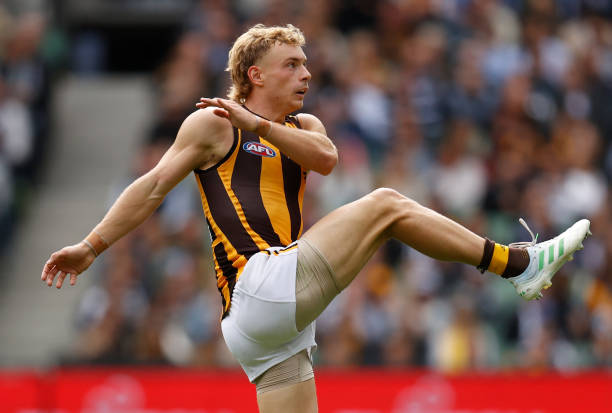 TH Spotlight: James Worpel 
The 2019 Peter Crimmins Medallist is only averaging 19 touches so far in 2022 and if the likes of Jack Steele, Jack Sinclair, Jade Gresham and Brad Crouch get away from the Hawks at stoppage, the Hawks aren't going to win this game. 
The 23 year old is due for a breakout performance this year and we are backing him in to perform.
Check the In-depth Game Preview Round 4 Hawks v Saints