Written by Jake Smith
We at Talking Hawks want to give Hawthorn fans an experience. Subscribe to Talking Hawks for exclusive fan experiences and get involved in livestreams with Hawthorn players
From the moment he arrived at Waverley during the 2018 off-season, Jack Scrimshaw has constantly been compared to four-time premiership player and club champion, Grant Birchall.
On the surface, the likeness is uncanny. They both stand 193cm, play the same half back flank position, have aesthetically pleasing left foot kicks and Scrimshaw inherited Birchall's much loved number 14 jersey.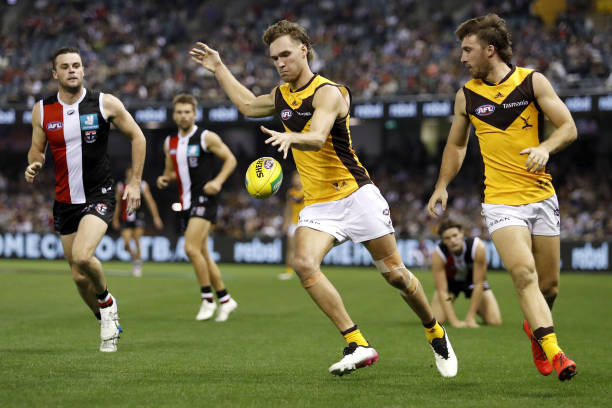 However, to deep dive a bit further and look at comparisons between Birchall and Scrimshaw's numbers after their first 50 AFL games as Jack reached this milestone on Sunday would be the right thing before crowning him 'the next Birchall'
Birchall was Pick 14 (how ironic) in the 2005 AFL draft and made a fantastic impression, playing Round 1 in 2006. He managed 16 games in his rookie year before cementing himself in 2007, playing all 24 games. Add in the first 10 games of 2008 and that's the half-century out of a possible 56 games.
In comparison, Scrimshaw was Pick 7 in 2016 to Gold Coast, where he managed just four games in 2017, before joining the Hawks via trade. Injury limited him to 23 games in 2019/20, before he broke out in 2021, playing 20 of 22 games. The first four games of 2022 have gotten him to the 50 milestone.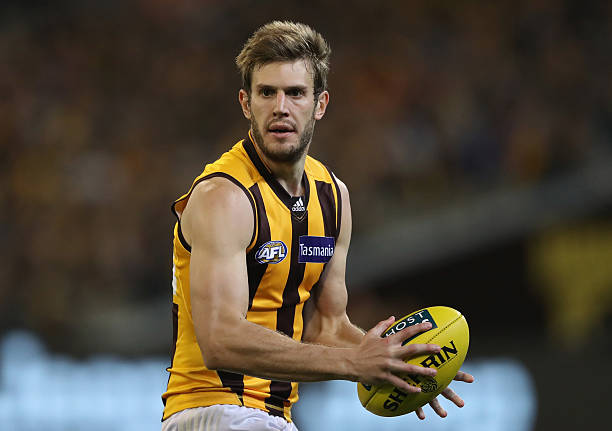 In his first 50 games, Birchall averaged 21 disposals, 17 uncontested possessions, six marks, three rebound 50's and two and a half inside 50's.
In comparison, Scrimshaw (if we take out the three games he's been subbed out of) averages 18.1 disposals, 5.3 marks, 3.2 rebounds and over an inside 50 per game.
Due to the similarities, the tag of "Baby Birchall" is completely justified, even with the little stoop in their run and carry. The Hawks have copped some criticism for their future fourth round pick choices but they've nailed this one.
While they may look and play the same, Scrimshaw has two key aspects of his game he needs to improve to really own the tag of the "next Grant Birchall"
The first aspect is one on one defending. Birchall was a stout individual defender and rarely lost a contest. He had the ability to lock down the smalls and compete with medium sized forwards in the air. Scrimshaw can sometimes get caught out on the ground against the smalls, so that's something to watch.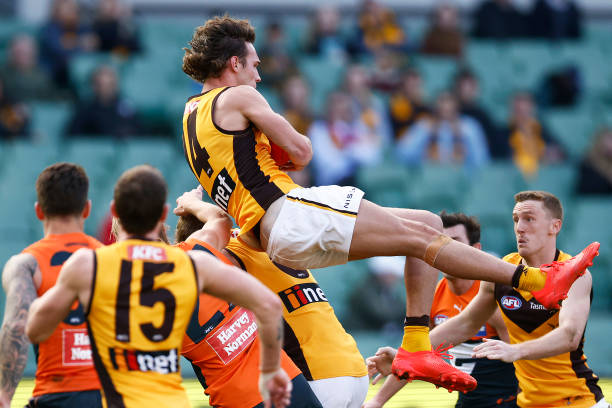 The second aspect is offensive penetration. The glaring difference in the statistics was inside-50 numbers.
Birchall recorded 125 in his first 50 games compared to Scrimshaw's 70. With the quality of "Scrimma's" ball use, it would be good to see him breaking lines and delivering the ball long inside 50.
In North Melbourne's draft profile back in 2016, they stated Scrimshaw had the ability to go in the midfield, something the current No.14 hasn't done and Birchall didn't do.
Could Sam Mitchell eventually deploy Scrimshaw in the midfield or up on a wing?
The back six with Blake Hardwick, James Sicily, Sam Frost, Changkuoth Jiath, Denver Grainger-Barras, Will Day and the returning Jarman Impey is already filled with depth and classy bll use.
Overall, I am all for the "Baby Birchall" tag and have self-titled myself the CEO of the Jack Scrimshaw fan club (I have witnesses) and whilst expecting him to be as good or better than Birch can be a silly one, this young man is his own star