We at Talking Hawks want to give Hawthorn fans an experience. Subscribe to Talking Hawks for exclusive fan experiences and get involved in livestreams with Hawthorn players
It was truly the reality check this group may need. The 'sugar hit' that media spoke of may have to come to an end.
The Hawks looked shaky down back after conceding the least amount of points in the first three weeks and let the Saints put 142 points on the board.
To make matters worse, the midfield were bullied around the ball and the forward structures fell apart the longer the game went on.
On an individual basis, how did each player go?
Harry Morrison
Was one of the more composed defenders on the night, with 19 touches at 90% efficiency, four tackles, four inside 50's, three masks, 23 pressure acts and nearly 300 metres gained.
One of a few who can hold their heads up high.
Mitch Lewis
The fan frustration with Lewis' conversion has been blown out of proportion a little because the spearhead has gotten himself eight scoring shots, nine score involvements, eight marks, an insane 23 pressure acts, 262 metres gained and didn't spend a second on the interchange.
Couldn't have asked for much of a better first month from the No.2 in the brown and gold, having kicked 12.6.
Tom Mitchell
Welcome back to form Titch!
Got himself seven centre clearances (season high), 32 disposals (season high), nine score involvements (season high) and five intercepts (season high).
Titch even had four tackles as well and was the only dangerous midfielder for long periods of the game.
Sam Mitchell said during the week that Tom having 35 is not the focus and even in a different way of playing the game, he's had 32 and was the Hawks' best on a miserable day.
Jarman Impey
Couldn't have asked for much more in such a return for Jarman, as he collected himself 20 disposals. 
Used the ball well at 70%, had ten pressure acts, took six marks, had five score involvements, three inside 50's and 357 metres gained. 
Welcome back Jars!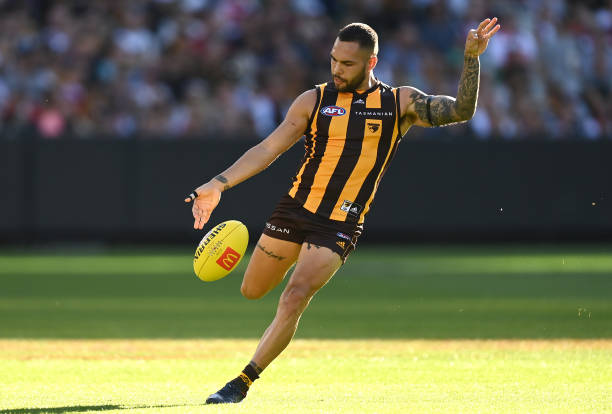 James Worpel
Tom Mitchell is a three time PCM with five stars for his performance. 
Worpel is a one time PCM and had five touches! Five! 
Not good enough by any metric and although 22 pressure acts is something, that equated to a single tackle. 
Where has 2019 Worpedo gone?
James Sicily
Was given the job on Max King for big periods in the third quarter and did an admirable job but did his best work on Rowan Marshall, keeping an All-Australian caliber ruckman to being invisible. 
Eight marks amongst 20 disposals at 90% efficiency, with nine intercepts, six score involvements, eight one-percenters and nearly 400 metres gained was a decent performance by Sis. 
 Sam Frost
Did a really good job on Max King in the first quarter but he was made to look silly on a few occasions against Tim Membrey. 
Didn't use the ball anywhere near as badly as the commentators claimed he did and no one can complain about 16 disposals, seven marks, 88% efficiency and six intercepts. 
However, King and Membrey kicked four each. Not worthy of four stars. 
Changkuoth Jiath
CJ is a Hollywood-style defender who can make opposition look really silly, but when push came to shove and basics were required, he struggled at times. 
Whilst not the worst for the Hawks, seven turnovers (six in the back half) saw the Hawks dig a hole they never dug themselves out of and he'll improve on that for sure. 
Still backed himself which we love to see and when it's cohesive, he's still so exciting.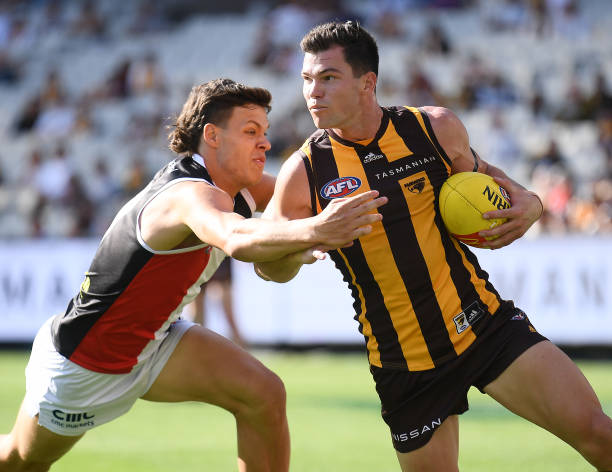 Jaeger O'Meara
The stand in skipper definitely had some moments that stood out, but didn't have the impact with ball in hand he'd want. 
75% efficiency from 20 disposals is great and he had six clearances, five score involvements, four tackles and 16 pressure acts. 
However, just nine kicks and 237 metres gained isn't the penetration or damage that a guy of his skills should've brought to the table, but did his job when it was required and too many didn't. 
Conor Nash
The second ruck role is one that was always going to be a struggle against Rowan Marshall and Paddy Ryder but the Irishman won eight hit-outs from his 18 contests which is very encouraging. 
However, Nash struggled to make an impact elsewhere on the ground although he used it well at 91%. Only took two marks and laid two tackles on the day. 
Will Day N/A 
Will didn't meet the 40% TOG threshold to properly give him a rating but he looked so composed. 
Had over 18 metres gained per disposal and was able to drive the ball from the back half to the forward half. Took four marks, went at 86% efficiency and had four intercepts. 
If Day plays the game out in that fashion, it's almost a five star performance. Poor bloke can't catch a break.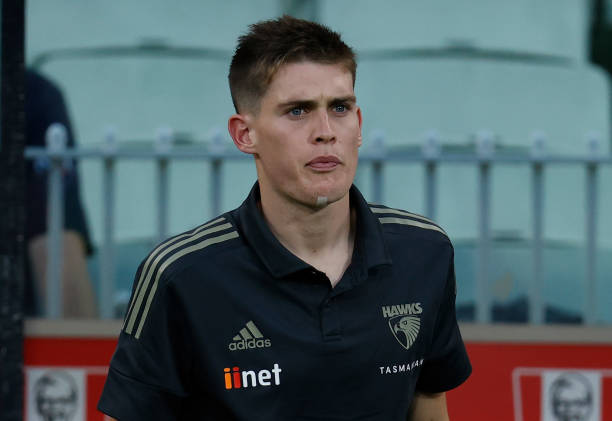 Dylan Moore
Was the most amazing first quarter from Moore, with seven touches, four tackles and the first two goals (for the third week in a row). 
Only had the seven touches after quarter time and didn't score afterwards or lay a tackle. Had six score involvements for the day and 20 pressure acts. 
Jack Scrimshaw
Scrim held his composure more than many of his teammates in the back six but on more than one occasion, sold a teammate into trouble with a forward handball. 
Had eight intercepts, took eight marks, had five score involvements but just a tick over ten metres per disposal saw a lack of threat on the day. 
Blake Hardwick
Was an absolute horror show from Dimma who made mistakes no one has seen him make before. 
19 disposals is usually a fair day out but the four turnovers were all agregious, including a kick out picked off by Jack Steele and hitting Ben Long on the chest like he was in brown and gold. 
We at TH have got a lot of time and love for Dimma but this was disappointing. 
 Dan Howe
Worked his tail off all day and got to some good spots but his ball use and decision making were really poor at times. 
Took six marks, had three score involvements and intercepts, plus ten pressure acts. 
However, when you're more damaging without the ball than with, your spot is in trouble. 
Jack Gunston
Oh Jack. Nothing really went right for the best and fairest winner who collected just the three disposals from nearly 90% time on ground. 
What more needs to be said? 
Luke Breust
Did his job as a small forward did Punky and although he was fumbly at times, the delivery inside 50 was poor. 
For him to kick three goals, lay three tackles, have nine score involvements, 265 metres gained, 14 pressure acts and four inside 50's, it just shows what a champion player he is, has been and always will be. 
Denver Grainger-Barras
We didn't get the Max King match-up Daz wanted, and Denver struggled on Tim Membrey for big periods. 
The two bigs kicked eight between them and Denver didn't have a great impact with the ball in hand either. 
Josh Ward
Got a footy lesson by a midfield much more experienced than himself and he'll get a lot out of it. 
Only had nine touches but made them count by going at 89% efficiency. Overall this was his quietest performance of the year.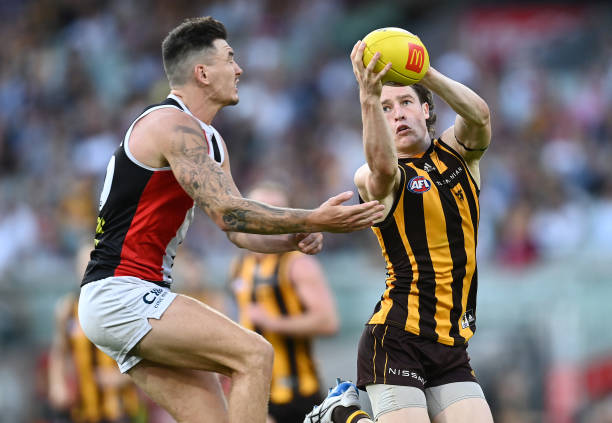 Connor MacDonald
16 pressure acts from such a young player is really encouraging and the biggest criticism of C-Mac is he didn't trust his foot skills. 
Eight handballs amongst ten disposals is high and he gave the ball by hand straight away on many occasions instead of assessing his options further up the field. 
Kept his composure and hit his targets generating 80% disposal efficiency.
Finn Maginness
Came on as the sub and worked really hard to grab 13 touches in about two quarters of game time. 
Had 13 pressure acts, three intercepts and a couple of score involvements but once again, was more dangerous without the footy than with; going at 54% efficiency. 
His spot is in danger, especially with Liam Shiels and Tom Phillips doing so well for Box Hill. 
Ned Reeves
This was Reeves' ninth game, keep that in mind. 
The Noodle went up against an All-Australian ruckman and another of that caliber and held his own. 
Ryder was very good, Marshall wasn't and Reeves was good. 
He had 17 hitouts, Hawthorn won the clearances, he kicked a goal, had four clearances of his own, took four marks, had three score involvements and seven contested possessions. 
This man is the next terrific Hawthorn ruckman.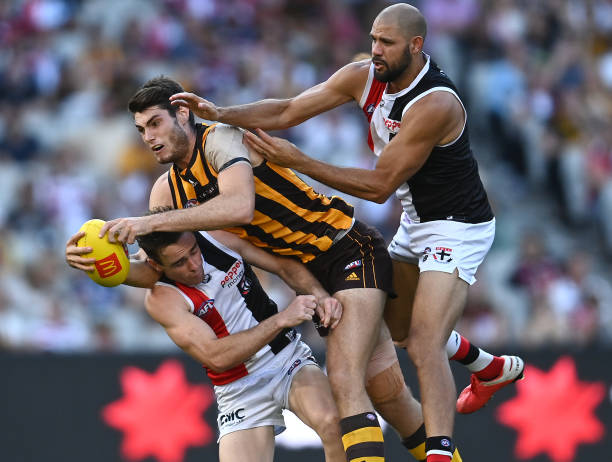 Jai Newcombe
The Duke's first three kicks inside 50 went straight down Saints players' throats as if they were on the lead but he tidied up afterwards. 
Found Jack Gunston running back to goal and hit up Mitch Lewis on a couple of occasions but had ten turnovers and went at 48% efficiency. 
The Duke also led the Hawks for metres gained, had seven score involvements, six clearances and took five marks
Check the Game Review Round 4 Hawks v Saints