Since the 2015 Grand Final, the Hawks have had two top four finishes, a Brownlow Medallist, a 21 year old win a best and fairest and had some very good wins, but the two goal win over the Cats on Easter Monday was one of (if not) the best we've had since the 13th cup touched the sky seven years ago.
Just because the Hawks had a win, doesn't mean those who didn't perform get away with it and good performances don't go unnoticed; so here are the rankings: 
Harry Morrison
Continued his early season form of finding the footy, working so hard it's extraordinary and on countless occasions, was the sweeper at a stoppage around the ground. 
However; what stops him from going to another level is 57% disposal efficiency, even though it was wet, he rushed himself at times and three turnovers led to scoring shots. 
370 metres gained in the wet is a tick.  HMo had a dozen pressure acts, including a big one on Mitch Duncan in the second quarter. 
The out of contract wingman took nine marks as well to continue an outstanding season. 
Mitch Lewis
Was a strange day for the tall forward, where weather should've been a factor, although Geelong took 18 marks inside 50 to the Hawks' five. 
Lewis was the Hawks' best tall forward of the ball, taking seven marks in trying conditions. Mitch took his chances by kicking three goals and had seven score involvements as well. 
Got the chocolates over a good opponent in Mark Blicavs. 
Tom Mitchell
"We don't want to focus on Tom getting 35 touches", Sam Mitchell said, not twelve days before Titch put together his best fortnight of footy for the year. 
On the weekend, he had 33 disposals (21 contested possessions), nine clearances, eight score involvements, seven intercept possessions, 384 metres gained, 25 pressure acts and used it at 76% efficiency in those conditions. 
Won plenty of huge contests in the last ten minutes and the Hawks don't win the game without his last patch.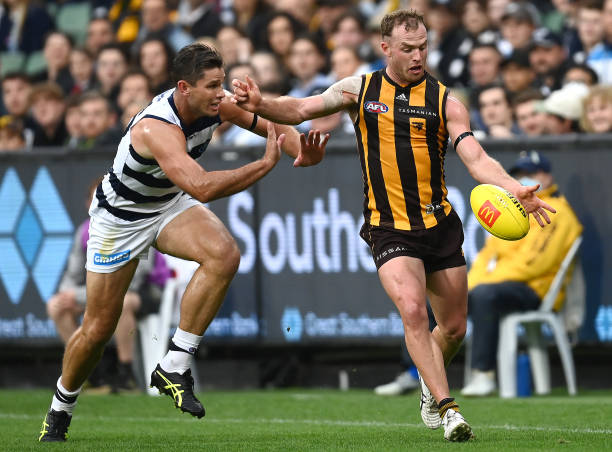 Jarman Impey
Another twenty disposal outing for 'Jars' and his presence on the park can go under the radar at times, but he was extremely composed all day. 
Used the ball at 85%, had five intercepts and took five marks, laid four tackles and worked hard all day, with equal inside and rebound 50's (3). 
James Worpel
Message sent; message received. 
After five disposals last week, the Worpedo was made the sub and needed to make an impact early with Ned Reeves going off the ground. 
His ball use did frustrate (43% from 14 disposals with four turnovers) but 21 pressure acts, five tackles and seven contested possessions was a tick for the former best and fairest winner.
James Sicily
Sis had one of the best first quarters any Hawk has had in a while; twelve disposals, nine marks, 92% disposal efficiency, five rebounds and four intercepts.
In the first quarter! 
He finished with 26 disposals, 15 marks, ten rebounds, seven intercepts, 88% efficiency from 22 kicks and was almost the perfect day. 
Next time you have a set shot Sis, kick through the footy! 
Sam Frost
Struggled really early on Tom Hawkins when he played him via the back shoulder, where Hawkins led up at the ball kicker many times and left Frost in the dust. 
However, playing side shoulder seemed to have a bigger effect, and Hawkins was much quieter in the last quarter and a half where Frost gets credit for that. 
With the ball, Frost has been outstanding this year and on this occasion, was no different.
15 disposals, nine intercepts, nearly 20 metres per disposal and took four marks with plenty of spoils. 
Changkuoth Jiath
Isaac Smith had a shutdown role on him. 
It was CJ's 27th game… and he's getting roles on him. 
It's a testament to his development to have 19 disposals at 95% efficiency, eight contested possessions, seven intercepts and four marks. It's outstanding. 
What makes us wonder is, why CJ's only kicking the ball 56% of the time this year, considering he's a beautiful user and a long kick. 
Jaeger O'Meara
The player to 'cop it' last week was Jimmy Worpel, and rightly so. 15 disposals is better than five, but the skipper was poor on Easter Monday and looks like he's playing hurt. 
Kicked an important goal at a good time, and had five clearances along with five score involvements, but he's performing in bursts and those bursts aren't damaging enough to be a top tier player. 
60% disposal efficiency and five turnovers are not numbers that read well. We hope he's okay for ANZAC Day and can perform to the standard Hawks fans know that he can.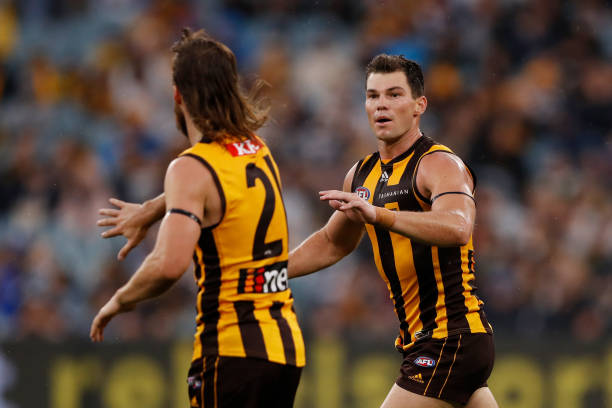 Conor Nash
Another who looked like he played hurt, Nash deserves a heap of credit for playing as the second ruck after Reeves went down and provided a contest. 
Laid three bone crushing tackles in a sequence, but didn't lay another one after it. Conor didn't use the ball to well, but with five score involvements and attending 27 ruck contests was inspiring when Nash isn't a ruckman. 
Dylan Moore
The first quarter specialist! 
In the space of half an hour, he had five touches, three goals, two tackles (including an Isaac Smith tackle that ignited the crowd!) and brought the crowd into the game. 
Finished with 19 touches, 4.1 and was one of the best on the park with his work rate, getting his way up the ground as well. 
Although, he hasn't scored in second halves in 2022, if Moore can get involved forward of centre moving forward, that half forward flank in the All-Australian team has his name on it.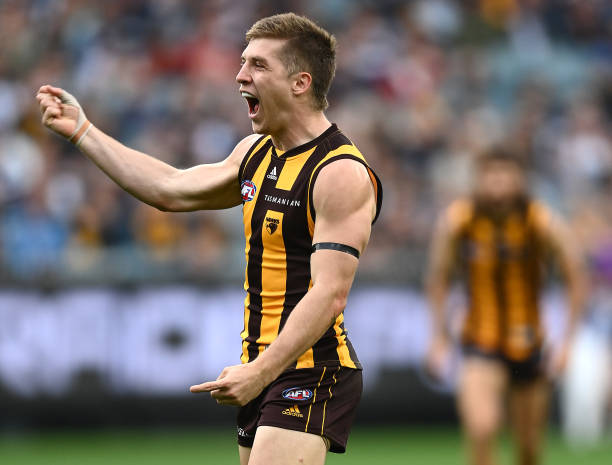 Jack Scrimshaw
Went wildly underrated in the eyes of the commentary team did Scrim because as much as Sicily dominated, Scrim was the second best defender by a long way. 
Had twelve kicks, twelve handballs and used it at 83% efficiency, with eight intercepts, eight rebounds, seven marks and continually played above his height. 
Another string to his bow was neutralising Mitch Duncan and Jeremy Cameron in important contests in the second half.
A weakness in his game at times has been his one-on-one work, but he's improved out of sight this year. 
Blake Hardwick
Has taken on the half Matt Suckling kicking style, which looks good when he's kicking down the line, but two corridor turnovers (which is so unlike him) were crucial. 
Had 485 metres gained 78% efficiency and seven rebounds which was unreal. 
Wasn't a high pressure performance from Dimma with seven pressure acts and the one singular tackle, but didn't lower his colours across the day.
Jack Gunston
Gunners made every moment count he was involved with, kicking 3.1 from 11 disposals in conditions not suited for a lead up forward. 
What was most pleasing is the five tackles Jack did, with three of them within 35 metres of goal. 
Used the ball extremely well at 82% and had eight contested possessions. 
Who would've thought bringing him back would make us better? Not the media.
Tom Phillips
The Hawthorn enigma himself.
How he can go from a best on ground performance at Box Hill to a nine disposal game with three quarters of game time is mind boggling. 
Will Day is looking at a spot and licking his lips. It's fair to say Flip is the most likely to miss out. 
Still used it well at 89% and laid four tackles but 66 metres gained in the wet isn't good enough. 
Luke Breust ⭐️⭐️⭐️
Punky did everything required as a small forward in the wet; kicked 2.1, had 15 touches, seven score involvements, 20 pressure acts and 275 metres gained. 
However, Tom Stewart kept Geelong in the contest in the last quarter by peeling off Breust and setting up many attacking chains. 
A pressure small forward still looks like it's needed, but Punky did his job on the night and his left foot snap in the last quarter just showerd his uber amount of class. 
Jacob Koschitzke ⭐️⭐️
Although conditions didn't suit him, Kosi did an admirable job against Tom Hawkins in the back half and whilst awarded two stars for being good out of his position, the poor bloke couldn't catch a thing. 
We hope it isn't a No.23 changeover, but one mark from a lot of contests wasn't the output he would be looking for. In having two turnovers from six touches, it wasn't Kosi at his 2021 best. 
Denver Grainger-Barras ⭐️⭐️⭐️
In a footy landscape that's told defenders need to be intercept kings or they're nothing, when looking at his stats, you'd be forgiven for thinking he didn't do much. 
In the second half, he barely lost a contest and laid three tackles in the last quarter, all in important moments. This showed glimpses of the elite one-on-one player he'll be for a decade plus for the Hawthorn Football Club. 
Josh Ward ⭐️⭐️⭐️
Not one Hawk had more clearances than Ward until Mitchell overtook him six minutes into the last quarter, but Ward's composure around the contest was unbelievable. 
18 disposals at 83% efficiency was his day, with six score involvements, five clearances, 16 pressure acts, 196 metres gained, three tackles and a sidestep beyond his years. 
We've said it before and we'll say it again; we've drafted a gun. 
Liam Shiels ⭐️⭐️
Worked really hard all over the park with his six marks, four tackles, 16 pressure acts, three inside 50's and three score involvements, but is he in trouble for just finding the ball 13 times?
Did use the ball by foot at 77%, but with Will Day, Lachie Bramble and even sub James Worpel due back into the best 22, Shiels' is at risk.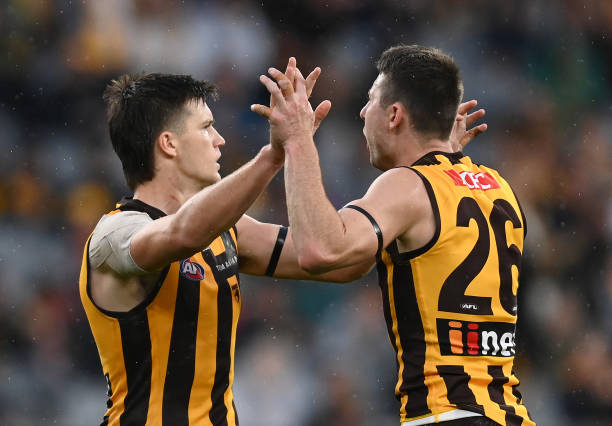 Connor MacDonald ⭐️⭐️⭐️
Whilst C-Mac did look shaky at times under a high ball, his composure in the last quarter stood out. 
He got some outside ball with his five touches and used it at 100% efficiency, including setting up multiple scores and showed maturity beyond his years. 
How good is this draft haul? 
Ned Reeves N/A
Hawks fans' heart broke as the Noodle writhed around in pain and clutched his shoulder. 
The docs couldn't pop his shoulder back in on the ground, and seems he'll miss a number of weeks, with a return post-bye most likely. 
Get better soon Noodle; the ruckman with the fifth best hit-out to advantage percentage in the league at the end of Round 5. 
Jai Newcombe ⭐️⭐️⭐️⭐️⭐️
Rising Star winner. 
Career best 31 disposals. 
Career best 23 uncontested possessions.
Career best 653 metres gained. 
The Prince of Poowong put on an absolute clinic on Easter Monday and destroyed the Cats from the stoppage. 
He took off, found space when there was very little of it, and separated from the stoppage in ways that no one had seen him do before. 
Newcombe still had 18 pressure acts, showing he worked hard without the ball as well with  six intercepts. 
A worthy best on ground and a breakout performance by the Fresh Prince.